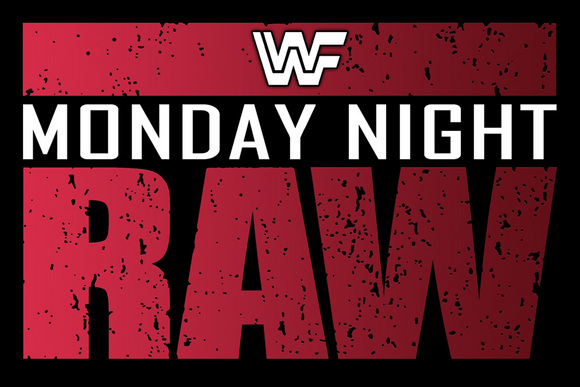 Live from New York, NY
Airdate: January 18, 1993
Attendance: 1,000 (sold out)
Hosted by Vince McMahon, "Macho Man" Randy Savage, & Rob Bartlett
Can the sequel be as good as the first installment? Will it disappoint or will it surpass the original? Let's find out!
To begin the show, Bartlett rips up a photo of Bobby "The Brain" Heenan mimicking the Saturday Night Liveincident involving Sinead O'Connor. Next, Repo Man nails Savage from behind and steals his hat. How dastardly!
Opening montage.
Match 1: Mr. Perfect versus "Terrific" Terry Taylor
Highlights:
Taylor replaced Papa Shango due to a shoulder injury.
Finally, we have a rematch from WrestleFest '88 when both wrestlers debuted in the WWF.
Perfect reversed a cross corner whip and hip-tossed Taylor while Savage vowed revenge against Repo Man.
When Perfect dropkicked him, he chased Taylor from the ring.
While Heenan was on the phone, the Manhattan faithful imitated WCW crowds with a "We Want Flair" chant.
Taylor then hip-tossed him, but Perfect rebounded with a slam.
After a commercial break, Taylor used momentum to send Perfect to the floor.
He then made Perfect taste the steel railing. It must have tasted like Paddy Reilly's corned beef sandwich at the Olde Castle Pub.
As Perfect returned to the ring, Taylor delivered a jawbreaker.
He then gave Perfect a backbreaker for 2.
While a portion of the Manhattan faithful chanted "this match sucks," Taylor hit a SPINEBUSTER a la Arn Anderson for 2.
He then delivered a Doctorbomb for another 2.
When Perfect rebounded by ringing Taylor's bell, he gave Taylor an inverted atomic drop.
He then delivered a neck snap, and "Nature Boy" Ric Flair came to the ring.
While Flair distracted Perfect, Taylor sent Perfect to the floor.
He then distracted referee Earl Hebner so that Flair could clothesline Perfect. SNEAKY!
As he rammed Perfect face-first into the steps, Flair tossed him back into the ring.
Taylor then attempted a suplex, but Perfect blocked it.
After Perfect countered with a Perfectplex, he pinned Taylor.
Rating: *1/2
Summary: Taylor held his own by bringing some maneuvers seldom seen in the WWF. Ultimately, Perfect, who had a feud with Flair, prevailed.
Promotional consideration paid for by the following; ICOPRO and Slim Jim.
In the ring, Vince interviews WWF champion Bret "Hitman" Hart who defends his 78-year-old father and refers to Razor Ramon as "scum."
Paul Bearer and Undertaker offer their support to the WWF Headlock on Hunger campaign. Next, Savage plugs the WWF charity show at MSG on 1/29 again.
Match 2: Marty Jannetty versus Glen Ruth
Highlights:
For those unaware, Glen Ruth would eventually morph into Headbanger Thrasher.
As Jannetty turned his back, Ruth ambushed and gave him a cross corner whip.
He then ate a back elbow on his follow-through.
When Jannetty mounted the second turnbuckle, he bulldogged Ruth.
While Shawn Michaels was on the phone, Jannetty clotheslined Ruth.
Shortly after, he gave Ruth a HARD cross corner whip injuring the back.
He then delivered a Rocker Dropper and pinned Ruth.
Rating: ½*
Summary: Showcase match for Jannetty.
Promo airs for Royal Rumble '93 LIVE on PPV this Sunday. Have you placed your order yet?
We then revisit Superstars when Doink hoodwinked Crush before SMASHING a prosthetic arm into his back. He then repeatedly nailed Crush until officials stopped him (aired 1/16, taped 12/14). Obviously, Crush will NOT be involved in the Rumble match this Sunday.
Promo for WWF Mania airs. In case you forgot, it's on USA on Saturday at 10am ET.
Outside the arena, Sean Mooney interviews Repo Man who still has Savage's hat. Repo Man and Savage have an argument, and Repo Man antagonizes him.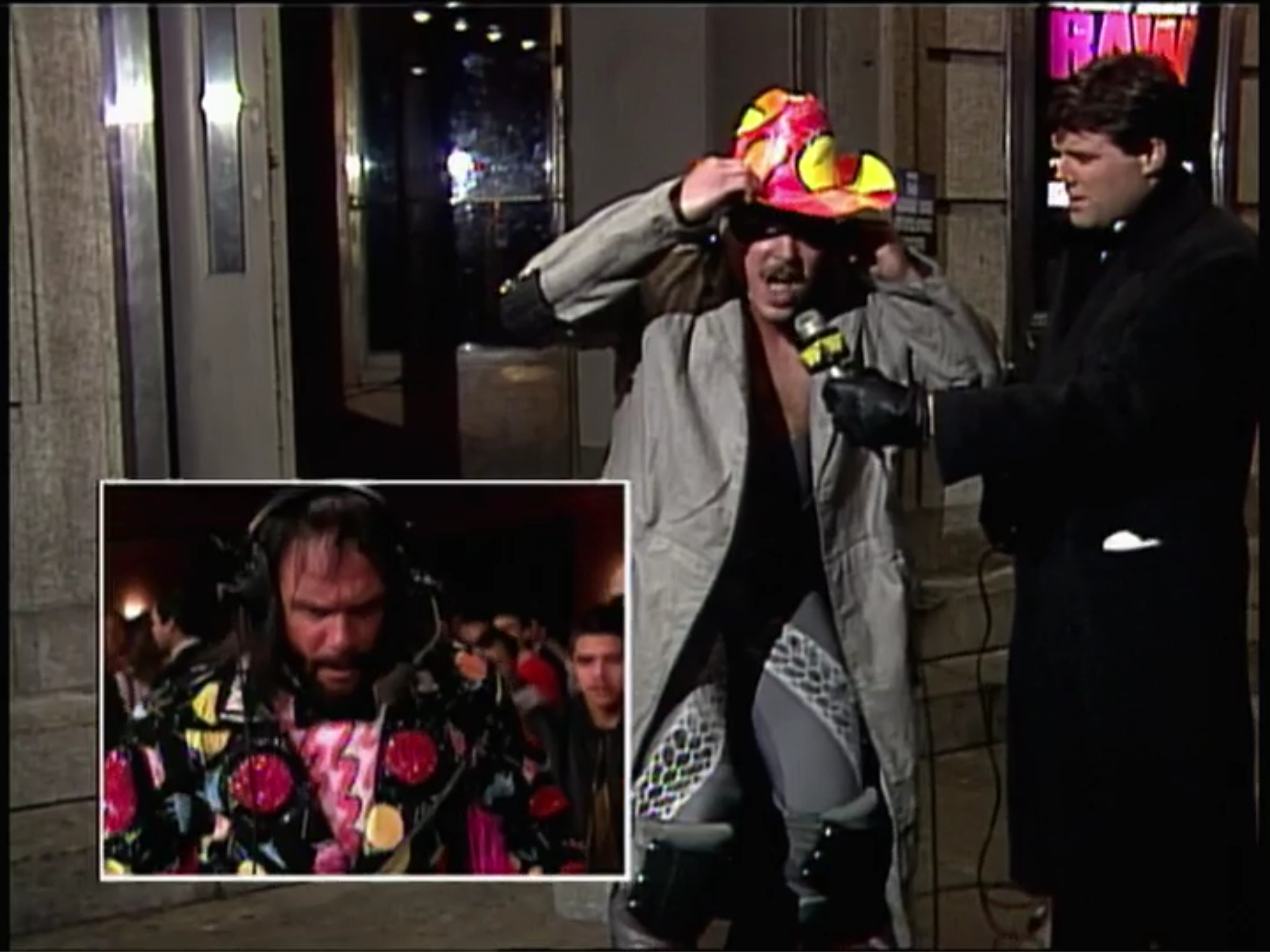 ROYAL RUMBLE REPORT: "Mean" Gene Okerlund shills the PPV for this Sunday. As he promotes the WWF title match, Ramon cuts a pre-recorded promo on Bret. He then lists participants in the Rumble match:
Undertaker
Berzerker
WWF tag team champion IRS
Yokozuna
Perfect
Typhoon
Repo Man
"Nature Boy" Ric Flair
Papa Shango
WWF tag team champion the "Million Dollar Man" Ted DiBiase
Another match will pit Shawn Michaels versus Marty Jannetty for the Intercontinental title. Included in this match will be Sensational Sherri, but in whose corner?
Outside the arena, Mooney tries to interview Savage who's on the hunt for Repo Man.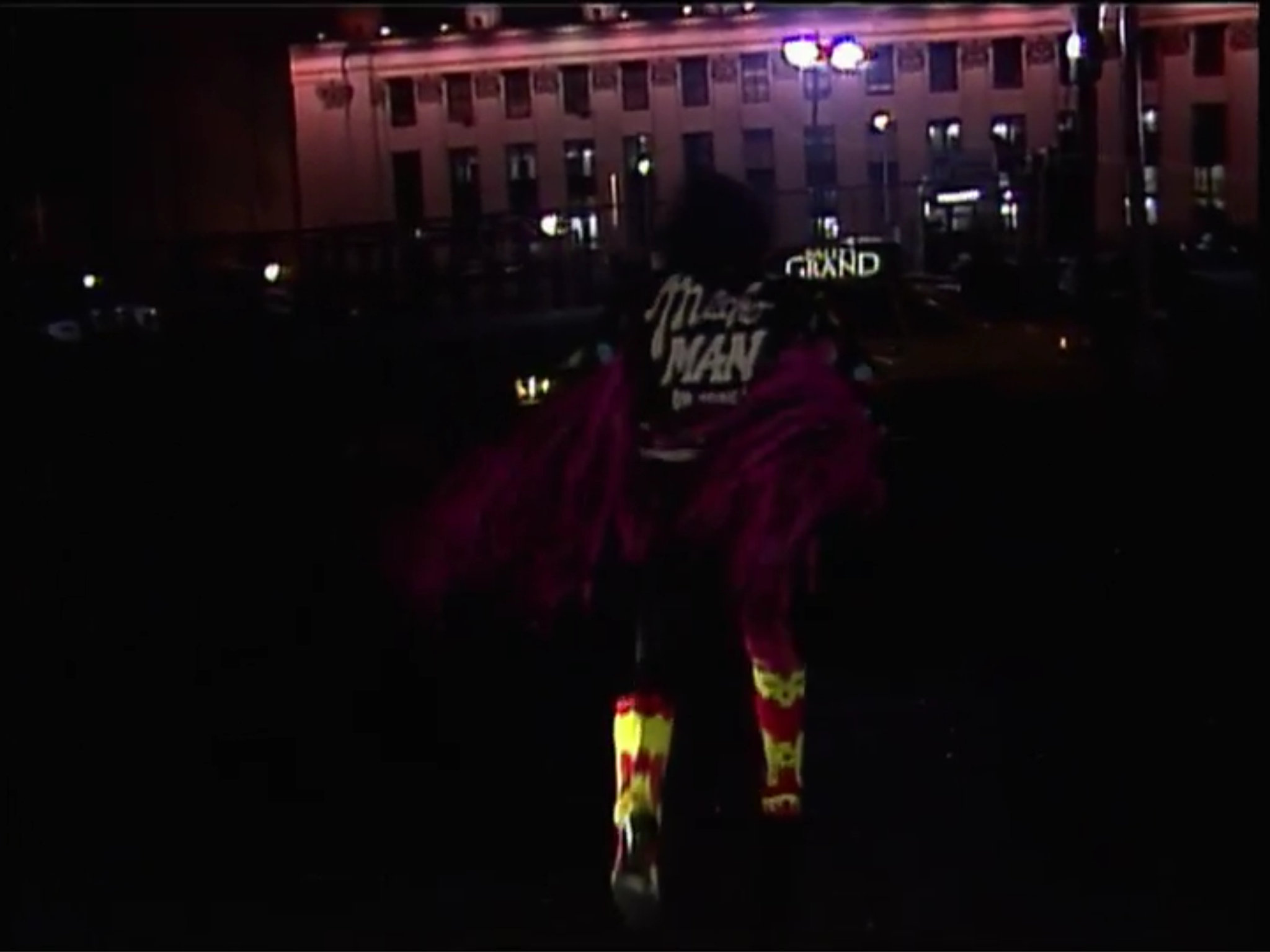 Match 3: "Nature Boy" Ric Flair versus "El Matador" Tito Santana
Highlights:
While the smart marks in the crowd chanted for Flair, the younger generation rooted for Santana.
When Santana clotheslined Flair, he followed with a dropkick.
After a commercial break, Santana reversed a cross corner whip but got rebuffed on a monkey flip.
Flair then hooked a somersault rollup for 2.
As Flair hit a pair of knee drops, Vince booked Savage versus Repo Man next week on RAW.
Santana then reversed another cross corner whip and backdropped Flair.
When Santana gave him the ten-punch count-along, Flair mounted the top turnbuckle.
Santana then caught and slammed him down to the mat.
After Santana gave Flair a cross corner whip, a Flair flip occurred.
Santana then joined Flair on the floor and clotheslined him.
Back in the ring, Santana backdropped Flair again and followed with a knee lift.
He then delivered El Paso de la Muerte, attempted another one, but Flair ducked.
As Santana flew over the top rope to the floor, Perfect came to the ring and hammered Flair.
Perfect and Flair then brawled at ringside until officials separated them.
No contest.
Rating: **½
Summary: Decent back-and-forth match between two seasoned veterans until the storyline finish.
After a commercial break, the brawl continues until Flair approaches Vince for a promo. Flair then challenges Hennig to a match next week on RAW. Afterward, he clarifies that it will be a loser-leaves-the-WWF match and runs down Perfect.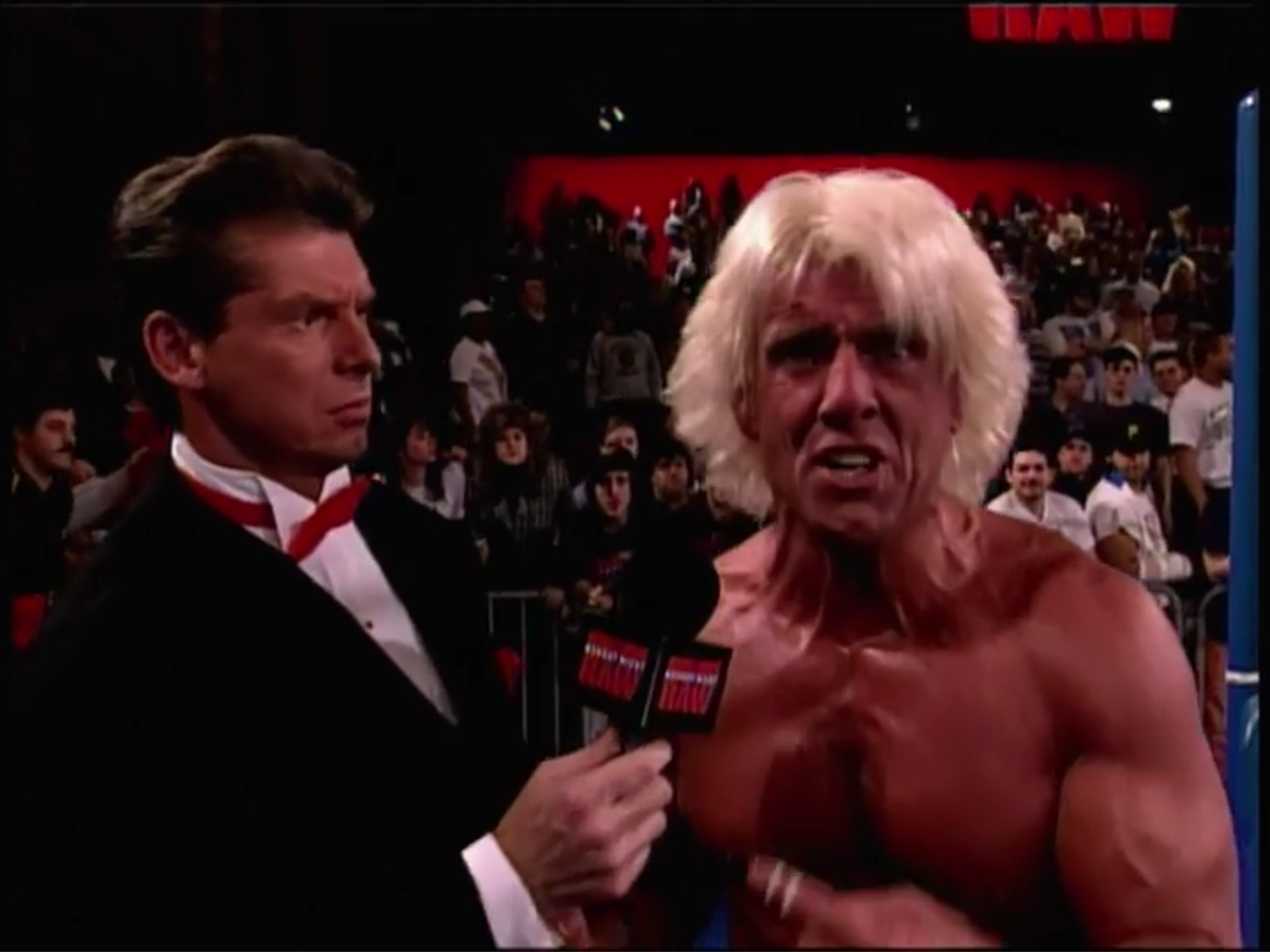 Speaking of Perfect, he approaches Vince to a LOUD reaction from the Manhattan faithful. He then accepts Flair's challenge and vows to rid the WWF of Flair.
Before the show goes off the air, Repo Man has stolen not only Savage's hat but also Bartlett's SUV. HA!
Conclusion: This was an improvement over last week with two quality matches and promotion of two matches for next week. In addition, Bartlett was toned down considerably which meant a more enjoyable experience.
TV Rating: 2.5
Stay tuned for WCW Clash XXII!
Comments? Suggestions? Send them to me at [email protected] and follow me on Twitter (@rockstargary202). Also, please check out all of my reflections at rockstargary.com.