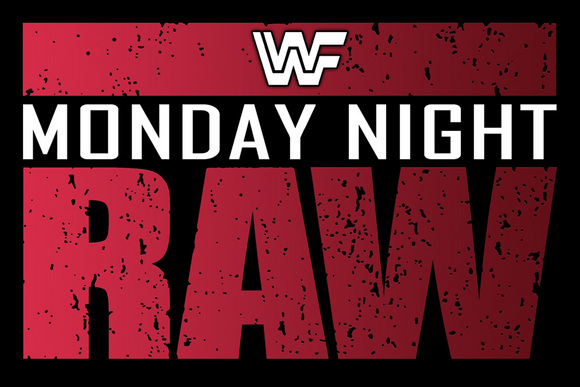 Live from New York, NY
Airdate: January 11, 1993
Attendance: 1,000 (600 paid)
Hosted by Vince McMahon, "Macho Man" Randy Savage, & Rob Bartlett
It's a new era for the World Wrestling Federation! Are you ready to get RAW?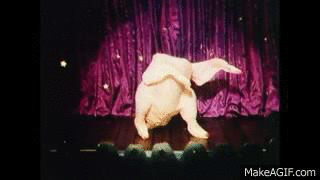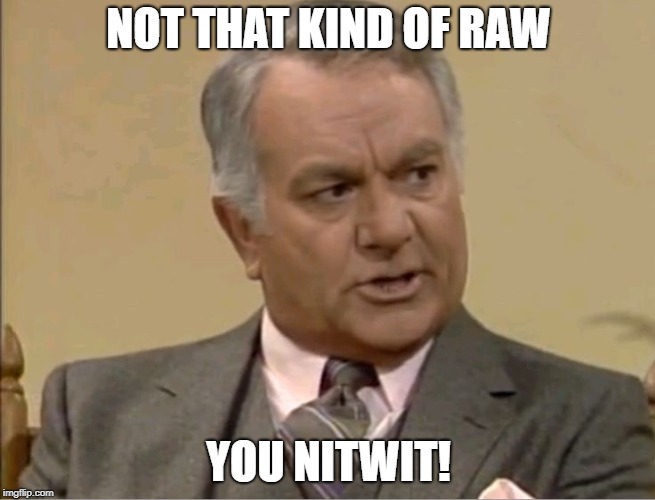 Sorry, Chester.
Twenty-five years ago, the WWF replaced Prime Time Wrestling consisting of its pre-recorded matches from the major arenas in the Northeast with this show which provides occasional LIVE episodes like this one. Are you ready to get started?
Sean Mooney stands outside the Manhattan Center when Bobby "The Brain" Heenan walks up to enter the building. Although Mooney informs Heenan that he's been replaced, Heenan desperately wants to get inside.
Opening montage.
For those unaware, Bartlett is a comedian from the Imus in the Morning radio show and will attempt to outperform Heenan tonight. The broadcast trio hypes Monday Night RAW as "uncooked, uncut, and uncensored."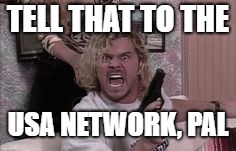 Match 1: Yokozuna (w/ Mr. Fuji) versus Koko B.Ware
Highlights:
Bartlett joked that Ware resembled Gary Coleman.
While the Manhattan faithful chanted "U-S-A," Ware tried everything but the kitchen sink to get Yokozuna off his feet.
Yet as he charged, Yokozuna evaded Ware.
Yokozuna then delivered a leg drop while Bartlett offered more fat jokes about him.
When Yokozuna shoved Ware by the throat into the corner, he followed with an avalanche.
He then mounted the second turnbuckle and hit the Banzai drop.
1-2-3.
Yokozuna won.
Rating: DUD
Summary: Showcase match for Yokozuna.
Promo airs for Royal Rumble '93 LIVE on PPV on 1/24. Order NOW!
In a pre-recorded segment, Heenan shilled the incoming "Narcissus" who will debut at the PPV.
Match 2: Steiners versus the Executioners
Highlights:
For those unaware, the Executioners were portrayed by Duane Gill and Barry Hardy.
Scott gave #1 a tilt-a-whirl slam while Doink appeared among the Manhattan faithful.
As Rick tagged in, he whipped #1 HARD causing him to collapse against the ropes.
He then delivered a Steinerline, hoisted #1 upon his shoulder, and sandwiched him in the corner.
When #1 sought refuge outside the ring, #2 joined him only to receive a double noggin knocker from Scott.
#2 then reversed an Irish whip, attempted a leap frog, but Rick caught and powerslammed him.
After Scott tagged in, he bear-hugged #2 and converted it into an overhead belly-to-belly suplex. Innovative!
#1 tagged in but fell victim to a double underhook powerbomb from Scott.
As Scott hoisted #1 atop his shoulders, Rick mounted the top turnbuckle.
The Steiners then hit the Steinerizer, and Scott pinned #1.
Rating: ½*
Summary: Showcase match for the newest tag team in the WWF.
Outside the arena, Mooney moderates a security incident with a blonde. As you would expect, it's Heenan in disguise trying to enter the arena. While Heenan claims to be Bartlett's aunt, Mooney removes the wig to ruin the caper.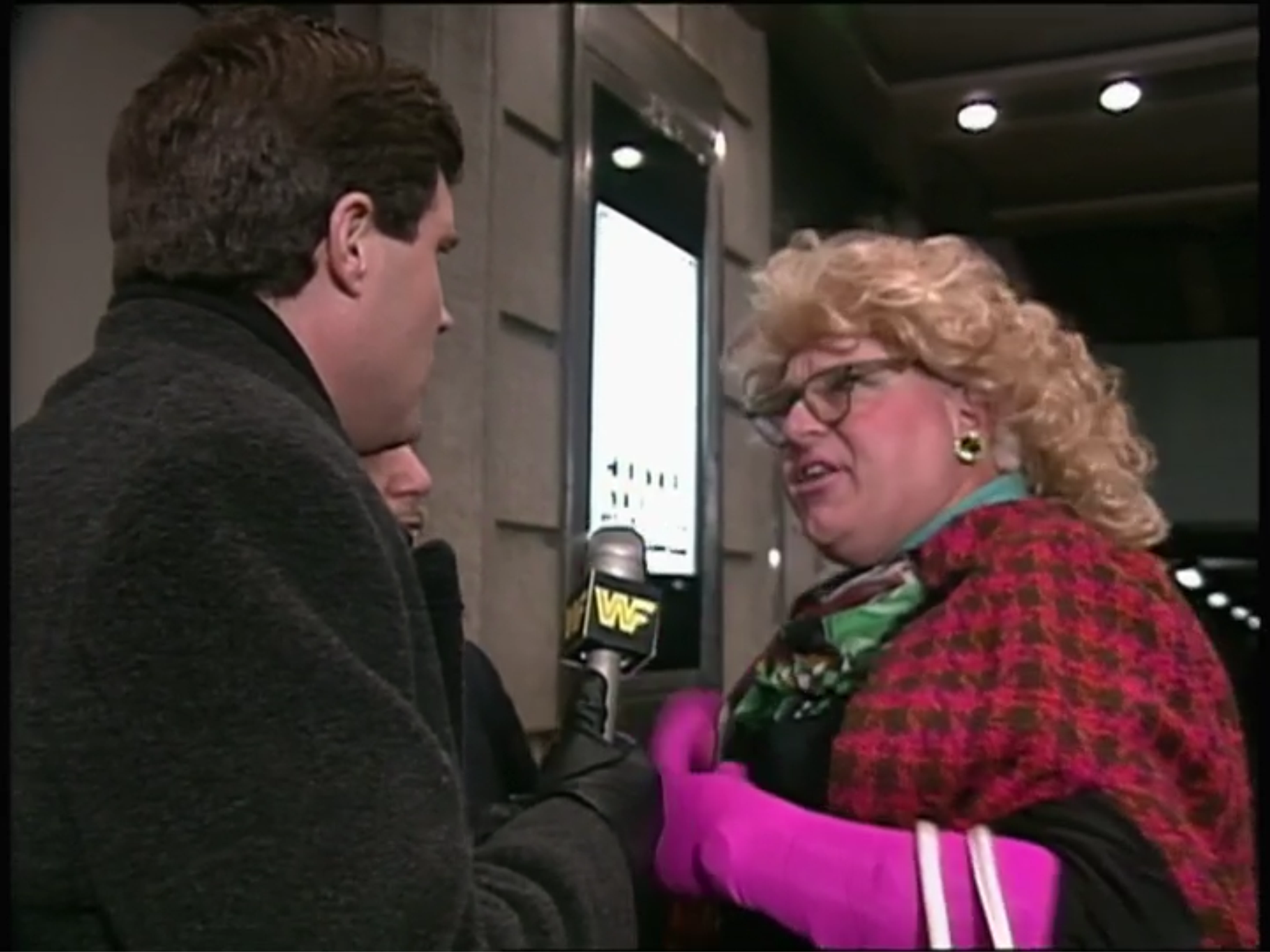 After a commercial break, Vince interviews Razor Ramon in the ring. The "Bad Guy" will face Bret Hart for the WWF title at the PPV. We then revisit WWF Mania when Ramon attacked Owen Hart in the locker room (aired 1/10/93, taped 12/15/92). How dastardly! Ramon then finishes the interview and tosses his toothpick in Vince's face. The Tony Montana impression isn't bad whatsoever.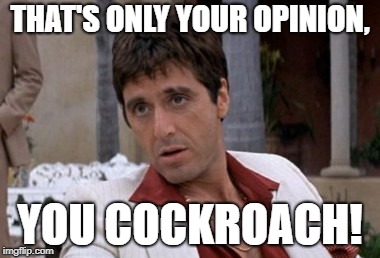 Savage then plugs the WWF's Headlock on Hunger campaign which is a charity to provide Somalia with necessary relief. To help this effort, the WWF will hold a charity show at Madison Square Garden on 1/29. Tatanka then offers his support to the cause.
Match 3 for the WWF Intercontinental title: The "Heartbreak Kid" Shawn Michaels (champion) versus Max Moon
Highlights:
For those unaware, Moon was portrayed by Paul Diamond rather than Konnan.
Upon leap-frogging Michaels, Moon hip-tossed and slammed him.
Following a commercial break, Michaels gave Moon a cross corner whip but came up empty on his follow-through.
He then gave Moon another cross corner whip, thwarted a float-over, and guillotined him with the top rope.
According to Vince, should Michaels retain, he will defend the Intercontinental title against Marty Jannetty at the PPV.
Michaels then dropkicked Moon while Doink made another appearance at ringside.
Meanwhile, Bartlett performed an AWFUL Mike Tyson impression, and Moon rolled up Michaels for 2.
Michaels then gave Moon a HARD cross corner whip injuring the back.
When Moon hooked an inside cradle, he got 2.
Michaels rebounded with a back elbow for 2.
As Moon caught Michaels mid-dropkick, he catapulted him over the top rope to the floor.
Michaels then evaded a plancha attempt, but Moon landed on the apron and hit a senton splash to Michaels on the floor. Woohoo!
After they returned to the ring, Moon gave Michaels a cross corner whip followed by a spinning heel kick.
He then delivered a rolling fireman's carry slam for 2.
When Moon slammed him, Michaels evaded a second senton.
He then gave Moon a superkick, but Moon escaped a teardrop suplex attempt.
As Michaels hit the teardrop suplex on a second attempt, he pinned Moon.
Michaels retained.
Rating: **
Summary: The chemistry between Diamond and Michaels existed due to the Rockers-Orient Express feud in previous years. Therefore, they provided a very entertaining match despite the result being a no-brainer.
Promo airs for WWF Mania starring Todd Pettengill Saturday mornings at 10AM ET only on USA.
ROYAL RUMBLE REPORT: "Mean" Gene Okerlund confirms the match-up for the Intercontinental title between Michaels and Jannetty. After Okerlund asks in whose corner will Sensational Sherri stand, Michaels cuts a pre-recorded promo and promises that she'll be in his corner. In rebuttal, Jannetty believes 1/24 to be "Marty Jannetty Day." Um…I think he over-celebrated that day. Nonetheless, he not only vows to win the title but also end Michaels' career. Okerlund then shills the Rumble match featuring the following competitors:
"Nature Boy" Ric Flair – last year's winner
Tatanka
WWF tag team champion IRS
Bob Backlund
Jerry "The King" Lawler
Perfect
Perfect then cuts a promo predicting his victory.
WWF tag team champion the "Million Dollar Man" Ted DiBiase
Crush
"The Model" Rick Martel
Yokozuna
Mr. Fuji then cuts a promo for Yokozuna.
"Macho Man" Randy Savage
Papa Shango
Earthquake
Berzerker
Undertaker
Carlos Colon
Genichiro Tenryu
"El Matador" Tito Santana
Typhoon
Headshrinker Samu
Headshrinker Fatu
"Hacksaw' Jim Duggan
Duggan then cuts a promo vowing to give 110% during the Rumble match.
While Okerlund mentions that the winner of the Rumble match will receive a WWF title shot at WrestleMania IX, he completes the PPV rundown with the WWF title match between Bret and Ramon.
Meanwhile, in the arena but not shown on TV, Santana defeated "Iron" Mike Sharpe.
Outside the arena, a line forms to buy tickets for next week's show, and Mooney tries to interview a rabbi. While the rabbi claims to want to see his nephew Bartlett, Mooney disrupts the obvious shenanigans of Heenan.
Get your tickets NOW for upcoming RAW shows at the Manhattan Center on 1/18 and 2/1 by calling (203) 352-8692. The ticket office is open from 9am to 5pm ET Monday-Saturday.
We then revisit Superstars when Kim Chee and Harvey Wippleman shoved and berated Kamala. That was until Reverend Slick came to the ring and spoke on Kamala's behalf to fire them. Kim Chee then nailed Slick so Kamala chopped him over the top rope to the floor. Afterward, he chased Wippleman back to the dressing room (aired 1/9/93, taped 12/14/92).
Match 4: Undertaker (w/ Paul Bearer) versus Damian Demento
Highlights:
Demento gave him an Irish whip but Undertaker face-planted him.
As he delivered a ropewalk shoulder smash, Undertaker gave Demento a cross corner whip but ate boot on his follow-through.
Demento then mounted the second turnbuckle and hit a double axe handle.
Upon giving Undertaker a flying shoulder block, Demento ate a flying clothesline.
Undertaker then PLANTED Demento with the tombstone so hard it looked like a burial.
1-2-3.
Undertaker won.
Rating: DUD
Summary: Showcase match for Undertaker.
Next week, Vince promises a steel cage match between Woody Allen and Mia Farrow.
Vince then interviews Doink the Clown, but Crush interrupts, threatens, and chases Doink around the ring.
Before the show goes off the air, Mooney gives Heenan the all-clear to enter the arena. HA!
Conclusion: As a live experiment, this was a moderate success. The small arena atmosphere provided the show with a unique setting that worked. On the other hand, Rob Bartlett did NOT add anything good to the show. Instead, he told bad jokes, insulted the wrestlers, and made Vince's job more difficult. I certainly hope they tone Bartlett down in future episodes. Check this show out if you've never seen it.
TV Rating: 2.5
Stay tuned for WWF Monday Night RAW 1-18-93!
Comments? Suggestions? Send them to me at [email protected] and follow me on Twitter (@rockstargary202). Also, please check out all of my reflections at rockstargary.com.