We have enough plot for a dramatic video recap of last week! Punk won a Three Way Dance last week to get a shot at John Morrison tonight in a Fifteen Minutes Of Fame match. If he wins, he gets a shot at the title at Summerslam. Simples.
We're in Youngstown, Ohio and THIS IS THE NEW SHIT is back in the intro, so we can have more Manson discussion. Despite enjoying his music, I've always been annoyed at him daring to put out Smells Like Children as a full-priced album (that I paid full-price money for) when it was three covers, three remixes and some shit. I don't care if you recorded Portrait Of An American Family, I'm glad Dita Von Teese left you.

The Boogeyman vs. Jesse Guilmette
Hey, the future Braxton Sutter/Pepper Parks. Slam, splash, pin, worms.
Winner: The Boogeyman (Usual Boogeyman squash but the 3/4 of the ring splash was nice.)
Matt Striker arrives and wants Boogeyman stopped because his worms are unsanitary. Striker blames the crowd for encouraging him but they were silent during the match. He distracts Boogey until Big Daddy V shows up to wreck shit. Boogey takes a choke, splash, Samoan Drop and a series of elbows before V has enough. Good segment due to V moving around like one of the The Headhunters where you're half-impressed at his speed and half worried he's going to kill his opponent.
Elijah Burke vs. Tommy Dreamer
Fall-out from last week's main event. Dreamer gets the advantage and sends Burke outside but gets hurled off the apron in a surprisingly brutal spot. Outer Limitz Elbow gets two and Burke surfboards Dreamer for about two seconds before the ref tells them to hurry up so Dreamer drops Burke on his head to knock the beads out his hair. Dreamer gets a Texas Cloverleaf, doesn't get the submission so catapults Burke into the corner. Burke goes up top anyway and blocks a Dreamer superplex by dumping him off the top and in the confusion gives Dreamer the Elijah Express for the win.
Winner: Elijah Burke (Weird pacing aside, Dreamer was moving around like a house (of pancakes) on fire and he seems very motivated at the moment. I'm sure Burke's a nice guy but the negative of watching these ten years later is knowing he'd already peaked and you're waiting for him to leave already. He's good for a GIF though.)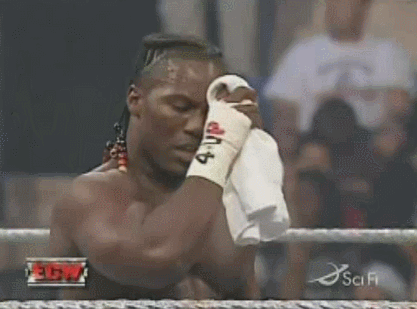 Morrison is interviewed by Joey Styles. He lists all his nick-names (he's nearly at David Starr levels) and asks Punk if he can handle it. When he's up at 5am for his straight-edge workout, Morrison's just getting home. "They don't serve diet soda at the Palace of Wisdom, Punk." He tells him this is the end, no one will remember your name. Morrison's Ric Flair If He Was A Psychedelic Rock Frontman promos are at least a thousand times better than his Nitro ones and it's a fucker to think he'd get a rep for being bad at promos because he was forced to recite the shite the Raw/Smackdown writers gave him years later.
The Miz vs. Balls Mahoney
Miz has all three of Extreme Expose with him because he's a Chick Magnet. This is a rematch from last week because we've already ran out of disposable talent for Miz. Balls punches collide but Balls makes a mess of falling outside (with him shouting "OH SHIT" like Spike in Transformers). Kelly checks on Balls and we get this classic close-up.
Miz isn't happy with that so he ravages Balls on the ground. The clearly-thrilled crowd start chanting "T-N-A" to really date the show. Miz is so inspired by the chant that he messes up a slam. They appear to forget what the next bit is supposed to be so Miz thinks "fuck it" and hits Reality Check for the finish. Winner: The Miz (Uglier than a robber's dog. Kelly Kelly kept on looking at Balls after the match so we have that to look forward to.)
Styles interviews Punk. His only addiction is competition and Morrison will never forget the name of CM Punk. "Meh" promo.
Raw Recap covers Vince explaining he faked his death to see if people really cared. He's back because…wait, this graphic does it better than I can:
And here's the ESPN post about it:
In a move that significantly widens the impact of wrestler Chris Benoit's murder-suicide case, two congressmen who opened steroid hearings into Major League Baseball have requested that World Wrestling Entertainment provide records pertaining to the WWE's testing policies and practices.

In a three-page letter dated Friday, Rep. Henry Waxman, the chairman of the House Committee on Oversight and Government Reform, and Tom Davis, its ranking minority member, asked WWE to provide a series of documents intended to give the committee and its investigation a detailed look at WWE's drug-testing policy, including information about the results of performance-enhancing drug tests on pro wrestlers.

"The tragic deaths of World Wrestling Entertainment star Chris Benoit and his family have raised questions about reports of widespread use of steroids and other performance-enhancing drugs by professional wrestlers," the congressmen wrote.

"These allegations — which include first-hand reports of steroid use by prominent former wrestlers — have swirled around the WWE for over a decade. Investigations by journalists have described a culture of performance-enhancing drug use in professional wrestling, high fatality rates among young professional wrestlers, and an inability or unwillingness of WWE to address these problems."

The letter from Waxman and Davis described WWE wrestlers as "multimedia stars that have an influence on the behavior and attitudes of the nation's youth."

"WWE has a responsibility to do everything possible to eliminate the use of performance-enhancing drugs — or the perception of such use — by its wrestlers."

The records request is wide ranging, and parallels what was asked of Major League Baseball. It seeks a list of drugs covered by its policies; the entity that conducts its drug testing; the number of tests it conducts annually; the protocols followed after a positive test; and the procedures for awarding exemptions.

It also wants hard figures about the number of tests that the WWE conducts each year; the numbers of wrestlers tested; positive results for each specific drug; and the number of positive tests for which wrestlers were penalised.

In an attempt to investigate the WWE's reaction to past scandals, the committee is also seeking "the results of any investigations prepared [by the company] regarding the deaths, injuries, or illnesses of current or former professional wrestlers that may have been related to the use of steroids."

It adds to the list "all communications between [the company] and outside entities including communications with health care professionals or law enforcement authorities, regarding allegations of drug use by wrestlers."

WWE chairman Vince McMahon was given until Aug. 24 to comply. A spokesman for the company had not seen the letter when called for comment Friday afternoon.

The WWE instituted its current drug testing policy after the November 2005 death of Benoit's best friend, Eddie Guerrero, 38, who was found dead in a hotel room in Minneapolis. A subsequent autopsy showed heart disease. Because steroids cause the heart to work harder to pump blood to an enlarged physique, they have been associated with arterial wear and tear.

The WWE has insisted that it randomly tests its 180 athletes at least four times a year. But its program has been criticised for being too employee-friendly. In a recent interview with the New York Times, David Black, the company's hired drug testing administrator, said: "The intention is not to punish, but to get them [the wrestlers] to engage in a different lifestyle."

In a June 28 interview on the Today show, McMahon defended his employees, saying: "Everyone that's in this organization, to my knowledge, is well-adjusted, family people. They go to work like everybody else, except their definition of what their job is, is to put a smile on somebody's face. They're performers and they do their jobs very, very well."

The congressional request is the most direct approach on the WWE since 1994, when federal prosecutors charged McMahon with steroid distribution. A jury found him not guilty. In the years since, McMahon has regained widespread respectability, selling shares in the WWE to the public and luring celebrities like Donald Trump to his shows. But the double murder-suicide in late-June involving Benoit, one of his company¹s biggest stars, has refocused attention on the issue of wrestler deaths and steroid use.

Authorities have said Benoit's body was found to have 10 times the normal level of testosterone, as well as amounts of the anti-anxiety drug Xanax and the painkiller hydrocodone, but there has been no evidence that steroids played a role in the deaths of Benoit's wife, Nancy, and 7-year-old son, Daniel. Georgia's top medical examiner said the testosterone, a synthetic version, appeared to have been injected shortly before Benoit died. He hanged himself in the basement gym of his suburban Atlanta home."
Vince deals with these serious-sounding issues by mocking them in backstage segments with Coachman, comparing congress investigators to Barney Fife and stating news media has turned into Entertainment Tonight. I swear when Vince is dead he'll be trying to convince the Grim Reaper to not believe everything you read about him. This ends with Vince finding out he has an illegitimate kid. Ohhhhh the hits keep on coming.
Styles interviews Richards about his fluke wins on Thorn the past two weeks but before he can say anything, Thorn attacks Stevie by slipping and falling. CM Punk vs. John Morrison (Fifteen Minutes Of Fame)
Punk has fifteen minutes to get a win on Morrison for a title shot, it's not Iron Man rules. Feeling out-process to start as the quiet crowd goes nuts for Punk. They go hold-for-hold with Morrison showing he's as good as Punk at that type of thing. Some of the crowd love chanting CM PUNK and haven't stopped since the bell. Morrison puts him in a hold and makes Punk stare at the clock before following up with a hip-wiggle. Morrison gets stuck in the ropes so Punk springboard-dropkicks him for two. Punk holds his hand and kicks him so he can't get away before turning that into a clothesline. Eddy Gordo breakdance legdrop only pisses off Punk who kicks him in the back. They have an awkward moment where Morrison expects a move that doesn't arrive so he just kicks him a few times. Punk dives out of the ring onto Morrison but ends up getting kicked when he tries to re-enter. However, Punk dumps Morrison out of the ring with a suplex as Morrison rolls half-way to the back. When we're back from the break we have four minutes left (good job the match didn't end during the break) and Punk gets two off a roll-up. Morrison wastes time bigging it up and misses a corkscrew moonsault. Three minutes left and Punk unloads the Salad Days strikes. Running Knee/Bulldog combo connects, as does a high-arse springboard clothesline for 2.999. Roll-up again at two minutes gets two, leaping enziguri also gets two. NOW Punk is going for broke. Morrison collides with a backbreaker and a neckbreaker for two as we reach 1:20 left. Morrison tries for a submission but doesn't get it so he tries for a slingshot into the ropes which Punk counters by landing on his feet, Morrison anticipates the crossbody so he ducks but Punk lands a Sunset Flip instead. Only gets two but great sequence. Fifty seconds left, Punk tries for GTS but Morrison gets a Springboard Kick (after slipping off) for two. Twenty seconds left, GTS counters the neckbreaker and Punk gets the pin with five seconds remaining.
Winner: CM Punk (A bit clunky to begin with as neither were playing their expected roles (Morrison was going for wrestling rather than stalling) but it was all-action after the break. Surprised Punk won though, in a perfect world Morrison would have cheated or pussied out for Punk's first 15MOF match. No wait, I guess if Morrison is busting out corkscrew moonsaults it makes sense for him to be a cocky, athletic champ. Aye ignore me.)
Overall: There was a lot of botches tonight (yay) but it was still a fun show for the third time in a row. Not on par with the previous episodes because Miz/Balls/Kelly was as welcome as a turd in a bath, but still better than the start of the year.