Rock Star Gary reflects on Saturday Night's Main Event XXII
By Rock Star Gary on 18th January 2017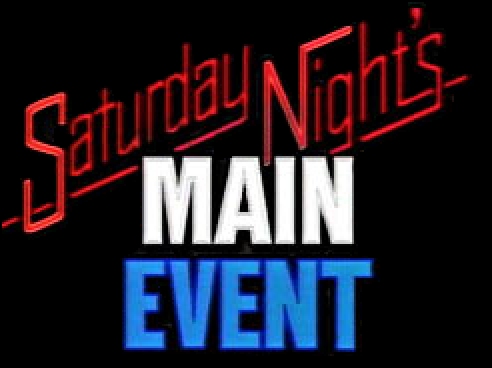 Taped from Worcester, MA
Airdate: July 29, 1989 (taped 7/18)
Attendance: unknown
Hosted by Vince McMahon & Jesse "The Body" Ventura
How will the road to Summerslam be paved this year? Let's read on…
Savage and Sherri are serving up a summer barbecue starting with "the world's biggest hot dog"—Beefcake. HA!
A miffed Beefcake replies by insinuating that Sherri's a witch.
Next, the Brain Busters and Heenan are ready for a rematch as they prepare to win the tag titles from Demolition.
Speaking of Demolition, they're ready to jam to some Glenn Frey.
Crooning like there's no tomorrow, Honkytonk Man wants Hogan to "face the music." I liked that show when I was growing up too, Honky.
In the meantime, Hogan doesn't do game shows but plagiarizes Elvis' lyrics instead. I'll spare you either the nostalgia or the acid reflux by not repeating them.
To begin the show, we're treated to the Honkytonk Man's "Greatest Hits" beginning with his skull-cracking smash hit on Jake Roberts. Second, we WALLOPS the Ultimate Warrior. Third, he hammers Snuka in the back. Fourth, he nails Bret in the head during a tag team match. Fifth and lastly, he hits Beefcake in the back.
Backstage, "Mean" Gene Okerlund interviews Honkytonk Man with Hart. There were way too many Elvis songs referenced for me to take this seriously.
After the challenger makes his entrance, Okerlund interviews Hogan backstage and lists everything happening with Hogan (No Holds Barred, feuding with Savage and Zeus, the Summerslam match, new partnership with Beefcake). No matter how busy the Hulkster is, he's still "fired up." Bartender, I'll have what he's having.
Match 1 for the WWF title: Hulk Hogan (champion) versus the Honkytonk Man (w/ Jimmy Hart)
Highlights:
Rating: *1/2
Summary: Typical Hogan match with a twist at the end.
Not THAT kind of twist, but keep pouring, bartender!
After a commercial break, Hogan poses for the Worcester faithful as Garvin enters the ring. They shake hands as Vince describes him as a "great referee." Your and my mileage may vary.
We then revisit Superstars as Valentine defeated Garvin in a "retirement" match (aired 4/29, taped 4/4). After WWF President Jack Tunney hired Garvin as a referee, heels would hit Garvin, but Garvin retaliated each time.
After Garvin's altercation with Bravo, Tunney addressed the issue by hanging a suspension over Garvin's head if his unprofessional conduct continues.
Match 2: Greg "The Hammer" Valentine (w/o Jimmy Hart) versus Jimmy "Superfly" Snuka
Highlights:
Rating: *1/2
Summary: This was more angle than match. Stay tuned for more on the Garvin-Valentine saga.
Not THAT Saga, but it's a great tune!
After the match, Valentine charges at Garvin but gets backdropped over the top rope to the floor. Hey! The Royal Rumble occurs during the winter not the summer.
We then revisit the Brother Love show when Sherri informed Beefcake that she's a lady. Savage then attacked him from behind (aired 4/22, taped 4/4). After Savage nailed him repeatedly, Sherri cut Beefcake's hair. How dastardly!
Backstage, Ventura interviews Savage with Sherri. While the earlier attack was for Sherri's sake, Savage dedicates this match to HIMSELF.
After Savage makes his entrance, Okerlund interviews Beefcake who states that Sherri "could scare the Z off of Zeus' head." Yikes!
Match 3: "Macho Man" Randy Savage (w/ Sensational Sherri) versus Brutus "The Barber" Beefcake
Highlights:
Rating: **1/2
Summary: Crappy finish to a match that went back and forth very well. The table has truly been set for Summerslam with Savage and Zeus on one side and Hogan and Beefcake on the other.
After the match, Zeus applies a bear hug to Beefcake until Hogan comes in and hits Zeus with a double axe handle to the back. Since it doesn't faze him, Zeus turns around to confront Hogan. After no-selling all of Hogan's punch-and-kick offense, Zeus applies a bear hug to Hogan. Savage then mounts the top turnbuckle and nails Hogan in the back with a double axe handle.
To add insult to injury, Savage retrieves scissors from Beefcake's bag to cut Hogan's hair. When Beefcake intervenes, Hogan tosses Savage over the top rope to the floor. As Zeus reapplies a bear hug to Beefcake, Hogan then gets a chair from ringside and WALLOPS Zeus in the back with it. It doesn't faze Zeus whatsoever! Beefcake then unseats the timekeeper by grabbing his chair. The segment ends with a standoff.
Backstage, Ventura interviews Savage with Zeus and Sherri. According to Zeus, Hogan "ain't nothing, and Beefcake (is) less than nothing." Methinks Zeus didn't excel in math.
Prior to the next match, we revisit SNME XXI when Demolition lost to the Brain Busters by DQ but retained their titles.
Backstage, Okerlund interviews Demolition.
Match 4 for the WWF tag team titles (2 out of 3 falls): Demolition versus The Brain Busters (w/ Bobby "The Brain" Heenan)
Highlights:
First fall:
Second fall:
Third fall:
Rating: ***
Summary: Heel shenanigans overcame a powerful duo and stole the titles for the Busters. Anderson and Blanchard became the first team to win both the NWA and WWF tag team titles.
After the match, Ax tries to revive his partner who is OUT COLD.
Back in the locker room, Ventura interviews fellow Heenan family members Haku and Intercontinental champion Rick Rude. A jubilant Heenan joins them as a celebration breaks out.
After a commercial break, Okerlund interviews Hogan and Beefcake. Hogan's worried about Elizabeth's safety as Beefcake shows his loyalty.
Conclusion: Certainly, the sizzle of the Summerslam main event was sold with this show. In addition, the Busters' victory for the titles makes this an historic episode. Grab your friends and family, some popcorn, and enjoy this one.
See you for WWF Summerslam '89!
Rating: unknown
Comments? Suggestions? Send them to me at [email protected] and follow me on Twitter (@rockstargary202). Also, please be sure to check out all of my reflections at rockstargary.com.