Rock Star Gary reflects on WWF Saturday Night's Main Event XXI
By Rock Star Gary on 13th December 2016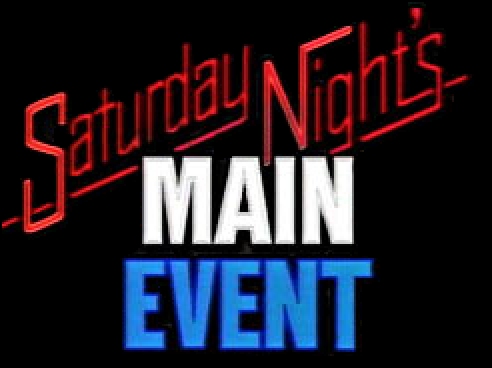 Taped from Des Moines, IA
Airdate: May 27, 1989 (taped 4/25)
Attendance: unknown
Hosted by Vince McMahon & Jesse "The Body" Ventura
Can Hogan successfully defend the WWF title in a cage against the Big Boss Man? Let's find out!
Behind the big blue cage, Hogan cuts a promo on Bossman. After referring to Bossman's head as a "fathead," he calls himself "Judge Hogan." Oh, brother.
Opening montage.
Prior to the first match, we revisit WrestleMania V when Heenan assisted Rude with winning the IC title.
Backstage, "Mean" Gene Okerlund interviews Rude with Heenan. Disturbingly, Rude and Heenan rattle off their "rule #1"—Just win, baby! While they're stealing quotes from Al Davis, I certainly hope they're not Raiders fans. YUCK!
After Rude makes his entrance, Okerlund interviews Duggan who became King on Superstars (aired 5/13, taped 4/26). To honor Memorial Day, Duggan dedicates his match to the troops.
Match 1 for the WWF Intercontinental title: "Ravishing" Rick Rude (champion w/ Bobby "The Brain" Heenan") versus King Jim Duggan
Highlights:
Rating: **1/2
Summary: Very entertaining match that the Des Moines faithful enjoyed. Rude had his working boots on here. Color me impressed.
After the match, to further celebrate Memorial Day weekend, Duggan waved Old Glory.
Backstage, Okerlund interviews Neidhart who hates Savage's treatment of Elizabeth. Okerlund informs him of Savage's NEW manager—Sensational Sherri. Neidhart calls her "Scary Sherri."
After Neidhart makes his entrance, Ventura interviews Savage with Sherri backstage. Savage NEVER wants to hear Elizabeth's name "ever again." Uh huh. Sherri chimes in by calling Elizabeth "history." Wow!
Match 2: "Macho Man" Randy Savage (w/ Sensational Sherri) versus Jim "The Anvil" Neidhart (w/o Bret Hart)
Highlights:
Rating: **1/2
Summary: While this would appear to be a showcase match for the former WWF champion, Neidhart surprised and awed me with his arsenal.
Not THAT kind of arsenal!
Backstage, Ventura interviews Bossman with Slick. Shockingly, Slick has a BIG surprise for Hogan.
Match 3 for the WWF title (steel cage): Hulk Hogan (champion) versus the Big Boss Man (w/ Slick)
Highlights:
Rating: ***1/2
Summary: Wow! What looked like a stinker on paper shocked me by being not only entertaining but also exceptional. While I understand they practiced that spot on the house show circuit, they delivered it in spades on national TV. Kudos to Hogan and Bossman!
After the match, Hogan raises Hebner's arm then rams Bossman into the cage again. He then re-enters to get his hands on Slick. When Slick tries to escape, Hogan catches and sends him into the cage. Afterward, Bossman pulls Slick out to save his bacon. To close out the segment, Hogan poses while wearing Slick's chapeau. Tres chic!
Backstage, Ventura interviews the Brain Busters with Heenan. An ever-so-confident Heenan is only worried about Demolition's "cheap paint" job. It wouldn't look cheap if they went to Maaco.
After the challengers make their entrance, Okerlund interviews Demolition.
Match 4 for the WWF tag team titles: Demolition versus The Brain Busters (w/ Bobby "The Brain" Heenan)
Highlights:
Rating: **1/2
Summary: Good tag match with a crappy finish. I smell a rematch in the offering.
After the match, Demolition chased after the Busters and brawled with them in the aisle.
When we return from commercial, Ventura interviews Savage with Sherri again. Savage claims to be the #1 contender and promises to get his belt back. After Sherri uses Hogan's catchphrase against him, she along with Savage and Ventura give us a collective "Oh Yeah!" In your face, Hulkster!
Match 5: Jimmy "Superfly" Snuka versus Boris Zhukov
Highlights:
Rating: *
Summary: Showcase match for Snuka.
After a commercial break, Okerlund interviews Hogan backstage. Hogan invites Zeus to join him "in the squared circle" and also invites the little Hulksters to see his new movie. C'mon, Hulkster, shill the popcorn too!
Conclusion: Extremely good episode that stood on its own very well. If you've never seen the Hogan-Bossman match, seek it out ASAP. If you've not seen it in a while, gather your friends and family and relive it on the WWE Network.
See you for NWA Clash of the Champions VII!
Rating: unknown
Comments? Suggestions? Send them to me at [email protected] and follow me on Twitter (@rockstargary202). Also, please be sure to check out all of my reflections at rockstargary.com.