Show opens with a dramatic recap of Paul Heyman channelling Caligula and helping his horse become ECW Champion.
We're in Minneapolis, Minnesota with Styles & Tazz commentating and our main event is Big Show vs. Ric Flair in an Extreme Rules match.
Heyman's on the mic and he's finally ditched the jacket and hat so he can breath again. He starts with "Ladies & Gentlemen, my name is Paul Heyman," I didn't know he'd been doing it for that long. He blames the people for causing RVD's downfall and it's their fault he had to suspend him for sixty days. The people were to blame for RVD wanting to defend his title every night (which was nearly true with the crazy schedule of 2006) and Heyman had to help him. Heyman calls himself a saviour and a martyr and will continue to make decisions that only benefit ECW and no-one else. This might be the best example of Heyman's ability to turn chicken shit into chicken soup as he made the title change to broken-down-steam-engine Big Show sound as important as Bash At The Beach 1996.
Heyman walks backstage with his security team as ECW wrestlers give him evil stares. Sadly there's no Paul London grinning. Tommy Dreamer gives him a "How could you?" so Heyman puts him in a match right now (after the break).
Tommy Dreamer vs. Test
Dreamer is walking to the ring in his casual gear, taping his wrists. Nice! I saw Bret Hart in Gateshead (he was doing a Q n A session, he wasn't lost) and one of the many complaints he had about Wrestlemania 32 was The Rock tearing off his gear "just in case he had a match" and also Austin, HBK & Foley showing up "unexpectedly" but wearing full wrestling gear as opposed to normal clothes. His opponent's Test so I'll stop being positive.
Test ignores the "Steroids" chants and beats up Dreamer because that's always been Dreamer's best strategy. Tazz & Styles are almost falling over each other to be the first to compliment Test's "aggressive intensity" as he uses Dino Bravo offence. Dreamer recovers from a bearhug with a neckbreaker and takes off his casual wear to reveal an ECW shirt. Test gives him a Full Nelson Bomb so maybe he should have worn the shirt of a superior TV show, like Scrubs: Med School. Test misses the top-rope elbow so he schoolboys Dreamer and holds the ropes for the win.
Winner: Roidy Magoo (So the AGGRESSIVE INTENSE guy wins via holding the ropes. I'm going to take a guess and say they realised having Mike Knox and Test have the same type of squash match would be dull so they spiced it up by making the Test the sneaky one. Except you can't really present a big man as a big man if he's using schoolboys, even if it's an intensely aggressive schoolboy.)
Kelly Kelly & Candice Michelle backstage pretend they're going to make out because this was what TV was like in 2006. For context, the Divas Search was taking place on Raw so newer fans watching this will probably react like that Native American crying at garbage.
Shelly Martinez is in a dark room reading tarot cards and they spell blood. Kevin Thorn the Un-Named Vampire shows up and spits blood into the camera lens. At least he made it past the parking lot this time.
Kelly Kelly & Candice Michelle pretend to "lez it up" and I feel like Tony Soprano at one of those parties they'd throw for a guy who'd just got out of prison. Maybe it's me being cynical and old but using fake lesbians to sell something looks so desperate. Unless it's t.A.T.u. because at least their one song was good.
Mike Knox shows up and covers Kelly up blah blah blah you know the drill. The Sandman shows up because he wants his PG-13 rated lesbian scene, dammit. Knox gets caned until he falls through the back of the set and Sandman busts himself open with a beer can. You can tell Sandman was sober for WWE because he definitely would have started stripping in ECW. Instead he just stands there ready to explode.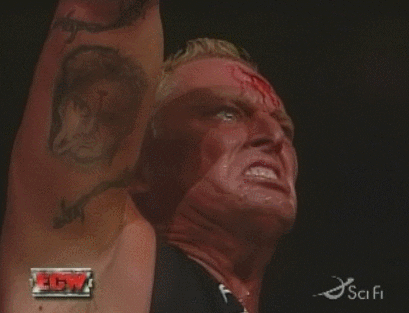 CM Punk tells us his tattoos are declarations, not decorations. He's at war with the system and he's D-R-U-G-F-R-E-E. It's easy to type "Punk had star potential (and tattoos) all over him" with the benefit of hindsight, but because the rest of the show is filled with people dressed as vampires, women pretending to be lesbians and Test pretending to not be on steroids, Punk really does look like a new exciting prospect from these very brief promos.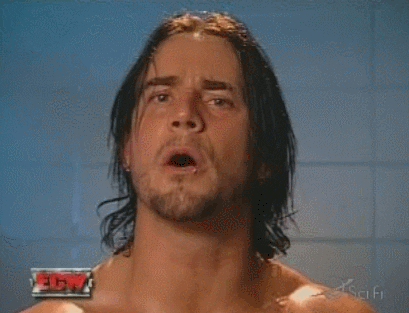 Imagine if they'd given him the vampire gimmick instead. "The only drug I am addicted to is PLASMAAAAAAAA."
Sabu vs. Justin Credible
Credible's a great example of how well-protected ECW wrestlers were. These two met at Anarchy Rulz '99 and thanks to the effort of Sabu, Lance Storm and a dozen managers, Justin Credible looked like a future world champion. Then he won the ECW Title with none of those people around and suddenly the emperor was naked the whole time.
Sabu gives Credible a decent amount of offence until Sabu gets a table. The commentators point out it's not an Extreme Rules match but they put it down to Sabu's nature. I love the on-going "oh that wacky Sabu!" commentary whenever he does anything. Sabu says FUCK THE POLICE OJ IS INNOCENT and slingshots himself over the top and puts Credible through the table for the DQ.
Winner: Justin Credible (This was all about putting over Sabu's nuttiness ("oh that wacky Sabu!") for the first ever Extreme Rules match at Saturday Night's Main Event. Sabu's music plays despite losing because FUCK YOU ALDO.)
Balls Mahoney says balls a lot and shows us his jack-o-lantern teeth. I would have recommended a name-change for Balls but he was wrestling in 2006 when VINCE LOVES COCK shirts were on sale so his name's perfect for this era.
Ric Flair tells us he's going to win his 17th World Title tonight and he tells Foley to be a man. He'll wrestle Foley in his own match anywhere WOOO he never wanted the ECW Title until tonight WOOO but he's gonna eat the big man up WOOO ECW Champ Ric Flair SAY IT WOOO Foley, grow a pair WOOO 17 time champion WOOO. As fun to watch as it was to type.
Next week, Shannon Moore is here and he's punk. He stares. Why the fuck would you plug Shannon Moore after a Ric Flair promo?
Big Show vs. Ric Flair (ECW Title, Extreme Rules)
Styles & Tazz thankfully explain why this match is happening. Flair was feuding with Foley on Raw and had beaten him in a 2/3 Falls at Vengeance but he wants him in Foley's type of match and this is warm-up for him. You could say this makes the ECW Title & Big Show look inferior but they ARE inferior and it's Ric Flair.
Crowd loves Flair as somewhere Shane Douglas is crying at the sight of Flair in ECW. Styles again compliments Big Show's shape "He's got himself into the best shape of his career!" giving us the worst case of Stockholm Syndrome since Patty Hearst. I'm surprised he didn't say "wow Flair looks amazing without a shirt on."
Flair is press-slammed and Tazz compares it to falling off a building. Tazz can get away with that because he's Tazz, just as long as the commentator he's stuck with is playing the straight man to his lovable idiot."He's got a head like a police horse!"
Flair bleeds from "anvil-esque" headbutts and his chops do nothing. Show gives him a few chops of his own and Flair Flops. Show tries to biel Flair across the ring but Flair likes landing on the side of his back so it's not pretty. Flair tries to get plunder but Show cuts him off and gives him a big suplex as Tazz laments already using the "falling off a building" line. Flair on his knees tells Big Show "C'mon!" and puts his dukes up and the crowd loves it. Flair tries the chops again but Show slams him. They've done a great job of putting Flair as the underdog in the wrong type of match and crowd is eating up everything. Show pauses to tell the crowd "I'm rich, shut up"so Flair low-blows him so hard he jumps up and then gives him another. And then two more! Show's on his knees but not down which gives Flair the chance to get the barbed-wire baseball bat and tears apart Show's forehead.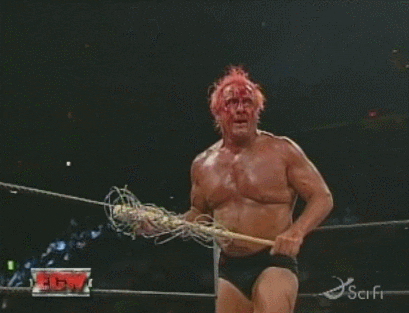 Flair uses the bin but it's not as effective as Show just stands there like the statue of Andre so Flair twats him in the stomach with a chair and manages to finally take him off his feet with a chair to the back…for two. Crowd was ready for that title change. Flair empties the thumbtacks out but Show refuses to go down. Flair twats at him repeatedly until he falls like an out-of-shape redwood into the thumbtacks. And then immediately gets up. Ah. Show chokeslams Flair and he's so pissed so he gives him the Cobra Clutch Backbreaker and squeezes Flair for the submission win. Show peels Flair off the canvas and rag-dolls him into the thumbtacks.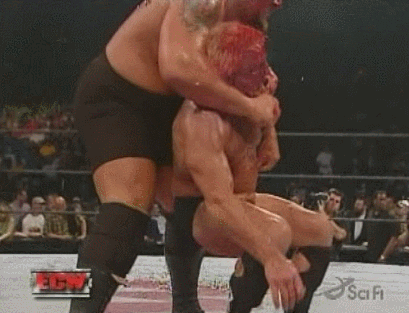 Winner: Big Show (I was expecting a car crash but I really enjoyed this. The story of Flair needing weapons to knock Show down was so effective that they were able to break the fans' hearts when Flair finally managed it only for Show to immediately get up, angrier than ever. Show looked like Brock fucking Lesnar, Flair showed he was able to get hardcore for the rematch with Foley, everyone wins. Best thing this show has produced since the RVD & Angle vs. Edge & Orton tag match. Once you get over the surreal scene of Flair using a barbed wire baseball bat in ECW.)
The bits of Flair that are still moving are scooped up and put into a bucket as the crowd shows their appreciation.
Overall: There's positives emerging on the show. We have bad guy Heyman, a feud for Sandman and that CM Punk rookie looks interesting. The fast-forward button is still your friend though.