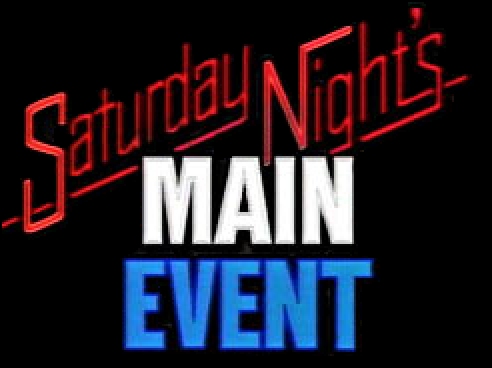 Taped from Seattle, WA
Airdate: November 28, 1987 (taped 11/11)
Attendance: 16,000
Hosted by Vince McMahon and Jesse "The Body" Ventura
So it's Thanksgiving weekend of 1987. Both Survivor Series and Starrcade took place already, and THIS show aired two nights later? And we think today's wrestling is oversaturated? Sheesh!
Anyway, with the theme music of Twilight Zone in the background, Savage narrates the chaos caused by Honkytonk Man and the Hart Foundation against both himself and his manager, Elizabeth. He then cuts a promo on Bret quoting Romans 12:19 with "vengeance is mine."
Afterward, Heenan and Bundy are ready to market Bundymania worldwide after beating Hogan later tonight.
Hogan, with fringe on his bandana, retorts with the usual promo.
Opening montage.
Vince and Ventura welcome us to the program as Ventura calls Vince a "turkey in a tuxedo." HA!
Prior to the first match, we revisit SNME XI where Davis WHACKED Steele with the ring bell to assist Savage with his victory.
Backstage, "Mean" Gene Okerlund attempts to interview Steele who has an Elizabeth action figure. Of course, it goes nowhere.
Earlier, Ventura interviewed Davis who is ready to ring Steele's bell again.
Match 1: George "The Animal" Steele versus "Dangerous" Danny Davis
Highlights:
Steele attacked to start and gave Davis a standing choke. Smartly, Davis exited the ring to regroup.
When Davis returned to the ring, Steele nailed him sending him back to the floor.
Astonishingly to both Ventura and me, Steele executed a drop toehold, but Davis escaped.
Steele then chased Davis around the ring and procured ring announcer Howard Finkel's chair.
Referee Joey Marella convinced Steele to drop it, but Davis then nailed Steele with a foreign object.
Repeatedly, Davis used the foreign object until Steele had enough and hooked a flying hammerlock.
Davis kicked Marella away causing the lame DQ.
Rating: DUD
Summary: This show is off to a BAD start. Let's hope it improves.
After the match, Steele chases Davis from the ring then eats the turnbuckle as an after-work snack. When Davis returns to attack him, Steele retaliates with some turnbuckle stuffing. With no gravy? Steele then chases Davis backstage.
Next, we revisit SNME XII when Bret saved the Intercontinental title for Honkytonk Man.
Backstage, Okerlund interviews the Hart Foundation with Jimmy Hart. The "Mouth of the South" actually refers to Elizabeth as a "daughter of the devil." Yikes!
Prior to the next match, we revisit Honkytonk Man's vile act of pushing defenseless Elizabeth down. How shameful!
After the Hart Foundation make their entrance, Okerlund interviews Savage with Elizabeth. According to her, she still suffers from some pain from the shove by Honkytonk Man. In convincing fashion, Savage is ready for the "Hitman."
Before the bell, Bret distracts Savage so that Neidhart could stalk Elizabeth, but Savage notices the shenanigans and puts a stop to it.
After a commercial break, Seattle linebacker "The Boz" Brian Bosworth makes his way to the front row. In split-screen, Honkytonk Man basically states that he has unfinished business with Savage and Elizabeth. The scoundrel!
Match 2: "Macho Man" Randy Savage versus Bret "Hitman" Hart (w/ Jimmy Hart & Jim "The Anvil" Neidhart)
Highlights:
Savage chased Bret around the ring, caught him, and gave him an elbow smash.
Afterward, he rammed Bret shoulder-first into the ring post.
Back in the ring, Savage reversed a reversal of a cross-corner whip but came up empty on his follow-through.
Upon giving Bret an elbow smash that sent him to the apron, Savage used momentum to shove Bret directly into the steel railing. OUCH! This bump would become a trademark for Bret in a couple of historical matches in later years.
To gain Bret some time to recuperate, both Hart and Neidhart got up on the apron only to receive a double-noggin knocker from Savage.
Savage then mounted the top turnbuckle, leaped, but ate a megaphone to the midsection before hitting the floor.
While Bret distracted the anonymous referee, Neidhart put the boots to Savage then tossed him back into the ring.
After a leg drop, Bret tied Savage to the Tree of Woe. Where's the Taskmaster when you need him?
Anyway, Bret then delivered a piledriver for 2.
Next, he gave Savage a cross-corner whip but came up empty on his follow-through.
Savage then rammed Bret shoulder-first into the ring post again.
After a snap mare, Savage mounted the top turnbuckle and delivered a double axe handle for 2.
Bret retaliated with a backbreaker then mounted the second turnbuckle.
Upon Bret's missing a flying elbow drop, Savage then guillotined him using the top rope for 2.
When Savage set Bret up against the ropes, he charged, but Bret backdropped him to the floor.
Outside the ring, Savage grabbed his ankle.
To relieve pressure, Elizabeth removed Savage's boot.
In spite of the injured ankle, Savage wouldn't quit. After all, the name on his tights do not say Blanchard.
Therefore, Bret went after the ankle and rammed it into the ring post.
Afterward, Bret hooked a spinning toe hold.
However, when hooking it a second time, Savage kicked him into the ring post.
Bret then hooked a single-leg crab, but Savage made the ropes.
Shortly after, with Savage on the apron, Bret tried to slam him.
To counter, Savage hooked an inside cradle and got the pin.
Rating: ****
Summary: Great story told by both wrestlers here. You should definitely seek this match out as Bret definitely had what it took to hang with Savage in his prime.
After the match, Neidhart comes in to attack Savage but gets mule-kicked to the floor. Bret then holds Savage so that Hart could wallop him with the megaphone. As you would expect, Hart nails Bret instead.
Backstage, Okerlund interviews Bundy with Heenan who refers to Hogan's fans as "Hulkamorons." HA! Nonetheless, he has a BIG surprise for Hogan.
After they make their entrance, Okerlund interviews Hogan who describes his steroid use albeit subtly.
Match 3 for the WWF title: Hulk Hogan (champion) versus King Kong Bundy (w/ Bobby "The Brain" Heenan)
Highlights:
Upon making his entrance, Heenan got on the microphone and introduced Andre the Giant.
At the onset, Hogan tried a shoulder block but went down himself.
He then gave Bundy a high knee but only got 2.
Next, he tried a slam, but Bundy fell on top of him for 2.
After a slam, Bundy missed a splash.
Hogan then gave Bundy a clothesline and a series of elbow drops for 2.
Bundy came back with a clothesline and knee drop for 2.
LONG reverse chin lock by Bundy, but Hogan escaped and nailed Bundy.
Afterward, he gave Bundy the big boot, but when he came off the ropes for the leg drop, Andre tripped him.
Referee Joey Marella called for the bell. That's it? Seriously?
Bundy tried to nail Hogan, but Hogan evaded him.
He then nailed Bundy sending him to the floor.
Andre then removed his jacket to confront Hogan.
However, Finkel announced that if Andre did not leave ringside, Marella would award the victory to Hogan. So this match WILL CONTINUE! Oh, wait, that's me not Finkel.
As Andre left the ringside area, he attacked a cameraman. How dastardly!
After a commercial break, the match finally restarted.
Hogan then reversed a cross-corner whip and delivered a corner clothesline.
He followed that by giving Bundy another high knee but missed an elbow drop.
After a double axe handle to the back, Bundy got 2.
He then gave Hogan a HARD cross-corner whip injuring Hogan's back.
Next, he stood on Hogan's back much like George Jefferson.
Soon after, he hooked a bear hug, but Hogan escaped with a pair of elbow smashes.
On the other hand, Bundy came back with a back elbow.
He then gave Hogan a cross-corner whip, measured him, and delivered an avalanche.
Bundy then followed up with a splash to the back.
Do we have a new champion?
1-2-NO!
It's Hulk-up time!
After a series of right hands, Hogan slammed Bundy.
Bundy exited the ring and dragged Hogan out with him.
Hogan then tossed Bundy back in the ring, but Heenan grabbed Hogan's leg.
Bundy won by count-out as Hogan retained.
Rating: **
Summary: Clever finish that helped to remove some of Hogan's superman-like qualities. Could he be losing the WWF title soon?
After the match, Hogan nails Bundy sending him down to the floor then grabs Heenan by the hair and gives him a series of standing chokes. What a sore loser!
Backstage, Okerlund interviews Hercules who will be without Heenan tonight. Hercules states that he wants to squeeze the life out of Bigelow.
After Hercules makes his entrance, Okerlund interviews Bigelow with Humperdink. Bigelow is ready for the big time. Does he believe he's Peter Gabriel?
Match 4: Bam Bam Bigelow (w/ Sir Oliver Humperdink) versus Hercules
Highlights:
After a series of knees to the midsection, Hercules gave Bigelow a cross-corner whip but came up empty on his follow-through.
Although Hercules missed a clothesline, he hit Bigelow with a back elbow.
A clothesline by Hercules sent Bigelow over the top rope to the floor.
With Bigelow on the apron, Hercules nailed him.
Upon a second try, however, Bigelow snapmared him to the floor.
Bigelow joined and brawled with him.
As the bell rang, Bigelow slammed Hercules.
Finkel announced a double count-out to the dismay of the Seattle faithful.
Subsequently, Bigelow got on the microphone and challenged Hercules. The match WILL CONTINUE! Sorry, Fink, I don't mean to steal your thunder.
After a commercial break, Hercules tried a three-point stance tackle but couldn't budge Bigelow.
He gave it another try, but Bigelow cartwheeled over him.
Regretfully, Bigelow then missed a dropkick.
After a pair of elbow drops and a knee drop, Hercules mounted the top turnbuckle but got caught and military-press-slammed.
Bigelow then hit the springboard splash for the pin.
Rating: *
Summary: While Bigelow's agility is quite entertaining, this match wasn't.
After the match, it was revealed that Hercules was BUSTED OPEN!
After a commercial break, the Seattle Seahawks summon Ventura from the broadcast table.
Backstage, Okerlund interviews Bundy and Andre. According to Okerlund, Heenan may have suffered a serious neck injury at the hands of Hogan. Nevertheless, Bundy wants a rematch with Andre in his corner. From out of nowhere, Ventura interrupts and congratulates Bundy for his victory tonight.
After another commercial break, Okerlund interviews Hogan backstage. Hogan's ready to prove a point and sign for a rematch.
Conclusion: The Savage-Bret match was the only bright spot in a show that was pretty skippable. Let's hope the New Year's show is better.
See you for WWF Saturday Night's Main Event XIV!
Rating: 9.50
Comments? Suggestions? Send them to me at [email protected] and follow me on Twitter (@rockstargary202). Also, please check out all of my reflections at the NEW and IMPROVED rockstargary.com.