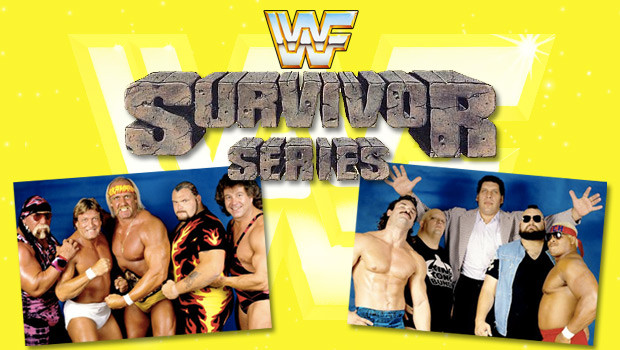 Live from Richfield, OH
Airdate: November 26, 1987
Attendance: 21,000
Hosted by Gorilla Monsoon and Jesse "The Body" Ventura
WWF's message to all the cool kids in 1987: "Starrcade who? We've got something RAD!"
After Monsoon lists the rules for the matches tonight, Craig DeGeorge interviews Honkytonk Man and his team. While Honkytonk Man sings the praises of his team, we revisit the previous SNME when he blasted Savage with the guitar and shoved down Elizabeth.
Once the heels make their entrance, "Mean" Gene Okerlund interviews the faces. As Duggan speaks, we revisit the moment when Race regained his crown by nailing Duggan with his own 2×4 (aired 11/7, taped 10/27).
Match 1: WWF Intercontinental champion Honkytonk Man (captain), Hercules, "Outlaw" Ron Bass, "King" Harley Race, & "Dangerous" Danny Davis (w/ Jimmy Hart & Bobby "The Brain" Heenan) versus "Macho Man" Randy Savage (captain), Jake "The Snake" Roberts, Ricky "The Dragon" Steamboat, Brutus "The Barber" Beefcake, & "Hacksaw" Jim Duggan (w/ Elizabeth)
Highlights:
Rating: ***
Summary: Extremely entertaining well-worked match with a convenient but crappy finish since Honkytonk Man was not going to be pinned as IC champion here.
Backstage, DeGeorge interviews Andre's team.
Match 2 (women): WWF Women's champion Sensational Sherri (captain), WWF Women's tag team champions the Glamour Girls (Leilani Kai & Judy Martin), Dawn Marie, & Donna Christianello (w/ Jimmy Hart) versus Fabulous Moolah (captain), Velvet McIntyre, Rockin' Robin, and the Jumping Bomb Angels (Noriyo Tateno & Itsuki Yamazaki)
Highlights:
Rating: ***
Summary: The live crowd had no clue who most of these women were. With that being said, the Jumping Bomb Angels were WAY ahead of their time and brought women's wrestling up several notches here.
Backstage, DeGeorge interviews the heel tag teams minus the Soviets. A disheveled Hart joins the group late and climbs into another jacket for the upcoming match.
After the heels make their entrance, Okerlund interviews the faces.
Match 3 (tag team): WWF tag team champions Strike Force (captains), Killer Bees, Rougeaus, Bulldogs, & Young Stallions versus Hart Foundation (captains), Islanders, Demolition, Bolsheviks, & Dream Team (w/ Jimmy Hart, Bobby "The Brain" Heenan, Johnny V, Mr. Fuji, & Slick)
Highlights:
Rating: ****1/2
Summary: Tons of fast-paced action and tag team synchronicity made this match extremely thrilling. But it bodes a serious question: How in the world did the Young Stallions survive? I thought they'd be dog meat early on. Perhaps it was the slovenly referee's fault, but I think the WWF blamed it on Johnny V as this was his last WWF TV appearance.
Vignette for the "Million Dollar Man" Ted DiBiase airs. We then see DiBiase, with Virgil by his side, offering a kid money for ten push-ups, but the kid can't get to 10. DiBiase subsequently denies the kid the money. In the next segment, he challenges a young boy to dribble a basketball fifteen times for $500. He then kicks the ball away before he gets to 15. How dastardly! Afterward, DiBiase sits in his study, while Virgil stands, and describes a woman who would bark like a dog for money. We then see the segment where she barks like a dog but was denied the money. At DiBiase's dinner table with servants, he describes a quick clip where a fan (a young Rob Van Dam) kisses his sweaty foot in the ring. Next, DiBiase bribes the pool attendant so that he can have the pool to himself. Lastly, he drives around in a luxurious convertible. After all, "everybody's got a price for the Million Dollar Man."
On the podium, DeGeorge interviews the Honkytonk Man with Jimmy Hart. He declares himself to be "the greatest Intercontinental champion of all time" and runs down Savage.
Backstage, Okerlund interviews Hulk Hogan and his team.
Match 4: WWF Champion Hulk Hogan (captain), "Mr. Wonderful" Paul Orndorff, Don "The Rock" Muraco, Bam Bam Bigelow & Ken Patera (w/ Sir Oliver Humperdink) versus Andre the Giant (captain), King Kong Bundy, One Man Gang, the "Natural" Butch Reed, and "Ravishing" Rick Rude (w/ Bobby "The Brain" Heenan & Slick)
Highlights:
Rating: **1/2
Summary: The elimination of Hogan completely surprised me. Truly I did not think that Bigelow would overcome 3-on-1 odds against three superheavyweights.
After the match, Hogan runs to the ring with the championship belt and nails Andre with it twice then taunts Andre with it. Heenan yells at Hogan to sign a contract for a title match to get his hands on Andre. Despite losing, Hogan poses for the crowd.
Backstage, Okerlund interviews Andre the Giant with Heenan. Speaking of Heenan, he begs Hogan to sign on the dotted line. I smell an impending rematch.
Conclusion: In spite of zero singles matches, this was a very entertaining three-hour show. Definitely check out the tag team survivor match as it had just about everything you could imagine. The table was certainly set for a Hogan-Andre rematch, but will they wait for WrestleMania IV?
See you for NWA Starrcade '87!
Buyrate: 7.00 (325,000 homes)
Comments? Suggestions? Send them to me at [email protected] and follow me on Twitter (@rockstargary202). Also, please be sure to check out all of my reflections at rockstargary.com.