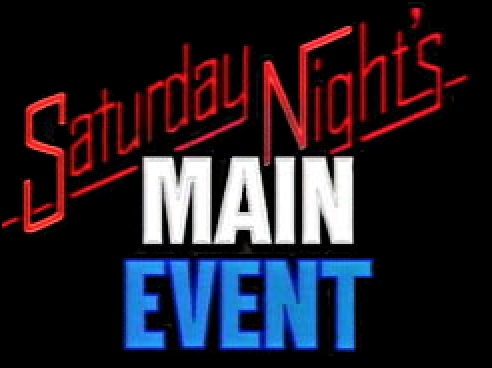 Taped from Hartford, CT
Airdate: January 3, 1987 (taped 12/14)
Attendance: 10,000
Hosted by Vince McMahon and Jesse "The Body" Ventura
To open the show, Orndorff and Heenan run down Hogan. According to Orndorff, "Hulkamania dies tonight!" Well, he was only 91/2 years premature on that prediction.
Next, Hogan cuts a promo from within a steel cage.
Following that, Jimmy Hart calls out Piper for what he did to Adonis on SNME VII. In the meantime, Adonis will give Piper a Happy New Year.
Meanwhile, "Mean" Gene Okerlund interviews (or attempts to, in this case) Steele. His word for Savage tonight is "Surprise!"
Just for YOUR pleasure, "King" Harley Race wants JYD to bow down to him.
Solemnly, JYD rebuts by proclaiming his religious faith. Way to cater to the special interest groups there, Sylvester!
Opening montage.
Vince and Jesse (sans wig) welcome us to the show and state that the very first steel cage match on network TV will occur tonight. Much like Orndorff, Jesse predicts Hogan's downfall.
Backstage (now with a stand-in backdrop), Okerlund interviews Orndorff with Heenan. Since they're in the insurance capital of the world, Heenan has purchased championship belt insurance. Wise investment or waste of money? You make the call!
Match 1 for the WWF title (steel cage): Hulk Hogan (champion) versus "Mr. Wonderful" Paul Orndorff (w/ Bobby "The Brain" Heenan)
Highlights:
While I have enjoyed this feud quite a bit, it's time to end it with a stipulation match.
Nefarious referee Danny Davis joined assigned referee Joey Marella for this bout.
As Hogan entered by climbing into the cage over the top, Jesse claimed there will be a "clear cut winner." Foreshadowing, perhaps?
Orndorff attacked immediately, took the WWF belt off Hogan, and whipped him with it. Where's David Crockett when you need him?
He then tried to exit through the door, but Hogan grabbed his ankle.
After a pair of elbow smashes, Orndorff made attempt #2 but failed.
Next, he tried to exit over the top, but Hogan "would not be the champion if 'Mr. Wonderful' was bald" according to Jesse.
With Orndorff hanging upside-down, Hogan repeatedly rammed him face-first into the cage.
Hogan then choked Orndorff with his head band.
Following that, he made attempt #1 over the top, but Orndorff stopped him.
Orndorff then missed a pair of elbow smashes as Hogan took over.
Hogan tried to exit through the door, but Davis wouldn't permit it.
Marella unlocked the door, but it was too late for Hogan to escape.
Orndorff tried to ram Hogan face-first into the cage, but got blocked and rammed instead.
Without hesitation, each wrestler climbed one side of the cage opposite the other.
Supposedly, both men hit the floor simultaneously.
While Marella raised Hogan's arm, Davis raised Orndorff's.
To add insult to injury, Davis knocked Marella down.
Subsequently, Hogan threatened to knock Davis into the spring of 1990 until Orndorff put a well-placed knee into Hogan's back.
Orndorff then rammed Hogan face-first into the cage.
DO WE HAVE A NEW CHAMPION?
NO! Ring announcer Howard Finkel announced the match as a tie; therefore, both wrestlers must continue the match inside the cage.
After a commercial break, Orndorff tossed Hogan back into the cage.
He then mounted the top turnbuckle and nailed Hogan in the back.
In the meantime, Davis was assisted backstage.
Short-arm clothesline by Orndorff, but it's Hulk-up time!
Hogan repeatedly rammed Orndorff into the cage.
Backbreaker by Hogan was followed by the leg drop.
According to Vince, Orndorff was BUSTED OPEN!
As Hogan attempted to escape over the top, Heenan entered the cage to check on Orndorff.
He then grabbed Hogan by the ankle.
Orndorff tried to escape over the top, but Hogan thwarted his effort.
Atomic drop by Hogan who then rammed Heenan face-first into the cage.
Finally, Hogan escaped over the top before Orndorff left through the door.
Hogan retained.
Rating: ***
Summary: Very exciting cage match with controversy in the middle of it. As usual, Heenan over-sold Hogan's offense which made for great entertainment. I highly recommend this match.
Afterward, Hogan re-enters the cage and nails Heenan. An atomic drop sends Heenan through the door and onto Orndorff.
Replay of both men hitting the floor simultaneously is argued between Vince and Jesse.
Backstage, Okerlund provides background on Steele's HUGE crush on Elizabeth. Following that, Savage and Elizabeth join Okerlund. Once again, when Okerlund tries to ask Elizabeth a question, Savage cuts her off and shoos her to the ring. What type of "surprise" could Steele have in store?
While Savage makes his entrance, Okerlund interviews Steele about the surprise but gets nowhere.
Match 2 for the WWF Intercontinental title: "Macho Man" Randy Savage (champion w/ Elizabeth) versus George "The Animal" Steele
Highlights:
Steele brought his own action figure to the ring and gave it to Elizabeth.
Jealously, Savage grabbed the action figure and spiked it on the mat like a football.
In retribution, Steele nailed Savage in the back to begin the match.
After a standing choke, Steele used Savage's head as a battering ram into the top turnbuckle.
Upon slamming Savage twice, Steele motioned backstage for someone.
Savage took over with a knee drop.
After Savage slammed Steele, he mounted the top turnbuckle.
Suddenly, music played as Ricky "The Dragon" Steamboat came to the ring. I'll bet it was Alan Parsons Project's "Sirius," but the WWE Network won't allow it.
Due to the distraction, Steele tossed Savage down to the mat.
He then tossed Savage over the top rope down to the floor almost annihilating Finkel in the process.
With Savage down, Steele grabbed Elizabeth and took her to the back. Jesse correctly pointed out that this was kidnapping.
As Savage returned to the ring and noticed that Elizabeth was missing, Steamboat prevented him from going after them. Isn't that aiding and abetting?
Vince mentioned Steamboat's suffering a crushed larynx courtesy of Savage (aired 11/22/86, taped 10/28).
In the interim, Steamboat was restrained by officials from going after Savage.
Steele returned to the ring, rammed Savage into the top turnbuckle twice, then ate the turnbuckle.
Next, he rubbed the stuffing into Savage's face before slamming him.
He then ate another turnbuckle and rubbed the stuffing into Savage's face again.
When he tried to ram Savage into the exposed turnbuckle, Savage sent him head-first over the top turnbuckle into the ring post.
After giving Steele a whip into the corner, Savage ate a boot to the midsection.
Savage attempted a clothesline after an Irish whip, but Steele bit his arm instead. YUMMY!
Steele then brandished a foreign object and nailed Savage with it.
As Steele knocked the anonymous referee down, Savage returned with the bell and walloped Steele from behind with it.
After disposing of the evidence from the ring, Savage pinned Steele to retain. SNEAKY!
Rating: *1/2
Summary: While the Savage-Steele pot continues to simmer, the Savage-Steamboat steak is starting to sizzle. I truly cannot wait to watch their upcoming match at WrestleMania III.
After the match, Steamboat runs back to the ring so that Savage doesn't hurt Steele. Without haste, Savage bolts to the back to find Elizabeth.
Okerlund interviews Race with Heenan. Instead of recognizing Race as an eight-time World champion, the WWF makes him "King."
After Race makes his entrance, Okerlund interviews JYD.
Match 3: "King" Harley Race (w/ Bobby "The Brain" Heenan) versus Junkyard Dog
Highlights:
Elbow drop by Race got 2.
High knee by Race was followed by a knee drop for another 2.
A cross-corner whip by JYD sent Race shoulder-first into the ring post.
Belly-to-belly suplex by Race preceded a diving head butt. Unfortunately, JYD's head was harder than Race's, so it backfired.
Cross-corner whip by JYD sent Race flying over the top turnbuckle down to the floor.
While Heenan checked on Race, JYD grabbed and wore Race's royal attire.
An infuriated Heenan entered the ring and nailed JYD; however, it had zero effect.
As if nothing happened, referee Danny Davis saw no outside interference whatsoever.
JYD then nailed Heenan.
With JYD tied up with Heenan, Race mounted the top turnbuckle and nailed JYD with an elbow to the back.
After three elbow drops by Race, the bell rang.
Rating: **
Summary: The Danny Davis effect enabled this feud to continue toward WrestleMania III.
After the match, Race and Heenan double-team JYD and try to make him bow; however, they failed. Hence, Heenan and Race head for higher ground as Davis waistlocks JYD. The latter responds with a head butt to Davis much to Jesse's disgust.
Back in the locker room, an irate Orndorff feels he should be the WWF champion. Heenan promises to get the gold for Orndorff based upon the footage. Okerlund joins them and antagonizes Orndorff. Ultimately, Heenan tells Orndorff not to worry. Whew!
Backstage, Okerlund interviews Adonis with Hart.
After Adonis makes his entrance, Okerlund interviews Piper who cuts an intense promo.
Match 4: "Rowdy" Roddy Piper versus "Adorable" Adrian Adonis (w/ Jimmy Hart)
Highlights:
Piper tossed his kilt in Adonis' face then delivered a hip toss.
A second hip toss was followed by a knee lift that tied Adonis up in the ropes.
Cross-corner whip by Piper led to an Adonis flip.
Smartly, Piper worked on the arm he injured a couple of months ago.
After a couple of haymakers put Adonis down on the mat, Piper gave him a pair of face plants.
Sleeper by Adonis, but both men end up outside the ring.
Hart got involved and ate a right hand.
Seeing the distraction, Adonis grabbed his perfume container and squirted it in Piper's eyes.
Piper was blinded.
Adonis won by countout.
Rating: *
Summary: Obviously, there's more to this story that will be told at WrestleMania III.
After the match, Piper returns to the ring and mistakes Marella for Adonis and gives him a hip toss. More officials provide assistance for Piper and put a towel in his face.
Back in the locker room, Okerlund interviews the victorious champion who is wearing a typical 80's satin jacket. Okerlund relays the news regarding Heenan's upcoming chat with Tunney. With conviction, Hogan refutes Heenan's claim.
Match 5 (Battle of Texas): Blackjack Mulligan versus Jimmy Jack Funk
Highlights:
Fresh off his Machines gimmick, Mulligan reverted back to his actual persona.
While Mulligan hailed from Sweetwater, Texas, Funk was billed from Amarillo due to his ties to the Funk family. I question whether or not Barr could even ride a horse.
Prior to the beginning of the match, Mulligan was forced to remove the spurs from his boots.
Funk gave Mulligan a cross-corner whip but was reversed so that Funk ate the top turnbuckle.
Clothesline by Mulligan sent Funk over the top rope down to the floor.
According to Vince, Piper's blindness is purely temporary, and he will be back. That's good to know.
Nevertheless, Mulligan joined Funk outside the ring but ate a clothesline. Next, he gave Funk a back drop.
A pre-recorded interview of Mulligan shared the screen with the match.
Back in the ring, Funk attempted to slam Mulligan but received a military press slam instead.
A cross-corner whip by Mulligan was followed by a flying back elbow. Wow!
1-2-3.
Mulligan won.
Rating: *
Summary: Funk was performing enhancement work at this stage of his WWF career.
After the match, Mulligan hangs Funk with his noose, but Funk escapes practically unscathed.
Conclusion: Ignoring the opening and final matches for a moment, the meat in the middle of the show dealt with setting up matches for WrestleMania III. By themselves, they served that purpose as well as entertained me.
The opening match was certainly controversial and involved instant replay which was a HUGE topic of discussion with the NFL during this time. I'm certain "Mr. Wonderful" looks back at his series of matches with Hogan fondly as they were true money-makers.
If you're like me and want to watch the table-setting for WrestleMania III, check this episode out.
See you for WWF Saturday Night's Main Event X!
Rating: 9.70
Comments? Suggestions? Send them to me at [email protected] and follow me on Twitter (@rockstargary202).