Network Of Wrestling
Chiba Park Gymnasium
Attendance: 3,070 (no way)
Well NOW now longer has The Takanos, Don Arakawa or Onita as apparently all the stars would rather eat barbed wire than appear on The Avenger Penguins to WAR's Biker Mice From Mars.

Kishin Kawabata vs. Ann Jae Hong
Ann still doesn't have a cagematch profile. C'mon man, I've been watching your matches for weeks now, hurry up. Also get a Twitter, Threads stinks. Speaking of stinking, this is a typical Young Lions match that even with Ann backflipping off the top rope doesn't get a pop because the crowd see both men as goons (hired goons). Kishin gets a Boston Crab at 8:33.
Steve Simpson vs. Hisakatsu Oya
Steve's a South African wrestler who was apparently aligned with the Von Erichs against The Freebirds. I'm drawing a blank on that so I'll take his word for it. Oya's matches are best when fast-forwarded (like how the Von Erichs lived their lives) because it's nearly all stationary holds with no emotion. He's the Young Bucks of chinlocks. Simpson does the same before getting bored and decides to throw a few dropkicks before following with a dive to the outside. It's not good enough to motivate Oya who doesn't even land his usual Backdrop Driver with the same vigour as usual. Eventually the time limit expires at 20:00 while Oya has a Fujiwara Armbar locked in. Simpson would leave for South Africa not long after this and never come back because no-one wants to stay with NOW, not even Lethal Weapon 2 Jones. Oya would sadly stay in wrestling.
Buddy Landel vs. Apollo Sugawara
Buddy bothered to show up so this is already a special occassion. Buddy starts off with a smooth takedown into a STF, impressive for a man with rice pudding tits. He continues his buoyant ways by taking a backdrop landing on his back, clearly needing to work harder on that Flair impression he built his career around. Apollo sends him outside with a 180 clothesline and brawls around the ringside area as there's already been 300 times more action than Buddy's last match. Hilariously when they return to the ring, the ref has to pick dirt and debris off both men as the outside area is so grimy. Apollo's able to escape and headbutts Buddy's buddies, giving us a typically Silent Movie protagonist reaction. Apollo small packages him out of nowhere at 8:10 to end a decent effort. Something tells me someone had words with Buddy after his last horrible appearance, so he moved his motivation up from House Show Bret Hart to WCW Bret Hart.
Booker T vs. Hiroshi Hatanaka
Hatanaka's so forgettable I check his cagematch every time I watch one of his matches and I still don't remember anything. Booker gets a quick slam and hams it up so much you'd think he was commentating for NXT. Booker's a bumping machine here as he pops up after a clothesline to give us what may be the first recorded footage of THE SPINAROONIE.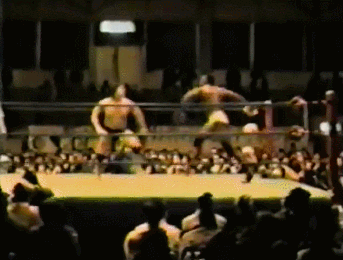 Crowd don't care. Ah what do they know? If they had taste then they wouldn't be here. Hatanaka keeps it simple which is the only method he knows, but Booker does his best to highlight his eagerness. Case in point: Hatanaka delivers a hip toss and Booker lands half way across the ring. Luckily Hataknacker is here to drag it to his usual level and after a brief brawl on the outside (that we can't see), Booker kicks out of a jumping piledriver before attempting a woeful Pump Splash and Apollo rolls him up with the Small Package FOR THE EXACT SAME FINISH AS THE LAST MATCH at 12:47. Booker looked tremendous, even at this early stage of his career.
During intermission, flowers are thrown into the crowd. They could have been live grenades and the crowd would have reacted the same.
Eight Man Battle Royal
Buddy Landel vs. Steve Simpson vs. Booker T vs. Kishin Kawabata vs. Hisakatsu Oya vs. Apollo Sugawara vs. Hiroshi Hatanaka vs. Ann Jae Hong
Hey what's better than a house show battle royal? Why, an eight man house show battle royal with pinfalls and the camera panning back so you can't see anything of course! Kishin Kawabata submits someone or something at 4:14
Goro Tsurumi vs. Umanosuke Ueda
Ueda repeats his trick from last time, playing his entire entrance theme before entering to silence but Goro is able to stop Ueda before he can get up to anything. Well done mate, you were quicker than a man in his fifties. This means another lengthy invisible crowd brawl before Masanobu Kurisu debuts to the crowd's delight to break a chair over Ueda's head to end this match after four or so minutes.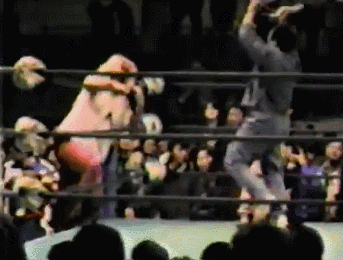 Kurisu's a cool get for the company and amazingly agile for a guy who started in the early 70s. He's nowhere near the level of draw as Onita but hopefully he's a better eater.
Bobby Duncum Jr. & Johnny Hawk vs. Ishinriki & Kendo Nagasaki
Yup, it's baby Bradshaw teaming with the late, mid Bobby Duncum Junior. Usually when you see footage of someone from years ago you immediately notice their body looking better but JBL's soft physique is the same as it would ever be.
Hawk messes with Ishinriki and seconds into the match drops him on his head. I can't believe Bradshaw would treat an opponent that roughly. Hawk tags in Bobby who may have been bang-average but at least he wasn't spiking people. Bobby does one move and Hawk tags back in to be a dick in a foreign country (foreshadowing) and thumb his opponent's eyes, before quickly tagging out when Ishinriki recovers. OK young Hawk was tremendous. It means Bobby gets to absorb Ishinriki's sumo slaps and his dive to the outside before Hawk interferes to destroy his smaller opponent some more. Kendo finally gets a tag so brave, brave Hawk reacts like he just saw Joey Styles and tags in Bobby to get schooled. And schooled is the right term, as the pair go at it with amateur mat wrestling and it makes a nice change from Kendo's usually dull brawling. I don't know if they're doing this because the only thing more popular than shoot-style in 1993 was Ren & Stimpy or if Kendo decided he doesn't like Bobby. Either way it's great seeing that style of mat wrestling. Ishinriki saves his mate with a sumo butt stomp from half-way across the ring and transitions that into a sitting ankle lock. How was this guy not a huge star? The NOW Nexus take turns in stretching Bobby while daring Hawk to come in and save his mate and Hawk is having none of that, preferring to let them eat poor Bobby alive. Even Bobby's balls being split open like that lass from The Hitcher can't motivate Big Strong Hawk. Eventually Bobby realises Hawk may not be the safe, caring worker he thought he was so he makes his own save and tags in Hawk who is happy to oblige now that his team is on offence. Ishinriki takes a ridiculous rolling clothesline from Young Hawk which generates more laughter than intended.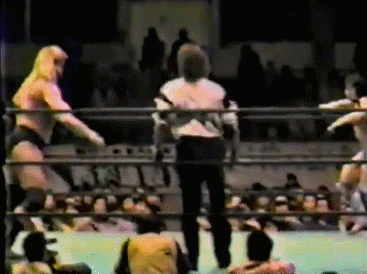 Bobby tags in to land a top-rope shoulder block, then aids Hawk in Big Booting Ishinriki right in the face after a duck-down from Bobby. Then JBL locks in LA MAHISTRAL of all bloody things which Ishinriki kicks out of and we get the contractually-mandated crowd brawl. JBL locks in a STF and tries to use the ring ropes to stretch against directly in front of the ref who is aghast so Hawk yells "THERE YA GO" like he planned it ahahaha. I had no idea that rookie JBL was this entertaining. Kendo eventually tags in so Ishinriki can Missile Dropkick Hawk's head off before landing a brutal Spike Piledriver to end it at 18:59.
Alright this wasn't a lost classic like the Ueda/Ishinriki massacre but I enjoyed this way more than I probably should have. Hawk being an entertaining dick, Ishinriki being his usual amazing self and Kendo/Bobby going at it like two horny spiders.
Overall: Lots of rubbish but there's so many hidden gems and historical artefacts here that I can't stop watching these NOW handhelds. The company is in panic mode to fill the Onita-shaped hole and their biggest task is trying to make it out of 1993 alive.
Will they make it? Will anyone care? Find out in two weeks time as we're visiting the even-more-doomed Pro Wrestling Crusaders next week: now with MORE DOGS.