NOW Fire Endless Battle – Night 1
Tokyo Korakuen Hall
Tokyo, Japan
Attendance: 1,900
The good news is because PWC is now working with W*ING, Atsushi Onita is appearing tonight because FMW hates W*ING!
The bad news is that even with Onita, NOW was unable to sell out Korakuen Hall because they're competing against WAR (drawing 11,800) and UWF-i (16,500) on the same day. I think we can sum up the company's long-term chances with that fact alone.

In grim news, Tsunemitsu Naoi sadly passed away at 10:55 a.m. on January 8th after being struck while driving by a four-ton truck. Naoi had reportedly been driving the truck carrying the ring back all night from a show the previous night in Fukui and had fallen asleep behind the wheel. He only wrestled for NOW and showed some promise. A memorial ceremony aired earlier on in the day and the show starts with a ten bell salute.
Kishin Kawabata vs. Ann Jae Hong
Hikaru Kawabata announced he was going by the name Kishin Kawabata from this show onwards, which would stick for the rest of his career. Don't know who Ann Jae Hong is or was. Kishin starts kickin Ann's arse in one of those many puro opening matches that's 90% established guy and 10% brief hope spots for the new guy. Ann has women screaming for him as he lands dropkicks, presumably because he has Cult Of Personality as his entrance music before Kishin puts him away with a standing jumping elbow at 9:43.
The Equalizer vs. Kim
Oh Jesus God, NOW are that desperate for talent that Evad Sullivan got flown over? Kim has no Cagematch because he probably went into Witness Protection once he discovered who he was wrestling. Equalizer has fuzzy boots and face-paint so he's equally Brody and equally Kevin and equally crap. He plods along with all the mobility of an Italian tank and whenever he is supposed to counter something he just gets hit by the move and then pretends he didn't. Equalizer gets counted out brawling on the outside at 9:25 because he can't count, never mind wrestle.
Buddy Landel vs. Rod Price
Landel has been telling people he's going to retire from wrestling following this tour and enter the Ministry. God's patience is infinite but I think even The Almighty would struggle with Buddy. Both men have big blond hair and short tights so this is like a slight-of-hand trick for a handheld fan cam. We get five whole minutes of chinlocks to let everyone know this is going long. We get another five minutes of stretching on the mat, which causes laughter from the crowd at one point. Now Price gets a two-minute long leg lock as you can hear the bored disbelief from the fans. This is like Wrestlemania XII with nicer hair. Sunset Flip gets two and the crowd's half-mad half-amused reactions suddenly picks this match up during the last minute as pinfall attempts are exchanged before the bell rings to signal the 20:00 time limit draw. Crowd applauds while booing in the ultimate sign of disrespect. Buddy's punches were nice I guess.
Hisakatsu Oya vs. Alex Porteau
Like Kawabata, Kenichi Oya announced he would be going as Hisakatsu Oya from now on, which would also last until the rest of his career. Pug is Pug and still solidly unremarkable, like later day Feeder. Oya keeps Pug grounded while not moving around which is absolutely not appreciated after the battle of the two statues we just witnessed. Pug tries a leg-sweep but spins the wrong way so Oya ignores it and mounts him again. Pug realises he's outmatched and let's it happen. Eventually Oya Backdrop Drivers Pug and it's a typically beautiful/scary drop but somehow Pug's Life kicks out.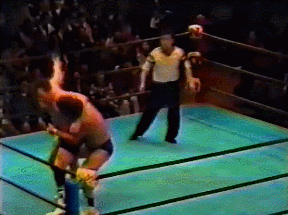 Puggy tries to come back with a neckbreaker but another one gets converted into a backslide to end it at 10:18. Oya's matches always pick up in the last few minutes but it's a shame the rest of his matches are slow death.
Manny Fernandez vs. Apollo Sugawara
Oh this could be a dangerous mix. Manny's wearing an actual singlet and this inspires him to bump around for Apollo's default CAW offence until an ankle lock forces Apollo to reconsider his life choices. Then the handheld camera moves and we miss a few minutes as I begin to reconsider my own life choices. Piledriver and a Boston Crab can't halt Manny, who shrugs them off to finish with a top rope crossbody and an armbar ends it at 8:21. Manny was very willing here (cocaine) and his effort was appreciated.
Post-match, Manny holds up a framed photo of Tsunemitsu Naoi in a lovely moment.
Ishinriki vs. Hiroshi Hatanaka
Ishinriki is following up the insane and vicious main event with Ueda last time with a random match with the dull Hatanaka. At least the opening is fast-paced as both men are eager to try (unlike that damn Landel). Both men continue to throw big moves at one another and actually BY GOD move around a bit during holds. Ishinriki utilizes his running sumo stomps into the corner but Hatanaka disregards it to leg drop the former sumo star before attempting to smother him with his tits. Ishinriki doesn't like this so both men go chop for chop before Ishinriki lands a rope-assisted armdrag. This is followed by plenty more armdrags and roll-ups as this feels like a giant apology for the rest of the card. Hatanaka stops these armdrags with a DDT and a giant arse clothesline that involved a long jump across the ring. Ishinriki has to come back with a flying clothesline of his own, but tries it again only to fall right into a Fujiwara Armbar counter. Oh that was nice. Ishinriki escapes and delivers a bunch of back suplexes but Hatanaka will not stop kicking out. Hatanaka throws Fisherman Suplexes and top rope leg drops and this isn't working for him either. Crowd is finally making real noise for the first time as Ishinriki gets casually thrown around like airport luggage. Sit-out Powerbomb gets two and Ishinriki has enough of this and dives outside into the wild unseen beyond. Hatanaka doesn't give a damn and both men go small package for small package, rotating like Katamari until Ishinriki gets the fatal roll and Hatanaka can't answer at 22:11. Man what a blinder this was, with the mid Hatanaka stepping up to the challenge of the freakishly athletic Ishinriki.
Atsushi Onita & Kendo Nagasaki vs. Goro Tsurumi & Umanosuke Ueda
The reaction for Onita's entrance is the loudest thing on the show, he really was so popular that people were showing up JUST for him, which probably explains the silence during the rest of the event. Well that and the matches were mostly crap. Goro gets headbutted into his wrapped-up head and both men head outside and out of the camera view. Goro comes back with his own headbutts and Onita is vibing well with the immobile boob. Kendo tags in so Goro tags in Ueda and then it all goes to hell as Onita is attacked with a kendo stick by Manny who randomly showed up at ringside. Kendo and Goro go at it instead until Onita returns to DDT Goro until Goro dumps him outside so Manny can twat him some more. Kendo wails away on Goro instead which takes away from any tension if Kendo is able to continue just fine 2-on-1. Onita returns again to lock in a long single crab to Goro before more double teaming to poor Goro who is apparently doing everything in this match. Onita clotheslines Goro and Kendo piledrives him to…win at 11:51? What the hell was that? Ueda didn't tag in or do anything the whole match!
Tarzan Goto then shows up wearing a big red coat to take out Manny Fernandez and also Kendo Nagasaki for some reason. Kendo then turns on Onita because his mate's a dick.
This would indicate that they were setting up various FMW/NOW multi-promotional feuds to mess with W*ING, however two days after this show Onita would uhhhh well I'll let BAHU tell the tale:
The new team of Atsushi Onita, The Sheik, and Sabu would not last long due to another scary and almost deadly event occurring in Atsushi Onita's life. During a match on February 16, 1993 in Fukuoka against The Gladiator. Ricky Fuji would interfere and would wrap barbed wire around Onita's head. As it would turn out, Onita would accidentally end up swallowing some of the barbed wire placed around his head. Onita would still finish the match, but during his victory celebration would make it obvious to the fans about something being wrong, due to the pain in his mouth. Onita would be taken to the hospital, where it doctors would take x-rays and find the barbed wire in his throat, and having to do an emergency surgery immediately to pull the barbed wire out of his throat. If the barbed wire had not been removed, Onita would have soon died from asphyxiation after his air supply would have been cut off due to the barbed wire. It would also cut his mouth every time he moved. Doctors would have to remove the barbed wire from the side of Onita's neck to avoid slicing his mouth open, which would have happened if they were to pull out from his mouth. Onita would be force to sit out for two months, the first time that FMW would be force to go on without Onita, and attendances for house show numbers would drop incredibly with Tarzan Goto as the ace of the promotion, which would be a telling story later in FMW. Onita would be force to come back 45 pounds less than when the incident took place as he would drop down to 195 after being 240 for most his run in FMW. Onita would be force to make a speedy come back as FMW had already booked a huge show on May 5, 1993 for Kawasaki Stadium with Onita getting to book his idol Terry Funk in a match against him.
By the time Onita recovered, Onita had bigger things to be thinking about than bloody NOW so he'd never return to the company thus making this a huge waste of everyone's time.
Overall: No.