Network Of Wrestling
Tokyo Ota Ward Gym
Tokyo, Japan
Attendance: 3,265
Uh nothing.
Goro Tsurumi vs. Fumihiro Niikura
Oh great more Goro and he's still trying to pretend he's a shooter despite looking like he'd need three shots to crack a boiled egg. This is a marked improvement from last time as they're pretend-wrestling instead of pretend-boxing. They do a decent job of rolling around attempting armbars and Goro lets Niikura get enough offence that the crowd buys into the match. End comes out of nowhere when after a few standing armbar attempts, Goro kicks Niikura low and pins him abruptly at 7:49. Huh. It demonstrates the popularity of shoot-style during this time if guys like Goro look at guys like Maeda & Shamrock and think "oh my god they're literally me."
And with good reason! UWF-i held their biggest show to date on 10/23 at Budokan Hall (moving seats around to also break Budokan's own record) featuring Takada vs. Kitao and a K.O. so brutal that AKI immortalised it as the standard animation for knockouts in their N64 wrestling games.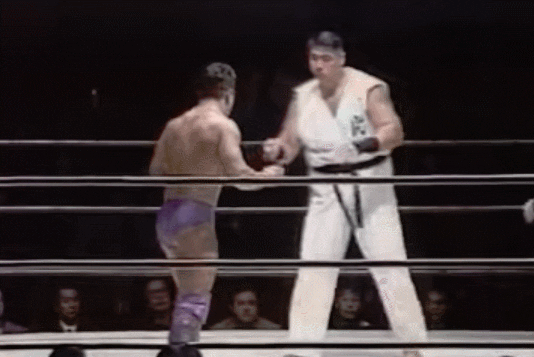 Good to see Kitao being consistent with his runs in major companies ending with being on the losing ends of shoots. The lovely Quebrada site goes into detail about how this may be not be the double-cross it's been reported on for years so give that a click if you want to be interested and stay here if you want to be bored to death.
Johnny Rodz & Manny Fernandez vs. Hiroshi Hatanaka & Kenichi Oya
Rodz wasn't exactly wrestling on a regular basis at this point in his career and would wrestle even less after this tour, probably due to the fact he's 52. He's dressed like Carl Douglas to date himself even more. Manny's a spritely 38 at this point and is full of coke. Rodz starts off strong and fast with a version of The International before immediately tagging Manny in. Manny has his working shoes on, bumping for Hatanaka and allowing Oya to launch him out the ring like those planes he jumped out during whichever war he claims he was in. Oya crossbodies Manny and takes back body drops and clotheslines and he can't bump enough for these two. Rodz tags in and grinds things to a halt with exciting standing ankle locks and chinlocks. Well I'm glad he tagged in for those. After several minutes of stretching, Rodz gets some big kicks in before tagging Manny, who I'm sure has a different idea of getting his kicks in. After a brawl missed by the cameraman (cares enough to bring a camera, doesn't care enough to stand up) and Rodz displays his flying clotheslines and shoulder tackles a la his idol Lawrence Taylor. This goes on for a while but the crowds are cheering for Oya taking all these slow-mo antics so what do I know. Manny starts whooping Oya mid-hold but crowd respects him too much to actively boo Manny. Yeah they saw those Bloodiest Matches Of The Caribbean tapes, they don't want any of Manny or his knees. Oya takes apart the Invader-destroying limbs and takes even more moves from the two NOW lads before delivering a tremendous Dragon Suplex to end it at 16:26. Basic but effective match with Manny bumping around like a loon and Rodz looking at his watch.
Kendo Nagasaki vs. Bob Orton Jr.
Orton's still got it in 1992 so this has potential. They start off with a lovely mat-based sequence with Kendo resisting the urge to chair shot someone for two minutes. Orton takes a hip toss to give us our first instance of "ooooo me back" selling from Bob. Kendo wails away on him and Orton's so animated he should be fighting Sinbad in a 50s film. Orton gets his wacky boxing punches in but crowd gives it nothing so he puts Kendo in a headscissor and waits in it for a while. YEAH GET THEM TOLD BOB. Bob backdrops Kendo so they can start brawling and now the crowd starts making noise. Bob slams an entire row of chairs (all connected) onto Kendo to bust him open. Back in, Bob starts throwing those sweet punches of his at the wound and the crowd starts applauding like it's a tennis game. Bob brawls out the other side of the ring and into the crowd and these type of matches are perfect for old, small handheld shows as you can see the eager faces on every one of the sea of humanity running to see the blood. Back inside, Kendo's face resembles Nicholas Cage's in Mandy and he takes a Superplex for two. Hey that's his finisher! Bunch of bullshit. Orton attempts celebrating after a two-count following a dropkick and I love this guy. Kendo kicks out of a piledriver and responds with his own, with Orton putting his foot on the ropes on the very last second. Orton gets a small package to audible shrieks from the crowd but Kendo moves his weight and pins Orton instead at 18:43. Watching Orton is always a pleasure but the more I watch of Kendo the less I like.
Anything Goes Anywhere
Ishinriki vs. Umanosuke Ueda
Ueda is 52 years old so he's perfect to get Ishinriki over as NOW's ace. Both men are taking this stipulation seriously as they both have knives ready during the introductions. Luckily Manny removes both and this doesn't turn into Mass Transit. Ueda immediately takes Ishinriki outside but Ishinriki wastes no time kicking him from behind and burying him under a stack of chairs. Ishinriki stomps him off the apron as the athletic Ishinriki is using every opportunity to show what he can do in his first main event. A knee drop off the top turns into some stiff stomps to the downed Ueda. You'd think the crowd would be a bit burned out after the previous brawl in the crowd but no, they're loving Ishinriki diving to the outside to land on Ueda. Ueda responds with some rough headbutts and Ishinriki is now bleeding. And it's a good one too! Ueda is absolutely not fucking around and decides to piledrive Ishinriki on a sideways chair which I've never seen before. Holy shit what is this match? Ueda gets some brass knucks but Ishinriki shrugs them off to chair-shot Ueda who also ignores it. Ishinriki lands the sumo slaps before slamming Ueda with the chair about a dozen times as Ueda is hanging off the ring apron. THIS MATCH FUCKS. Ishinriki takes this opportunity to remove Ueda's mask before flying off with another crossbody to the outside. The camera shows Ishinriki is covered with his own blood and he looks like he's been rolling around in the dirt. Ueda tries to take down his opponent but Ishinriki is half his age and effortlessly adjusts into a single crab. Ueda eventually powers out so Ishinriki gives him the slaps of death but this time to the face.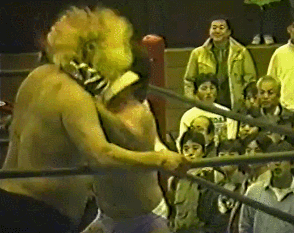 Ueda chokes Ishinriki to finally keep him down for a while but he pops back up not long afterwards to strike Ueda further, getting so caught up that he dives off the apron and completely misses his stationary opponent. It's like when The Flash couldn't land a strike on The Turtle. Ueda just looks like a mess and it doesn't help that Ishinriki recovers from his own foible to absolutely destroy Ueda with some dangerous chairshots directly to his bloody ropey head. Oh my god was he swinging those friggers hard. Ueda can't respond to those and the match is over at 28:54 with Ishriki officially beating the legend.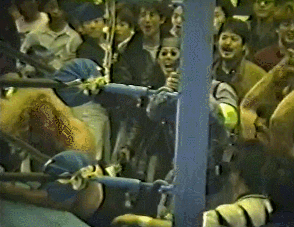 Jesus. I have no idea what was going on here as I assumed all mega-veterans were to be treated with respect but the youngster didn't give a flying fuck and did his best to cave Ueda's head whenever possible. And even more surprising, Ueda lost! There's hope yet for NOW.
Overall: Right now the company has even less identity than SWS. The Global guys were decent but there wasn't much here to go out of your way to see…but I'd absolutely recommend that main event just for the sheer craziness of it all. I don't think it did anything for NOW (edit from future: I've been told magazines at the time were incredibly negative towards it, saying they'd gone too far) but at least it has a following online with someone even making a Tiktok out of it.
Next week: The Takanos strike back as Pro Wrestling Crusaders debuts!