Network of Wrestling
Tokyo Korakuen Hall
Attendance 1,800
So The Takanos (NOW's biggest draws) gave more details on their departure, telling a magazine that everyone who signed NOW contracts had it stipulated that they could never say anything bad publicly about either Tanaka or Megane Super Opticals. The Takanos have since announced the debut of their own promotion Pro Wrestling Crusaders, which will be making it's debut in February 1993 and presumably the wrestlers will be able to badmouth it to their heart's content.
Also NOW held their first angle involving Ishinriki (who they hope will be their big new star) getting attacked by 128 year old Umanosuke Ueda at a gym. I couldn't find any photos of it as there's virtually nothing archived online about NOW so here's Ueda's action figure instead to get you in the mood.

Hiroshi Hatanaka vs. Toshimitsu Naoi
Like all NOW footage, this is a handheld fan cam so make sure you're reading this review with a VPN or you're going to be in trouble. Audio has a constant buzz so it's like watching modern day Smackdown. Toshimitsu Naoi is as green as his tights (he's wearing green tights) and there's a million of these just-started guy vs. been-here-a-few-months guy matches and they're all the same. Crowd is really into the new guy because he's new so there's loud NOW OH EE chants as he tries for pinfalls after shoulder tackles before a single crab submission wins it for Hatanaka at 10:49. Solid stuff here and it turns out Naoi doesn't have a cagematch profile because he died in January 1993. Well that's grim.
Kenichi Oya vs. Hikaru Kawabata
I swear Oya ages a year every week. He's an inverse dog. SWS did that to people I guess. Oya spends the first five minutes applying ankle locks and it's the same inanimate stuff he always does and I'm putting more effort in typing about it than he is applying it. Manjiimortal's favourite wrestler responds with his own stationary holds, great. Eventually they get out of the pits and start trading sleepers before Oya delivers a brutal backdrop suplex out of nowhere and God that was a beaut. Oya did not mess around with those. Kawabata can't be put away with backslides so Oya spikes him again to end it at 14:40. That was 14 minutes of nothing followed by forty seconds of the most brutal drops since Claudio Ranieri's 2017.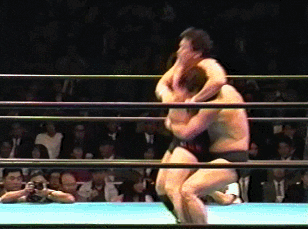 Skull von Krush vs. Apollo Sugawara
Hell yeah, the future Big Vito aka The Pavarotti of Hard Shots To The Body! I know his gimmick in ECW was that he "paid his way into America with Jewish gold" so I wondered if he was leaning into that part of his gimmick in 1992 and I was typing that thought he made his entrance and uhhh better crop that screenshot…
Skull cuts a promo in English but the crowd understands the intent and starts booing him, before throwing streamers during his introduction. Getting mixed signals there. Apollo dumps the flag to the outside and Skull sells it wonderfully before both men head outside for an unseen brawl. Back in, Skull makes Apollo work for a change by making him run the International, before Apollo takes him down with a headlock takeover pin attempt and Skull kicks out yelling "argh!" to the crowd's amusement. Skull's doing a good job of hamming it up if nothing else. Skull lands a suplex then attempts to pin Apollo while relaxing on him and is shocked when it's only a one-count. Thankfully the crowd understands Skull is daft and not to be taken seriously. I hope. Apollo takes over and the crowd naturally quiets a bit before Skull ends it at 12:41 with a reverse DDT.
Skull raises his opponent's hand before clotheslining him outside so he can salute a few more times. Crowd laughs at him so Skull dares a fan to get in the ring and the fan responds by standing on his chair and removing his jacket, with Skull deciding to leg it to the back. This was a total pantomime show and very enjoyable providing you're able to keep your tongue firmly in cheek.
Goro Tsurumi vs. Manny Fernandez
Manny looks spritely but then again so do most people in the ring with Goro, who looks like he eats his cats when they die. Manny does a terrific job of flying around for Manny's clumsy shots, just like he did in Da Nang. Manny slows down once he realises Goro's useless and they attempt to struggle over various holds on the mat. Goro insisting he's a shoot-style guy is as sad as Billy Graham insisting he was a karate expert. Manny lands a short-arm clothesline to get the first crowd reaction of the match so he sticks to slugging Goro who comes back with a jiu-jitsu headbutt. Both men brawl outside but the front row stand up and block the view and that's that at 7:50. Manny was eager but Goro had all the energy of a Shiva.
Umanosuke Ueda vs. Fumihiro Niikura
Ueda's music plays but he doesn't show up, deciding to stay unpredictable by waiting for it to finish before heading out. That's a new one. Both men head outside so we can't tell what's happening but Ueda emerges shortly afterwards already bleeding. More brawling occurs and the yells from the crowd sound like the string section in a horror film soundtrack. Ueda finally re-appears holding a fire extinguisher while pissing blood. Ueda grabs something out of his tights that may be sharp and sticks Niikura with it for the pin, which shocks the crowd so much that someone throws a drink into the ring. We technically got five minutes of nothing here but this was mere preview of Ueda's later work for NOW.
Ishinriki vs. Alex Porteau
The Pug makes his debut in NOW. Yeah take that WAR! You may have Ric Flair but we've got the guy who beat Timothy Flowers on Superstars. Ishinriki is the former Sumo who looked incredibly promising in SWS before retiring and then very quickly un-retiring. Not sure what that was about but common sense's loss is NOW's gain. Pug is at least agile & young and he's going to need to be to hang with Ishinriki the walking energy drink. Both men go hold-from-hold rather nicely on the mat and then Pug represents his country proud with an All-American eye-poke before going full Aloha Arn on a Sunset Flip. Porteau is healthy but doesn't know a single interesting thing to do, so we end up with uninteresting things done well. Porteau tries a Flying Nothing but takes a boot to the face followed by more outside brawling and some exciting shots of the back of some guy's shirt and then Ishinriki wins with something at 14:38. This put the "basic" in "basic Puganomics."
Ah but then Ueda sneak attacks Ishinriki with a singapore cane afterwards to start something that looks exciting and-oh and then we cut away immediately.
Booker T & Stevie Ray vs. Hiroshi Hatanaka & Kendo Nagasaki
The Ebony Experience are six months into their career and are already main eventing. Like Porteau, they know the basics well and Booker's offence in particular has a snap to it. He crossbodies Kendo and it's funny seeing the stocky veteran realise "oh I have to fall down from this" before he falls over. Hatanaka gets a rope-assisted armdrag as the crowd go nuts. Don't be tricked guys, that's all he's got. Booker doesn't listen to me and tags in Stevie to scoop slam the mighty Hatanaka effortlessly. Kendo drags Stevie outside for some mandatory chair brawling but Stevie disagrees and slams Kendo on the concrete instead. The Experience double team Kendo in the ring until he has enough of that and tags in the incredible Hatanaka who…busts out a spinning sidekick and a smooth sit-out powerbomb? Oh so NOW you're good? Hatanaka must wrestle to the tempo of his opponents, which explains his unimpressive career. Booker comes back with a Pump Handle Slam until Kendo's ugly piledriver gets two and then we slow wayyy down because Kendo's gone five minutes without a chair shot and he needs charging up. Booker shows off his in-progress offence with this sweet kick: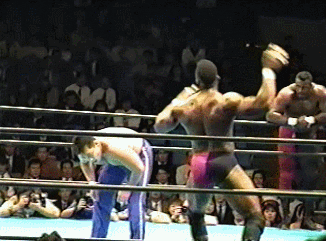 That's enough of that though as Kendo chair-shots both lads on the outside but The Experience ignore his offence and finish with an axe handle/backbreaker combo at 16:49.
This was a fascinating snapshot of an upcoming tag team with Booker showing glimpses of his future greatness already and Stevie looking the same he'd always look.
Overall: Austrian Painters, The Pug, Harlem Heat, Ueda stabbing people…NOW comes in two flavours: interesting and crowd shots. Maybe it's for the best it didn't last long.
Next Week: NOW's most famous and infamous match and the deadliest thing to hit Japan since Issei Sagawa.