Network Of Wrestling
Korakuen Hall
Tokyo, Japan
Attendance: 2,000
Two weeks after WAR's debut, it's time for the ugly little stepbrother to show what it can do with a much smaller talent pool and budget. Let's remain optimistic and pretend it didn't last two years.
Exhibition: Goro Tsurumi vs. Toshimitsu Naoi
Toshimitsu Naoi doesn't have a cagematch profile. Presumably he did have one but he removed it himself to avoid being associated with Goro. This is a bunch of rolling around and trading submissions until Goro has enough at 04:35. Just a thing to warm-up the crowd and fill the card because the Japanese don't do raffles.
We get a rundown of the roster but there's no sense getting attached (more on that later).
Don Arakawa vs. Hikaru Kawabata
Don's a crazily charismatic respected veteran and is a major coup for NOW. Hikaru would wrestle for the next few decades but in 1992 he's greener than an unlucky car. Hikaru's newness is perfect for Don who can Donimate the match as he sees fit, starting off hot with a release German Suplex. Don slaps the piss off poor Hikaru's face but whenever Hikaru gets offence, Don falls over and makes a funny noise to get the crowd laughing. Hikara responds with wrapping his leg around Don's face which causes him to roll outside and make more noises. Fighting Don is like every humiliating experience that keeps you up at night manifested as a person. Don lands a comedy splash for two because even his comedy spots are considered impactful. Hikaru starts slapping back but the crowd are too busy laughing at Don to care. Don's comeback consists of ridiculously overblown clotheslines that are both stiff and considered humorous by the fans. Hikaru gets sent outside and crowd is begging to see Don dive so he assumes a running position before running and leaping directly into the ring ropes.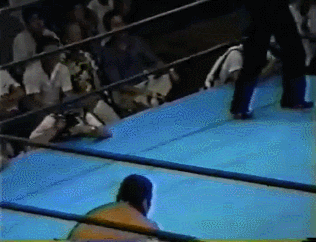 A Bridging German Suplex wins it for The Don at 11:15. Arakawa's energy and charisma were a country mile away from anything else on the show so naturally he immediately left for PWFG and never returned to NOW.
Apollo Sugawara vs. Hiroshi Hatanaka
Trying to think of worse deals in wrestling than splitting up a company's roster and keeping Apollo. Maybe that indie guy who had the chance to sell WWE that nickname Undertaker wanted (Booger Red?) but instead he asked for a contract and made like a 10th of what WWE originally offered. Nothing happens until Hatanaka starts slapping Apollo across the face, but afterwards they both trade boring holds on the mat. That kills five minutes until Hatanaka lands a crossbody over the ropes and smashes Apollo with some chair shots. Apollo lands his admittedly nice-looking sit-out Samoan Drop and I wonder which more-talented wrestler he borrowed that from. This goes on forever as we see two lads copying the best bits of better wrestlers until Apollo wins with a backslide at 16:35. Crowd enjoyed it but unlike them I'm sober. Both these lads would spend the rest of their careers padding out the numbers in nine men battle royals.
Boxing: Fumihiro Niikura vs. Goro Tsurumi
Oh fuck me dead, two Goro matches in one night? And it's pretend boxing, grand. The satirical puppet show Spitting Image had a serious issue after Margaret Thatcher abdicated because John Major was so hard to parody on account of being such a dull person that the quality of the show suffered. Niikura wins in the fifth. I'm glad NOW became THEN very quickly.
Kendo Nagasaki & Kenichi Oya vs. George Takano & Shunji Takano
Shunji starts off with Oya to show how much bigger and fatter he is. Even Kendo looks in better shape and he looks like someone shaved George Steele. George tags in and dropkicks Oya, looking stunning in the process. Kendo helps Oya slowly work over Shunji's legs as I forgot how much the guy enjoyed getting the bits of his body that requires effort being taken out. Shunji mixes it up by lying down next to Kendo while pretending to be applying holds. Oya lariats Shunji and seems to have no idea what to do next so he applies more leg holds. Shunji kicks poor Oya in his bad leg so George can land some stiff slaps to the rookie. Sadly for George, Kendo tags in and lands his big bad piledriver which George ignores. Kendo doesn't appreciate that so he drags Shunji outside for numerous chairshots but…wait who's this? It's Umanosuke Ueda! Infamous and legendary old bastard who may or may not have betrayed Inoki and Baba (or both) to cause the end of JWA in 1971 and being responsible for NJPW and AJPW's creation. Oh and he used to be on Takeshi's Castle.
Anyway he arrives and brawls with The Takanos while the crowd point and yell "it's him!" This results in an unpopular DQ finish at 12:18 but I'm just happy it was over. George was trying but there was a complete lack of chemistry here.
Overall: Well the show ended up being exactly what you'd expect something made up of the bits and pieces of SWS that no-one wanted. But never mind the show quality, you'd think considering all the egos and politics that helped killed SWS that The Takanos would be happy having a promotion practically built around them both but uhhh no.
The Takanos announced shortly after this show they were quitting NOW because Hachiro Tanaka (the financial backer aka Glasses Man) was growing tired of losing so much money in the wrestling business and said NOW was only given $480,000 and that would be it. So I guess The Takanos figured that NOW would be unable to find another financial backer quickly and left early to beat the queues to find another financial backer (more on this next time).
In PWFG news, Masakatsu Funaki made Bart Vale watchable for thirty minutes and Ken Shamrock battered Jerry Flynn. They drew 2,520 fans which is almost as many wrestlers that left NOW this week.
Next week: WAR runs the Yokohama Show with an actual paying crowd.
I'm Maffew and I am also two companies (one miserable, one really miserable).