Wrestle And Romance
Yokohama Cultural Gymnasium
Attendance: 4,900
Tenryu was asked to work Wrestlemania but he turned it down because WAR was running a tour on the same day. Yeah you know what would have helped WM IX? Tenryu vs. Kamala getting bumped off the card.
Ultimo Dragon & Nobukazu Hirai vs. El Samurai & Rio Lord of the Jungle
Ultimo is lead to the ring on a platform held by various people and they seem intent on trying to knock the poor frigger off it as it bobs rhythmically.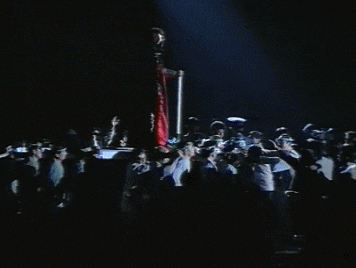 I think his platform is supposed to resemble an actual dragon but it looks more like Ryanair. We immediately clip to Rio (the future Renegade) getting slapped around. Neither WAR guy seems thrilled with dealing with someone who has 80% of his arse out cos he's dressed like the kid from Jungle 2 Jungle. El Samurai tags in for some lovely feeling-out offence with Dragon before escaping various holds to piledrive Samurai. Sadly it's such a good one that he needs to tag out to Rio. After an avalanche (of arse) in the corner, Hirai tags in to deal with Rio and his hammerlocks and reversals are surprisingly decent. Rio slams Hirai but he holds onto his hammerlock in a nice spot but crowd is really not into Rio as it sounds like only the Smackdown hairdryer is enjoying this. Samurai sticks Hirai in a vicious Dragon Sleeper variant and crowd still doesn't pop. Yikes. A tombstone piledriver and diving headbutt also barely got a reaction but Hirai's rolling leg-lock gets cheers. Huh. Dragon teases a dive onto Samurai so El hides behind the ring-post so Dragon can't do anything haha. Dragon takes a meaty Doctor Bomb from Rio while Samurai stretches Hirai, with Rio inexplicably going for a pin on Dragon despite neither man being legal. Too much AEW will do that to a man's mind. Dragon sends him out the ring so he can't bother anyone else. Samurai takes a Superplex but recovers to try his own, with Dragon kicking up the Rio so he can finally land his suicide dive. Dragon tries to re-enter the ring but Samurai's like WOAH I WANT TO DIVE TOO and sends him outside to land his own over-the-top one.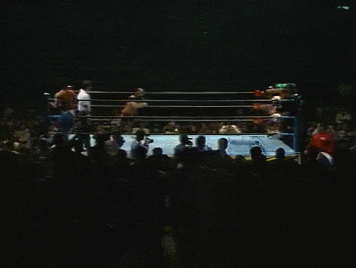 Dragon tries to end this with a German Suplex but there's no Bridge so there's No Dice. Hirai lands a funky Frankensteiner for two and then somehow Samurai sends himself outside and through the middle ropes. No idea how that would even happen to a guy like Samurai but he heads back in to embarrassingly tag in Rio who does all his Warrior Tribute spots without sending himself out the ring. Samurai tags back in and my God this match is taking a while. Dragon tags in to miss the in-ring Asai Moonsault and walk right into a Frankensteiner Pin from El Samurai at 19:56.
This was a decent attempt but you could tell Dragon and Samurai took one look at their below-par partners and put on their second-best get-ups. That and the match was far too long for their partners to keep at their usual levels so this was Bret Hart At A House Show levels of enthusiasm on display.
Camera zooms in on Dragon looking salty and holding up three fingers, each finger representing a moment when the match fell apart.
Koki Kitahara & Masao Orihara vs. Shiro Koshinaka & Kengo Kimura
The NJPW Knackers return! Again! Meltzer reckons the bloom is off the rose with regards to this feud but the crowd aren't subscribed because they are already cheering wildly as Kitahara misses some strikes on Kimura but connects with a well-timed spit to the face. Kitahara connects hard with the old Road Dogg snapmare/knee-to-the-back combo which brings in Koshinaka to unleash the dreaded double clothesline. Koshinaka yells the Japanese equivalent of "c'mon then you slag" to louden the crowd. Orihara saunters in and he's just generally angry nowadays, sending Kimura outside and mocking him when he dares move out of the way of any potential dives. Koshinaka introduces him to his arse before splatting him like Les Kellet's infected hand all over the mat with a backdrop driver. Kimura continues to wail away with kicks until locking in a Dragon Sleeper, which Kitahara runs in with a kick to break up but Kimura ignores it like a boss. Orihara tries to go headbutt-to-headbutt with Koshinaka and it does not go well for him. Kitahara tags in to get taken apart by Kimura, with Orihara trying to kick Kimura and getting booed by the crowd as a result. Koshinaka THROWS THE ASS so Orihara tags in and goes absolutely ham with his shots to Koshinaka….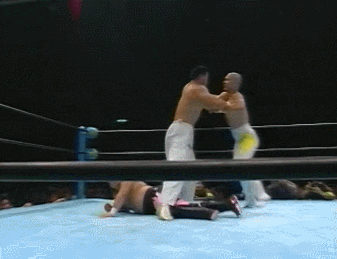 …who responds by casually putting him down with a small shot to the ear. Koshinaka is basically Dan Severn and Funky Weapon merged together. After a quick brawl on the outside so the magazines can get their photos, Orihara lands the ORIHARA MOONSAULT MOVE OF THE YEAR 1991 with the cameras nearly missing it. Koshinaka takes two piledrivers from Team WAR before popping up and letting Kimura tag in. Moments like that may seem a bit OTT but then you remember how far up the food chain these lads are compared to their opponents. Orihara breaks it up and tries a moonsault but it meets Koshinaknees which allows Kimura to spinkick Orihara's face off and finish at 13:40 with a Fisherman's Suplex.
This was all about the intensity and crowd reactions than it was the actual action which was kept as basic (and as stiff) as possible. Orihara and Kitahara never had a chance of winning but the crowd believed they could and cheered them whenever they looked cool, whilst also respecting the NJPW guys enough to boo Orihara whenever he looked like a geek. Keep this going.
Ashura Hara & Earthquake John Tenta vs. The Great Kabuki & King Haku
So they've combined two of the previous show's matches to get Hara vs. Kabuki yet again because he's one of the few who can get something out of The Great One. Usually, but this time around nothing happens so Haku tags in to no-sell everything that Hara throws at him to the crowd's delight. Tenta simply lifts Haku off of Hara like United Airlines throwing a guitar. Haku headbutts Hara but now it's his time to take the offence like a MAN until Kabuki tags in with one of the commentators using the term "baka" and making me wonder who exactly he's referring to. Probably me for watching Kabuki tag in just to apply armlocks. Both men trade strikes and the crowd reacts with a "oh I remember this when it was good" pop. Tenta gets double-teamed which he reacts to by uhh lying around and letting things happen around him. Haku chops Hara around until Tenta does his best to save this with a FUCKING DROPKICK and Kabuki accidentally mists Haku which allows Hara to small package the King to win at 14:42.
Kabuki matches seem to take place in a black hole and his level of suck affects not only his fellow participants but also the concept of time. By the time I finished this my room was filled with dust and I was wearing an old wedding dress I refused to take off.
Hiromichi Fuyuki vs. Shinya Hashimoto
Fuyuki's widow would end up marrying Hashimoto…who would also die whilst married to her. Just saying. Because he's representing his company, the crowd is behind Fuyuki. Without that, they don't care for him.
The match threatens to explode before it even starts with all the cornermen jumping in like the end of Bowe vs. Golota until things settle down. Hashimoto is on the last lap to becoming fully established as a proper main event dude so Hash dogs Fuyuki on the mat until he dares to try an armbar of his own and gets promptly slapped. Fuyuki tries a Stump Puller so Hash lands a on-his-knees lariat and locks in an armbar. Fuyuki's move-based yelling is getting torn apart by Hashimoto's i'm-going-to-hit-you-really-hard-and-then-stretch-you style. Imagine Ken Kennedy vs. GUNTHER. Hash allows Fuyuki to attempt anything before giving him a bit of hope and reversing into a cooler-looking hold. Hash starts throwing Roundhouse Kicks Fuyuki's way as the home crowd give up on their lad and start cheering for Hash. Then Fuyuki lands a lariat and a DDT and the crowd's there for him again. SING WHEN YOU'RE WINNING, YOU ONLY SING WHEN YOU'RE WIIIIIINING. Hash hits his own DDT to a louder pop with Fuyuki's sumo strikes getting zero reaction. An Inoki-style Enziguri knocks down Fuyuki and Hash realises his opponent is out and simply pins him at 10:30.
This match did everything for Hashimoto and nothing for Fuyuki, who was simply Tenryu's friend who was taking a pin to help the booking meetings.
Genichiro Tenryu & Takashi Ishikawa vs. Riki Choshu & Osamu Kido
Osamu Kido hurt Tenryu during a giant ten-man tag at a NJPW show on 02/16 by applying a Fujiwara armbar after the match and hospitalising Tenryu with a dislocated elbow, so WAR demanded Kido be brought to them for revenge. Sometimes it's as simple as that.
Choshu demands to start so both Dads can lariat one another at the same time, with Chosu recovering quicker because all he does is lariats, and sends Tenryu outside with another. Kido tags in to vigorous boos as he goes right for the armbar and Tenryu having to tag out his fattest son to armbar Kido instead. Choshu doesn't like Ishikawa and locks in the Scorpion Deathlock while staring at Tenryu on the apron like a boss. The NJPW Knackers work over Ishikawa for a while until Tenryu tags in to batter Kido before…immediately tagging Ishikawa back in who gets knocked on his arse again. Oh. So Ishikawa gets battered some more before Tenryu tags in for real to chop Chosu's chest. Ishikawa decides to lock in a Scorpion on Choshu (!!) but Riki takes it and doesn't get mad. Well OK then. Tenryu Blind Elbows Choshu for two as Ishikawa and Tenryu start blasting him with enziguris and lariats. Choshu absorbs the lariat and comes back with his own (that must be thing in the 1990s) and blasts Tenryu out the ring, causing a mad Tenryu to run right…back into a Fujiawar Armbar from Kido. Crowd explodes when that happen and there's loud boos when Ishikawa saves him, and loud cheers when Kido instantly applies the hold on Ishikawa instead. Rather than argue with Bryce Remsburg that Ishikawa isn't legal, Tenryu decides to miss a Blind Elbow and get locked in another Fujiwara Armba which Tenryu beautifully sucks up and converts it onto a Powerbomb…for two. Crowd loved that. Kido gets a sneaky roll-up for a close two before blocking the enziguri to apply an ankle pick in one smooth move.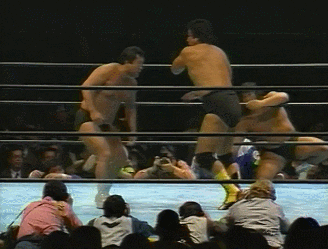 Kido's Best Of VHS should be those last two minutes on a loop. Ishikawa helps Tenryu escape yet again and while Choshu is stretching Ishikawa, Tenryu simply powerbombs Kido to end it at 14:44.
The finish was anti-climatic and the first half of the match was simply solid, but the finishing stretch was a blast with all the Kido seeds they planted finally flowering.
Post-match everyone brawls and Choshu demands more Tenryu but this time he's teaming with Hashimoto. Oooo.
Overall: This was a set-up show with both companies having much bigger shows coming up, but the booking is so good right now with everyone being selfless and happy to exchange victories to help each company continue to draw very well and push their wrestlers (Hashimoto in particular is going to use the WAR feud to finally level up to the IWGP Title level) that even a pit-stop like this is worth a watch (providing you skip Kabuki).
Next week: Let's check NOW's pulse.