Wrestle And Romance
Tokyo Metropolitan Gymnasium
Attendance: 11,800
To get us up to speed from last time: WWF sent The Berzerker and Double Trouble for the November/December tour. I think it would have been more polite if they just told WAR to get fucked.
Meltzer is currently predicting the downfall of WAR due to the low attendances, speculating the big stars would leave for NJPW soon. Maybe WAR would have been on the way out if it hadn't been for the crazy heat generated during the NJPW feud, with the guest stars enabling WAR to sell out Korakuen Hall again in December and suddenly attendance and interest has dramatically increased. Let's see if the same can be said for these posts!
Tape starts with a reminder than Genichiro Tenryu pinned Riki Choshu in the main event of NJPW's Jan 4th Tokyo Dome show, because you would wouldn't you?
WAR getting the pinfall in the main event on the rival company's biggest show of the year feels like The Wright Brothers landing on the moon. Tenryu winning also sets up Inoki vs. Tenryu, tentatively scheduled for the Fukuoka Dome show in May. Regardless of Tenryu's already-legendary status this was still shocking, I mean imagine Jeff Jarrett pinning Seth Rollins at Royal Rumble 2024?
The tape also highlights various tag and multi-men matches involving WAR on the regular NJPW shows as they've become part of the scenery, which is pretty nice for a company that was brushing with death two months ago. Sadly there's no mention of Tenryu's "what are you doing here?" appearance at the Royal Rumble.
He scored no eliminations and was thrown out by The Undertaker after 13:17. But he did get to wrestle The Brooklyn Brawler on Superstars!
CANVAS OF DREAM
Ultimo Dragon & Jushin Thunder Liger vs. Bestia Salvaje & El Samurai
Dragon brings his kids with him. Or as they'd be called later on: "Toryumon." This was set-up by Dragon winning the IWGP Junior Heavyweight Title from Samurai on November 22nd, becoming the first luchadore from a rival company to do so. Liger and Dragon had their first ever match at Jan 4th, which Liger had wanted for years but became politically awkward as Dragon dropped out of NJPW's dojo and they couldn't really have their best Junior Heavyweight take on a bum. Dragon may have lost the match and title to Liger but he won Tokyo Sports' Best Technical Wrestler 1992 award.
Bestia and Samurai don't get entrances which is a bit harsh. We know they're not winning but there's no need for the Horowitz treatment. Bestia and Dragon exchange fast-paced pin attempts & armdrags to start this one off hot and gives me an opportunity to remind everyone Bestia was in Los Talibanes.
The pop for Liger's tag is at Linda-McMahon-standing-up-at-Wrestlemania X7 levels. Liger and Samurai demonstrate the differences in their feeling-out process by emphasising the holds and limb work rather than trying to blow one another up. Liger shows his strength as well as his quickness by headlocking Samurai and countering Bestia's advances by headscissoring him at the same time. Liger teases diving outside but his opponents scatter to make sure that doesn't happen. Sometimes that's all you need. Dragon tags in to leapfrog about the place but the biggest pop comes when he halts Bestia's chop with a low kick to cause him to howl in pain. Crowd love that. Look at the idiot, writhing in pain. Dragon could dive to the outside but decides to taunt Bestia with a swing around the ropes instead. Look at that idiot, thinking I was going to dive on him. Samurai slows Dragon down with a surfboard because someone needs to. Liger responds by throwing a Rolling Koppo Kick to Samurai in the corner and assists Ultimo with an elevated…diving headbutt? Crowd aren't impressed, stick that on the 'maybe' pile mate.
The contractually mandated Mexican Surfboard doesn't even get a polite pop here so Samurai slows things down some more but he doesn't really make much of an effort to make the holds interesting. Neither does Bestia so Negro Casas must have the monopoly on interesting holds in CMLL. One tilt-a-whirl backbreaker later and Liger tags in to…chinlock. Thankfully he monkey flips El Samurai not longer after this as Liger's had enough of this glacial pace and lack of reaction. Liger trips Bestia into kicking his own partner outside and follows with a tope but both lads catch him, so Dragon flies outside with his own tope to send everyone down and to scare the dogs.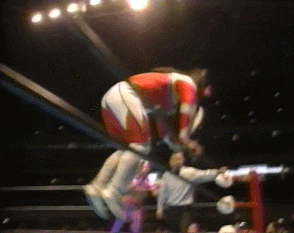 Liger Powerbombs (not LigerBombs) Samurai for two, with El escaping that and trying his own Sunset Flip which is merely a set-up to propel him upwards once Liger kicks out so he can bounce off the ropes and take Liger down. That was lovely. Bestia comes in with a missile dropkick and a massive back senton, landing with all the finesse of a steak falling off a work counter. Bestia tries an armbar to misjudge the vibe we're going for here before taking a hard kick from Liger to set up Dragon's ASAI MOONSAULT.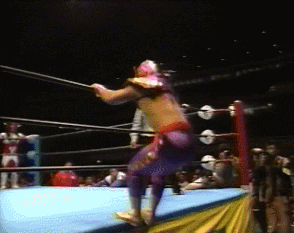 Fisherman's Suplex gets two so Liger tags in for another tilt-a-whirl backbreaker. Liger avoids some double team attempts with a dropkick on both men (with the camera work doing that spot no favours) until Dragon nearly wins with a running Frankensteiner. Liger objects to Samurai breaking that up so he Kappo Kicks Samurai to the outside and follows with a graceful crossbody, leaving Dragon to German Suplex Bestia with the German Bridge ending it at 15:50.
This was OK. Liger's existence got a bigger reaction than any move or spot with a lack of familiarity between everyone else's style resulting in the match stop-starting multiple times. Granted, even a so-so Liger match is still worth a watch but the unresponsive crowd means this won't be on any of his Best Ofs.
MIRACLE MATCH
The Great Kabuki vs. Tatsutoshi Goto
It's only a "miracle match" if it hits **. I don't know much about Goto but he looks like Ed Kempler and his theme SLAPS:
Hara stares madly at Kabuki during the entrance because Kabuki joined the Anti-Players Association/Heisei Ishingun in December. Wow if you can't trust Kabuki then who can you trust?
Kabuki gets distracted staring at Hara so Goto nails a flying elbow which starts a slow, plodding beatdown. Kabuki takes over and does the same before Kabuki goes low and mists Goto for the win at 07:29. Absolutely nothing worth typing out here. The absolute heat death of the universe has nothing on Great Kabuki in singles matches.
WAR vs. NJPW
Hiromuchi Fuyuki & Koki Kitahara vs. Kengo Kimura & Shiro Koshinaka
Anti-Players Association are back and they've brought the heat that the previous match took away from the crowd by instantly brawling at ringside and ending with Koshinaka piledriving Fuyuki on a hard-arse Japanese Table. Fuyuki recovers enough to start the match and get double-teamed and crowd can't be more buzzed right now, even for someone they're indifferent to like Fuyuki. The NJPW lads keep Kudo's podgy arse in check until Kitahara kicks Koshinaka's face off with a sneaky kick and does the same to Kimura on the outside. This allows Fuyuki to make a tubby comeback and crowd are ALL IN with that. Kitahara tags in but Koshinaka's like LOL i'm not selling for you, so Kimura tags in to a villain's welcome from the crowd. Kimura gets slammed on a Japanese Table (amazing how many of those there are in Japan) before shrugging that off seconds later to continue plodding away on Kitahara. The offence is not sophisticated from the Nooj lads but it's generating more heat than a McDonald's coffee. Kitahara tries powering up but it's cut off quicker than a Ken Kennedy push. One of the reasons these matches work so well is because you suspect the NJPW crew really don't want to be making these guys look good. Kitahara is able to land some kicks into Koshinaka's skull and he's inclined to sell more than last time. Kimura is much willing and batters both WAR lads like they're War Drums. Fuyuki's overselling and screaming is effective here as his yelling blends in with the crowd's, especially when Koshinaka ends in a vicious looking stretch and Kimura has to help. Koshinaka is NOT happy and blocks a hip-toss by turning into a slam and crowd comes alive knowing this means SERIOUS ARSE. However, Kitahara sees it coming and turns a BIG BOTTOM into a German Suplex for two. Kitahara tries his best to land another but Kimura lands his Flying Something and the Nooj Lads combine their flying strikes to set up a Powerbomb Pin to end things on a hot note at 13:33.
Obviously not at the same level as the previous mega encounters, but this was fine for the mid-card extension of a feud that is going to continue until it doesn't. K & K are perfectly cast as two surly veterans who think they're above their opponents because…well, they are.
SUPER POWER FIGHT
King Haku vs. The Earthquake John Tenta
So it turns out the WAR/WWF relationship is carrying on, just with less Chris Walker and Brooklyn Brawler. Tenta and Haku stare down one another while gently locking up to see who's going to snap first. Haku can't knock Tenta down with a shoulder tackle so Tenta effortlessly blocks a scoop slam and kicks Haku down. Haku finally manages to take Tenta down with a top rope crossbody but he barely gets a one count. Tenta wears his sole into Haku's soul and barely looks like he's breaking a sweat as he leg drops Haku's face. Haku gets mad and pounds Tenta down to the mat with an armbar that doesn't look convincing because Tenta's got Ribeye Steaks for limbs. Haku starts chopping away on Tenta as the crowd cheer the mad man on as they believe in Haku. Or they want them to fight for real-real, and I'm sure everyone would want to see that. Sadly they're both professionals and Haku gets a two from a top rope splash. Tenta responds with a dropkick which would kill a lesser man. Haku reverses a Belly-To-Belly to land on Tenta but that only annoys him so Haku lands right in his waiting arms for a powerslam finish at 13:01.
I'm a simple man, give me a Big Man vs. Small Man match with a receptive crowd and I'm content. Even when that Small Man is Haku.
Ashura Hara vs. Riki Choshu
Hara yells at Choshu pre-match but he doesn't seem too sure of himself so he launches a lariat at Riki as the bell rings. Choshu dares him to try again so Hara does and knocks him down after three attempts. Choshu gets up and does the same to Hara, with only the third lariat having any effect. Hara recovers and is able to knock Choshu down with two this time, so Choshu knocks Hara down after one. Both attempt lariats at the same time with Hara landing a second to knock Choshu down. Riki gets up before Hara and knocks him down after two. Hara kicks out to mild surprise and headbutts Choshu, who declines to sell and suplexes Hara. Hara won't stop recovering so Riki lariats him off the apron. Choshu thinks that might be enough and lariats Hara some more to end it at 5:31.
Weird match that would have worked with a louder crowd but felt hollow without it. I swear all Choshu did in the 90s was have matches that felt like the last five minutes of a sixty minute match. A must watch if you enjoy lariats though. KOJIMA, GABE, LARIAT, LARIAT, LARIAT.
THE BATTLE OF REVOLUTION
Genichiro Tenryu & Takashi Ishikawa vs. Tatsumi Fujinami & Hiroshi Hase
Fujinami beat Ishikawa at the Jan 4th show so he went running to his Dad to help him out against the legend and Fujinami has only went and bloody brought Hase with him. The pop for Tenryu is through the roof as the idea of these two respected outsiders taking on Tenryu and his older, fatter son is mouth-watering. Almost as mouth-watering as Hase's hair. God it's shiny.
Fuj and Tenryu start and crowd is electric for their first ever encounter, especially with Tenryu beating Choshu at Jan 4th meaning that unlike the earlier interpromotional match, there's a very real chance Tenryu could beat the legendary Fujinami right here and now. Both men carefully measure one another out until their egos get the best of them and Fuj sends Tenryu to the outside with a dropkick but Tenryu avoids the potential Dragon Rocket by…running right into Hase who smacks him and sends him back inside. Hase gets mauled by the WAR ringside guys so Ishikawa tags in to take apart Hase, who declines to let that happen and turns an Irish Whip into a Russian Leg Sweep. Fuj isn't able to tame Ishikawa who delivers a Back Suplex to let Tenryu tag in and immediately get locked in a Scorpion Deathlock, which Tenryu partially blocks until Hase encourages him to sell. Ishikawa makes the save with a DDT off the second rope and boy is he getting a spotlight here for a guy in a different division to the others in this match. Hase gets chopped around until he effortlessly locks in an Indian Deathlock. Hase is smoother than peanut butter and takes the time to gloat.
Fuj lands a flying knee to start some Tenryu heat and- oh no it doesn't as all of Ishikawa's arse splats on Fujinami's face instead. Ishikawa mouths off at Hase who dares him to try it and THE FAT MAN DOES.
Tenryu is so proud of his fat little son that he helps him double team Hase while glaring at Fujinami. After a few minutes of that, Fujinami interferes to help things out and the crowd BOOS ahahahahaha. Eventually Fuj is able to tag in and lock in his Dragon Sleeper on Ishikawa until Tenryu chops him down. Blind Elbow gets two as does the Dirty Powerbomb. Tenryu tries an Abdominal Stretch before Hase splats him with a high-arse urinage. Hase starts spamming Urinages and German Suplex but the crowd are stomping their feet so loud they're liable to take down the Walls of Jericho so Tenryu uses the rumblings to kick out. Fujinami walks right into a double Step-up Enziguri but Fuj ducks a Double Lariat so Hase lands a Northern Lights Suplex…for two and the crowd is at X Japan levels of loudness now. Tenryu comes back with a Dirty Powerbomb to…oh, win at 18:33.
Match had the wonderful intensity of the other parts of the NJPW feud but the WAR guys got a lot more offence in than I was expecting so half the match felt the NJPW guys felt like the ones in trouble, which lessened the impact of the encounter. Still a lot of fun thanks to the insane crowd heat, despite the abrupt finish.
After the pin Shinya Hashimoto runs in to mouth off at Tenryu, letting us know the WAR is far from over bwahahaha.
Overall: I mean the highlight of the tape is the amazing Hail Mary WAR has thrown itself as it's suddenly really bloody important and really bloody good. Sure, the crowd is noticeably quiet compared to the NJPW offerings but considering the company was close to death I'd say "who cares?" and enjoy the interpromotional matches and heat while they last.
Next week: I'm having too much fun, let's see what NOW was doing on this same date.
I've been Maffew and I am also alive after near-death (slept in)