Super World Sports The Battle Of Kings 04/18/92
Tokyo Metropolitan Gymnasium
Tokyo, Japan
Broadcast date: 28/04/92
Attendance: 9,019
After losing their TV deal with WOWOW, SWS are now airing on TV Tokyo for a monthly one-hour show.
This would end up being the last bit of positive news the company would receive.
Chris Walker vs. Tetsuya Yamanaka
Some of the matches that didn't air on TV were recorded via handheld and THANK GOD we get to see more of Chris Walker, whose entire WWF televised career could fit on a SP VHS tape. I don't know who Tetsuya Yamanaka is and neither does cagematch. Walker busts out his leapfrog sequence from yesterday and this crowd is far more receptive to the jacked loser. A press slam and a top rope crossbody ends this quickly with the crowd applauding. I think Walker was released as soon as his foot touched the tarmac on Bradley International Airport so I hope he enjoyed his trip.
Samson Fuyuki & Takashi Ishikawa vs. The Beverly Brothers (Beau Beverly & Blake Beverly)
Ishikawa waits no time DDTing Enos but ignores it so they can powerbomb/sledge the fattest oldest thirty year old in all of wrestling for two. Fuyuki tags in to oversell everything, but he does it as soon as he takes the first move and the crowd's murmuring is loud. Fuyuki takes the AWA Special and continues to screech as laughter can be heard. Fuyuki then dodges a charge in the corner and forward rolls to tag out because he can't pick a speed and wants to go fast and slow at the same time. Fuyuki comes back with his high kicks and the crowd are mocking him now. Spike piledriver also gets laughter as he won't shut up yelling as he's doing stuff, so Bloom simply ignores the move so he can tag out. Enos powers out of the Sharpshooter by doing press-ups before another AWA Special gets polite applause. Fuyuki lands a top rope crossbody but the idiot rolls off before the ref finishes counting and all the fans notice and jeer. The Beverly Bros were trying a lot harder than yesterday but it didn't matter as Fuyuki's selfish look-at-me style took all the attention away.
Shinichi Nakano & Tatsumi Kitahara vs. Ishinriki & Yoshiaki Fujiwara
These matches are all from the TV Tokyo airing and…wait Ishinriki's back already? I'm happy he's back but returning after a four month retirement might be grounds for getting pushed off a bridge in Japan. He's teaming with PWFG guest star Fujiwara who technically ended Ishinriki's career at the Tokyo Dome. Ishinriki immediately dives to the outside with a head-first dive to take out Kitahara and the crowd seem happy to see him back. Nakano and Kitahara land their kick-variant of the Hart Attack and this airing seems to be clipping away whatever they can to fit as much as they can to for more action into the tight hour timeslot. Ishinriki lands two more dives in succession to the outside as he's clearly nothing from the career-ending injury he sustained. Ishinriki takes a double flapjack but as Fujiwara whips Kitahara into guard-rails, Ishinriki tries to get the pin multiple times with Northern Lights until Nakano delivers one of his own to win. A rushed highlight reel to get Ishinriki over and also see if the crowd want him back. Fujiwara didn't even tag in.
NWA World Light Heavyweight Title Match, 2/3 Falls
El Satanico vs. Ultimo Dragon
El Satanico is still wrestling in 2023 at the age of 73. I love luchadores, they don't get old they just get fat. Both men exchange quick moves (with the commentators calling a headscissors a "Frankensteiner") with Ultimo getting his cheeky stomps on a downed opponent before landing a giant crossbody to the outside off the top rope. Like every other Dragon match, crowd is crazily into this. We then cut ahead to Satanico casually dropping a completely nuts Macho Man 1999 style elbow drop to the outside.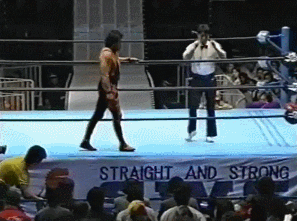 Dragon recovers to set up the contractually obligated Mexican Surfboard but Satanico leans back and both men have their shoulders counted down for the pin and I think it's declared a draw? Dragon gets the mic and demand the match be restarted so they must have absolutely gutted this match if we're skipping falls.
Match restarts with Dragon throwing every kick he knows at Satanico who gets a standing lock to stop him for a bit. Dragon can't be halted though as he lands his fake-out through the ropes only to…miss the Asai Moonsault and get counted out. Oh.
What was here looked top-tier but I guess we have to close our eyes and imagine the rest. In case you were wondering, Ultimo would never win this title and it wasn't part of the J-Crown.
Undercard Highlights
We're cruelly teased with a Ashura Hara vs. George Takano match that's shown in highlight form. Great, as soon as SWS starts getting midcard matches of interest, we can't see them.
SWS Light Heavyweight Title Match
Naoki Sano vs. Chavo Guerrero
Oooo Chavo Senior. He's passed away now but was wrestling two months before he died so you know he's a luchadore. We're JIP five minutes in to Chavo armlocking Sano on the mat with doing a hand-stand. Ah that's who Ziggler borrowed that from. Mutual respect is shown between both men with kip-ups and handshakes before a missile dropkick sends Chavo down. Crowd is dead for this one, they must only love lucha when Dragon is involved. A chinlock and a small package don't change their minds so the wrestlers give them another chinlock and another small package to see what happens. Nothing's the answer so we get another chinlock as this is definitely the one, you betcha. Chavo lands a Tilt-a-Whirl and a German Suplex Pin before flying outside with a tope. Chavo is sweating and panting a lot. Sano takes advantage of his greasy opponent to escape a reach-around and knock his opponent down with a Suicide Dive. Then Sano German Suplexes back inside to win a workmanlike effort. Chavo was 60% water by the end of this.
SWS Tag Title Match
The Natural Disasters vs. King Haku & Yoshiaki Yatsu
The Disasters are champions and also over with the crowd. I loved them as a kid, they're both bigger than Nigel Mansell during his last race. Typhoon ignores a Yatsu lariat and crowd go "oooOOOooo" so loud that Yatsu takes the hint and tags in Haku instead. Tenta bearhugs Haku so Yatsu takes the opportunity to dropkick him from behind and Natural Powers ram Tenta with multiple splashes in the corner. Just realising due to the name changes the two biggest disasters in Japan right now are Typhoons and Tentas. Not technically incorrect. Typhoon's attempts at smothering Haku only result in a mad Haku so Tenta tags in and then it all breaks down with Tenta avalanching Typhoon, then Tenta missing a Pantera charge in the corner so strongly that he sends himself outside. Hell of a bump for that lad. Typhoon gets double-teamed to oblivion before finally losing the tag titles after a press-slam splash combo. Match was decent if rushed, like everything else on this show. Thinking about it, the Disasters did their best work in SWS.
We're so rushed for space on this show that we don't even see The Natural Powers holding the titles or trophies.
Main Event, 2/3 Falls
Genichiro Tenryu vs. Ric Flair
Here's Flair who is NOT the WWF Heavyweight Champion having lost it to Randy Savage at Wrestlemania VIII a few weeks ago, which probably explains the disappointing attendance. Well, that and it's SWS. So this would be the second time Tenryu has been cruelly denied a WWF Title shot after Hogan was stripped of the title after This Tuesday In Texas, but hopefully a pointless 2/3 Falls match after losing to Ric twice in two days will make it up to him.
Ric opens with a "wooo" and a wrist-lock, with the "wooo" doing more damage. Flair takes over with chops and you can tell Tenryu is familiar with his work as he does everything in his power to make Ric's strikes seem like thin slices of death. Tenryu delivers his own before giving Flair the Can't Call It a Backdrop If You Land On Your Sidedrop. Flair begs off and it gets a biiiig reaction from this crowd. I love how much of Flair's schtick translates in any language. Flair avoids a Patera charge in the corner and the impact causes Tenryu to have to head outside to recover, so Flair exits the ring by doing the Flair Flop of his own volition so he can roll outside.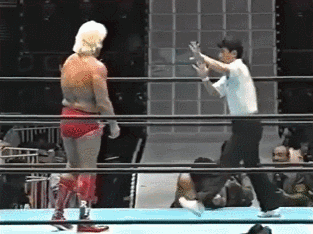 I haven't seen a Flair flop that impressively since David was U.S. Champ. Tenryu takes an sweet walking anklebreaker as he's clearly been studying his Best Of Luger VHS. It's funny how to see Tenryu go from fighting for his life with someone like Haku but then Flair shows up and suddenly a basic kneebreaker is confuddling him. Tenryu's spent the majority of his time in SWS making others look good and if he's good enough to help Kitao out then he can do it for Flair I guess. Tenryu gets locked in the Figure Four and he can't do a damn thing to break out of it, emoting more than I've ever seen him do before. Lugosi didn't fight the octopus half as much as Tenryu does here, before it's too much and he has to tap out at 10:21.
Flair continues to wear out Tenryu's poor ankle in the corner, alternating between stomps and yelling English at the crowd. "SHUT YOUR MOUTH FAT BOY" gets a good reaction so it's like The Clangers, understandable in every language. Tenryu counters another anklebreaker with an Enziguri, buying him enough time. Figure Four gets rolled into a small package so Flair simply punches Tenryu in the face. He's still able to toss Flair off (not like that) and deliver a meaty Powerbomb to even the odds after 04:09. Flair took the Powerbomb well for a guy with half a back.
Tenryu is still nursing his leg but Flair's such a magnificent bitch that he still begs away from a limping opponent. Ric smashes Tenryu's leg into dust on the outside before chairshotting it for good measure. Tenryu attempts to block the Figure Four but Ric locks that sucker in and adds extra shots to his own leg to increase the pain. Tenryu very gingerly is able to turn Flair over and transfer the pain like Ric's alimony payments, with Ric having to escape as the crowd goes Banana. Ric continues his beating until Tenryu gets a final volley with his sumo charges in the corner and landing several lariats and an Enziguri (with Flair bumping several different ways at once) before landing another Dirty Powerbomb to end it 2-1.
Take your favourite Ric Flair match and play it on fast-forward and voila, you've got this match. It was fun seeing Tenryu sell like mad for Flair but it was so hilariously abridged I'm surprised Little Kuriboh didn't make a cameo.
Overall
The shortened length killed this show, with everything from Ishinriki's return, tag titles changing hands to a Ric Flair main event getting cut like D-Von Dudley's forehead. Felt like one long Dark Puroresu Flowsion video.
None of these criticisms mean much for SWS as this will be the theme for the remaining few shows: