Super World Sports Battle Message Night 1 & 2 04/16/92 – 04/17/92
Bad news as SWS's TV slot on WOWOW is over as the company declined to renew their deal, due to Akira Maeda's RINGS getting better ratings despite the alleged names associated with Straight & Strong.
PWFG made their USA debut in Miami drawing 2,300 for a main event featuring Bart Vale defeating Fujiwara. PWFG continues to outdraw SWS even in countries with no access to their product.
I'm not saying SWS is getting it's arse handed to it by shoot-style companies but PWFG's Duran vs. Funaki show is reportedly outselling Flair vs. Tenryu Title Match (happening the day afterwards) by nearly a 10-to-1 margin.
Battle Message Night 1
City General Center
Minamiashigara, Kanagawa, Japan
Attendance: 3,919
Ric Flair, John Tenta & Typhoon vs. Genichiro Tenryu, Ashura Hara & Takashi Ishikawa
Flair teaming up with Shark & Shockmaster is hilarious. The only way this team could be more 1992 WWF is if Rocco was managing them. This is (I think) the only match recorded from this show because even though the SWS Tag Titles changed hands in the main event, a fan instead used their limited video to film the three Natural Disasters: Earthquake, Typhoon and Bankruptcy.
Hara and Tenta start off with Hara unable to make any progress with the big lads. Ishikawa (aka Randy from Trailer Park Boys) tags in but even his gut can't move Typhoon. Maybe nail a 2×4 to the floor and put a mask on him. Flair tags in so Tenryu immediately tags in to get a piece of the WWF World Heavyweight Champion with Ric…naturally tagging out. Crowd don't like that. Good. Tenryu can't move Tenta but the former Sumo simply throws an Enziguri to his there's-no-way-he's-in-his-twenties head. Ishikawa manages to take him down with a shoulder block but gets barely a one count, leading to $lic Ric tagging in to take advantage of Ishikawa. Tenryu tags in again so Flair sods off again, but he doesn't appreciate the boos so he demands to be tagged back in, only to beg immediately off when Tenryu heads his way hahaha. Flair and Tenryu exchange chops in the corner with Tenryu winning that, resulting in more begging off. Tenryu misses his Blind Elbow, leading to Typhoon splashing his poor guts. That must have hurt more than the ball implants. Tenryu gets worked over by this weird team with the crowd not reacting to Flair's antics, even when he's yelling at individuals in the front row. I guess "shut up, fat boy!" doesn't translate.
After some more dull working over, Tenryu back body drops Typhoon but Tenta continues the slow progression and we reset with Flair chopping away and attempting to set up a Figure Four, with Tenryu countering with an Enziguri after a "wooo." Ishikawa tries to splash Tenta in the corner but he gets his foot up, which the crowd think is the funniest thing in the world. It breaks down with everyone brawling slowly until The Disasters squish Ishikawa before Flair finishes him with a back suplex of all things.
Very bog standard match and I'm pretty sure Flair wasn't even sweating by the end of it. Just a teaser that was probably intended for TV clips and whatnot before real life got in the way.
Battle Message Night 2
Yokohama Cultural Gymnasium
Yokohama, Kanagawa, Japan
Attendance: 3,960 (less than 2,000 paid)
Shinichi Nakano & Tatsumi Kitahara vs. The Beverly Brothers (Beau Beverly & Blake Beverly)
I think Mike Enos is underrated but I never thought much of the BBs. The rich gay blond brother evil duo just seemed American to me. Wayne takes some Kitahara kicks before deciding he doesn't like the taste of them and sends his opponent into the guard-rails. Nakano tags in and the little lad seems confident against anyone that isn't Tenryu but The Bevs work him over with all the urgency of a Prime Time Wrestling squash, with the crowd's only reacting to an Enziguri from Nakano. Enos sends Nakano into the guardrail as this is struggling. Enos misses a second rope splash and over-sells Kitahara's lariat. No-one reacts. The Bevs start throwing suplexes and unleash the AWA Special as the crowd finally "oooOOOohs" in awe. Nakano ignores it and wins with a Northern Lights Suplex. If you like Beverly Bros. matches taking place in front of silence then you need to get out more.
Haku vs. Chris Walker
Jesus Christ they're flying CHRIS WALKER over? WWF would release him shortly after this tour so I can only assume he's a really late replacement for Hercules. Walker's barely had five televised matches for WWF before this as he picked the wrong year to have his kind of physique. The Japanese fans are laughing at him before the bell even rings. He manages two leapfrogs but can't get a backslide on the King. Walker dropkicks Haku to the outside and follows with a tope (!) before slowing way down with the applied nothing. Haku slaps on a chinlock and fans can be heard yelling for Chris to tap out before deciding to chant for Hogan. Man they're brutal in Yokohama. Barely anything happens after that as Walker nearly fudges an up-and-over but recovers OK before nearly putting away Haku with a top rope crossbody. Walker kicks out of a jumping piledriver while generating polite applause, so Haku simply lands a sit-out powerbomb instead to end it. Haku tried his best with a Roidy Magoo who wasn't ready for a crowd this harsh. Walker would join WCW next year and would only see Japan via Dokken album covers.
SWS Tag Title Match
George Takano & Shunji Takano vs. The Natural Disasters (Earthquake & Typhoon)
The Takanos are the new champions after defeating The Natural Powers yesterday. Tenta continues to use his real name because it's what Japan know him as (also I'm sure Japan is the last place that wants to be cheering for an Earthquake). Shunji starts off with Tenta, who takes the time to laugh with Typhoon at the state of him. Tenta slams Shunji effortlessly and seems happy to keep this at a Beverly Bros. pace. until George tags in and starts flying around with top rope axe handles and shoulderblocks to confuddle Typhoon. Tenta helps Typhoon squash George in the corner so they can calm him down but Shunji helps his brother to double dropkick Tenta on his arse. Typhoon is in his element smothering George whenever he attempts to do anything fast, with the crowd being impressed with Typhoon doing anything because he's SO FAT. A big dude splashing a guy in the corner is impressive in any country. In fact Shunji gets a big pop for simply dodging an Avalanche. George splats Tenta with a Missile Dropkick enabling The Takanos to keep him grounded with ankle locks. The big lads ignore it and smother both brothers with bearhugs. After minutes of that, Tenta drops an elbow on George and Shunji's get a sigh of relief from the crowd by stopping the pin attempt. Tenta misses a second and the crowd are really into this now, exploding when Tenta accidentally knocks Typhoon off the apron and Shunji of all people is able to slam Tenta. However, dumb-dumb gets carried away and tries slugging away on Tenta in the corner so Typhoon squashes him in between man-meat. They do the same to George in the corner and now The Takanos are wafer-thin, Tenta puts away Shunji with the Earthquake Stomp as the crowd yell "noo noo nooo!!" as Tena runs the ropes to win the titles & trophies.
Very decent big big man match. The Disasters working at that slow pace is fine as everything they do looks like it could kill a man, and the crowd were supportive of the current champs, so this was fine.
Ric Flair vs. Genichiro Tenryu
The WWF World Heavyweight Title match had already been announced for 04/18/92 so it's no wonder this non-title match the day before only drew 2,000 paid. (edit: well the idea was to have it as a title match but Flair had awkwardly dropped it to Randy Savage a week earlier, which did not impress SWS or their fans).
Flair stalls before locking up and demands the ref open the ropes for him while strutting, causing an angry Tenryu to lay on the mat and dare Flair get him. Ric responds by heading outside to strut again, generating angry "wooos" from the crowd. Tenryu furiously grabs a table from ringside and tries to chase Flair with it but he doesn't get close. Flair takes the time to talk on the mic and reminds everyone he's NUMBAH ONEE-AH. Flair is having a wonderful time not locking up with his opponents and the crowd are loathing him for it. Flair extends his hands out for Tenryu before backing off yet again while the announcer lets us know that five minutes have passed, cracking up the crowd. Tenryu finally gets a hold of him and chops Flair repeatedly and gets the backdrop-on-his-side followed by some smooth lariats. Flair begs off but uses it for a suckerpunch that…has no effect as him and Tenryu start going chop-for-chop. Flair wins that with a low blow so with the advantage, Flair gets a loud HEY YOU KEEP YOUR MOUTH SHUT to pop the crowd. This results in more people yelling stuff so Flair gets even more heat by yelling back at them. The crowd don't know what he's saying but they know it's nothing positive. Tenryu defends his fellow degenerates with a lariat in the corner giving us THE WRESTLING OBSERVER 1991 BEST MOVE THE FLAIR FLOP.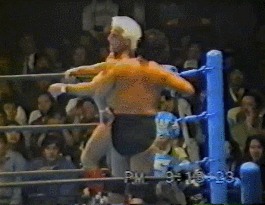 Tenryu delivers an enziguri causing Flair to Flop a second time. Well SWS was used to flopping at this point. Tenryu kicks Flair's head in until the familiar sight of red shows up on Ric's forehead. This riles up Ric who proceeds to uh get beat up even more. Flair gets tossed off (not like that) but avoids the Blind Elbow to lock in the Figure Four. Tenryu grabs the ropes so Ric continues to yell at people. Flair attempts the mule kick to Tenryu's balls but the ref spots it so he gets punched in the dick. This isn't a DQ because Japanese refs need to be pounded by Kenshiro before even considering it. Tenryu escapes the hold and cuts off Flair yelling with multiple enziguris, resulting in more flops. Flair kicks out of the Dirty Powerbomb and then sells another enziguri by launching himself half away across the ring, with the crowd attempting to yell "wooo" in a mocking way but it sounds like Curly's "woop woop woop."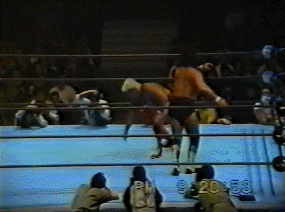 Ref has to beg Tenryu to stop attacking Flair in the corner so we get yet another enziguri/flop but the crowd are loving them so eh, give the people what they want. Flair keeps on kicking out of pin attempts and he responds by sending Tenryu into the exposed turnbuckle in the corner, but Tenryu isn't losing to a damn exposed turnbuckle. So instead Flair gets his dreaded Back Suplex to end it and anger the fans into applauding him.
Your enjoyment of this match will depend on how you like your Flair matches. I got a kick out of watching Flair heeling it up as much as possible and the crowd reacting positively (negatively?) to it. Tenryu also adapted well to not having to die twice in a main event, but I can also see how this would be a bloody horrible match if you're expecting 1987 Flair classic complete with exploding chest.
Overall: A fascinating pair of shows, with SWS paying very high amounts for guys who weren't household names in their own households, followed by Tenryu losing in a non-title match to build up his title shot tomorrow. If you're a fan of WWF during this period then it's worth a watch to enjoy the weirdness of it all.