Super World Sports Kyoto Prefectural Gymnasium 02/14/92
Kyoto, Japan
Kyoto Prefectural Gymnasium
Attendance: 5,720
Hulk Hogan vs. Genichiro Tenryu was named as 1991's MOTY, which was the only thing Tenryu had a chance of winning in that match.
However, Weekly Pro Wrestling's 1991 Fan Awards saw…absolutely no SWS nominations. Whether this was due to SWS banning the publication or none of the voters buying what they were selling is debatable.
Seiji Sakaguchi of New Japan met with Hachiro Tanaka of SWS to try and settle out-of-court on the lawsuit New Japan has against SWS for raiding Naoki Sano and George Takano. Part of the settlement may include doing a co-promotion show (or they could just wait a few months and just book Tenryu).
UWF-i sold out Korakuen Hall on 01/09 and PWFG drew 4,120 at Yokohama Bunka Gymnasium on 01/15 as shoot-style continues to get bigger every month. SWS representative defeated Goldberg's favourite Jerry Flynn which explains the big number.
Ultimo Dragon & Kato Kung Lee & Masao Orihara vs. Emilio Charles Jr. & Blue Panther & Toshiyuki Nakahara
Hell yeah luchadores I know nothing about, this should be awesome! Blue Panther's still going strong in CMLL to this day but Emilio and Lee have both passed away. Toshiyuki Nakahara doesn't have a cagematch profile and this would be his last SWS match so presumably he bumped his head falling off the face of the earth.
Ultimo and Panther start off the feeling out process and their armdrag escapes and counters are smoother than peanut butter. Dragon's Brock Lock and Panther's continuous unrelenting pin attempts are the stand outs. SWS is really risking it having these guys start a show, it's like Aqua starting their set with Barbie Girl. Panther gets dumped outside which allows Emilio to come in and attempt to send Ultimo into the ropes, but instead Dragon follows through (not like that) and turns it into a dive on top of Panther. Lee tags in on Dragon's behalf and his gear is cheap-looking compared to the other lads, it's got to be said. He spends his time avoiding Emilio before running off the ropes and sending him outside. Orihara and Nakahra tag in and proceed to bust out some basic moves so the editing team wisely skips ahead to keep momentum going.
When we return, Ultimo is getting his crotch stretched across the guard-rail by Panther (that's a new one) so Lee gets isolated and gets a chance to show the air he can get on a backdrop when he knows there isn't a Mexican ring canvas to land on when he comes down. Ultimo comes in to save but his crotch is weak so the luchadores get the AWA Special of all things for two. We get a nice example of lucha selling when Ultimo gets slammed so Panther can go to the middle rope, only for Ultimo to pop up so he can do the next spot now he's up there. Not complaining, just observing. Emilio (who is the spitting image of the caveman lawyer from SNL) locks in a Stump Puller as everyone seems keen to show off their submission holds like every SoCal indie match in the past twenty years. Ultimo gets several wonderful kicks on Panther but he disagrees with this and powerbombs Ultimo for two. Emilio and Panther attempt to set up a backdrop/powerbomb combo with Dragon turning into a Frankensteiner pin for two (with an unknowing Panther blocking his opponents from coming in to crowd appreciation). Hot tag to Lee who gets what I guess is his trademark of running away from three luchadores at once by scaling the ropes without using his hands. It's kind of nice but it was more impressive seeing Panther make no attempt to chase him whatsoever, clearly sick of pretending to try and chase this cat person. Dragon lands on his feet after a backdrop, connects with the in-ring Asai Moonsault and sticks the German Suplex Pin but this doesn't end the match for once as Nakahara breaks it up. No wonder he didn't work again, the Latin Yakuza took him out (presumably with armdrags). Panther locks in the contractually-obligated Mexican Surfboard but in a brilliant moment, Orihara tags in, tilts Dragon and then attempts to pin Panther with the weight of two men on him. He kicks out but good attempt. Ultimo instead impresses with the ASAI MOONSAULT while Lee lands another no-hands jump off the second rope, kicking Emilio. He was the Kommander of his day. Lee takes out caveman on the outside to leave Orihara alone with Nakahara. Panther stops a German Suplex Pin by landing a basement dropkick to Orihara's legs which is such a cool way to breaking that up. Orihara dropkicks Panther outside so he can land the 1991 MOVE YOU SHOULDN'T DO BUT IT LOOKS COOL ORIHARA MOONSAULT.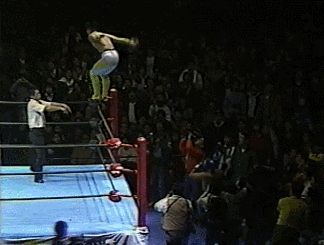 Dragon then executes the Bridging German Suplex on Nakahara to end a wonderful twenty five minute opener. Dragon was his usual amazing self and it's no wonder NJPW wanted him as Tiger Mask but Panther was exceptional in his holds, selling and overall smoothness to the point where I want to go look for more of his matches.
Post-match Nakahara & Orihara are given flowers which is a nice way of Nakahara ending his run in SWS. Nakahara would have a handful of matches in CMLL before leaving the business in May of 1995.
George Takano & Shunji Takano vs. Takashi Ishikawa & Samson Fuyuki
JIP six minutes in and Shunji's already having a cardiac arrest. George works over Samson's ankle for a bit before my current favourite wrestler Ishikawa decides to lariat George so hard he can taste time. George gets some revenge by beating up Samson, with Samson reversing a whip into a guard-rail and George simply ignoring it to kick him in the back of the head. This somehow splits open Samson's forehead because he figured if it could happen to JFK then why not him? By bleeding heavily, Fuyuki is able to lay around and get kicked a lot while hoping for sympathy, basically confirming he's losing. Shunji is able to fend off Ishikawa with crappy knee drops but a flurry on George sees Fuyuki tagging back in despite the blood loss. Ishinriki and Fuyuki chairshot both Takanos repeatedly before the referee is thrown repeatedly and that's the match. Urgh. Just a match to fill a necessary spot in the show, possibly because of the Round Robin Tournament but who cares. Also I can't see how bitching out of a match is going to help Fuyuki get over.
Undercard Highlights
Hercules makes his last SWS appearance. He'd be booked for another tour a while later but WWF had to inform SWS that he'd been released so that was that. He'd end up with Scott Norton as the wonderfully named The Jurassic Powers in NJPW next year.
Yoshiaki Yatsu & King Haku vs. Davey Boy Smith & Marty Jannetty
Marty's appearance here is notable as he'd just been arrested two weeks ago at a night club when his date tried to use a fake ID to get in. Police were called and Marty attacked the officer, resulting in an arrest for that and a charge for the cocaine on his person. Marty would finish this SWS tour then spend six months in house arrest causing his release from WWF. This would be Firing #2 for those counting at home
Jannetty starts off with Haku, giving them a chance to reminisce about Jimmy Jack Funk. Jannetty has mastered the art of using his speed to battle bigger opponents, probably from all those police interactions. Jannetty avoids traffic control spikes to let Bulldog tag in to show how damn good he was capable of being (even at this size) as he leapfrogs over Haku twice before delivering a stunning dropkick. The Milky Crack Kid can't deal with Yatsu but Jannetty's quickness lets him take over. He strays too close to Haku's corner so Fifi and Fooked go at it with headbutts to the crowd's delight. Bulldog manages to deliver the Dairyed Suplex with no issues to Haku but this results in Jannetty getting dunked on harder than then replies to his FaceBook posts. He gets sent flying into the ringpost before Yatsu bulldogs him in front of Bulldog. Haku calmly chinlocks Marty as he hates the cops too, but this enables the Rocker to drop Haku after a few superkicks and let Bulldog tag in. Team Shawn Michaels Took Everything From Me land a double suplex on Haku and Marty allows himself to be tossed around but Marty makes a mistake (story of his life) by jumping into Haku's waiting arms for the match-ending slam.
Decent match with Jannetty looking infuriatingly good out there. He'd next be seen in Japan as part of IWA Japan's 2000s revamp into a old school American tribute promotion, before TNA stole the idea.
Genichiro Tenryu & Ashura Hara vs. Tatsumi Kitahara & Shinichi Nakano
I think TAKA had a better chance of beating HHH on Raw than Kitahara and Nakano have winning this match. Kitahara throws kicks and Hara throws headbutts, resembling Bart & Lisa closing their eyes and walking towards one another. Kitahara tries that on Tenryu and actually manages to hurt the big man, so Hara tags in to save his meal ticket. Nakano and Kitahara get a delightful Hart Attack but with a running kick instead of a clothesline. Nakano tries a hold on Hara but Tenryu plays his favourite game of Beating Up Nakano by kicking him right in the bastard face. Tenryu tags in for some chops but Nakano isn't taking it tonight and tries retaliating with hard chops of his own! Any other time than this match, that might have meant something. Instead, crowd barely reacts. Kitahara and Nakano land Le Bomb du Rougeau before Hara saves Tenryu. Hara manages to get a worried reaction from the crowd when he takes a few giant kicks to the head and falls to his knee. Hara recovers and tags in Tenryu but Nakano goes on a slapping spree on both men, ending with Tenryu knocking childhood memories out of his skull. Nakano and Kitahara keep trying their best to tease the crowd into thinking an insane upset is happening but it's no use. This drags on and on with the crowd not buying any of it. Hara smashes a chair over Kitahara at ringside and everyone's like "hurry up" so Tenryu wrenches Kitahara's leg in a Single Crab and immediately leaves the ring mad. They tried, but Tenryu's opponents could have been holding Ak47s and the crowd wouldn't have believed they had a chance.
SWS Tag Title Champion Decision Match
Yoshiaki Yatsu & Haku vs. Genichiro Tenryu & Ashura Hara
Haku and Hara bounce headbutts off one another to start, like two angry moose arguing over the same plate of food.
Tenryu's Enziguris can't take down Haku either but finally a Hara lariat convinces him to settle. Hara & Tenryu double lariat Haku as both men struggle to keep the mad man down. Yatsu tags in and Tenryu clotheslines him so hard in the corner that he sends himself flying outside as the Revolution guys are firing bombs early in attempt to end this quick. Hara lands another hard-ass lariat to Yatsu and Tenryu kicks Haku in the head but nothing can stop The Natural Powers. Haku HAKUS UP and lands his delicious dropkick onto and through Tenryu. Hara clotheslines Yatsu in the corner and Haku takes this opportunity to attack Hara as he connects, which is a cool bit of strategy. This results in Tenryu being left wide open to take the Powerbomb Slice on the outside, leaving Hara alone to take a piledriver inside…which he kicks out of. So Haku lands his top rope splash…which he kicks out of. So Yatsu lands his running bulldog…which he kicks out of. Crowd is begging Tenryu to get the fuck up and save his Dad, but just as Tenryu makes it into the ring to save him The Powers smash Hara with The Hart Attack to win the tournament and trophies and titles.
This served it's purpose as a tournament final with the story/reality of Hara & Tenryu being tired from the previous match meaning all The Powers had to do was absorb the blows and wear them down, so this made sense. But there's a weirdness of finishing the tournament with the same match and result as the show before this. I understand having a shock decision or something in a Round Robin but it was only The Powers and Revolution that had a chance of winning anyway. Match gave me all the meaty exchanges I demand from a SWS main event though so these are just criticisms to make me sound smarter than I actually am as opposed to actually caring.
The Natural Powers celebrate while an emotional Haku blinks away tears as if a policeman was emptying a bottle of mace in his face to trick us into thinking he's human.
Overall: There was a hell of a lot of great action on the show even if there wasn't much in the way of sensical booking or sense. But a 25 minute prime Ultimo Dragon multi-tag match is an easy enough recommendation by itself.
I've been Maffew and I can't go twenty five minutes, straight or strong.