Super World Sports – Nagoya Congress Center 01/06/92
Nagoya Congress Center
Nagoya, Aichi, Japan
Attendance: 2,160
SWS officials announced total proceeds from their Dome Show as being 760 million yen (approximately $5,850,000) with the breakdown being $4.62 million live gate, which would set an all-time pro wrestling record if it were true. Welcome to SWS where every day is Bruce Pritchard talking about Wrestlemania VII.
But it doesn't matter as no-one's talking about the Dome Show right now after UWF-i's last event on 12/22/91, featuring a little match you may have heard about: Trevor Berbick vs. Nobuhiko Takada.
Now the exact details of what Berbick was and wasn't told before the match are disputed (more details at the great Quebrada site), but what's definitely known is that Takada kicked the fuck out of him while he protested to the referee about not knowing the rules before abandoning the ring while being bottled by the crowd. It was hard to imagine a better way of making Takada and UWF-i look credible in the eyes of the fans. Days after this, Berbick was arrested for several things that'd get the Blog Of Doom's ad rev cut off quicker than a Mustafa Ali push so I'll just say this couldn't have happened to a nicer guy and move on.
Shawn Michaels (WWF) & The Berzerker (WWF) vs. Kendo Nagasaki (Dojo Geki) & Kenichi Oya (Palaestra)
I know The Rockers had split up by this point but what the hell is this team? Paging Jabroniville again. This is Nord's debut for SWS and it'll be interesting to see if Japanese crowds appreciate a blatant Brody rip-off. Berzerker immediately throws Kendo to the outside and starts brawling with the HUSSing idiot before being dragged around by Kendo because he gets recharged on the outside like that penultimate boss in Doom Eternal. Berzerker tags out to Michaels who is wearing very un-Michaels-y gear, plain black with a white stripe down both legs. He gets a nice reaction for a simple armdrag and then nothing for the HBK bump in the corner. Japanese crowds are interesting. Kendo and Oya take in turns boringly working over Michaels. Berzerker is no help so HBK makes his own comeback and manages a crossbody off the top to the outside on Kendo. Berzerker pulls up the mats and sets up a delayed piledriver on Kendo, only to land on the folded up mat he just moved. Nord gets a lot of love elsewhere on here but I'm not a fan of Berzerker or his rubbish wrestling or cheap appearance. Kendo gets helped up by Oya so Kendo can bite Berzerker. Oya lands a series of vicious backdrop suplexes so Nord low blows Oya and ignores everything that just happened. Superkick only gets two on Oya cos it's 1992. Michaels and Oya go shot-for-shot which HBK wins Piper-style with an eye poke, to no reaction. Michaels looks unconfident out there with no Marty. Nord tries to start a brawl on the outside for some reason but Kendo makes it clear he's better at that so he dropkicks Oya inside instead. Nord gets his ankle worked over by KendOya, which he neglects to sell like everything else in this match. Michaels tags in and gets an early version of his sweet-looking elbow drop for two.
Nord and Oya are left together so Nord gets a big boot while Michaels and Kendo brawl on the outside, leaving Berzerker to win after a…fall-forward slam? Huh.
God this was rough. Nord's antics got zero reaction and he spent the match ignoring everyone else's work and doing his own thing. Michaels stopped trying and started using this as a demo tape for his singles run. The tag match equivalent of that clip of John Lennon & Chuck Berry jamming while Ono screams in the background.
Ultimo Dragon (SWS) vs. Bestia Salvaje (CMLL)
Bestia attacks Ultimo during his entrance and batters him with the flowers he was just handed because he's the BEST(ia).
Bestia throws bombs at Ultimo, hoping for a quick win but Dragon recovers enough to drop him on the outside so he can grab a breather. Bestia tries to backdrop Ultimo but he lands on his feet and Japanese crowds can't get enough of that spot. Dragon connects with the headscissors to the back of the head in another beautiful spot. Bestia dodges a flying body shot to land a smooth crossbody off the top. Don't think Bestia was supposed to move out of the way but they made the most of it. Dragon makes a comeback by Being Cool before sending Bestia outside to dive, with Bestia simply walking out of the way so Dragon stops…and then dives through the ropes on the other side of the ring instead. Smoother than peanut butter. Bestia dodges a dropkick (his offence really is based on moving slightly to the right) to land a top rope senton with all the grace of a Looney Tunes piano being dropped on someone's head. It gets two so Bestia tries La Magistral and somehow Dragon kicks out of that. Dragon kicks him in the back of the head (so he can't see the move coming) and sails through the air with the ASAI MOONSAULT. Dragon shoves his opponent back in the ring to land a German Suplex before immediately landing a second with the rolling bridge to end it.
Man I don't even care Dragon's having the same matches every time, he's so great compared to the rest of the show it's a breath of fresh air.
Undercard Digest: And we get the last appearance of promising up-and-comer Akira Katayama as he pins Hikaru Kawabata with an impressive German Suplex. On the next show, Akira would spike himself doing a tope to the outside, fracturing his fourth cervical vertebrae and permanently losing the use of his legs.
Wrestling is like life, short and unforgiving.
SWS Tag Titles Round Robin Tournament
Davey Boy Smith (WWF) & Naoki Sano (Palaestra) vs. Shinichi Nakano (Dojo Geki) & Tatsumi Kitahara (Revolution)
Ah grand, some more thrown together tag teams like a forgotten Wrestlemania 39 slot. Sano gets worked over until big Davey kicks in and the crowd goes "wooOOOah" for just his tag. Nakano tries a full nelson but HE'S TOO MILKY. His opponents try to double-team him but Davey responds with a chinlock. Aye that'll do it. Nakano locks in an armbar so Davey saunters off and tags in Sano. After several minutes of nothing, Sano baseball slides Kitahara on the outside to start a pedestrian arse-kicking as this match is going nowhere slow. Dairy Boy tags in to to catch Kitahara and land the Running Powerslam before allowing Sano to steal the win with a splash to end a staggeringly dull match.
SWS Tag Titles Round Robin Tournament
George Takano (Palaestra) & Shunji Takano (Palaestra) vs. King Haku (WWF) & Yoshiaki Yatsu (Dojo Geki)
These two teams had a match that lasted about nine weeks so hopefully we can aim for a fortnight this time around. George and Haku start things off by dramatically staring off before George gets the sumo slaps to make Haku feel pain temporarily. We get a long headlock with George hoping to weaken Haku, who responds by slamming him after a charge. We then clip TEN MINUTES AHEAD as this match was going the same length as a decent holiday. George piledrives Yatsu on a Japanese Table, which would have looked nicer if Yatsu hadn't made sure to get himself off safely before selling. I mean it's not his fault the cameras are zooming in on Yatsu making sure he doesn't fall off the rickety old thing. But enough about the SWS midcard, Yatsu immediately recovers so George has to take him out again to unleash his crap brother. Thankfully Shunji recognises his limitations and only throws his admittedly succulent dropkick. Haku mauls Shunji from the apron and then does the same when George is attempting a pinfall and like last time, the crowd approve of Haku being a dick. The Takanos both fly off the top rope onto Yatsu, so Haku has to come in and beat up the pair of them to get more crowd love. Haku tags in for real and delivers a horrible back suplex onto Shunji, with the bad Takano falling like the Saddam statue. Haku murderizes him in response with a jumping piledriver, followed by the Powerbomb Slice onto Shunji with George making the save. The Natural Powers try for another Powerbomb Slice so George lands a top rope crossbody on Haku to stop it, leaving Yatsu wide open for a Shunji lariat and then…wait? The ref gets sick of the lack of tags and throws the match out urghhhh.
It's not much of a compliment to say "removing ten minutes out of this match really helped it" but here we are. Shunji did three things and did them well. With some work he'll be as useful as a Pokemon.
SWS Tag Titles Round Robin Tournament
Genichiro Tenryu (Revolution) & Ashura Hara (Revolution) vs. Samson Fuyuki (Revolution) & Takashi Ishikawa (Revolution)
I guess in theory there's some tension here as Japanese tournaments are usually an excuse to have a shock win here and there, but at the same time I don't see how this is going to be anything but a win for Revolution. Fuyuki starts off by slapping Hara hard across the face and Hara is just thrilled with that. Shoulderblocks and big spinning leg kicks are exchanged with neither man conceding an inch because they both want Tenryu's love. The man himself tags in to take out Fuyuki with basic moves before getting bored and sailing Fuyuki over the guard-rail, over the timekeeper's table and onto the unforgiving concrete.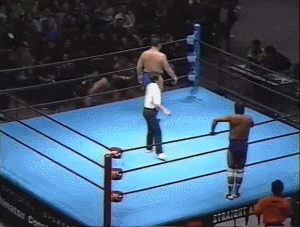 Good God he got some Foley air on that one. Tenryu lobs a table onto his corpse to make sure he's OK. Fuyuki manages to make it back inside where Hara is waiting with a lariat. Fuyuki manages a quick DDT to tag in Ishikawa who doesn't care about Tenryu's love, he just wants a Ribera steak. Spike Piledriver connects on Hara who sells it for a second before backdropping Fuyuki on his auntie hair. Tenryu tags in and starts treating Fuyuki's face like it's on fire and he's trying to put it out with his foot. Fuyuki is feeling it this week and gets a quick German (not Powerwolf) but Tenryu laughs it off and tags in Hara instead who headbutts Fuyuki. However his perm protects him enough to tag in Ishikawa who dropkicks Hara outside and follows with his crazy fat man dive. Hara is busted open from the mouth and responds by lariating Ishikawa, colliding like the cars at the start of Meet Joe Black. Tenryu tags in and Ishikawa thinks "fuck this" and tags in Fuyuki who immediately misses a crossbody. Hara knees Fuyuki directly in the head with such force I had to pause and yell at my wall. Fuyuki takes a lariat like the car at the end of Scary Movie. Crowd are impressed but also want more. Can't blame them.
Fuyuki continues to take more harsh shots until his chubby partner saves his life with massive dropkicks on both opponents, including one that causes Tenryu to spray water everywhere. Ishikawa kicks out of the Blind Elbow with Tenryu sadly not bouncing off his gut and into the second row. Ishikawa is able to tag in Fuyuki to a reassuring reaction from the crowd, only for him to take the Double Lariat necessitating a tag back out to Ishikawa, who then whips Tenryu into a Fuyuki butt stomp off the top. Could we actually see Fuyuki win this match after all that? LOL no as Tenryu backdrops Fuyuki into a Hara piledriver. Fuyuki tries to overcome both men before taking a Dirty Powerbomb for…oh wait Ishikawa stops the pin and it could happen! Hara & Tenryu double enziguri Fuyuki but he recovers and slaps the hell out Hara as the crowd goes nuts, only for Tenryu to enziguri him from behind to allow Hara to land the powerbomb to finally end it.
Hell of a match here from the four old fat men carrying SWS main events on their old fat shoulders. I was absolutely convinced Fuyuki was going to get a shock victory considering the complete shit-kicking he was receiving in a tournament match but it wasn't to be. I wasn't sure if it ever was the time for him to be honest, but they made me believe and that's what matters.
Overall: The difference between 1991 SWS and 1992 SWS is the reviews have gone from "everything but the main event was skippable" to "everything but the main event and Ultimo Dragon was skippable".
Oh and the wonderful British Nerd Kim Justice recently uploaded a video on the wonderful story of the SWS Tokyo Dome shows so give that a click. Or make like the rest of the Blog and keep talking about Run DMC's last album, your call.