SWS Nakajima Sports Centre 11/10/91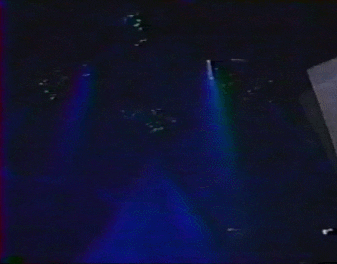 Sapporo, Hokkaido, Japan
Broadcast date: 02/12/91
Attendance: 5,100
This week's show is a set-up for the big Super Wrestle Tokyo Egg Dome Show happening next month involving WWF, PWFG and CMLL. Currently announced are: Hogan vs. Tenryu, Legion of Doom vs. Natural Disasters, Yatsu & Haku vs. Hara & mystery partner, Yoshiaki Fujiwara vs. Ishinriki and the finals of the WWF junior heavyweight tournament.
Wait, what tournament?
Oh also this month PWFG ran Battle Of The Lions III, featuring SWS lad Funaki winning again and also Ken Shamrock kicking Kazuo Takahashi's head off in a match that either started as a shoot or turned into a shoot depending on what answer Ken feels like giving that day.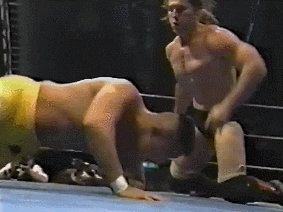 Thank goodness SWS matches don't end up falling apart like that.
Yoshihiro Asai (SWS) vs. Emilio Charles Jr. (CMLL)
I only know Emilio from his 2003 run with Los Talibanes, which is exactly what it sounds like.
This is Asai's last appearance before becoming Ultimo Dragon and Emilio's last appearance before he joins Los IRA. Asai lands on his feet after a high-angle hip-toss and the affectionate "wooo!!" from the crowd is a reassuring start. This crowd was starving for some good lucha. Asai nails his delayed Monkey Flip, following with a nifty headscissors, a fake-out in the ropes to cause Emilio to move in position for a diving senton off the apron. No wonder EMLL and SWS were throwing bags of money at this guy. Emilio locks in a Boston Crab so both men can get a breather, leading to Asai land his sweet tilt-a-whirl backbreaker. Emilio locks in a leg lock so complicated looking I had to ask Simon Gotch what it was. I'll put the answer here if he responded!
He says "looks like an elevated reverse Indian deathlock." Thanks Gotch!
Asai recovers to land the Handspring Elbow and follow with THE ASAI MOONSAULT to the outside. Emilio kicks out of a top rope splash and a Victory Roll before realising he's getting cooked in this match and knocks Asai down with a smooth suicide dive. Emilio locks in a Mexican Surfboard and transitions it into a pin attempt which I love. Asai doesn't and kicks out with both men exchanging pin fall attempts and roll ups until a Lionsault sets up a Bridging German Suplex to end a beautiful showcase for Asai.
Kerry von Erich (WWF) vs. Kendo Nagasaki (Dojo Geki)
Kerry looks thrilled to be here and I mean that seriously. He's got a big old grin on his horseface. He's the current WWF Intercontinental Champion (edit: no he isn't you COVID filled idiot) but hasn't bothered bringing the belt with him, presumably needing the space in his overhead (edit: is that a drug joke). We're JIP to Kerry landing the Tornado Punch on the ring post, allowing Kendo to dump an entire stack of tied-together chairs on the poor get. Kendo gets slammed onto several chairs in response, which he doesn't appreciate and smothers Kerry on the mat. Kerry's good at making very little seem like a struggle. I mean this as a compliment, unlike Shunji Takano who struggles with tying his shoe laces. Kendo continues grinding down Kerry's stats until The Texas Tornado seems Kendo coming off the top rope and locks in The Iron Claw! The crowd are politely excited for that and sound shocked when Kendo escapes the pinfall attempt. Kerry has got the dog in him though and puts Kendo away soon afterwards with the Tornado Punch and uses The Claw to pin him. Kerry and Kendo were a good fit because Kendo's offence is so repetitive and dull but Kerry is used to that so he can make it work.
Naoki Sano (PWFG), Shinichi Nakano (Dojo Geki) & The Great Kabuki (Revolution) vs. Samson Fuyuki (Revolution), Takashi Ishikawa (Revolution) & Tatsumi Kitahara (Revolution)
We're JIP, joining the match in the middle of…uhh nothing really. Everyone takes in turns hitting each other with strikes then tagging out. Sano double stomps Kitahara off the top and mockingly lets him tag out to Ishikawa, before regretting it as Ishikawa dives over the top with a crossfatbody. Samson gets sent over the guardrail and onto a table as he continues to get zero reaction. The match gets focused around Samson taking a beating as this is wayyyy below the usual levels of SWS multi-man action. Crowd is so hungry for action that they pop for Kabuki tagging in as it means him and Ishikawa can slap meat one more time. Samson tags in after being worked over for thirty days and nights, getting the Arse Drop on Nakano for the…uh pull-apart brawl that ends with Nakano chairshotting Fuyuki and causing the referee to DQ Nakano's team. Twenty long weeks minutes for that finish? And yes, no-one was cheering for Samson, even in the post-match when Fuyuki is attacked again before everyone leaves. If they gave him away for free, no-one would take him.
Rick Martel (WWF) vs. George Takano (Palaestra)
Takano has thankfully shaved his dodgy 'tache off. Martel is wrestling Sano in the uhhh Tournament Finals for the SWS Light Heavyweight Title. As real a tournament as Herb's UWF SportsNetwork Tournament. Anyway we're JIP with Martel able to toss Takano around like nothing despite the sheer girth of the man. Martel being classified as a Lt. Heavyweight when he's the same size of Takano is funny. Martel lands on Takano's knees after an over-the-ropes splash, letting Takano get his giant swinging leg kicks and Atomic Drops which just look normal on Martel to be honest. Martel absorbs Takano's sumo strikes into the corner but converts a crossbody into a roll-up to wrap up a decent win for a match I've no intention of ever watching again.
The Rockers (WWF) vs. King Haku (WWF) & Yoshiaki Yatsu (Dojo Geki)
Oh this could be great. We're JIP twelve whole minutes in, bloody hell. Shawn attempts to defend himself against Haku and takes a throat thrust in response, so Shawn is unable to explain it wasn't actually Jimmy Jack Funk's fault. Yatsu seems to be enjoying himself clotheslining HBK's perm off his head. Haku misses a splash, letting Marty tag in and rock rock rock never stop stop stop a Sunset Flip on Haku for two two two. Haku catches him in a crossbody so HBK superkicks him down. As the ref is stopping all this double-teaming, Yatsu knocks Marty from behind and the Natural Powers land their Powerbomb Slice to end a match that looked like a lot of fun (of what we got to see of it).
Genichiro Tenryu (Revolution) vs. Ashura Hara (Revolution)
Crowd are primed for this, their first singles match since 1987. The opening lock-up generates polite applause which is always nice. Tenryu lands two consecutive enziguris on Hara, who shrugs them off before ignoring some Tenryu chops too. Tenryu takes him down with a backdrop, but Hara grabs him and side headlocks him from the mat because he's absolutely not taking Tenryu's crap tonight. Hara keeps that sucker locked in for a while before thinking Tenryu's weak enough for a few headbutts. Sadly Hara then charges into another enziguri and takes a Dirty Powerbomb for a close two. However, Tenryu bails the ring as he's apparently hurt his foot kicking Hara's hard head. What a compliment. Tenryu relies on his chops instead but Hara continues to not notice them and superplexes Tenryu in response. Hara lands a lariat with Tenryu losing sweat, sick and teeth upon impact.
Tenryu tries finding solace outside but Hara follows him and chops him over the guardrail and into a table. Hara is doing a magnificent job of beating the life out of Tenryu until he misses a charge in the corner and lands outside badly on his shoulder. Tenryu launches a row of chairs onto the same body part. Tenryu continues chopping away at that one part of Hara's body, not looking particularly thrilled with it. The camera shows that his shoulder is already bruising up so Hara must have properly hurt himself so his good friend Tenryu…continues to kick and chop away at it.
Crowd sees the bruising and starts making the same noise an audience would make watching a horror film when Tenryu starts kicking away. And I mean full-on kicking and stomping in the corner to poor Hara. He has enough and thrusts Tenryu outside and over the guardrail again so Hara can catch a break. Instead, Tenryu climbs back in and blocks a lariat with an enziguri, directly to Hara's injury. With Hara on his knees, Tenryu starts kicking field goals directly into Hara's shoulder which is now uglier than Cody Rhodes' (His tattoo, not his pec tear). Hara is too strong though and continues to stand there taking them so he can lariat Tenryu for a close two as the commentator sounds like this: "aaaaAAAAAaaaahhh"
Tenryu continues landing every strike at that one exact part of Hara's body, with a Blind Elbow getting two and a reassuring relief from the crowd. hara backdrops out of Tenryu's powerbomb and tries one himself but he can't do it due to his shoulder and instead tries to lariat Tenryu, misses and takes another one directly into his injury followed by an enziguri directly into the injury before a Dirty Powerbomb mercifully ends it.
This was already kicking all kinds of arse before the shoulder bump, but this is one of the very few examples of an injury enhancing a match's quality (I can only think of Rollins/Rhodes III as another one) with the crowd were reacting amazingly to everything happening with Hara who was refusing to give in to his partner both by design and because of the reality of his fucking shoulder getting kicked in. This match ruled.
Post-match The Natural Powers attack Hara and tell him to bring someone
After the match, Yatsu & Haku both attacked the beaten Hara and challenged him to pick any partner for a tag team match at the Tokyo Dome. Which I think is the only hype they've done so far for the show, always a good sign.
Overall: A huge improvement over last time, with one of the best matches in the history of the company headlining this one. Aside from the multi-man borefest this was a sweet show with at least some build to the company's last attempt at a big show.
So you'll be pleased to know there's a lot of drama to go into next week to take away all the wonderful progress the company has made, wahoo.
I've been Maffew and this company is STRAIGHT and STRONG (for like a month)