JOSHI SPOTLIGHT- CANDY OKUTSU:
Real Name: Tomoko Okutsu (aka Tiger Dream, Red Lynx)
Billed Height & Weight: 5'1″ 132 lbs.
Career Length: 1992-2001
-And now it's time for a bio on one of the more reliable "decent performance" wrestlers of both the Interpromotional Era and later ones- Candy Okutsu!
Candy spent most of her career as a midcarder, using a fast-paced style. Despite her ability, she was never really given a big push or a good title reign- she only has three minor belt runs, and never got above "upper midcarder" even as joshi imploded in the late '90s. Her small size and the sheer glut of talent above her (she's perfectly good but usually not even in the top ten best workers on any given card) probably held her back, and she left after nine years in the business, having moved from Japan Women's Pro Wrestling (JWP) to ARSION when that company debuted. There, it looks like she became an idol-adjacent wrestler (I insist I found those pics from a standard Google search for images for this article! I swear!).
Candy is a pretty good example of the "Communal Joshi Style", though she was quicker than most- undersized but athletic and fairly smooth, she was a high-flier who also used the Rolling Germans (one of the first people to do so that I can recall). Even a couple years into the business she was already pretty good and seemed way more experienced than she was, being put in tag matches that were very good, so long as veterans were in to control things. She was a flashy wrestler for sure- to the point where she'd do a "run up to the top rope" move 3-4 times per match, often to the point of spamming it because it looked like she didn't have the "wrestling sense" to shake it up, nor a deep enough moveset to avoid repetition. She was also injured quite a bit.
While I can't find a lot of **** Candy classics on her own, she was in a lot of tag matches around that tier. She was one of the few joshi who could do a vertical leap straight to the top rope, but botched that about 50% of the time so eventually dropped it.
In ARSION she did okay at their grapple-fu style, but it wasn't really her forte- she didn't really know how to put any "oomph" in her submissions to make them look like match-enders, nor how to treat them like they were killing her, and so it was largely like she was doing and selling restholds all match long. Given the JWP Style was more about drawing matches out to 20+ minutes using restholds, I can see that being an issue in ARSION.
CAREER TRAJECTORY:
-Candy debuted in 1992 for JWP, as one of its reliable young rookies. Very undersized, she was doomed in any attempts to be a top star, but smaller-sized wrestlers were getting more common and would be a lot more normal after the '80s graduating classes. Decent-looking but not quite an idol like Cutie Suzuki, she was fast, smooth and capable.
She won her first singles gold beating Chaparrita ASARI for AJW's Junior Title in mid-1993, holding it for a crazy 475 days as largely a trophy before losing it back. This was one of many "trade a meaningless title to the other promotion" wins that made up the backdrop of the Interpromotional Era (where the bottom half of the card would be full of random rookies fighting, with low-tier belts traded about to make them seem more important). Candy was otherwise a decent jobber for this era, as she meant less but could give a good fight before being put away. Around this time she started doing that Manami Toyota "vertical leap to the top rope" springboards, but I stopped seeing them after a point (probably because she botched them a fair bit- she was a good five inches shorter than Toyota and not as strong).
JWP at least seemed impressed and wanted to focus on her a bit as their own "Pint-Sized High-Flier"- she was given the inaugural JWP Junior Title in mid-1995, holding the belt for 173 days before losing to Hiromi Yagi (another undersized star)- this was probably a trophy and "reward" for her, as well as being a way to focus on the high-fliers that were becoming more and more common in joshi as the average size of the performers shrank. Yagi would vacate the belt but win it back. Candy would win the JWP Junior Title back in mid-1996, but vacate it after 8 days- this would be her last title.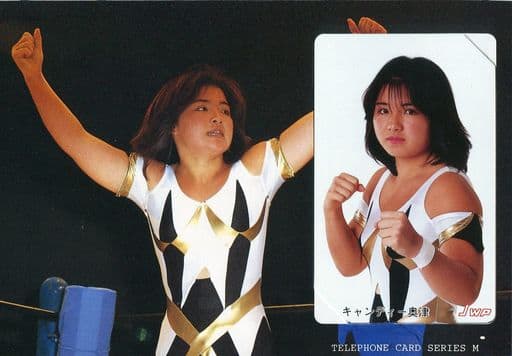 Candy wore pretty similar colors for nearly her entire JWP run- always black & white were used.
Candy retired JWP in 1997- it was thought she had a career-ending back injury, and lost to a bawling Hikari Fukuoka in her "Retirement Match"… and then as the industry blew apart in Japan, various people quit the promotion as well as rival AJW, and Candy was all of a sudden recruited for new company Hyper Visual Fighting ARSION, run by AJW's Rossy Ogawa (who was always really high on Candy) and booked by Aja Kong, dominated in the ring by Mariko Yoshida. With a more grapple-heavy style, ARSION wasn't the best fit for Candy (who I guess wasn't so injured after all), but she likely saw a brighter pasture in a nascent company (and a booker who favored her) that needed old, established blood to legitimize itself. In fact, she was the person Yoshida defeated to win the first Queen of ARSION Title!
In ARSION, Candy became the first woman to put on the "Tiger Mask" costume, becoming Tiger Dream. This was probably an attempt at creating a "Female Liger", much like Sakie Hasegawa's "Blizzard Yuki" identity was- a masked high-flier. Much of her early ARSION run sees her as that "Rookie-Beating Veteran", usually defeating potential stars Mika Akino, Yumi Fukawa, Michiko Omukai & Ayako Hamada in singles or tag matches. This is an old-school, important role in any company, but not the most glamorous, as they're often the first person said rookies "prove themselves" against by defeating… except that kinda didn't happen here, so it was mostly like Candy beat up all the rookies to leave her credible for the top stars.
Candy continues winning into 1999, even beating AJA KONG in a tournament (though those often have screwjob & fluke finishes)- she still wins most singles matches (against rising people like Rie Tamada), but her tag bouts often see losses, and Aja gets her win back. She becomes "Red Lynx" for a while, dropping the Tiger Dream costume, and is actually still very successful, doing jobs only to Yoshida types and Omukai once once her top push began.
Candy retired in 2001, losing to Mariko Yoshida as ARSION was losing hope and trying things with a variety of rapidly-pushed stars. Her career ends up largely un-decorated, and she's not really a "legend" or anything- just one of many mid-tier solid workers who make up the joshi undercards of the peak period.
MOVESET:
Run-Up Plancha, Run-Up Missile Dropkick, Run-Up Sunset Flip, Rolling German Suplexes, Moonsault
DYNAMITE KANSAI & CANDY OKUTSU vs. DEVIL MASAMI & CUTIE SUZUKI:
(Jan. 1994)
* So it's three of JWP's top wrestlers, but with Candy as the obvious weak link. She's got a ton of potential, but Devil especially will eat her alive. Candy's in white, black & gold, and Kansai's in yellow & gold. Devil's in black, and Cutie's in white & gold.
Devil lariats down Kansai to start, but Kansai no-sells Cutie's DDT and hits her with the same, and Candy's in for some running attacks. Kanasi KILLS her with a kick and goes to work, the idol screaming and gaining sympathy heat. Devil & Kansai keep giving each other these death glares, letting you know the story. Kansai kinda lets Candy do her thing for a bit, but Devil interferes and hits another lariat. She goes for the press slam, but Candy lands on her feet and monkey flips her! But she tries a sunset flip and Devil just beats her ass, overthrow powerbombs her, and does this sick dragon sleeper/surfboard thing and Kansai quickly saves. Devil tortures Candy some more, and directs Cutie to continue, Cutie now in the rare position of "Elder Bully". Devil even assists with the stretching while Candy wails. Kansai finally gets sick of this bullshit and lariats Devil and forces the tag-out, then the monsters bring each other down! And again! Kansai controls for a bit and it's Candy/Cutie again, Candy hitting pinning holds. Kansai/Cutie next, but Cutie actually hits the Octopus Stretch… and Devil pushes on Kansai's head! Both monsters miss lariats and Cutie Germans Kansai! But then Candy Germans Devil! ooooooh they gonna pay.
Lariat/Missile Dropkick combo knock Devil into her corner and the juniors throw kicks until Cutie hits a Dragon Suplex for two- Kansai saves. Kansai's team reverses a double-whip, but she lariats Candy by mistake! Cutie takes a NASTY face-bump trying to land on her feet from a backdrop- Devil runs over everyone but eats a double-lariat, then Cutie slips out of Splash Mountain, gets Kansai to wipe out Candy with a kick, and Germans her! DDT & Flying Double-Foot Stop get two. Devil Guillotine Legdrop- two! Powerbomb! Assisted Powerbomb! Kansai's in trouble, but dodges another Guillotine and Candy does an amazing runaround on Devil, doing a Missile Kick, eating a lariat, but hitting ROLLING GERMANS for two! Kansai's Flying Headbutt gets the same, as do two backdrop drivers. Cutie stops Splash Mountain, and they hit a Doomsday Device Cross-Body for two. Guillotine Legdrop- another two! Devil's running outta shit, and Kansai throws a couple of KILLSHOT head-kicks when she recovers first. And so Candy divebombs Cutie so Kansai can hit Splash Mountain for the three (20:23). Kansai has to be helped to her feet after all that, and Devil is just DEAD- they have to roll her unconscious body out of the ring after several minutes, after which I presume she will slumber beneath Mt. Fuji for another month.
Jumpin' Jesus, what a match. Taking advantage of Candy's lower status actually IMPROVED upon things, as now Cutie of all people looked like a bully, and the kid's evasion tactics, screaming selling, and great comebacks paid off. The monsters kept lariating the bejeezus out of each other and Devil kept on adding punishment until invincible, overpowered Kansai finally just recovers first after all Devil's moves are exhausted, and redmists her head with the damndest kicks I've ever seen and hits her finisher.
Rating: **** (really great story overall, with very little "filler" for that match length)
https://www.youtube.com/watch?v=RPRaO_Wy1EM
AJW JUNIOR TITLE:
CANDY OKUTSU (JWP) vs. CHAPARITA ASARI (AJW):
(Wrestling Queendom- Victory 1995)
* Okay, so Candy has held the AJW Junior Title (usually for newbies) for over a YEAR by this point, having beaten ASARI in November of 1993. This is billed as a return match for ASARI on YouTube, though she wasn't hurt at Big Egg, so I don't know what it's for. ASARI's wearing some sort of Blue Power Ranger/Band Leader uniform thing and it rules. Okutsu's in a black & white leotard.
Candy slaps away ASARI's hand to start, so she takes a German and now they're screaming and scrapping like mad. Candy takes the advantage, but YOU CAN'T SLINGSHOT ASARI and she hits her cross-body. It's all crabs & chinlocks, but ASARI keeps grabbing the hair because rivalries between companies are rad. ASARI tosses Candy into the corner, but she hops up really slick-like, spins around on a dime, and dropkicks her RIGHT in the face. ASARI gets bent in half with a crab for a couple of minutes, then comes back with a flip, a dropkick, and her running knees, but Candy hops over the ropes in a neat bit and hits ANOTHER Missile Dropkick. Another Run-Up move (a Cross-Body) hits, but a splash hits feet- she sells for a long-ass time outside, and then ASARI hits her with the Handspring Mule Kicks. Sky Twister is teased, but Candy disappoints the crowd and hits a German for two, then a Run-Up Cross-Body Suicida, just spamming that concept out. ASARI hits her own move to the outside (damn near losing her balance and making the crowd freak out), then a pair of Missile Dropkicks, and that be that- the Sky Twister Press gets the win at (15:34). AJW gets their Junior Title back! The two itty-bitties shake hands at the end and ASARI gets crowned.
Typical match between these two- high-speed, tons of cool stuff, and maybe a tiny hint of a big of amateurism with them going to the same moves over and over again (five "Run-Up" moves by Candy, and repeated Missile Dropkicks throughout). That Sky Twister is AWESOME, though- you can build tons of match endings just out of the possibility of seeing that, because it's so over, yet so easy to reverse (the crowd's into it every time ASARI heads up while her opponent's on the mat).
Rating: ***1/2 (high-speed, high-impact and very high-flying)
(about 1:40:00 in)
HYPER VISUAL FIGHTING TOURNAMENT '98:
CANDY OKUTSU vs. REGGIE BENNETT:
(ARSION, 1998)
* A pretty wild tournament here, as Reggie defeats both of ARSION's top stars, Aja Kong & Mariko Yoshida, while Candy defeats Yumi Fukawa & Rie Tamada- far easier competition. Candy's wearing, um, what appears to be lingerie over top of a gold sports bra & shorts for some reason. Reggie's in white & black.
Candy jumps Reggie to start, but goes nowhere and gets swatted down and a delayed vertical suplex gets two. Reggie controls her on the mat, Candy trying but the size difference here is huge. Reggie tosses her to the corner and Candy does a run-up moonsault, falling WAY short and kneeing Reggie in the shoulder. Reggie climbs and calmly sits there so Candy can run-up dropkick her off and to the floor, then run-up planchas her, but Reggie turns her around in a catch and tears up the leg. Candy limps in and lands on her feet from a powerbomb attempt, but tries a lariat a couple times like an idiot and gets tilt-a-whirl slammed for two. Another whip sees Candy do another run-up into a missile kick, then a regular one, a DDT & moonsault, then limps over to hit another pair of Moonsaults for two. Candy runs right into a casual boot and nearly gets powerbombed, but Reggie kinda drops her down (probably a miscue) then Candy rolls through for two. Reggie throws her into the Reggie Rack (tilt-a-whirl torture rack) but Candy just uses her free hand to choke Reggie, bringing her down into a sleeper for the shock submission win at (9:35). Big win for Candy! These tournaments were apparently full of fluke wins like this- at least it's justified by Reggie's much harder opponents to this point, but the story of the match didn't really call attention to Reggie being fatigued.
A pretty quick match given both had already worked twice tonight- a come from behind win for Candy that didn't quite feel "earned" in a sense because an outta nowhere sleeper that makes Reggie drop her own finisher is odd. Also, why make a big deal out of Reggie tearing the leg up on the floor only for Candy to hit repeated run-up-the-ropes moves and THEN start limping for her moonsaults?
Rating: **1/4 (hard to fairly judge, as they had already wrestled, but not the best showcase of Candy, as it's just spamming run-up moves and a fluke submission win)