JOSHI SPOTLIGHT- CHIKAKO SHIRATORI:
Real Name: Chikako Hasegawa
Billed Height & Weight: 5'5″ 136 lbs.
Career Length: 1991-2001
-Chikako Shiratori has one of the funniest little careers in all of joshi, and is fascinating to me- she's seen repeatedly in 1993-ish shows for All-Japan Women's Pro Wrestling (AJW) in the worst match on each card, with a look on her face like she doesn't know where she is or what she's supposed to be doing. Lame performances left and right, and right when she's supposed to be at the level of "improving rookie", she's just… not on the shows at all. And then randomly the company JD' Beauty Athlete starts up and Chikako becomes one of the only AJW wrestlers to jump ship, suddenly becoming one of four "name athletes" on their programs. At this point Chikako is now an official "Pushed Star" and is rapidly shoved into a higher station beneath top stars like Bison Kimura and Jaguar Yokota, with a lot more emphasis on improvement and training and… she still sucks. But she's trying! Like she sucks, but she sucks honestly! Not bad for someone who peaked as "Dollar Store Mima Shimoda".
I mean, I appreciate the effort is what I'm saying. Chikako was never any good- just didn't have any athleticism that's required at higher levels, nor the charisma or character to make up for deficiencies in that area. Even at her best, she seems to be acting in a way she's been TAUGHT to act, but not in a way that comes off as natural to her- the real performers do instinctively what she's trying really hard to do, but sometimes forgets about. And as matches go on, you see what little move application she had go to hell, and she flubs things left and right. And she never develops beyond the "Communal Joshi Offense", with her big deal being a Dragon Suplex that a lot of people can do. Later matches include an "Uraken" that just looks like a wimpy little backhand with no real force behind it, too.
In a sense, it's a fascinating look at someone with no gift other than "Be Attractive" going all-out to be a pro wrestler but not being very good at it. Like… the limits of effort, I guess? Because she was obviously an "Idol" wrestler, and probably given more chances than she deserved because of her looks (which are less "Cute" for the pervy uncles and more "Glamorous" for the pervy boys, I think). I mean, in 1996, she's probably not even on the level of Yumi Fukawa, who has a similar "Idol wrestler" set-up and is much shorter, but debuted in *1993* and thus has two less years under her belt that Chikako.
So overall, Chikako is very un-good, but at her best she tries really hard and doesn't hurt matches TOO much. She's just very unathletic and ungraceful despite her fairly lengthy frame- there's just no muscle tone to her compared to others (Suzuka Minami, also fairly tall and lanky, has legs like tree trunks by comparison). Even her best stuff comes off as kind of sloppy because of it- she'll do the JB Angels/Jaguar Yokota "bridge out of a pin" move but it's herky-jerky and doesn't look right because she doesn't have the muscle to pull off a smooth bridge. She occasionally remembers to yell and scream in defiance or claps for the fans, but will sometimes forget it and just blankly do the "okay, gotta do this move next… then the next move…". Just no instinct for the game at all.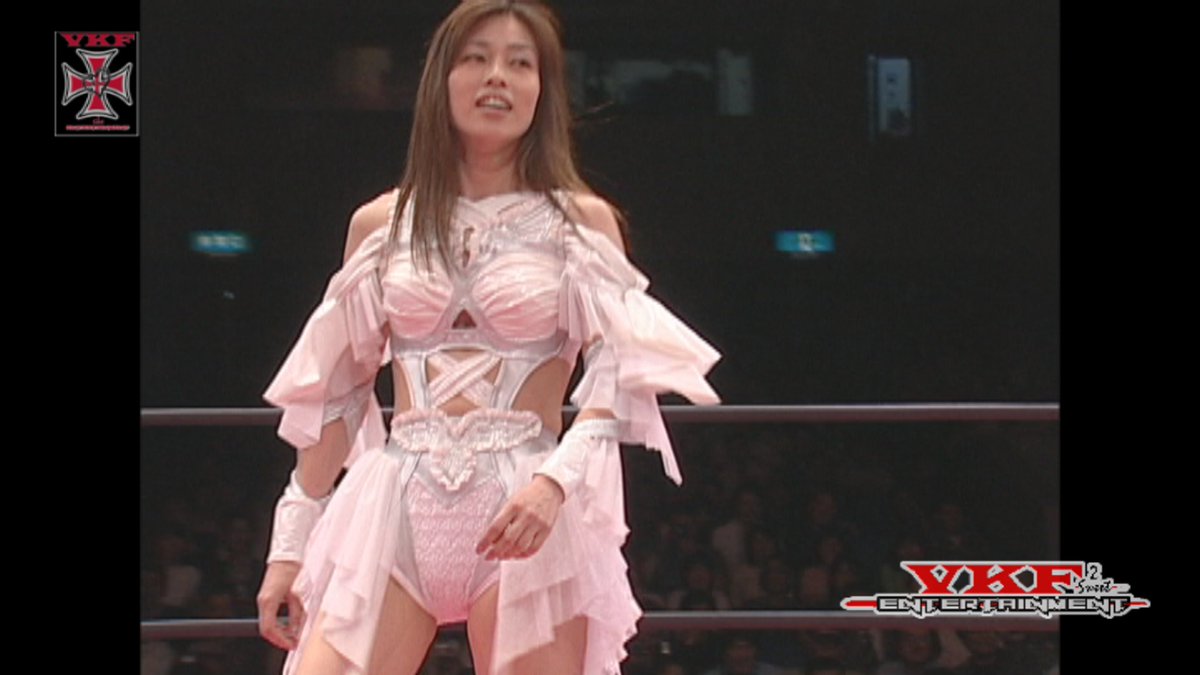 CAREER TRAJECTORY:
-Chikako Shiratori debuted for AJW in 1991, in a training class that included… um… *checks random names* Kumiko Maekawa & Rie Tamada! Okay, Kumiko quit and re-debuted later, but Rie was there! Chikako was on hardly any shows at all, but pops up in random tag team matches here and there in the Interpromotional Era (1993 and on), wrestling 99 matches in '93 and 45 in '94. Rie was already able to hang by this point and was getting some emphasis while Chikako languished in the undercard, and was quickly overshadowed even by Class of 1993 people like Kumiko, never mind Class of 1992's Chaparrita ASARI, who was given a big push as an undercard high-flier inspired by New Japan's successful Junior division.
So 1994 sees half as many matches for her, and then in late 1995 she's recruited to JD' Beauty Athlete! Jaguar Yokota sets up a training program and a new promotion (headlined by Bison Kimura), and Chikako of all people is treated like the "Next in Line" type of wrestler, behind them and some of the returning vets (Cooga) or foreign stars (the Moreno family). Like, she's not beating any of the top stars, but her face and name are in the TV introduction (alongside Yuki Lee, a lower-level trainee who they thought had promise), and she gets some wins on the first shows. She jobs to Cooga in a 20-minute tag match that opens JD', beats Princesa Blanca in a tournament to crown the first champion, but jobs in the next round to Flor Metalica. She's in a big match that's one of Bull Nakano's final bouts (Bull/Cooga vs. Bison/Chikako), but doesn't factor into the finish- the most notable things were her horrible moonsault and accidentally ignoring a Cooga kick, then getting a "receipt" for it via a kick to the throat. She suffers a surprise loss to Yuki Lee, then teams with Mima Shimoda for a match against Jaguar and Yuko Kosugi (a green JD' rookie), pinning Kosugi in the end for her first big win.
At AJW Wrestling Queendom 1996, she teams with Bloody Phoenix & Metalica to beat AJW lower-end wrestlers Kumiko, Tanny Mouse & Yuka Shiina, Chikako picking up the win against lowest-ranked Shiina. The last bits of the match were REALLY, REALLY awkward. In June, a 4-way interpromotional match sees her & Michiko Omukai (LLPW) beat Rie Tamada (AJW) & Meiko Satomura (GAEA) in 20 minutes. And all three of those people ended up with way better careers than her. In 1997, she mostly only beats rookies and does the job to Cooga, Yasha Kurenai and other mid-tier stars, so it looks like at some point they gave up on her.
ANYWAY, she spends most of 1998 getting has ass kicked, jobbing to Yuki Lee, Shimoda, The Bloody and others, and suddenly she jumps to rival promotion Japan Women's Pro Wrestling (JWP) by the end of the year, perhaps filling a gap left by some people leaving (Mayumi Ozaki, never mind poor Plum Mariko…), doing 35 matches trading tag wins back and forth. But then in 1999 she's in Osaka-Pro, a comedy-ish company, and that's where she spends the rest of her days. It partners up with CMLL from Mexico, creating a trophy CMLL Japan Women's Title for her, which she wins in Oct. 1999, losing to La Diabolica. She wins the CMLLWomen's Title again the next month and holds it for a crazy 561 days, obviously meaning it's not a serious title. Most of her 1999 seems to be trading wins with Lady Apache & Yuki Lee in the first year, but then she wins that belt she starts beating nearly everyone she faces, but it's like… Policewoman and stuff. Jokes, more or less.
Chikako finally hangs it up in 2001, going to a Time Over with "AJW Class of 1991" classmate Rie Tamada. Her trophy belt retired with her, never to be seen again.
I asked Mike Lorefice (whose Quebrada.net is integral for me figuring out the timeline of events in joshi and finding which shows to review), and he said:
"Well, she was pushed in Jd in the beginning, but things had developed in a way that wasn't conducive to her ever having a run at or near the top. even though Bison, who was one of her buddies, retired and cooga was on the way out, it's clear by the end of 97 that the less experienced group of Bloody, Kosugi, Yabushita, Sakai, possibly fang are the future of the company. I'm not sure when Shiratori gave notice, but she wins almost no matches in Jd in 98.
That was also the time when everyone was losing their mind thinking they were all going to thrive through free agency and having a million leagues w/ no wrestlers plus all these produce shows, I think everyone was just sick of the old AJW model of running everyone into the ground around that time, but not many had realistic answers moving forward.

She set up Chikako Shiratori Office for her merchandising, and did the free agent thing. I'm not sure if JWP was meant to be permanent or not. she was feeling things out probably like many people, this is when arsion & Neo had just formed, everyone was jumping to GAEA to do 1 or 2 5 min matches a month, JWP had some opportunity bc they lost so many wrestlers in 97 & 98. But Osaka Pro started, & she could be their guaranteed top female star by virtue of them having no actual women LOL and just bringing in opponents for her. it was a small company, but they featured her more than any of the women's companies did, which I guess was appealing enough."
MOVESET:
La Majistral (that pumphandle rolling small package from Mexico), Uraken (more like a standing backhand), DDT, German Suplex, Dragon Suplex (full-nelson back suplex)
THE MATCHES:
TOMOKO WATANABE & CHAPARRITA ASARI vs. CHIKAKO SHIRATORI & RIE TAMADA:
(Korakuen Holy War, March 3rd 1994)
* And we sorta say "hello" to Rie Tamada as the new "Bottom-Tier Rookie", who starts being featured regularly from this point. With Numacchi gone and Chikako showing up more, I guess they needed another slot filled. Rie never really became a big deal, but was still active in the 2000s, moving to ARSION & stuff. Tomoko's in her green & blue thing and this time can't bully ASARI, ASARI's in the yellow, Chikako's in blue (… watercolors?), and Rie's in a jobber-y white singlet.
ASARI gets jumped before the bell, and Tomoko hilariously just kinda looks at it and goes to the apron anyways. They seriously beat her up for half a minute before Chikako goes to the apron, with referee Mariko Yoshida not even stepping in, lol. Chikako dropkick spams her and stretches her out, but ASARI finally escapes Rie after three minutes and Tomoko does her "Bully the Rookie" bit to wreck her. ASARI hits her pop-up knees, and Rie keeps trying rollups on Tomoko, who just smirks, sledgehammers her, and hits chops- the crowd "oohs" at some of those. We switch off a few times, usually with Tomoko easily taking Chikako apart with basic stuff to kill time, and Rie uses more Jobber-Fu on ASARI, who bridges out after a billion dropkicks, then lands on her feet after a snapmare, impressing the crowd.
Tomoko's Slingshot Cross-Body & Elbow get two on Chikako, but she's WAY late on a Moonsault, as Chikako's up before she's even on the top. But she recovers immediately, slingshotting onto BOTH opponents, hits her judo flips on Chikako, but gets caught by some weak neckbreakers that she's been trying to use lately. Leg-Trap Backdrop by Tomoko, but Rie saves. ASARI in and FINALLY hits more of her trademark offense, doing a flip kick and two Carthwheel Handspring Mule Kicks, Rie stifles the Sky Twister to a big "AWWWW!" reaction from the anticipatory crowd, and Tomoko Screwdrivers her (Backdrop to Powerbomb) to sit it up properly- Sky Twister Press finishes at (14:09). Got pretty dull for the most part- Tomoko doesn't have a great moveset, so her slowly beating on rookies isn't very fun. Rie got a lot of shine on ASARI, probably to show her off, and then ASARI hits her crowd-popping stuff all at the end, because clearly the fans had spent the whole match wanting to see that anyways)
Rating: *1/2 (kinda too long for stuff like this, awesome as ASARI's moves are)
TOMOKO WATANABE vs. CHIKAKO SHIRATORI:
(AJW, April 3rd, 1994)
* Standard "This is a rookie who will be something eventually, but here's where we establish dominance by having the last person to move up the ranks kick her ass" bout, with the future Goddess Shiratori set up against rookie bully Tomoko. Tomoko's in the green, blue & orange, while Chikako's in the pink floral. The announcer here is particularly disinterested.
Chikako attacks before the bell, but gets pummelled down in short order. Tomoko hits lariats in the corner, then chucks her outside and javelins chairs at her like a crazy person- you can always count on Tomoko to make "Bully The Rookie" matches at least a little bit more nasty. Crab, Lion Tamer and more stretch her out- Chikako manages a neckbreaker but we're back to stretching and a Slingshot Elbowdrop gets two. Chikako actually manages some consistent offense, mostly stretching, but Tomoko does the "Samoa Joe Walk Away From The Attack" dodge from a dropkick. She dodges a cross-body too, but misses her next Slingshot Elbow and takes more flash-pin attempts. Tomoko hits a Slingshot Cross-Body for two. Judo flip & suplex, but she misses a Moonsault! Chikako runs in with a head of steam, but gets KTFO'd with a BRUTAL lariat, and the Screwdriver (backdrop to one-armed powerbomb) is academic at (10:59).
Typical bullying, non-competitive match, and Chikako doesn't really sell or move well enough to pull these off well, but HOLY SH*T that lariat and Powerbomb- she went right onto the back of her neck there. Now THAT is how you establish dominance.
Rating: ** (boring and too long until the great ending)
https://www.youtube.com/watch?v=dkUf_mmlTrw&ab_channel=girlswrestle
CHIKAKO SHIRATORI (w/ Yuki Lee) vs. CUTIE SUZUKI:
(JWP, Oct. 11th 1998)
* Okay, I can't find a lot of Chikako solo matches on YouTube, but I DID find this one! Chikako has jumped to JWP as a freelancer of sorts. The match is advertised as being bloody and the match time is CRAZY long for Chikako in particular, so this might be the best assessment of her abilities possible. Cutie is STILL wearing all-white even in 1998, and Chikako's in a blood red version of the same kind of idol gear.
Cutie shows annoyance (at another idol showing up? Is this a Takako Inoue "Evil Queen" situation again?) and yanks Chikako by the hair during the pre-match ref checks, and this goes immediately to them tossing each other into stuff on the floor. Pretty lax pace, full of posing and taunting- Chikako tosses a chair and brings it to the ring, where Cutie keeps resisting Moolah Whips and takes weak bumps on them. Chikako does restholds and bites the arm, not showing any flourish or anything- like she's doing them cuz she read in a book on how heeling works and is at best just kinda smiling. Cutie wins a slapfight and stomps the hands, but her Northern Lights suplex is reversed to a straightjacket German for two. Chikako grabs a big red kendo stick from Yuki but gets German'd for two and missile kicked, but she grabs the stick again and throws the wimpiest shots ever to come back, then takes out a blade or something and stabs & slashes at Cutie on the floor, coming back to scattered boos and mostly silence. And oh my god, Cutie is BLEEDING! Not seen that before. Oh gross and it's poured down her face and leaving a trail on her way back to the ring.
Chikako SLOWLY works Cutie over in the ring, hitting some of the "heel mannerisms" in her usual detached way- like she'll smile or taunt but compare her to Mima Shimoda or someone who clearly just LOVED this kind of mayhem. Cutie does a pretty good job selling- not as good as Tomoko Watanabe but she gets to wail a bit and is good at selling like she's just lost all her energy (not quivering like Chigusa or other S-tier sellers, though). Chikako's missile kick gets two, but Cutie dodges a clothesline and Germans her in desperation, but Chikako pops right back and gets that clothesline to end that mini-comeback. Chikako hits a German for two & backhands Cutie to the floor where she sells for a while. After a full minute (why is Chikako not following up?) she gets back in and is suplexed for two. Cutie counts a superplex with a Flying Stomp for two, but Chikako stops the Dragon Suplex and backhands her again for two.
Chikako goes for the stick again and it turns into a tug of war with the ref involved too, and when Cutie starts fighting the ref over that Chikako donks the latter, resulting in Cutie's Dragon Suplex getting nothing. Cutie finally roars back to life and uses the stick a few times then repays Chikako for the chair-tossing earlier. This causes Chikako to bleed as well, and Cutie's Dragon Suplex in the ring gets two. She misses the Flying Knee and gets backhanded a bunch for two, then Chikako comes off the second rope with a BIG kendo stick shot but the ref won't count (hilariously, that's the biggest reaction thus far). La Majistral gets two and she grabs for the stick again, but Cutie ducks in and hits a Dragon Suplex, AIDED BY THE STICK, but the ref finds that too egregious and also won't count. Cutie, looking like a horror movie victim, finally grabs the stick from Yuki, flies off the second rope for her own shot with it, then goes up for the Flying Knee, decking the stunned Chikako for three at (15:55).
Man, this was SO padded, lol. Like they had to hit 16 minutes, so they do a very slack pace in the opening brawl on the floor, making the match already come off as lazy, and then Chikako does the "2000s WWE" Stomp & Stall thing, taunting the crowd repeatedly. She's not over and it hurts the match as instead of mega-sympathy heat, Cutie's only drawing occasional yells. I'm on the fence with her- she'll yowl and show the blood to the fans, but she's not going all-in on the selling either. I guess "selling death" KINDA works, but it's very undynamic to just lie around like you're dead- Cutie definitely knows how to do the better "stagger around and try to show you still have fighting spirit" thing. I think a lot of issues come down to the pacing and how unover the wrestlers seem to be at this point, so nothing has the flourish or impact you feel it should. Then you clearly get into the "stuff they planned ahead of time" in the last four minutes and THAT'S okay, but still pretty weak in terms of crowd response (like, the biggest reaction all match is the ref refusing to count a pin via cheating). Possibly the weirdest thing is how they managed to make a double-juice match involving the heel biting the idol babyface's cut and making her bleed all over herself look like neither person really hated each other. There was just no VENOM to it, you know?
Rating: *3/4 (blech- like a solid match ending tacked onto weak brawling, half-assed selling and blood for the sake of idols bleeding)
PS here's a list of my full Joshi Spotlight archives: https://www.echoesofthemultiverse.com/viewtopic.php?t=2086