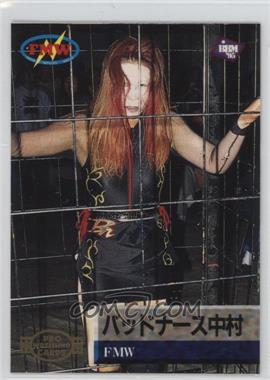 JOSHI SPOTLIGHT- BAD NURSE NAKAMURA:
Real Name: Rie Nakamura
Ring Names: Nurse Nakamura, Bad Nurse Nakamura, RIE
Billed Height & Weight: 5'3″ 137 lbs.
Career Length: 1990-2000
-Bad Nurse Nakamura, just "Nurse Nakamura" in her babyface incarnation (yes, she literally added "Bad" to her name upon her heel turn; puro is MAGNIFICENT), is one of those random FMW female midcarders that turns up only a little bit in the cards I've seen, as FMW is harder to come by. I kind of laughed a bit when I first saw her, as I was expecting some kind of "Kinky Halloween Nurse" or otherwise ostentatious dresser based off of the name, but here she was… just looking like some girl whose legit job was that she was a nurse. Like it was a normal nurse uniform. The short hair and plain appearance just added to it, making the gimmick seem all the stranger.
It was the heel turn that gave her a new lease on life, and I've seen some decent-ish brawls featuring her. Lacking both size and speed, she was not really any good (she's clumsy and unathletic to the point where even her basic offense looks sub-par compared to even most 2nd or 3rd-years- in 1995, she's worse than at least 4 of GAEA's 5 first-years!), but could do the "punch & stab" matches full of interference and cheating okay, and could be carried by a top-tier seller like Chigusa Nagayo or Megumi Kudo. Anyone else and that match was going to SUUUUUUUUUCK but that's what'll happen when you let Tarzan Goto train your people. So I mean, if you like matches featuring only kicking and punching by a wrestler who only sort of looks like they know what they're doing, have I got the wrestler for you!
This may be the most harmless-looking wrestler promo pic of all time.
CAREER TRAJECTORY:
-Rie Nakamura debuted for Frontier Martial-Arts Wrestling (FMW) in 1990, trained by Tarzan Goto. She helped shore up a division dominated by superstar ace Megumi Kudo and the powerhouse Combat Toyoda, filling the ranks. She jobbed in her debut to a debuting Keiko Iwami, and paid her dues for two years, moving up the ranks- she took the name "Nurse Nakamura" in 1993, starting to dress in a nondescript nurse uniform and acting in what Wikipedia calls a "sweet registered nurse". A babyface character, she also did comedy wrestling, teaming with the goofy "Mr. Chin", nursing him due to his diabetes. She would examine his condition during the silly matches.
1993 & 1994 see her losing constantly, wrestling over 100 matches a year sometimes and generally seeing her job to Shark Tsuchiya or someone, often in tags. She can beat other rookies, but that's it. Her one bit in the "Interpromotional Era" is to show up at AJW Wrestling Queendom 1994 with Kudo as her partner, defeating Suzuka Minami & Chikako Shiratori in a 16-minute bout that seemed more or less like a bone thrown to FMW (a somewhat-powerful political force in joshi, despite not having many great wrestlers)- like Minami was a midcarder by that point and Chikako a jobber nobody. At a mixed LLPW show later that year, she lost alongside Miwa Sato & Yukie Nabeno to an LLPW midcard team led by Rumi Kazama.
In Feb. 1995, Nurse joined the newly dominant heels Shark Tsuchiya's "Mad Dog Military" stable, hilariously now going by Bad Nurse Nakamura (apparently inspired by Bad News Allen, who had some success in Japan). She started wearing kumadori facepaint (that worn by kabuki performers) and wore a short kimono. A mere month later, she defeated Kudo herself to become the unified FMW Women's Champion! She held the belts for only a month, losing them back on May 5th. She & Shark would form a duo, often beating Kudo-led teams during the year. August sees Combat & Kudo beat Bad Nurse, Sato & Shark in a Tag Team Barbed Wire Deathmatch, one of Nurse's biggest bouts I would imagine. She travels to GAEA Japan to represent Shark in a cheating-filled match against GAEA's boss Chigusa Nagayo, being carried pretty well before losing in 14 minutes. The best part of that entire bout is when Chigusa gets sick of all the violence and cheating, and shames Bad Nurse into AMATEUR WRESTLING- amazingly, it actually works!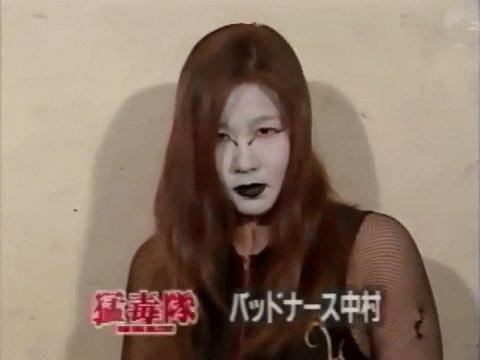 I mean, give them credit- one looks way more threatening than the other.
By this point, Bad Nurse honestly wins about 80% of her matches judging by Cagematch, though- a real turnaround in a push. She feuded with Kudo for a year and a half (starting to lose more and more matches) until she finally quit the Mad Dog Military in 1996, turning face and simply calling herself "RIE" (her first name). Apparently she didn't make much of an impact after that (her win/loss record is now close to 50% and she's done beating anyone major), and in 1998 she left FMW, becoming a freelancer during the horde of "Freelance Wresters" of the late '90s, as the joshi scene exploded and everyone figured the new trick was to do shows for every company. She'd join Chikako Shiratori, Yuki Lee and others, wrestling for GAEA Japan, OZ Academy, NEO Ladies & Onita Pro. Oftentimes she's "Bad Nurse" again, and the match times get shorter as time goes on. By the late '90s she's jobbing more often than not in GAEA. A back injury caused her retirement in 2000, ending her career after ten years.
After retiring, Nakamura became a part-time trainer at OZ Academy, and became an assistant manager for "Kensuke Office" (Sasaki's booking office), then a trainer for Osaka Joshi Puroresu. She's also been running a hotel in Osaka since 2008. Wait, did she write her own Wikipedia page?
MOVESET:
Grinding Weapons Against the Forehead, Butterfly Suplex, Flying Knee Smash
THE MATCHES:
FMW WOMEN'S TITLE:
BAD NURSE NAKAMURA vs. MEGUMI KUDO:
(May 5th 1995)
* This is from an FMW Stadium Show, featuring Bad Nurse as the Champion and Kudo the challenger- Kudo's already suffered some kind of injury, judging by a large bandage on her face. Kudo's in military fatigues with her face covered by a Hanes brand towel for some kinda reveal, while Bad Nurse has the creepy white facepaint on. Aaaaaaaand then Kudo bursts forth from behind Bad Nurse & assaults her, revealing the "Kudo" in the ring as a decoy. Nice! The old Dump Matsumoto trick!
Kudo throws Bad Nurse around and they dash across the stadium, but Bad Nurse swiftly comes back with a chair, blading Kudo immediately. Hangman's choke off a table sets up some weapon-grinding from some spraypaint-can thing, and Kudo's selling is disturbingly realistic- like the horrified reaction of a murder victim or something. But then she springs to life like only she can, knocking it out of Nurse's hands and strangling her. Flying elbow smash & butterfly superplex get two-counts, and a slick spinning reversal sequence sees a tiger suplex for the same. The ref gets decked and misses Shark clocking Kudo (though what difference would that make? FMW refs never DQ anybody!), and three butterfly suplexes & three flying knee smashes put her down- a flying knee with the CHAIR hits and gets two, and Kudo's comeback is stopped with a Bridging German. The world's wimpiest tombstone is meant for the chair but hilariously misses by a mile, so a kneeling powerbomb on the chair get two. A vicious kneeling Tiger Driver ALSO gets two as the crowd gets increasingly louder for Kudo, and she actually fishes into the pockets of her fatigues and BOOM! Red powder to the face! Kudo loads up a chain for a backfist, then creates a great stack off a kneeling Tiger Driver of her own for three (8:29 of 14:32 shown)! New Champion! Okay the video was twice that length so I wasn't expecting that! I keep forgetting FMW video uploads repeat the match for copywrite-tricking purposes. Shark & her goons hit the ring to assault Kudo, Combat Toyoda pulling them off.
This was Smoke & Mirrors: The Match, as Kudo tells a great story through her selling, giving up tons of stuff to a weaker opponent. Bad Nurse had kinda sloppy moves and just kind of did them with zombie-like movements and no emotion, bud Kudo's "death sell" is as good as anyone's ever and so the crowd was with them. All that was needed was a lot of cheating, blood and Kudo dying off of everything.
Rating: **1/2 (we cut six minutes of stuff but it was good pathos and selling by Kudo, leading to a good finisher sequence)
STOP THE DANGER FIGHT:
CHIGUSA NAGAYO (GAEA Japan) vs. BAD NURSE NAKAMURA (w/ Shark Tsuchiya) (FMW):
(GAEA Japan, June 18th 1995)
* So innocuous FMW babyface Nurse Nakamura, who looked plain and normal as can be, is now horror movie character BAD Nurse Nakamura, and is a monstrous white-faced (in Asian countries that implies ghosts) heel who stabs something in the ring before intros. Chigusa's all "Bitch, I fought Dump Matsumoto- you better be ready to use that fuckin' thing" and we're off, because sure enough Chigusa gets knifed in the head when she turns her back, then FMW's Shark Tsuchiya adds her own punishment outside.
Finally back in the ring, a bloody-faced Chigusa flails around as Nurse gets mad-stabby with that weapon. Shark wipes out the ref and tosses Nurse a chain, leading to the old standby, "Chigusa is strangled while puffing out her cheeks" straight out of 1980s Crush Gals vs. Atrocious Alliance warfare. Shark & Nurse double-choke her, but GAEA's wrestlers get into it with Shark while Chigusa takes a walk around the ring and starts rifling that chain at her opponent. Nurse sells it a bit, but they tug of war and Nurse just knocks Chigusa silly with kicks and we're back to choking, as Nurse drags her around ringside. Chigusa cuts a promo on that B.S. once the fans start chanting for her, but Nurse grabs a friggin' six-foot staff and plasters the boss's back with it. Chigusa finally powers out and gives Nurse a taste, but tosses it to the fans and cuts another promo, so Nurse takes a wooden sword, breaks the tip off, and gouges Chigusa's face with it. Shark charges in, so while the ref tries to deal with her, Chigusa again overpowers Nurse, but the villain is spared the sword so Chigusa can wipe out Shark with it.
Nurse tears off across Korakuen so Chigusa has to sword the s— out of her in the stands, and we're clipped to ANOTHER promo, as Chigusa now tosses the sword into the stands. So Nurse just grabs another giant staff… but Chigusa DARES HER TO WRESTLE, holding her arms out and not even defending, so Nurse argues with Shark and tosses the weapon, so Chigusa goddamn hits the amateur "all fours" stance so Nurse can try and wrestle her down. So Nurse tenaciously grabs a headlock as we're suddenly doing Flair/Steamboat bits, then she hits a bad German & Rolling Cradle for two. Chigusa manages a lariat, but takes a facecrusher- Nurse climbs, so Chigusa boots her repeatedly off the top, bludgeons her repeatedly in the ring, and finally finishes with a running Dominator (probably supposed to be her ThunderFire Powerbomb but Nurse flipped too far) at (11:50 of 14:16 shown). Chigusa talks smack on an unimpressed Shark outside the ring, probably setting up something between them down the line- and sure enough, a quick check of the GAEAism channel shows a match three months hence.
Well, that was a thing. Largely a bunch of psychology-free "Nakamura stabs Chigusa so Chigusa can bleed for sympathy" with nothing else to it, there's an interesting bit of shaming in the end where Nakamura is dared into wrestling legitimately, AND IT WORKS, and that's pretty great. Of course Nurse loses the second they start really wrestling, though, hitting a few sloppy moves but then getting wiped out by the mandatory Chigusa comeback.
Rating: *3/4 (some fun character bits, but "Walking Around Using Weapons & Bleeding" is my least-favorite wrestling style)