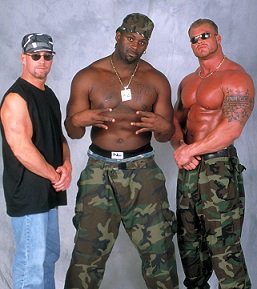 Quoth the No-Limit Soldiers: "Hoody Hoo!"
Welcome back to another edition of wrestling's weirdest Dream Matches! This time I have one of the most all-time "WTF?" trios matches ever, as we end up with the First Family- a band of WCW's weakest heel JTTS guys at this point- up against the infamous No-Limit Soldiers, long after their run was dying. So it's a true dream team of Brian Knobbs, Hugh Morrus and friggin' LIGHTNING FOOT against Brad Armstrong and two never-was roid-monsters in 4×4 and Swoll.
Also on the docket, we have WWF Champion "Macho Man" Randy Savage vs. Akeem in Versailles Stadium in France! Rocker Shawn Michaels taking on Demolition Crush in 1991- a bout that would look incredibly different only two years later and was on PPV in '94! The Diamond Studd takes on P.N. News in his infamous "rapper" gimmick! And finally, a trip to 2011 WWE as Kevin Nash takes on Santino Marella.
THE NO LIMIT SOLDIERS (B.A., 4×4 & Swoll) vs. THE FIRST FAMILY (Brian Knobbs, Hugh Morrus & "LIGHTNING FOOT" Jerry Flynn, w/ Jimmy Hart):
(WCW Saturday Night, 09 11 1999)
* OH MY SWEET DEAR JESUS, YES!! THIS kind of bullshit nonsense is the entire reason I started this column in the first place! Look at these idiots- a fat sack of ass in Knobbs, never-was Hugh Morrus and of course LIGHTNING FOOT the super-jobber going up against one of WCW's worst ideas, comprised of whatever guys they were paying but weren't doing anything with. B.A. is Brad Armstrong, fresh from the jobber corps. Swoll is somewhat infamous for only ever doing anything in this angle (his wrestling career consists of AWA & New Japan in 1991 and WCW in 1999 and that's it)- I do love how he's called "Swoll", which none of the announcers (Tony, Bobby, Larry & Mike being the four Caucasianiest Caucasians to ever live) explaining what the hell that name meant. 4×4 is an absolute BLIMP, looking like a legit Looney Tunes caricature of a roughneck, and didn't make it more than a year in the business either, acting as a bodyguard for Harlem Heat 2000. This stems from a brawl last Saturday Night, and is a revenge bout between the two stables. The faces are all in camo gear while the First Family is in black (with Knobbs sporting a PINK SHIRT, which is amazing).
Tiny-ass B.A. goes up against Knobbs to start, taking an avalanche but wiping out the whole First Family and tagging to Swoll- Swoll hits a single clothesline but gets eyepoked and eats some LIGHTNING FEET before making a comeback with punches and a slam. Flynn begs off from 4×4 and tags in Morrus, who has his shoulderblocks no-sold, ducks down on a criss-cross, and eats a big splash to the back. He sells his ass off taking a couple slams, but goes to the eyes and has Knobbs slug 4×4 from the apron… but he won't sell shit, just looking all "OOOOOOH nothing can hurt me!" So Hugh chop-blocks his knee from the front (lol he was probably supposed to be looking at Knobbs) and the heels triple-team the blimp. A LIGHTNING FOOT combo from Flynn staggers him, and Knobbs hits brawling attacks- Morrus whips Flynn in with a roundhouse kick, then Knobbs in with an avalanche! But Morrus barrels in and eats a Vader Attack, 4×4 posing until he remembers he should be hurt, then forward-rolls for a hot tag and the Soldiers clean house on the Family, B.A. even sending Jimmy Hart a-flyin' once he hits the ring. B.A. hits a Russian legsweep on Flynn, but when he covers while the ref's back is turned, the Barbarian hits ringside and punches him in the face. That sets up Flynn's back kick for the pin (5:10) as the First Family steals one.
THIS DIDN'T SUCK!!! I mean, it was short but could have been a DISASTER with these guys given the lack of experience, especially since B.A. was only in the first little bit and he was usually there to center the Soldiers' matches, but it turns out that 4×4 is a perfectly acceptable "Heat Guy", immobile as he was. So the heels just did some concentrated heeling and good counters to keep up an active match against these goofs, before the screwjob finish. Though jobbing to JERRY FLYNN is pretty much the indication that the Soldiers were done as a gimmick, as unfair as this finish was for them.
Rating: **1/4 (I am completely astounded it reached over **, I have to tell you. I mean, even BRIAN KNOBBS looked good)
Crush: Easily the worst wrestler to make WrestleFest. At least they included his spinning backbreaker, though!
SHAWN MICHAELS (w/ Marty Jannetty) vs. CRUSH (w/ Mr. Fuji):
(WWF Prime Time Wrestling, 1991)
* Here's a strange one I found while looking for their 1993 KOTR Qualifier- Crush vs. Shawn in their tag team days! Crush was by this point established as the new guy in Demolition just as they tumbled down the card. It occurs to me these were the two finest mullets of the era, with Crush having a SPECTACULARLY long one. Not as good a physique as he'd develop as Kona Crush, though. Shawn's in orange tights- Crush's in the usual.
Crush pounds away to start and resists a monkey flip reversal, but Shawn flips over him and lands a superkick, harrying Crush with speed. Shoulderblock finally puts Crush down, but he tosses Shawn to the floor on the kick-out. Crush tries a press slam (with reps!), but Shawn counters with a headscissors and stays on him with holds, nullifying the size advantage. Crush cheap-shots him on a rope-break, though, and hits his WrestleFest finisher- the Tilt-A-Whirl Backbreaker, taking his sweet time hitting another move (a torture rack, but he drops to his knees for an impact attack) for two. Shawn bites free of a bearhug, but gets PLASTERED into the corner on a whip. Crush works the back with a body-vice, teasing a KO, but Shawn flails his way into a mount and they both bite each other- Crush hammers him with a backbreaker and goes up, but misses a Flying Knee Drop! Shawn clips the knee and punches away as Fuji hits the apron, but that distraction fucks up his own man- Crush catches Shawn on a cross-body, but Marty comes flying in with a shot to Shawn that pushes them both over (a classic Rockers spot), netting Shawn a ridiculously fast count for the win (7:18)!
Actually nowhere near as bad as I was expecting, given how green Crush was- it was all about Shawn sticking and moving, using his speed on Crush, who could have been any other big guy. The back work on Shawn was consistent and gave Crush a big advantage, but Shawn kept using speed and eventually it paid off. Fuji looked like an idiot distracting the ref and getting his own man pinned, though.
Rating: **1/2 (considering how bad Crush was even 3-4 years later, this is damn near miraculous, and a testament to not only Shawn, but the notion of telling small, simple stories out there)
I can't believe I've been doing this column for so long and have only now touched on PN News.
THE DIAMOND STUDD (w/ Diamond Dallas Page) vs. PN NEWS:
(WCW, 1991-12-29)
* OH GOD. PN NEWS. Billed at "403 lbs", this "overweight enough to be in poor health but not enough to be a monster" guy was a white "Rapmaster" (literally says that under his name) spitting the slowest bars I've ever heard in my life while wearing day-glo neon green tights with "YO BABY YO BABY YO" wrapped around them. And yet several people are seen dancing and children are seen doing his catchphrase along with him, so I guess it works and he's over? The Studd is, of course, Scott Hall, ready to be a star (as Nash said in his famous worked shoot promo in WCW years later), but like… just fucking around the midcard doing nothing before they let him go. Studd is in black trunks, with "STUDD" written way off-center on his ass, which bothers me tremendously for some reason. Also News has a rat-tail, because 1991.
Studd does his corner chop to News, who reverses for a chop of his own and the softest avalanche I've ever seen in my life, bailing for a sec before getting caught in a headlock for I swear to god a FULL MINUTE. Like, holy cow. News shakes his ass to a fan chant and backdrops out, hitting a totally limp wristlock while grooving to imaginary dope rhymes. He then USES THE ASS, does a "punch", then hits a "facecrusher" but DDP puts Studd's foot on the ropes. Studd gets his foot up in the corner and beats on News, even doing a jump-kick when News catches his foot. Studd works the leg, but News comes back with "punches" and a "clothesline" to put him on the apron, but oh my god it's the Rude/Warrior finish, with DDP holding News's leg so Studd lands on him from a suplex for the win (6:26). Johnny B. Badd hits the ring to back up his fellow cultural appropriator and they send the heels running.
Awful, awful match- everything News did looked marshmallow-soft, and he wasn't that great at selling, either. And all of Hall's offense was just his resthold stuff. Looks like they were saving themselves for a PPV or something.
Rating: DUD (was News any good in the ring? NO BABY NO BABY NO BABY NO. Also his bars were indeed spat most poorly)
KEVIN NASH vs. SANTINO MARELLA:
(WWF RAW, 05.12.11)
* Okay, so here's a request from Klep Trep, from an era of RAW I've never seen. One where a very tired-looking Kevin Nash (looking more like the Undertaker) is walking around with dyed hair and the nWo theme, along with a sledgehammer to oppose his "former friend", Triple-H. I believe this is the infamous "Summer of Punk ends with HHH/Nash in a Ladder Match" era. Santino was already a comedy guy at this point, using a green sock to imitate a "Cobra". Nash beat him up and powerbombed him last week to set this up.
Nash catches Santino with his kneelift, then levels him with a huge side slam for two. Big boot sets up the Jackknife Powerbomb for the easy win at (1:04). Complete squash with zero offense for Santino.
Rating: DUD (nothing happened! Even JOBBERS usually get more of a chance!)
"MACHO MAN" RANDY SAVAGE (w/ Miss Elizabeth) vs. AKEEM THE AFRICAN DREAM:
(Versailles Stadium, France, Oct. 7th 1988)
* This is in the midst of the Mega Powers vs. Twin Towers feud, with Akeem going solo against the Champ in Paris. Akeem's in blue & yellow, with Savage in odd powder blue/yellow trunks with red kneepads and yellow boots. Akeem's hair is also a lot shorter than I remember it.
Akeem wins a lockup as Heenan goes into a very insightful bit about how you need to be in shape to be a wrestler, especially against guys like Akeem, who can leave you winded just by laying on you for a few minutes, and you have to position your body and know where you are in that ring to avoid it. The ref has to force them apart, leading Akeem to throw a shot but take a bunch from Savage instead, then Savage grabs the friggin' beard and does his "Neck Over The Ropes" set-up move, leading to a flying cross-body for two. Akeem launches him off and catches him with a quick clothesline to go on the offense. He takes his time with a variety of shots to wear Savage down, and cuts off a comeback by getting his knee up. Huge atomic drop puts Savage on the apron, but he manages a shoulderblock with GREAT timing, only for Akeem to stuff him and lay waste out there. Savage immediately gets a spirited comeback in the ring, but Akeem goes to the eyes and hits a suplex- his nonchalant cover has Monsoon characteristically up in arms, getting two, and he goes to a bearhug.
Savage fights free by grabbing the nose of all things, but tries a slam like an idiot- forget about it. Big legdrop gets two and even Heenan is mad about the covers Akeem's using. Savage goes to the eyes and slingshots Akeem off the rope, then drops a knee for two, but Akeem slams him and drops an elbow- this sets up Air Africa, but the splash off the ropes eats mat! Savage bounces him off the mat and the corners while Heenan blunders the name of the WWF (can you imagine an announcer using the wrong name TODAY?) and notes "Dynamite Smith" as one of their wrestlers, finally throwing up his hands and saying "I dunno what the hell I'm doing here!" as Savage dumps Akeem and hits the Flying Axehandle to the floor. Back in the ring, he gets hit in the gut trying another one, and Akeem hangs him in the corner, shoving the ref out of the way when he tries to interject- that's a DQ at (10:19). Crowd actually seems happy just to have Savage's hand raised- he knocks Akeem to the floor and celebrates while confetti spreads out all around him.
Well, you go ten minutes with Akeem and you have to make it methodical, and he pretty well goes on plodding offense for most of it, though Savage has his patented "scores quick comebacks but gets stopped short each time" them to avoid the match getting too boring and to make it look like he still has a shot. I really notice that with his stuff, especially with a slower opponent- like Ax's stuff with Demolition, there's a lot of clever stuff to keep the match moving along and make it look "even", despite the fact that it's actually super one-sided. Apparently it's a common Steamboat trick, too. The finish is kind of interesting- a Fuck Finish since it's still early in their feud and they don't want anyone taking clean pins yet, but the crowd doesn't seem to mind because winning was just so important it didn't matter HOW it was done back then, I dunno. Like, it's the main event of a pretty big show and they're like "We'll take it!".
Rating: **3/4 (certainly not a bad match, even considering it was mostly Akeem on offense the whole way. Disappointing ending and we hardly got the best of Savage, though)