Rock Star Gary reflects on WCCW 11-03-1984
By Rock Star Gary on 27th April 2020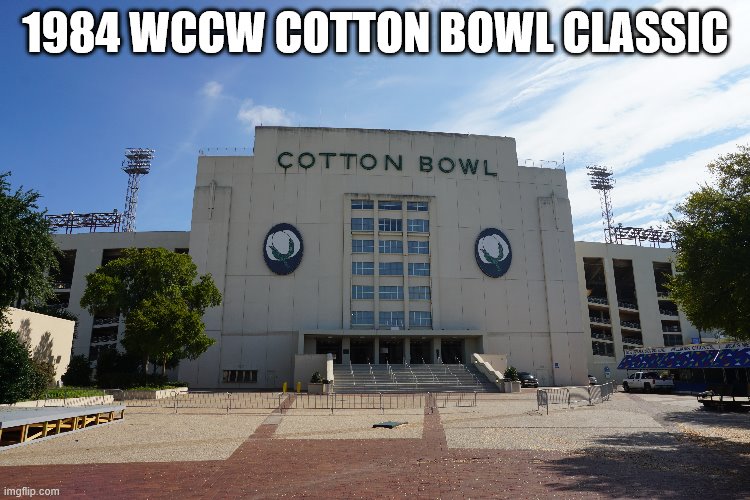 Taped from Dallas, TX
Airdate: November 3, 1984 (taped 10/27)
Attendance: 12,000
Hosted by Bill Mercer
Can the Von Erichs retain the six-man titles against Adams, Hernandez, and Roberts? Who's the newest tag team in WCCW? And who will join me for this fluffy episode?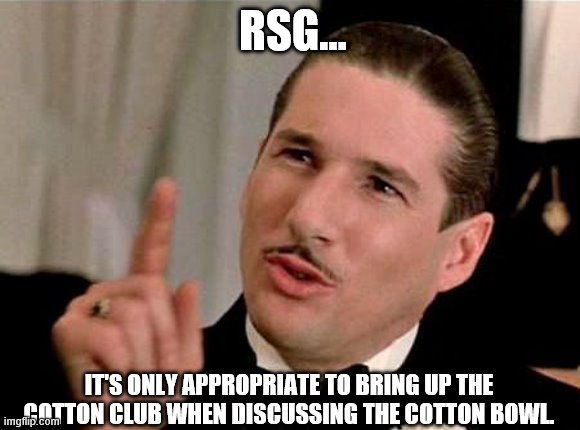 By all means, Dixie! I wouldn't have it any other way. Nobody told me otherwise.
Opening montage.
Prior to the opening match, Ralph Pulley sings "God Bless America" rather impressively.
Match 1: Missing Link (w/ Gen. Skandor Akbar) versus George Weingeroff
Highlights:
Weingeroff dropkicked Link but ate a head butt to the chest.
While Mercer announced that the Fantastics defeated the Long Riders for the NWA American tag titles (taped 10/22), Link mounted the top turnbuckle and delivered a diving head butt to the back of Weingeroff's neck.
1-2-3.
Link won at 4:25.
Rating: ½*
Summary: Showcase match for Link.
Match 2 (non-title): NWA American tag champions the Fantastics versus Kelly Kiniski & El Diablo
Highlights:
During their introductions, the Fantastics displayed the Texas state flag much to the delight of the Dallas faithful.
As Mercer hinted that Sunshine could be involved in the mixed tag match later in the card, a criss-cross ensued until Fulton nailed Diablo in the midsection.
Rogers tagged in, mounted the second turnbuckle, and lowered the boom on Diablo.
When tags were exchanged on both sides, Rogers leapfrogged Fulton while landing on Kiniski's left arm.
Ironically, Diablo caught referee Rick Hazzard's attention, and the Fantastics illegally switched.
Kiniski leapfrogged him, but Rogers fired off a dropkick.
After more shenanigans by the Fantastics, Kiniski guillotined Fulton with the top rope.
Diablo tagged in, gave Fulton a cross corner whip, but came up empty on his follow-through.
While Fulton hip-tossed Diablo, Rogers tagged in and leg-dropped Diablo's arm.
Kiniski tagged in and slammed Rogers.
Meanwhile, the Dallas faithful chanted "go, Tommy, go," and Kiniski landed a knee drop.
He then clotheslined Rogers for 2.
As Kiniski delivered an atomic drop, Diablo tagged in and bulldogged Rogers for another 2.
Kiniski tagged in and hit a backbreaker.
When he slammed Rogers on the top turnbuckle, Kiniski dumped him onto the mat.
Fulton then distracted Hazzard, and Diablo illegally came in to double-team Rogers. SNEAKY!
After Kiniski tagged in, Rogers dropkicked him in desperation.
Kiniski then rang Rogers' bell and tagged in Diablo.
While Diablo rammed Rogers face-first into the mat, he only got 2.
Again, Fulton distracted Hazzard, and the heels double-teamed Rogers. How dastardly!
Hot tag Fulton.
As Fulton slammed Diablo, Rogers tagged in, mounted the top turnbuckle, and launched a flying splash.
1…
It could be…
2…
It might be…
It is!
Fantastics won in 9:22.
Rating: ***
Summary: You cannot fault the Fantastics for implementing an assortment of tag team schemes into this match. Their high-flying coupled with their selling abilities brought the Dallas faithful into the match and kept them engaged.
Following a commercial break, a video highlighting the Texas State fair airs with "Iceman" King Parsons showing off his carnival and pool skills. We then see him riding a roller coaster with referee David Manning. Next, the Fantastics, in their tuxedos, throw darts and win the Texas State flag they showed off before their match.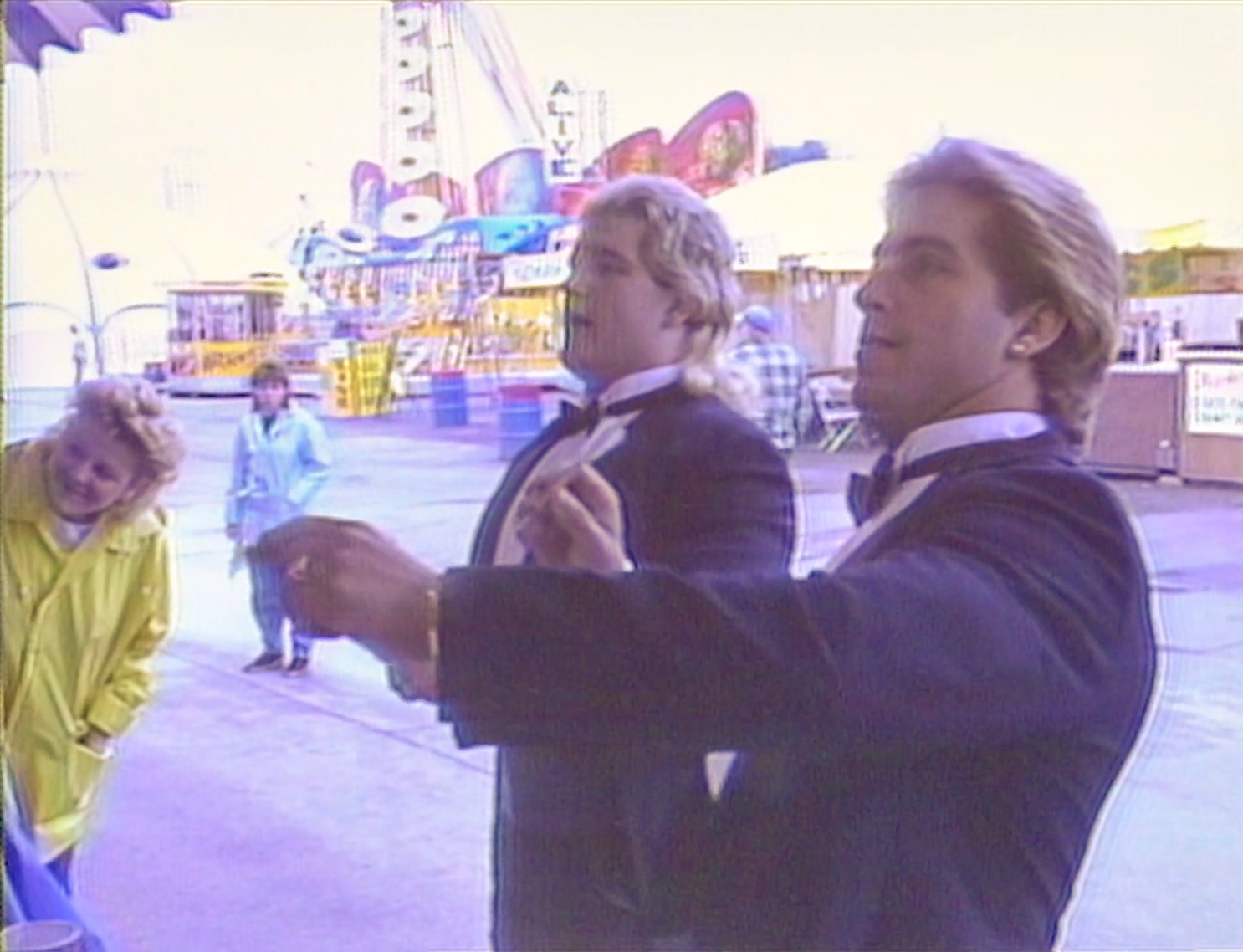 What's that, Sandman?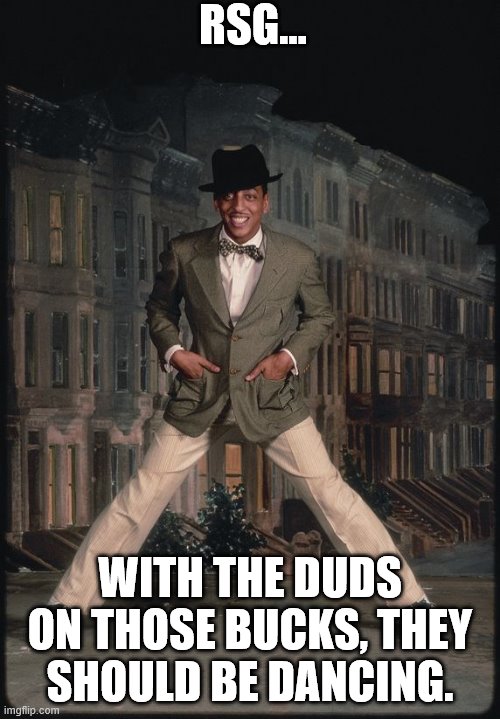 Excellent point, Sandman! They should totally get into the groove.
Match 3 for the WCCW World Six-Man tag titles: Kevin, Kerry, & Mike Von Erich (champions) versus the "Handsome Half-Breed" Gino Hernandez, "Gentleman" Chris Adams, & Jake "The Snake" Roberts (w/ Gary Hart & Nickla Roberts)
Highlights:
Bobby Fulton substituted for the injured Kevin Von Erich, and DJ Rich Bryant was the special guest ring announcer for this match.
When Kerry grabbed the microphone, he called Adams out. Perhaps he was channeling James Cagney.
The Dallas faithful chanted "Chris is a traitor" at Adams, and Kerry leapfrogged Hernandez.
Following a dropkick by Kerry to Hernandez, Roberts tagged in, received a cross corner whip as well as a slam.
Mike tagged in, mounted the top turnbuckle, and lowered the boom on Roberts.
As Mike scored with an elbow drop, he got 1.
Tags were exchanged on both sides while Fulton failed to fall for Hernandez's mind games.
After tags were exchanged again, Adams tagged out to avoid Kerry.
Kerry gave Roberts a cross corner whip but came up empty on his follow-through. In fact, he HIT THE POLE.
While Adams tagged in, he exploitatively clotheslined Kerry.
Roberts tagged in, but Kerry hooked a sunset flip for 2.
When Adams tagged in, he provided Kerry with a leg sweep.
He then launched a superkick and tagged in Roberts.
As Adams tagged in, Kerry rebounded with a discus punch.
Hot tag Mike.
After Adams backdropped him, he and Roberts double-teamed Mike.
Adams tagged in and backdropped Mike; however, it did NOT look crisp.
While Mike inadvertently punted Adams down in the nether regions of jolly ol' England, tags were exchanged on both sides yet again.
Kerry then powerslammed Roberts for 2.
When Roberts rebounded with an inverted atomic drop, Fulton tagged in.
Hernandez also tagged in and suplexed Fulton.
As he mounted the top turnbuckle, Hernandez missed a big elbow.
Mike tagged in and hooked a sleeper on Hernandez.
After Adams tagged in, he mounted the top turnbuckle and lowered the boom on Mike.
Adams then slammed and dropkicked Mike.
While Hernandez tagged in, a false tag occurred.
Tags were exchanged on both sides a fourth time, and all six wrestlers were in the ring.
When Kerry attempted to suplex Roberts, Adams delivered a superkick to thwart it.
Roberts then pinned Kerry at 11:45.
WE HAVE NEW CHAMPIONS!
Rating: ***½
Summary: The heel trio used their cunning ways to upset the beloved champions and attain gold.
Back in the locker room, Mercer interviews the new champions. As Koko B. Ware congratulates them, triple-crown champion Hernandez crows about being YOUR champions. In the meantime, everyone but Mercer gets a red streak in his or her hair.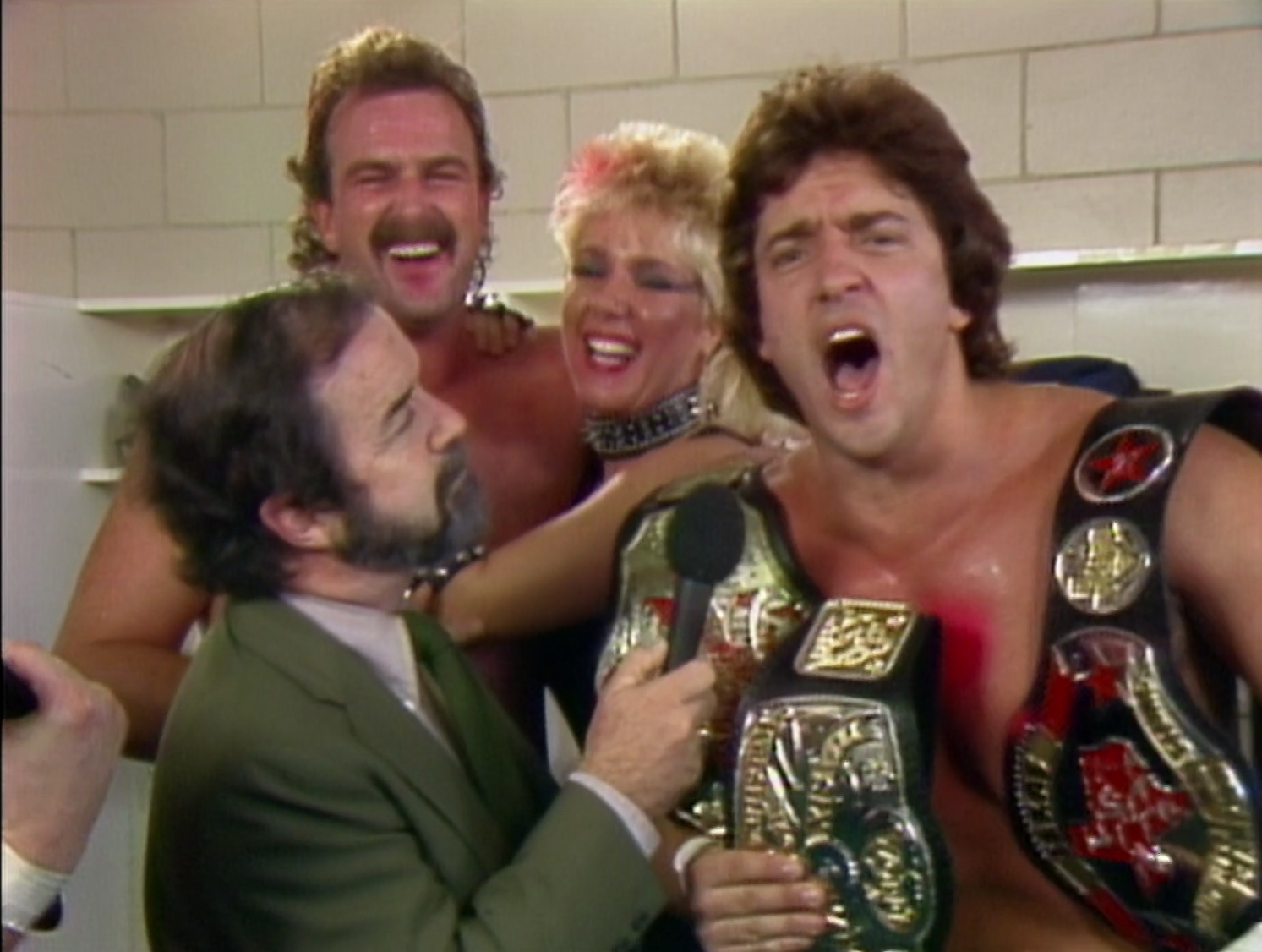 Next week, Mike Von Erich teams with Stella Mae French to battle Gino Hernandez and Nickla Roberts in a mixed tag match.
Conclusion: Fantastic setting with an historic title change that gave the heel trio credibility by defeating the Von Erichs. In addition, the new guys in town—Fantastics—showed off their wares in front of a large stadium crowd. Care to make an observation, Vera?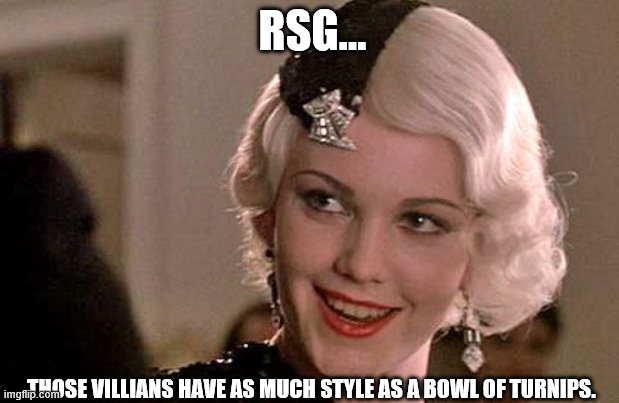 Fans of the Von Erichs might agree with you on that one. Others may cry out for your head. You might want to stay near the Cotton Club.
TV Rating: NONE
Stay tuned for WCCW 11-10-84!
Comments? Suggestions? Send them to me at [email protected] and follow me on Twitter (@rockstargary202). Also, please check out all of my reflections at rockstargary.com including WCW Souled Out '98!