"I imagine she wouldn't smell bad but she'd smell…weird. Like her hair would have the faint aroma of the ocean or something.
She seems like a goddamn mythological witch sent to the world because she can't stand the thought of little girls being happy."
-Phrederic, during a live-watch, about Devil Masami
JOSHI SPOTLIGHT- DEVIL MASAMI:
Stats:
Other Name: Super Heel Devil Masami
Real Name: Masami Yoshida
Billed Height & Weight: 5'6″ 154-198 lbs.
Career: 1978-2008 (30 years!!)
Trained By: AJW Dojo
-Having written a bio on Bull Nakano and showcased her ***** match with Devil Masami (Meltzer agreed, which is proof I'm right!), I figured I would write one for Masami herself next. Masami is probably one of the most underrated Joshi by Westerners owing to her tremendous obscurity- of the biggest Joshi shows of all, she's in very few of them, and often in diminished roles; I've only seen a handful of her performances there. Never mind that her career peak was in the 1980s, which is ages before most wrestling fans would have ever heard of her.
Masami comes off as completely epic in 1990s Joshi, though- a woman out of time, with a fascinating physical appearance. Not really UGLY, she nonetheless has very large, striking features and impressive build that make her come off as something other than mortal- almost a mythical creature in a promotion of human girls. A huge star in the 1980s, she went to the secondary Joshi company (JWP) after hitting the retirement-age in AJW, and continued to impress. Though she couldn't match the "GO GO GO!" style of '90s Joshi, she was somehow able to utilize her timing and charisma to get the most out of her skills- her peak matches are as good as almost anybody's, and all the more impressive because she wasn't anywhere close to a "MOVEZ!" wrestler. Anyone who criticizes '90s Joshi for its pace should be shown Masami matches- she gets an honest-to-god crowd pop from a VERTICAL SUPLEX in an era where Doomsday Device Chokeslams get two-counts.
"After ten thousand years, I'm FREE! Time to conquer EARTH!"
Honestly though, some of my favorite stuff about her is the little character tics she'd do in matches. When the crowd cheered for Kyoko Inoue or booed Bull Nakano for trying to use a weapon, Devil would calmly wag her finger at them to admonish them- it was hilarious and the audiences sold it like nuts. When preparing her epic Powerbomb move, she'd actually shout out "POWAHBOMBUUU!" like a true dominant heel. She had the BEST facial expressions- annoyance if stymied, a vicious smile if dominating, and more- and best yet, whether she won or lost, she had this legitimate expression of "Good JOB, kid!" to her opponents. When Kyoko Inoue got drubbed by her in a match, but pulled out a win, Masami was practically falling all over the junior for defeating her, congratulating her for a job well done. When she defeated longtime rival Chigusa Nagayo in Chigusa's return match, Masami was so joyous over being able to kick her old enemy's ass again that the two hugged and had a blast posing after the match was over. Devil Masami was just flat-out FUN to watch.
Said match against Nagayo may be the best example of how good Masami was- anyone can have good matches against Kyoko or Bull Nakano or whomever. Chigusa was coming off of a 4-year retirement at the time, had garbage cardio (every other match around this time involved tons of smoke & mirrors, stalling, dumping outside and restholds), and Bull had a **** match with her that had minimal stuff disguising Chigusa's flaws- Devil reacted perfectly, dominated without gobbling her opponent up, made it look like she had a chance, and only in the end crushed her with one too many big moves. And did it while coming off like this sorta Friendly Monster- as if she used to be evil, but enjoys fighting too much to be anything but jovial about it.
Her '80s stuff is remarkable, too- she was a real powerhouse in AJW at the time, with a muscular physique way beyond the crowd of teenage-looking girls in that promotion, but because she was still only 150+ lbs., she could still move quickly and had great cardio. So it was hard-hitting power-based offense at lightning speeds.
But of course I'll never forget her fight with Nakano, where Bull pulled out her trademark nunchucks. The pro-JWP crowd admonished the AJW wrestler for cheating, booed the shit out of her, and shamed her into putting the nunchucks away. At which point Devil wagged her finger at the fans for it, grabbed the nunchucks, put them back in Bull's hand, and DEMANDED TO BE HIT WITH THE NUNCHUCKS.
Fun Fact: Devil Masami gets almost as many weird, drooling comments in YouTube videos as Cutie Suzuki or… the Glamor Girls? Really?
CAREER TRAJECTORY:
-With the hilariously-wimpy real name of Masami Yoshida (what is it with the terrifying Monster Heels of Joshi having names like that? Keiko Nakano & Erika Shishido, too), Masami debuted for All Japan Women's Pro Wrestling all the way back in 1978. After three years, she won the the AJW Title, holding it for 333 days until it became vacant somehow, then the WWWA Tag Titles with Tarantula, holding them for about half a year, then defeated Judy Martin (yeah, the one the Bomb Angels always fought in the WWF) for the All Pacific Title in April 1984. She carried the title all the way until Dec. 1985 (620 days!), dropping it only because she had finally won AJW's top prize- the WWWA World Title. This was a tournament final for the vacant title (dropped by Jaguar Yokota retiring), in which she defeated Dump Matsumoto. That's right- the dominant, purely evil Monster Heel and most terrifying Joshi ever? She couldn't beat Devil.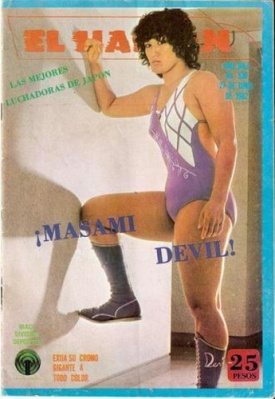 Masami on some Lucha-related magazine.
Masami held the title for 254 days, losing it in August 1986 to Yukari Omori- reigns of that length were pretty normal back then. She even did a run through Stampede Wrestling in August of '87 (she even teams with Keiichi "Jushin Liger" Yamada in a mixed tag on one show! Tragically, I can't find a video). She hit AJW's mandatory retirement age in 1987, and rather than call it a career, jumped ship to rival company JWP, where she instantly became a top star again. She was the inaugural UWA Women's Champion, holding the title for 187 days, dropping it to Dynamite Kansai. She won the JWP Tag Titles thrice, first teaming with Kansai (256-day reign in 1993- winning from & losing to Mayumi Ozaki & Cutie Suzuki), then Hikari Fukuoka (452-day reign from 1996-98, beating Kansai & Cutie- lost to Kaoru Ito & Manami Toyota), and finally Cutie Suzuki (47-day reign in 1998- winning from & losing to Fukuoka & Tomoko Kozumi)
She lasted there until the "Interpromotional Era" (1992-95), wrestling on a few shows with AJW women. Here, she defeated Chigusa Nagayo in her return match at Dream Slam (1993), hugging and posing with her old enemy after the match was over, reliving old times. She was thereafter used as a high-powered "Gatekeeper" on most later shows- as JWP had other champions to deal with, Devil seemed to be chosen to do the job to other high-level talent. She lost to Bull Nakano on a '93 JWP show (the aforementioned one with the nunchucks) that Meltzer gave ***** to, and lost to Kyoko Inoue at that year's Wrestling Queendom, dominating much of the match but losing to some good reversals in the end.
Masami as "Super Heel Devil Masami". Imagine Bryan Adams. If he was better at literally every aspect of being a pro wrestling. Including looking scarier.
Despite being used in this manner, she won the JWP Openweight Title (their top belt) in 1994, refashioning herself as "Super Heel Devil Masami" (a creepy, unemotional heel in ghostly facepaint) defeating the promotion's Ace, Dynamite Kansai, and holding it for 32 days (beating only Hikari Fukuoka in the interim) before losing it back. I dunno the story here, but maybe they just wanted to make sure people knew she could still win the big one once in a while, or prove that Kansai could be beaten (her two reigns add up to over *1000 days* during the peak of Joshi's popularity!). In any case, Devil also wrestled for Chigusa's GAEA Japan promotion in 1995, staying there for ten years (though she still held JWP gold during that time, since Chigusa had a good relationship there). In 1996, she lost to Nagayo in the finals of a tournament to crown GAEA's first AAAW Single Champion, but defeated her old foe in Nov. 1997 for the belt, holding it until the next August (337 days!) when Chigusa won it back. This seems a bit odd, but GAEA was the most popular Joshi promotion in Japan at the time, so they knew what they were doing.
Oh, and did you know that Masami holds *WCW* gold as well? Turns out that in Sept. 1997, she beat Zero (Nagayo with facepaint on), who at that time had held the WCW Women's Title, which was mostly dominated in North America by Akira Hokuto, but was later brought to GAEA (who had the working relationship with Bischoff & Co.) until they abandoned it completely. She is thus the final WCW Women's Champion.
Age seems to have caught up with her based off of most stuff I've read, as she fell apart by the late '90s (when she was a 20-year veteran, mind you) and was one of many elder Joshi who didn't seem to do many jobs- GAEA got a rep as "Joshi's Retirement Home" for a reason, I guess. She & Aja Kong of all people won the AAAW Tag Titles in *2003*, holding them for most of the year. When AJW went out of business in 2005, she returned for their final show, teaming with Amazing Kong to beat Kyoko Inoue & Misae Genki. Finally, thirty years into her career, she announced her retirement in 2008, teaming with Dynamite Kansai & Carlos Amano in a losing effort against Aja Kong, Toshie Uematsu & Ran Yu-Yu, dropping the fall to Uematsu's Dragon Suplex.
MOVESET:
Lariat, Vertical Suplex, Hanging Vertical Suplex, Legdrop, Ax Kick, Front Double-Chop ('80s move), Running Attack, Gorilla Press Slam, Flying Somersault Senton (usually misses; used for transitions), Powerbomb (often shouts "POWAHBOMBU!" first), Superplex (Both Standing on the Top), Sit-Out Powerbomb
MATCHES:
* This was a bit of a different thing: I just wanted to find random interesting stuff from the '80s, but also found some Title matches.
JACKIE SATO vs. DEVIL MASAMI:
(11.27.1980)
* Oh man, I've never seen Joshi this old before, but it's a long match. Masami, only 18 years old, is fairly fit-looking and is wearing one of those 1980s black singlets. Sato is one of "Beauty Pair", the Idol Tag Team of the '70s, and became a huge star in AJW as a solo performer, then founded JWP as one of its top stars until she retired out of shame after losing a shoot fight to Shinobu Kandori. I've never seen her wrestle before, actually, so I'm curious. She's VERY lanky (apparently she played basketball), and in a blue & white singlet. Both have EXACTLY the same haircut- a feathery 1970s-looking curly bob.
Jackie easily dominates with quick technical stuff at first, but Devil comes back with a headscissors. Her lumbering, monstrous gait is noticeable even here, but Sato quickly puts on a big headsissors while braced across Masami's shoulders, flipping her over and headstanding her. Devil finally escapes and works the leg for a while, and resorts to more brutal tactics like running strikes and kicks to counter Sato's superior wrestling ability. She stretches the arms out, then hits a front suplex, but a second is reversed to a small package and she chokes away to stop the momentum. She hits a headbutt, but Sato spins out of a second one to slap on an Abdominal Stretch with lightning speed, then hits two falling clotheslines and a vertical suplex-to-backbreaker! Big backdrop suplex and Masami bails, but a pair of press slams out of fireman's carries leads to two 2nd-Rope Falling Headbutts, but Masami won't go for the pin and gets rolled up out of the corner for two. They collide in the ring, but Sato gets dumped after a falling clotheline and hurts her knee outside, and they award the match to Masami, putting over the rookie at (17:00)-ish.
Interesting match, though super-dated to the "1970s Style"- you could see Sato leading most of it, and Masami plugging in most of her offense as running stuff & cheating, which looked a bit funny since Sato's so thin by comparison. The issue I have with stuff before the '80s is that even the best stuff always looks like the START of a good match, because the offense is so dated by today's standards. Sato looked really slick in here, with Masami having a limited offense but looking okay.
Rating: **1/2 (not really my style of match, but good for what it was. No finish, either)
DEVIL MASAMI vs. SHERRI MARTEL:
(sometime in 1981)
* Haha, WTF? SHERRI MARTEL wrestled for AJW? OMG, look at that big, brown '80s perm she has. She's in a red singlet, while Devil's in purple here. Martel is actually noticeably taller, and has a bombshell physique she typically hid under lots of weird gear in the WWF.
SHERRI MARTEL playing a plucky, nervous babyface against an evil, snarling heel really has to be seen to be believed. You can tell she's trained by Moolah, because she absolutely sucks- all eye-gouging and awkward kicks & stumbles, and the worst bodyslam ever (Masami won't even let her try for a pin, kicking her away). Judy Martin, Sherri's #2, starts throwing punches, and it repeatedly turns into a fight outside, then Devil starts bashing the both of them with chairs out there! This is wild. Butterfly Suplex, a pair of vertical suplexes and a falling splash get the three at (7:55). Total dreck and all brawling because Sherri couldn't do anything, but shit- you think she was taking pointers? Masami was doing half Sherri's '90s act!
Rating: 1/2* (one was barely trained and Devil was only 19; what can you do?)
WWWA WORLD TITLE:
JAGUAR YOKOTA vs. DEVIL MASAMI:
(19.07.1982)
* This is during Jaguar's early '80s prime, where she was considered one of the finest workers in the world, and was a generational talent in AJW. Both women are wearing fancy hats on the way to the ring- man, whatever happened to that? Hats are rad ring gear. Devil's in purple (her trademark color, I think), and Jaguar's in white.
Jaguar dominates with speed and technical stuff to start, and does so again after Devil starts a brawl- Devil doesn't take momentum for several minutes, finally backdropping out of a butterfly lock and using brutality to control. Then she puts on a Surfboard! That was a thing in 1982? Jaguar comes back and works the arm. Man, both women are REALLY good at grimacing towards the camera- their strong features (particularly jawlines) kind of make them ideal for 1980s televised wrestling in that regard. Devil hiptosses her out of an interesting-looking submission and beats on her outside the ring like a good heel, smashing her into stuff and killing time while Jaguar recovers. Jaguar takes over with some good throws and slaps on the Figure-Four Leglock, Devil writhing in agony for exactly one minute before hitting the ropes (oh, Joshi at their 1-minute holds), then Jaguar gives her a revenge thrashing outside. Jaguar hangs her leg in the ropes and beats on it back in the ring, shredding it with submissions, too, until Devil uses a dozen or so headbutts to come back. She hits a Gorilla Press Slam, a Rib-Breaker, and a Surfboard, but Jaguar flips out of a Powerslam attempt and hits her with a Tombstone for our first two-count of the match! She goes for another, but Devil reverses to one of her own! God, '80s Joshi loved that spot.
Devil is hurt, but seizes the advantage, sending Jaguar bumping all over the ring with a ton of shots, suplexes and a Tilt-A-Whirl Backbreaker! She keeps going for the pin, but Jaguar eventually slide-bridges out and hits a pair of Ass Attacks, a butterfly suplex and a Flying Thing for two. Jaguar dumps her and hits a Plancha (in 1982!), then it's a brawl out there until Jaguar just starts blasting away with chairshots- the ref tries to take it away, but then DEVIL grabs a weapon and it's a huge cane vs. chair brawl in the middle of the ring while the poor ref takes a shitload of kicks while trying to restore order! Both dive outside and continue the insane brawl until finally they're counted out at (21:17)! Completely insane match by the end, as they do all this technical stuff (with Devil getting a knee injury that just vanishes I guess) and then the hate overwhelms them and they're trying to kill each other. Finish keeps both strong, and creates a great TV angle.
Rating: ***1/2 (started slow and '80s, but turned into a hell of a brawl with some great moves by the end)
2/3 FALLS MATCH:
WWWA WORLD TAG TITLES:
DEVIL MASAMI & TARANTULA vs. JAGUAR YOKOTA & MIMI HAGIWARA:
(04.01.1983)
* The greatest 1970s anime background music ever plays over the girls entering the ring in Korakuen Hall, which is amazing. Mimi is dressed like a Greek Goddess in lavender, complete with a wreath on her head, and has a more glamorous look than the others, but looks to be about 85 pounds. She was a big star in the early '80s, winning the All Pacific Title twice (once for around a year!) and the Tag Titles once. She's in white & purple, while Jaguar's in red. The champions are in match purple singlets, with Devil sporting a short bob and Tarantula having a lucha mask with gold trim. Tarantula is actually Japanese, and is so obscure I can only find her real name and seven matches, even on WrestlingData.
Fall One: They brawl outside right out of the gate, and tiny Mimi is apparently the "screaming, fast-paced joshi" type, bending Tarantula's legs while shrieking. They brawl outside AGAIN, and Devil makes like Mike Milbury and hits Mimi with someone's shoe. The champs beat & choke the shit out of Mimi for a while, but finally the child abuse stops and Jaguar runs in and sends Devil flying with her incredible fast-paced flips until Devil goes for the eyes. They beat on her for a bit until she & Tarantula nearly mess up her Spinning Cross-Body thing, then Jaguar hits two Ass Attacks, Mimi adds a Flying Knee, and a Bridging Vertical Suplex scores a fall at (8:20).
Fall Two: Mimi does a good butterfly suplex on Tarantula, but Devil kills her with headbutts then takes her outside and strangles her with the announcer's microphone cord and starts "THUD!"-ing her with the mic itself! Tarantula does a pair of rolling front dropkicks and Devil adds a Tilt-A-Whirl Backbreaker- then it's a big Double Press Slam onto their knees for a double-team finisher at (4:36). Wow, they did the "short fall" thing even back then!
Fall Three: Jaguar & Mimi protest this fall, declaring the referee and idiot, at which point Jaguar throws him outside… and they FUCKING HIT HIM WITH A TABLE?!!? To a crowd pop! In 1982! Everyone's fighting outside, Devil takes a shot full-on in the head (looked stiff as hell), then another, Tarantula stumbles around a bit, and Mimi tries to throw a table over the announcer's desk at Tarantula while Devil PRESS SLAMS Jaguar out of the ring! I thought the ref called for the disqualification, but no… they're still going! Devil's bleeding, but Press Slams Mimi onto the Ring Girls, beats on them outside, and finally the champs hit stereo vertical suplexes in the ring, Devil pinning Jaguar at (2:03)!
Complete wild brawl at the end, and that's amazing, but most of the match was "fighting in the crowd" and had little counter-wrestling or even trying to do moves going on. Jaguar barely got to show anything, 90% of the moves were brawling, and Tarantula looked hesitant and untrained, often "pre-selling" strikes with weapons. Looked like great TV, though, and the fact that all this insane bullshit was going on and the ref didn't even call for the bell after getting brained puts this into the "plus" category.
Rating: *** (not really a match, per se, but holy shit that was a fun brawl by the end)
DEVIL MASAMI & JAGUAR YOKOTA vs. THE JUMPING BOMB ANGELS (Noriyo Tateno & Itsuki Yamazaki):
(sometime in 1984)
* These are the famous Bomb Angels who hit the WWF four years later, though sadly this match is a little short judging by the video length. Itsuki (the faster one) is in blue, and Tateno is in red. Jaguar's in stripes, and Devil's in black- both have apparently made amends since 1982, as they teamed more than once in this era. You can tell we're in the "Crush Gals" era because the crowd is now FULL of shrieking teenage girls, with the Angels being a sub-Gal team at this point.
The veterans attack to start, but immediately get bombed from running top rope attacks- tremendous. Devil takes a double-team, but roars back with a Double Lariat and Jaguar goes to work on Tateno. Devil actually comes in with a huge Flying Armdrag (with the JBAs later used), and works on Yamazaki's arm, but the kid comes back with Dropkick Spam on Jaguar, who sells it pretty well- you can tell that Yamazaki's super green and a bit awkward, so I feel they account for that. Tateno works the leg and hits a Butterfly Suplex, then Itsuki does her cool rolling flip thing where she grapples the leg and rolls through, launching Jaguar across the ring. Jaguar slide-bridges out of a pin, however, and Ass Attacks the kid to death, then Devil comes flying off the top with a knee to the face and a MONSTER Press Slam to the horror of the crowd. Jesus Christ. She adds another and Jaguar Missile Dropkicks Itsuki, but she leaps over the ropes and back in with a kick to come back. Tateno's in, but she gets Octopus Stretched until Devil misses a Rolling Somersault Senton off the top, but Yamazaki Missile Dropkicks her own partner and Devil gets a HUGE Sit-Out Powerbomb, and Jaguar adds a Jackhammer for two. It's *1984*, and we're seeing Ligerbombs & Jackhammers get two-counts- Hail Joshi. Jaguar dramatically gets dumped, and it's a big brawl outside and the kids fly in with Stereo Sunset Flips for two, but the vets smash them together and hit Stereo Bridging Germans, scoring the pin (8:47). The crowd shrieks, but the winners shake hands with the losers after the bell, so it's all okay.
Completely kickass match, despite being rather short- the moves were so innovative they'd have floored anyone watching this from America in 1984 (someone in a live-watch was stunned that this wasn't from the early '90s at least), and the pace was insane the whole way through, with the veterans giving up a lot of offense, despite being mostly in control.
Rating: ***1/2 (incredible for the time given)
JWP OPENWEIGHT TITLE (Devil Masami 15th Anniversary Celebration):
DYNAMITE KANSAI vs. DEVIL MASAMI:
(23.08.1992)
* And now we fast-forward eight years. This is JWP's top two singles stars up against each other, right as the Interpromotional Era was starting. Kansai's in her bright yellow gear with the kickpads, and Masami's in a one-legged black singlet. Looks like they're fighting in some kind of darkly-lit church, with stained-glass windows and a huge circular design facing the hard camera- a really different effect. This is apparently Kyoto KBS Hall, and is used for Dragon Gate stuff today- it's awesome.
They rush immediately to doing some cool counters, Kansai sweep-kicking Devil onto her face and hitting an STF, but Devil catches a kick and hauls Kansai down for some stretching. Kansai throws some kicks and does some of her own, but Devil threads a bodyscissors into one of her own, then surfboards her- I love that seamless shit. Not just "slap on a magical hold and they drag themselves to the ropes", but REVERSING stuff. Devil gets huge pops from vertical suplexes because she puts some "oomph" into them- crazy for 1992. She beats the shit out of Kansai outside and waits it out in the ring to cheers. Kansai SUPER-hesitantly gets into the ring, but throws a ton of fairly-light kicks to take over. She gives a revenge beating outside the ring and stretches Devil out for a while, throwing some stiffer kicks and slams, but Devil dragon screws her down and fires off her big Powerbomb. HUGE Superplex pops the crowd like nuts as Devil smiles triumphantly and eggs them on. That gets two, and a delayed suplex earns a "Fuck YOU!" bridge from Kansai- she comes back with a kick, but sells in that punch-drunk Kansai way and falters, barely dodging a Flying Somersault Senton after a big Lariat. Double Lariat and both are down- Kansai scores a Backdrop Suplex, but a Flying Headbutt misses and she gets surfboarded again, Devil working the back and hitting ANOTHER big Powerbomb for two. She pulls out two big Rainmaker-style Lariats, but Kansai reverses and hits a Northern Lights Suplex- Masami makes the ropes. Masami ducks a lariat, but a second try hits, and Kansai plants her with a big Powerbomb for the squirming three-count at (18:36).
Really fun match- very methodical and interesting to see, as they milk simple things like suplexes and lariats like they COUNT, so fans think they count. Funny how that works. They didn't really end up with "Escalating Finishers" so much, and the ending was almost totally out of nowhere, coming off like Kansai hit a fluke Powerbomb for the win, so that hurts it a tad. But still very good.
Rating: **** (have a better finishing run and they're clearing **** easy)
https://www.youtube.com/watch?v=ctiewwqKn6I
JWP OPENWEIGHT TITLE:
DYNAMITE KANSAI vs. DEVIL MASAMI:
(18.09.1994)
* Devil's been upgraded to a Monster Heel again, dressing in all black and looking scary, while Kansai's in a cool yellow & blue variant of her bodysuit. Haha, Masami's facepaint is almost EXACTLY like Crush's was in 1992- that's great.
Kansai waffles the shit out of Devil with strikes to start, nearly hitting her finisher (Splash Mountain- Sit-Out Razor's Edge) until Devil slips out and ax kicks her. She wobbles around selling it, but soon Undertakers up and no-sells some chops, hitting her own and throwing stretch-holds out with a fairly blank expression on her face, before dumping her opponent and completely destroying her and some poor schmuck on the floor- she straight up launches chairs at them and bloodies the guy's face until he's a complete mess! Please tell me that was JWP's President- I can't tell. Kansai manages to come back with holds and kicks, but Devil's faces are now inhuman-looking weird shit. They brawl on the floor and lariat each other down, but Kansai takes advantage and hits a running lariat down the aisle. Devil comes back bloody, and Kansai attempts a piledriver off the TOP, but she gets backdropped out and barely avoids being murdered by a flying cane shot. Infuriated, she lariats Devil over the barricade and smashes her with the cane repeatedly, but Devil catches a kick drapes the leg over the guardrail, resting it on a table, and LEGDROPS it. Yikes.
Kansai then takes a legdrop to the back of the neck while she's neck-first over the railing, at which point Masami starts using a table as a melee weapon and blasts her with a gate while Chigusa Nagayo looks on! Kansai is bloodied and looks stunned as fuck, doing her great "I don't know where I am" sell as they enter the ring after four minutes of that. Devil hits a powerbomb on the floor, then throws a bunch of DDTS and a Ligerbomb, getting two and both do the "All Japan Sell" for a double-K.O. spot. Devil lands a sleeper, two axe kicks and a Guillotine Legdrop, really dominating, and another Double-K.O. spot ends at 9 with Kansai's running lariat, and she signals Splash Mountain- Devil struggles and finally kicks off the ropes so Kansai throws her for a Razor's Edge instead! Clever- now Kansai couldn't move it right into the pinning combination, and is too hurt to capitalize! Kansai's up first and hits a backdrop & a lariat, but she puts Devil up top, allowing Masami to grab her head and hit a falling Thesz Press thing from there… for the pin (24:10)!!! NEW JWP OPENWEIGHT CHAMPION!! Devil looks and acts normally during the post-match interview, so I guess this act is an "in-ring" affectation only. Devil would only hold the title for about a month before Kansai won it back, interrupting 1,100+ days of being JWP's top wrestler.
I wasn't feeling this one so much- Masami's heel act is creepy as hell, but loses a lot of the fun of her style. There were fewer moves and more crowd brawling- like eight minutes' worth, and the finish came out of nowhere instead of natural progression- the crowd appeared pretty shocked too, and were quiet for much of the match. The blood and weapon shots were vicious, though, and Masami looked more "legit" than ever.
Rating: ***1/2 (some vicious brawling, but a bit too long and listless)