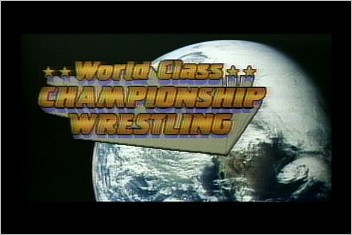 Taped from Dallas, TX
Airdate: January 14, 1984 (taped 01/06)
Attendance: unknown
Hosted by Bill Mercer
Can David upend Flair to win the World title? How will Kerry deal with the rambunctious Link? Will there be a new wrinkle in the feud between Adams and Garvin? Who will join me to bring you this exciting episode?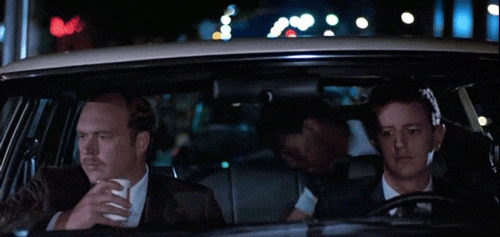 Axel Foley! What do you have to say for yourself?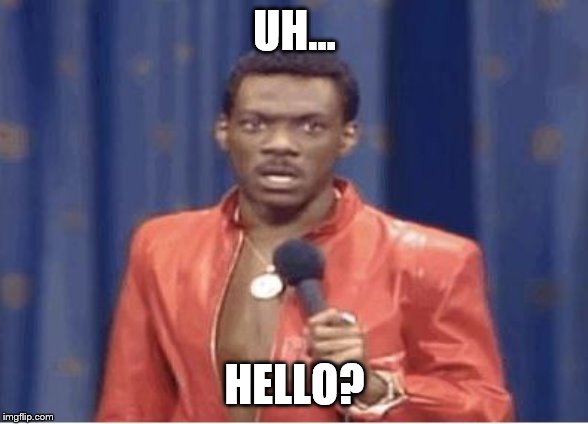 Axel, while I enjoy praise, you didn't have to give me a love song. Try again, perhaps?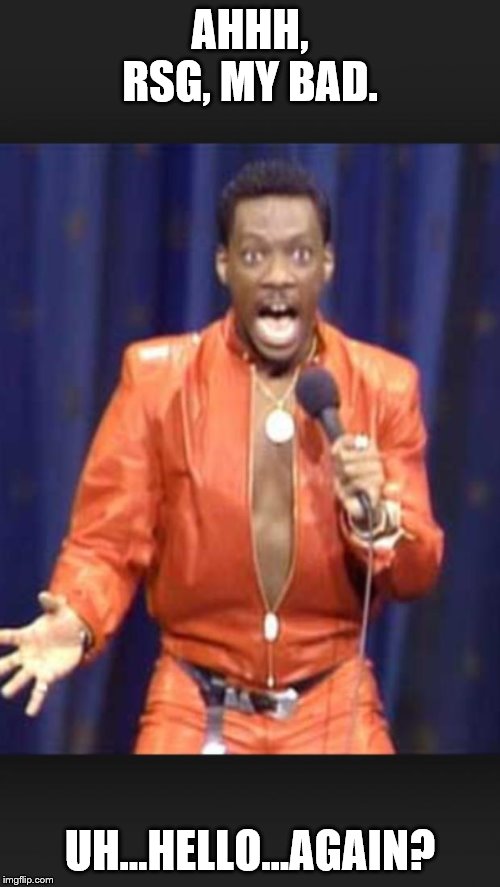 Much better! Now let's get to the show…
Opening montage.
Match 1 for the NWA World title: "Nature Boy" Ric Flair (champion) versus David Von Erich
Highlights:
See? I didn't let you down. No bait-and-switch here.
This match took place on 12/25/83 at Reunion Arena.
Joined in progress at the fifteen-minute mark, Flair shot the half for a series of 2-counts.
He then whipped David HARD into the corner while David HIT THE POLE.
When David reversed a cross corner whip, he applied a sleeper.
Flair escaped via a belly-to-back suplex, and both wrestlers were down on the mat.
As Flair attempted a piledriver, David countered with a back drop.
David then attempted an Iron claw, but Flair blocked it.
After Flair mounted the top turnbuckle, David caught and slammed him down to the mat.
David then delivered a high knee but only got 2.
When he hit a cross body block, David earned another 2-count.
Flair then attempted a hangman's neckbreaker, but David countered with a backslide.
Do we have a new champion?
1-2-NO!
Flair then tossed David over the top rope to the concrete floor in full view of referee David Manning.
Instead of disqualifying Flair, Manning began a 20-count.
David returned before Manning reached twenty and blocked a vertical suplex.
As he hooked an inside cradle, David got 2.
He then suplexed Flair for another 2.
After David gave Flair a cross corner whip, a Flair flip ensued.
The Iron claw followed, and the Dallas faithful smelled a new World champion.
Due to the claw, Flair was BUSTED OPEN.
While the claw sent him down to the mat, Flair grabbed a microphone and WHACKED David with it. Nefarious!
As you would expect, David was also BUSTED OPEN.
Justifiably, Manning couldn't overlook Flair's cheap shot and disqualified him.
Although David won, Flair retained.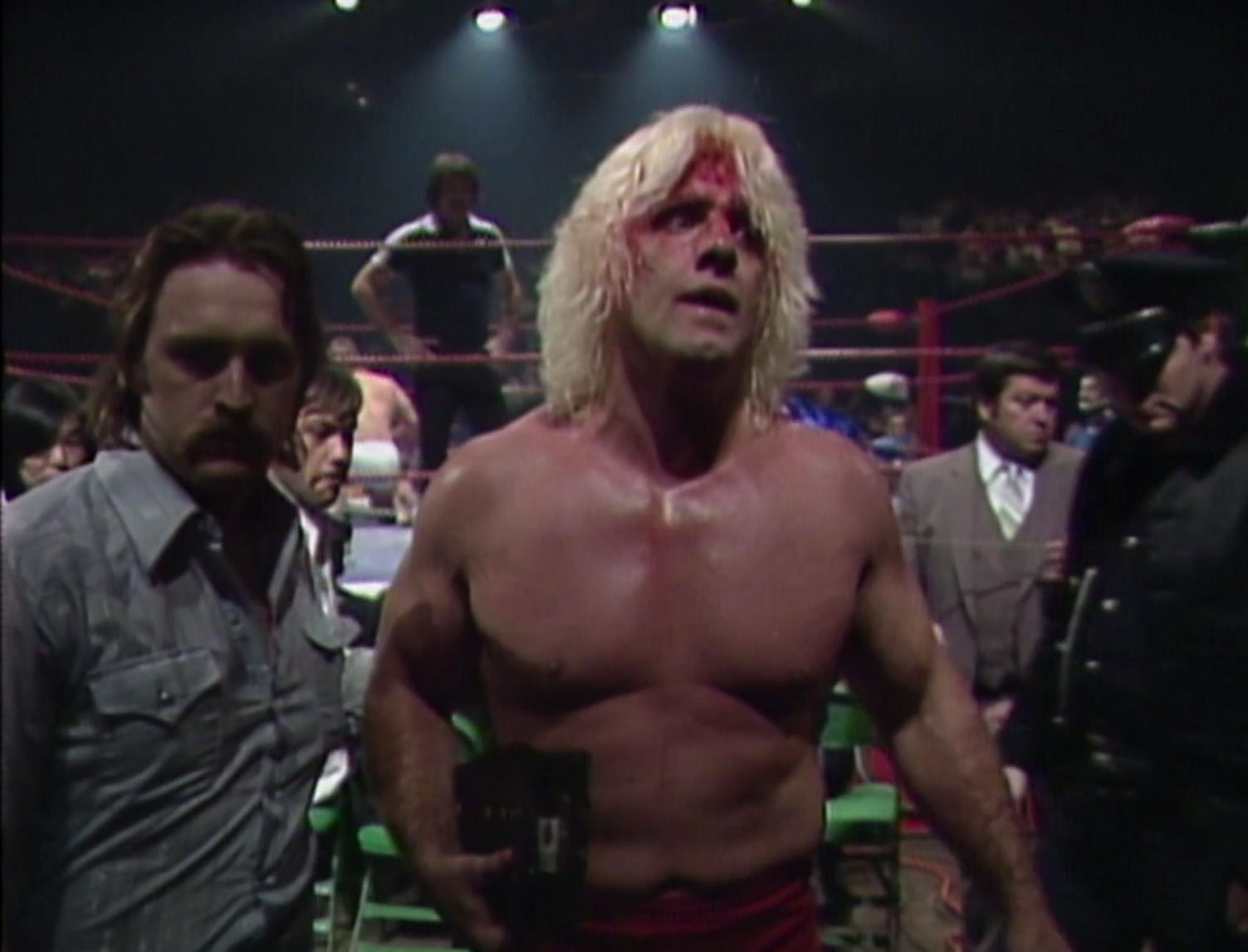 Rating: ***
Summary: David was so close, but there was no way the World title was changing with Flair's reign only being a month old. Hopefully, David will get another shot, and it will be televised.
After the match, Flair tries to clock David with the belt, but Kevin and Kerry storm the ring to rescue their bloodied brother.
At the studio, Mercer interviews Roberts who recently regained the six-man tag titles with Terry Gordy and Michael Hayes in Georgia. Roberts infers that the Von Erichs were disqualified for using the Iron claw, and the titles changed hands. We then revisit the "dastardly" appearance of Hayes dressed as Santa Claus and sucker-punching Mike. Via telephone, Hayes states that he will accept another rematch anywhere in the world if the money is right.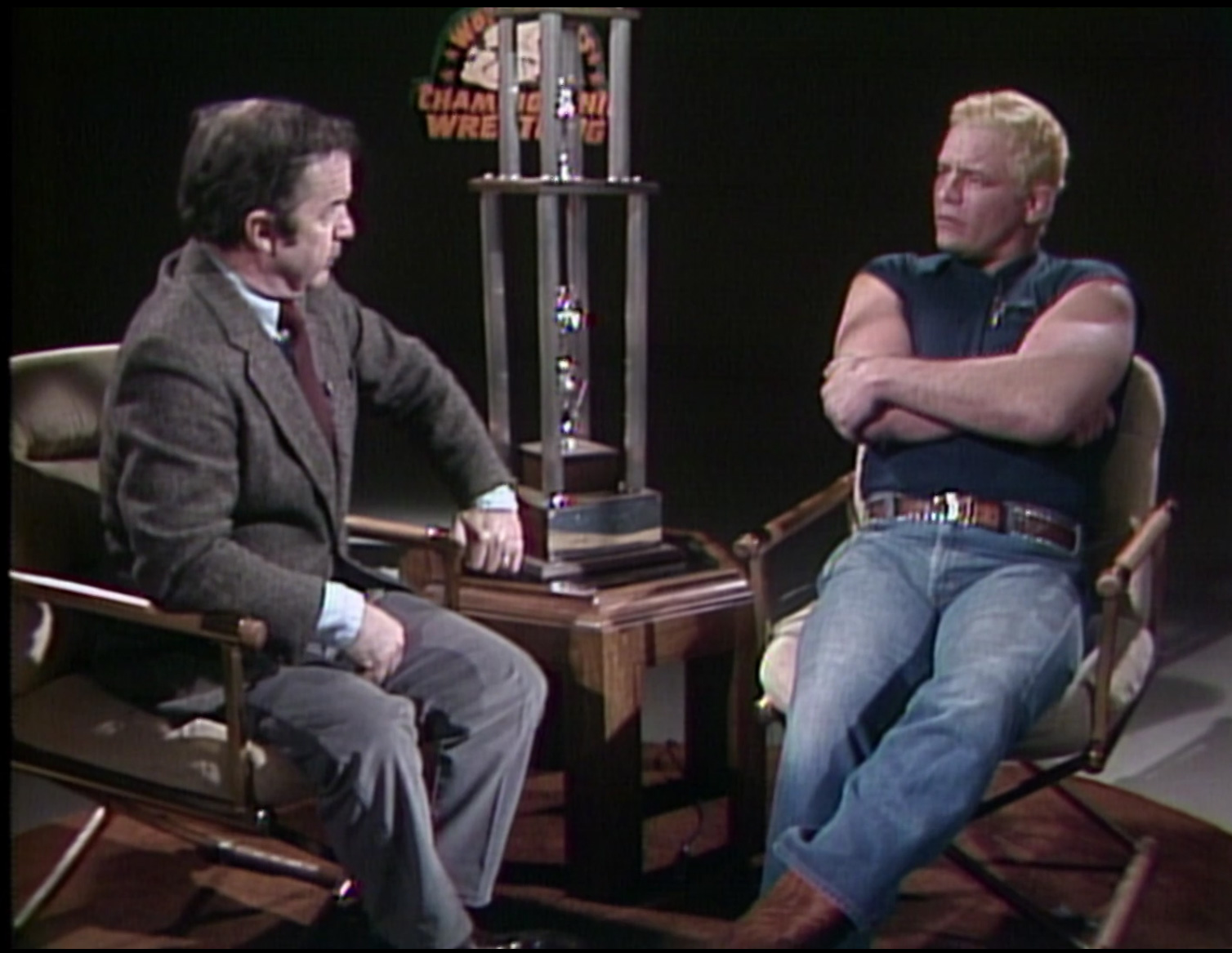 Match 2: Buddy Roberts versus Johnny Mantell
Highlights:
Mantell suplexed him, but Roberts rebounded with a sunset flip for 2.
According to Mercer, the NWA held up the American title due to "Gorgeous" Jimmy Garvin's suspicious method of victory on 12/25/83.
With two minutes remaining, Mantell delivered a cross body block for 2.
Roberts then hit a backbreaker for 2.
As Mantell clotheslined Roberts, he got 2.
He then hooked an inside cradle, and the bell rang.
To no one's surprise, referee Bronko Lubich ruled the bout a time-limit draw.
Rating: DUD
Summary: Boring match with barely any heat generated by Roberts.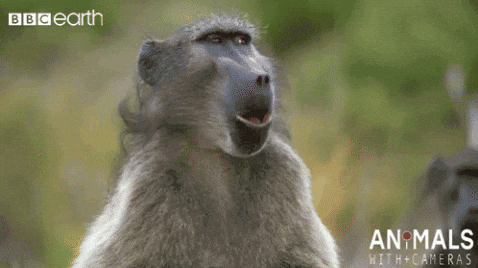 Match 3: "Gentleman" Chris Adams versus Black Gordman
Highlights:
Before the match began, Garvin and Precious entered the ring, and Garvin grabbed the microphone. He declared himself the "real American heavyweight champion" and challenged Adams RIGHT NOW. After insulting him, Garvin attacked Adams and followed with a vertical suplex.
While the Dallas faithful chanted "we want Sunshine," Garvin and Precious exited the ring.
Adams then side-stepped a back drop attempt and rolled up Gordman.
1-2-3.
Adams won.
Rating: DUD
Summary: More storyline than match as the habanero-flavored Garvin-Adams feud continues.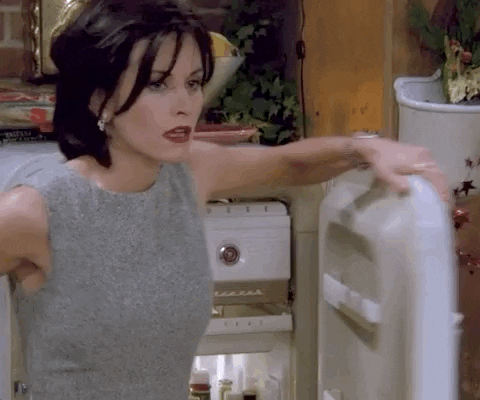 After the match, Garvin returns, and he and Gordman double-team Adams. Garvin then tosses Adams over the top rope to the floor to end the segment.
Match 4: The "Modern Day Warrior" Kerry Von Erich versus the Missing Link (w/ Gen. Skandor Akbar)
Highlights:
Prior to the bell ringing, Link mounted the top turnbuckle and head-butted an unsuspecting Kerry who was signing autographs for the youngsters.
Akbar implored his new charge to continue his attack until Kevin hit the ring to even the odds. Interestingly, Kevin wore a jacket bearing All Japan Pro Wrestling.
Although Kerry was BUSTED OPEN, he retaliated against Link to a thunderous reaction from the Dallas faithful.
He then delivered a standing dropkick that sent Link between the ropes to the floor.
Upon Link's return, he head-butted Kerry for 2.
He then mounted the second turnbuckle but missed a diving head butt.
As Kerry hit a knee drop, Link unleashed another head butt for 2.
Subsequently, Kerry's powerful kick-out sent Link to the floor again.
When he brought Link back in the hard way, Kerry applied a sleeper.
Link hip-tossed Kerry to escape and rammed him face-first into the mat.
After Link head-butted Kerry to send him between the ropes to the floor, Kerry returned with a vengeance.
Kerry hit a discus punch while Kevin thwarted any shenanigans perpetrated by Akbar.
As Akbar climbed into the ring to hide behind Link, Kevin followed closely behind him.
Referee David Manning then threw the match out disqualifying both wrestlers.
Rating: *
Summary: Chaotic battle that elevated Link's stock to Von Erich contender without his taking a loss.
Conclusion: David came within an inch of becoming NWA World champion while the battle between Kerry & Kevin versus Devastation, Inc. rages on. Lest we forget, the explosive Garvin-Adams feud continues. Next week's episode should add to it as well. What are your thoughts, Axel?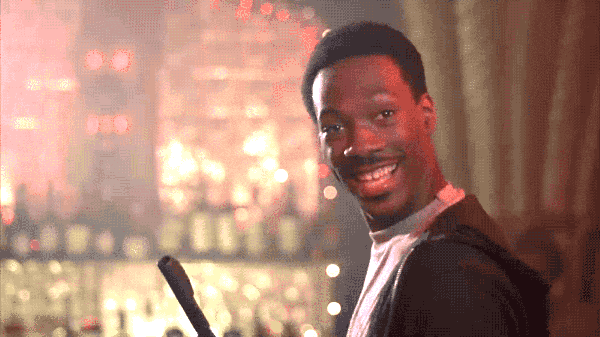 Thanks, Axel. I'll advise all of my RSG-ites to keep a banana out of the tailpipe. Unless that's what they're into.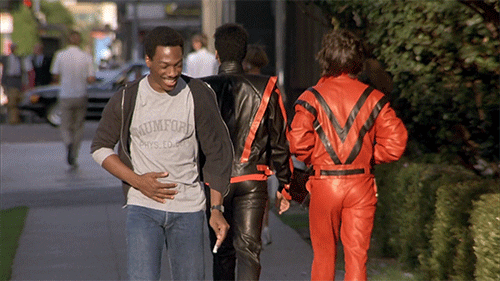 TV Rating: NONE
Stay tuned for WCCW 01-21-84!
Comments? Suggestions? Send them to me at [email protected] and follow me on Twitter (@rockstargary202). Also, please check out all of my reflections at rockstargary.com.