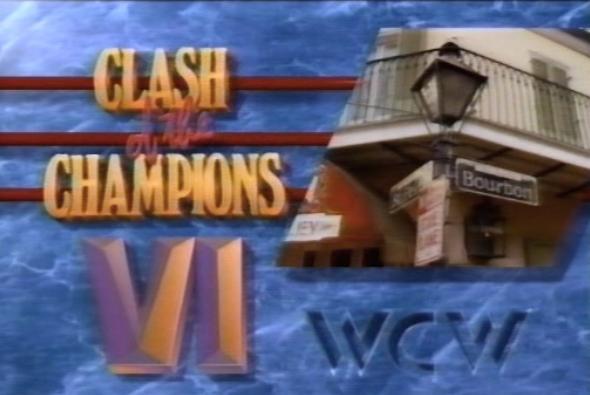 NWA Clash of the Champions VI: Ragin' Cajun
Live from New Orleans, LA
Airdate: April 2, 1989
Attendance: 5,300
Hosted by Jim Ross & Michael Hayes
We begin with Steamboat's historical defeat of Flair to become World Champion at Chi-Town Rumble. Can the "Nature Boy" reclaim the biggest prize in the game today?
Last night, numerous legends including Lou Thesz and Gene Kiniski among others gathered. Afterward, WCW Executive Vice-President Jim Herd offered a few words for them on behalf of Turner Broadcasting.
Next, we see highlights of current NWA talent as an appetizer for today's event. Mmmm…Cajun appetizers.
Following that, the national anthem played. Unfortunately, I was unable to determine whether or not it played from a cassette tape or a CD. Can someone please provide the audio engineer a pencil to rewind it?
Match 1: The Midnight Express (w/ Jim Cornette) versus the Samoan SWAT Team (w/ Paul E. Dangerously)
Highlights:
Rating: ***
Summary: Since Dangerously had to scrounge the tag ranks for another team to oppose Cornette's duo, it made sense that they stole a victory here.
Match 2: The Great Muta (w/ Gary Hart) versus Steve Casey
Highlights:
Rating: **
Summary: Impressive squash with some innovative high-flying by Muta.
WrestleWar '89 will be on PPV on May 7 at 5pm Eastern.
Match 3: Junkyard Dog versus "Hacksaw" Butch Reed (w/ Hiro Matsuda)
Highlights:
Rating: *1/2
Summary: The New Orleans faithful ate this up with a spoon with possibly some jambalaya. To me, it was pedestrian and uninspiring.
Match 4: Dick Murdoch versus "Cowboy" Bob Orton (w/ Gary Hart)
Highlights:
Rating: NONE
Summary: Supposedly, there was a somewhat familiar finish to this match, but I can't quite place it. I'm sure it will come to me when I reflect upon WrestleMania V next week.
Match 5 for the NWA World tag team titles: The Road Warriors (champions w/ "Precious" Paul Ellering) versus the Varsity Club (Williams/Rotunda)
Highlights:
Rating: NONE
Match 6: The Iron Sheik versus Ranger Ross
Highlights:
Rating: NONE
Match 7 for the US tag team titles: "Hot Stuff" Eddie Gilbert & Rick Steiner (champions w/ Missy Hyatt) versus the Varsity Club (Sullivan/Spivey)
Highlights:
Rating: **1/2
Summary: Fun tag match that showcased Spivey and Steiner's repertoires. Thank goodness the only involvement from Hyatt was her purse because the last thing this match needed was her mouth.
After the match, Sullivan dispatches Steiner outside the ring while Spivey decimates Gilbert with a powerbomb. The Varsity Club continues to double-team Gilbert until Steiner returns with a plastic chair to chase them away. According to Ross, Gilbert has been BUSTED OPEN!
Match 8 for the NWA World title (2 out of 3 falls): Ricky "The Dragon" Steamboat (champion) versus "Nature Boy" Ric Flair
Highlights:
First fall:
Second fall:
Third fall:
Rating: *****
Summary: Remarkable match that lasted almost fifty-five minutes. With a unique finish and an incredibly-paced long match style, this match could be one of the best matches in the history of professional wrestling.
Be sure to order WrestleWar '89 only on PPV come May 7 at 5pm ET.
After a commercial break, Ross interviews Steamboat who's finished with Flair and ready for other challengers. As Ross rightly points out, the finish to the title match was controversial due to Flair's foot under the bottom rope during the fall. As an honest man, Steamboat sees the legitimacy in Flair's protest of Young's decision.
Other matches on the card not shown live on TBS:
Sting retained the World TV title by making Rip Morgan submit to the Scorpion Death Lock.
Lex Luger retained the US title by making Jack Victory submit to the Torture Rack.
Conclusion: As wrestling fans, I implore you to watch the main event of this show because I consider it to be required viewing. Despite the title not changing hands, this match has significant historical value.
Similar to the original Clash, this show was televised opposite the WWF WrestleMania spectacular. However, dissimilar to the original Clash, this show didn't achieve anywhere near the same TV rating. Methinks the idea of putting a live show on free TV opposite the competition's PPV can be put to rest.
Minor point: With only 5300 in attendance, George Scott was promptly fired for not promoting this event successfully. One would think they could get at least 10-15,000 fans to attend a wrestling show in New Orleans on Sunday afternoon.
See you for WWF WrestleMania V!
Rating: 4.30
Comments? Suggestions? Send them to me at rsg@rockstargary.com and follow me on Twitter (@rockstargary202). Also, please be sure to check out all of my reflections at rockstargary.com.