Fear not, RSG fans. I have returned and am here to bring you the Hump Day Special—WCW Wednesday.
Let's discuss another December Starrcade event, Starrcade '93.
Before we do that, let's dive into what was supposed to happen: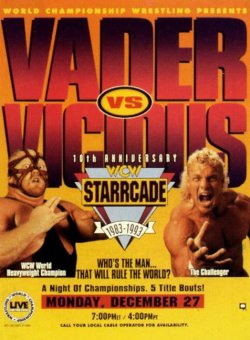 Yes, folks. The man who would later become known as Sycho Sid was destined to become WCW World Champion by defeating Vader at Starrcade.
So what happened?
You can blame it on illicit substances or possibly Americans who can't handle higher alcohol (by volume) ales, but on September 19, 1993, Sid Vicious and Arn Anderson had an altercation that began at the bar and escalated at the hotel almost to the point of murder in Blackburn, England.
While Sid supposedly bragged about a pay raise and his big push, Arn took a pay cut and exception to Sid's behavior. Arn's beard trimmers were involved, and Arn received about twenty stab wounds with them while Sid had various cuts. Both went to the hospital, and Sid was discharged later on while Arn spent a few days to receive treatment. Initially, both were suspended; however, due to Sid's instigation of the fight, he was ultimately fired. Arn, who was due to battle his tag team partner Paul Roma at the event, remained under suspension.
So how does WCW resolve its main event issue on the biggest PPV of the year? Let's keep in mind that WCW lost $6 million in 1993 despite the reduction/elimination of house shows and incorporating the Disney tapings into their (now limited) road schedule.
They inserted former 10-time World champion (8-time NWA/WCW champion) "Nature Boy" Ric Flair into Sid's slot. To top it off, Starrcade '93 would emanate from Charlotte, NC—Flair's hometown. The table was set. The candles were lit. How would the card pan out?
Here's my review: http://rockstargary.com/reflections/starrcade93.html
Pretty Wonderful defeated Bagwell and Scorpio.
The Shockmaster beat King Kong despite facing Awesome Kong.
In a battle over the World TV title, Lord Steven Regal and Ricky "The Dragon" Steamboat fought to a time-limit draw.
Cactus Jack & Maxx Payne defeated Shanghai Pierce & Tex Slazenger. This was one of the signs that Foley had serious potential for greatness.
"Stunning" Steve Austin won the US title by beating Dustin Rhodes in two straight falls. There was blood and some flickering of lights (probably due to the blood). This match had potential to be so much better than it was.
Rick Rude defeated the Boss (Ray Traylor) to retain the WCW International World title.
The Nasty Boys retained the WCW World tag team titles against Sting & Road Warrior Hawk in a match that went way too long and had a terrible finish.
Lastly, Flair defeated Vader to become World Champion for the eleventh time. This match stole the show and sent the fans home happy.
Ultimately, Flair also got a seat on the booking committee in 1994 and had some great matches until Hulk Hogan began his tenure in WCW.
Sue me (please don't), but I like this show. It's not one of the greatest PPVs of all time, but the Flair victory at the end showed that WCW wasn't going to lie down and die due to its talent in 1994.
What do you think?
Also, please be sure to check out all of my reflections at rockstargary.com.