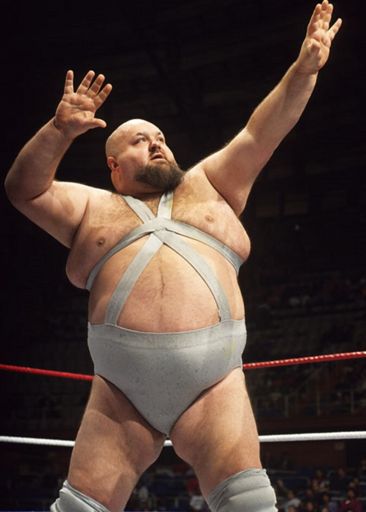 That's right- you know it's a good day when BASTIAN BOOGER is featured in the article!
Welcome back to more Dream Matches! This time I have another doozy from WWF Mania, as their featured match is Bastian Booger vs. KOKO B. WARE, at this point a member of High Energy in the world's most ridiculous pants. Then it's the No-Limit Soldiers/West Texas Rednecks feud continuing in WCW, as Redneck leader Curt Hennig takes on the Power Plant jobber Chase Tatum, now a white-boy rap fan. Then it's 3-Count vs. Disorderly Conduct, as the DC boys continue jobbing to every team coming down the pipeline!
And try to control your excitement as "Squire" Dave Taylor faces wunderkind rookie Prince Iaukea on a Spring Break Nitro while the cameras ignore them in favor of nWo stuff! Then back to the WWF as The Blue Blazer (Owen Hart as a JTTS) takes on The Warlord of the Powers of Pain- mini-star vs. tag guy! It's actually up in the air who might win! And finally, a double-whammy dream match as HUGH MORRUS faces RICK FULLER on two separate occasions!
KOKO B. WARE vs. BASTIAN BOOGER:
(WWF Mania, April 16th 1994)
* Man, what fresh hell is THIS? Booger vs. a tag wrestler? Apparently this is Booger's last televised match in the company, too- he even gets the "already in the ring" deal.
Read more