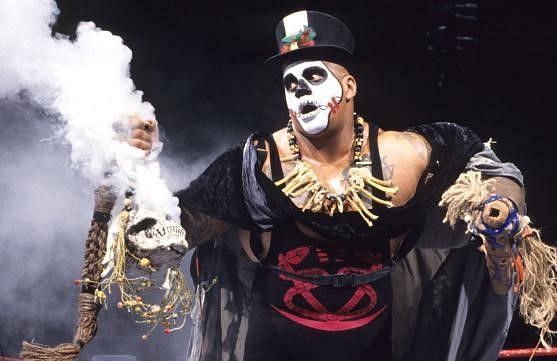 Possibly the greatest variance in quality between a wrestler's visual appearance/gimmick and their in-ring ability.
Welcome back to more Dream Matches! I have some extremely rare stuff for you tonight, as the dreaded "1993 WWF" rears its ugly head once more, giving us a pair of beauties- Mr. Perfect vs. Papa Shango and The 1-2-3 Kid vs. Bastian Booger! Talk about main events in any arena in the country!
Then it's a look at a crazy WCW rookie team I'd somehow managed to miss entirely- our own Oprah Noodlemantra turned me on to The Pit Crew- Dale "Demon" Torborg & Chad Fortune as guys decked out as WCW racing team pit crew guys. Naturally, their opposition is the Dream Matches favorite squad of Mean Mike & Tough Tom- Disorderly Conduct!
Then it's the most "1996 WWF" match I could find, as it's Jim Cornette dream match Barry Windham vs. Tony Anthony… except it's the worst incarnations of both men- The Stalker vs. T.L. Hopper, in The Stalker's debut! Then it's more WCW jobberhood, as Al Green gets set up against Lash LeRoux! And finally, one of those great WCW weirdo mismatch bouts that inspired this column in the first place, as High Voltage face WCW's lowest-tier luchadores- Ciclope & Galaxy!
MR. PERFECT vs. PAPA SHANGO:
(WWF Mania, March 5th, 1993)
* One more from the semi-short run of Papa Shango, where he faces a rising Mr. Perfect. Shango had by this point been jobbing all over the house show scene to guys like Undertaker & Bob Backlund, but was beating El Matador & Typhoon around the horn as well.
Continue reading

→