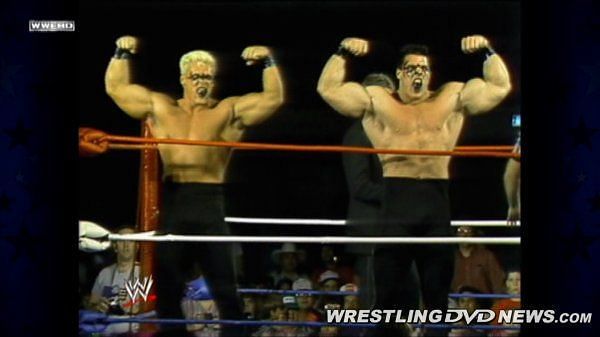 Ever see an Ultimate Warrior match and wondered what it would be like if he was even WORSE? Have I got the match for you today!
Welcome back to another Dream Matches column! This week I have a column of sheer insanity for you, as we start off with the infamous Blade Runners (Sting & the Ultimate Warrior as paralyzingly-bad bodybuilders in their rookie year) taking on Tracy Smothers and Ricky Gibson, the chubby brother of Robert! Some see the most horrible double-team move in the entire history of wrestling! I dare you!
More weird tag team action, as the random duo of useless failed gimmicks "Double J" Jesse James & Rockabilly are thrown together and sent against "the other two Los Boriquas"- you know, not the hairy one or Savio. Yeah, THIS is the formation of the New Age Outlaws, more or less. Then it's over to WCW as the Japanese Invasion continues, with Masahiro Chono & Kensuke Sasaki take on the NASTY BOYS of all people, while of course a better worker than all four sits in the crowd watching her husband work.
And finally, on recommendation I check out Don Leo Jonathan, a 6'6″ worker DECADES ahead of his time, taking on Strong Kobayashi in the best match I've ever seen from the 1970s!
THE BLADE RUNNERS (Rock & Sting) vs. TRACY SMOTHERS & RICKY GIBSON:
(Mid-South, NE State University, Tahlequah- March 3rd 1986)
* Oh yeah, it's BLADE RUNNERS time! This is of course Sting & the Ultimate Warrior as ultra-roided (like, even more than they were later!), green-as-grass rookies wearing lipstick and dark eyeshadow in some kind of KISS/New Wave style (I was expecting more of a "Road Warriors" thing). And their opponents are also wild- future legendary Southern also-ran Tracy Smothers teaming with Robert Gibson…'s brother, Ricky. Ricky could not possibly look more jobbery in his red singlet & dad-bod (he even stands all weird, with his arms held out awkwardly at his side), while Tracy is way more ripped than I've ever seen him before, wearing white trunks.
Continue reading

→