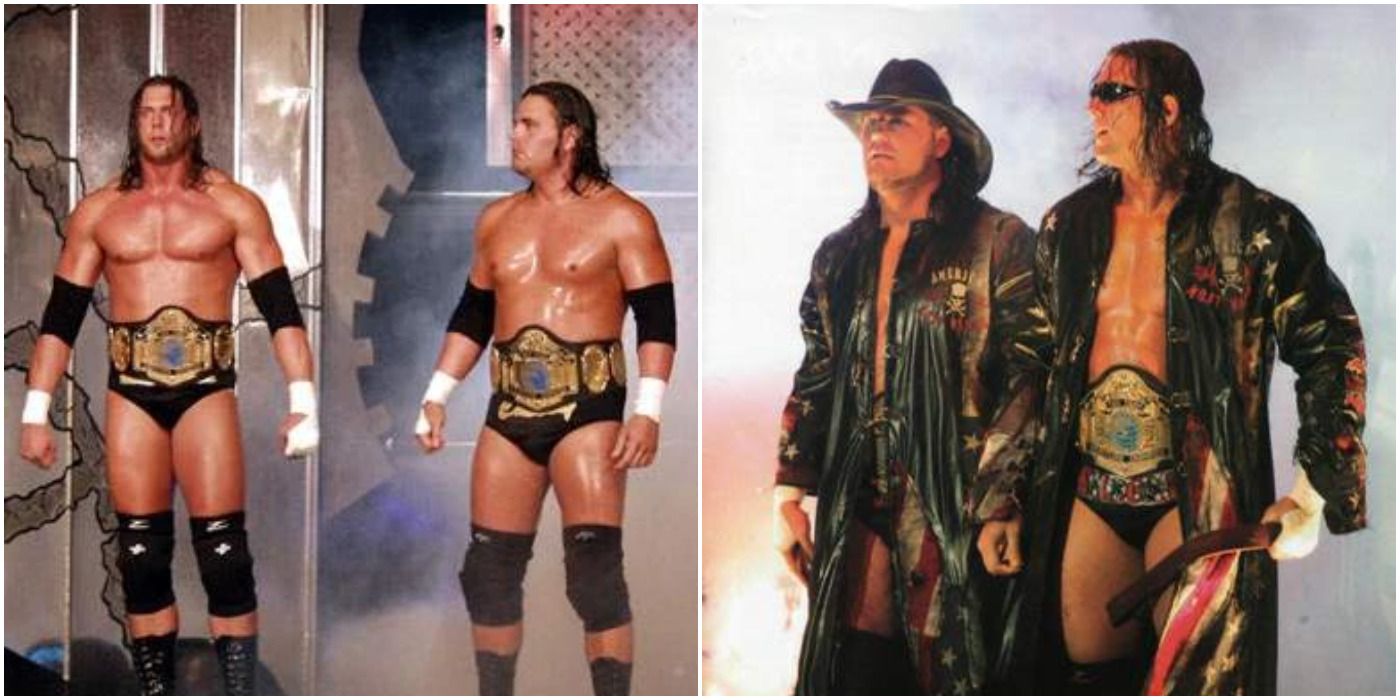 I was only barely paying attention to TNA during AMW's peak, but I remember them getting a lot of hype, especially as WWE was ignoring tags at the time. I know one went on to more success and the other got fat and faded away. Was this the peak of both guys?
Welcome back to more Dream Matches! This week, I start off with a pretty notable TNA match, as their first Steel Cage Match takes place between tag team rivals Triple X (Christopher Daniels & Elix Skipper) and America's Most Wanted (James Storm & Chris Harris)! Come see Elix Skipper be a spot machine, Daniels be smart, and AMW show how they ended up being one of the most talked-about acts of 2003!
Then it's over to Stampede Wrestling, as we have insanity as CHRIS BENOIT & DAVEY-BOY SMITH make the same team, allying with Brian Pillman & Rob Ritchie against Makhan Singh (Bastian Booger), Volkan Singh (Gary Albright), Great Gama (whose last name is literally also "Singh") and Larry Cameron in an ultra-clipped Elimination Tag match! And another match from "Dream Matches MVP" Blake Beverly as he takes on Virgil in Aug. 1993! And finally, it's William Regal versus RECKLESS YOUTH, as the indie wunderkind who just copied his Japan wrestling tapes faces the soon-to-the-WWF guy in 2000!
NWA TAG TEAM TITLES:
STEEL CAGE MATCH:
TRIPLE X ("The Fallen Angel" Christopher Daniels & "Prime Time" Elix Skipper) vs. AMERICA'S MOST WANTED ("Cowboy" James Storm & "Wildcat" Chris Harris):
(NWA TNA, Weekly PPV 6/25/2003)
* So this is a big deal in TNA's history- their first Steel Cage match, featuring their top two teams at the time. AMW was a big deal for them, as two singles guys got slapped together and turned into a heckuva duo, while Triple X were three of the flashiest guys at the time doing a "Freebirds Rule" gimmick- Daniels was one of the "under-utilized" guys of the time, having ****-ish matches but never getting sniffed by WWE (probably because he was both quite short AND weirdly skinny, with an elongated head & torso), while Skipper was a major spot-machine and was also stuck in TNA during its formative years, and ended up lacking the pedigree of the other fast-paced guys of the era like Low-Ki & AJ Styles, despite being more acrobatic than either. Not here is Low-Ki. Both teams were in a long-running feud over the NWA Tag Belts, Triple X being 4-0 but always due to outside interference- hence the cage match. Mike Tenay & Don West thankfully explain the whole story in the prelude. AMW are in blue trunks, and Triple X are in black shorts.
Continue reading

→