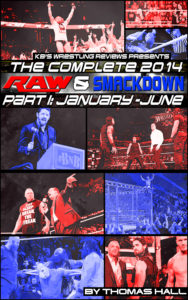 A comprehensive look back at every episode of WWE Monday Night Raw and Smackdown from the first half of 2014, starting at the beginning of January and wrapping up at the end of April. This is a very interesting time in WWE history as we witnessed the rise of Daniel Bryan and the Shield as the new generation was taking the company by storm. The first part of the year culminated in the huge Wrestlemania XXX and was followed by a game changing fallout. In this book, every episode of both shows in the first half of 2014 is reviewed in full, complete with analysis, ratings and complete content included.
The book sells for $3.99 or the equivalent in other currencies. In case you don't have a Kindle, there are plenty of FREE apps you can get from Amazon for pretty much any electronic device, all of which are available at this link.
You can pick up the book from Amazon here.
From the UK Amazon here.
From the Canadian Amazon here.
Or if you're in another country with its own Amazon page, just search "KB Raw 2014" and it should be the first thing to come up.
I hope you like it and shoot me any questions you might have.
Thomas Hall