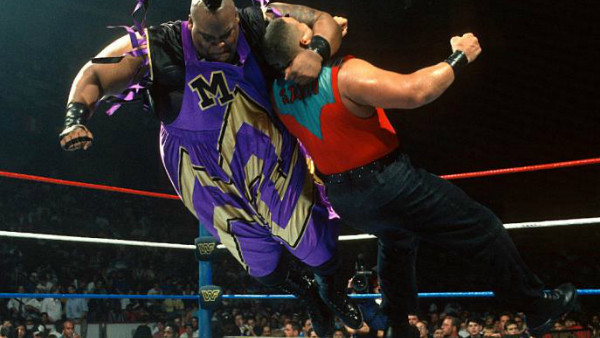 Mabel vs. Savio Vega ending a PPV. This was so bad it feels like a hard-boiled noir detective should be doing narration over it.
KING OF THE RING QUALIFYING MATCHES (1995):
* Back for more King of the Ring Qualifiers- technically still part of my "Dream Matches" column, haha. And with a special edition of everyone's favorite wrestling standby: FANTASY REBOOKING!!
This year's King of the Ring was very well-represented on YouTube. This is the most infamously bad tournament in history, which is hilarious, as "on paper" it looks to be the biggest one ever- while most tourneys are foregone conclusions or are full of mid-level guys, this one had Lex, Owen, Razor, Shawn and even the UNDERTAKER wrestling, with a ton of matches having equal stars. So the disaster that was the '95 KOTR is a true epic. Come watch as the long national nightmare of Savio Vega in a prominent role begins, plus how NOT to create a new Monster Heel.
Previous tournaments re-legitimized ex-champion Bret Hart and gave credibility to Owen for his feud with Bret. A third tournament could either legitimize another would-be champion (Shawn Michaels, in this case), or set up a challenger for Diesel, who's coming out of a feud with Psycho Sid. It looks like Bob Holly beating Mantaur is not on YouTube, but I found the rest.
MABEL (w/ Mo) vs. ADAM BOMB:
(WWF In Your House, May 14th)
* This was a strange decision- putting the first KOTR Qualifier on the first-ever In Your House PPV as a throwaway bout. Mabel had just recently turned heel, while Bomb was spinning his wheels as a directionless babyface after splitting with Harvey Whippleman last year. Bomb's in the red & yellow gear as usual (he only briefly wore other colors), while Mabel's in black & purple.
Continue reading

→