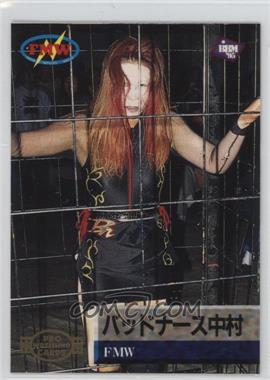 JOSHI SPOTLIGHT- BAD NURSE NAKAMURA:
Real Name: Rie Nakamura
Ring Names: Nurse Nakamura, Bad Nurse Nakamura, RIE
Billed Height & Weight: 5'3″ 137 lbs.
Career Length: 1990-2000
-Bad Nurse Nakamura, just "Nurse Nakamura" in her babyface incarnation (yes, she literally added "Bad" to her name upon her heel turn; puro is MAGNIFICENT), is one of those random FMW female midcarders that turns up only a little bit in the cards I've seen, as FMW is harder to come by. I kind of laughed a bit when I first saw her, as I was expecting some kind of "Kinky Halloween Nurse" or otherwise ostentatious dresser based off of the name, but here she was… just looking like some girl whose legit job was that she was a nurse. Like it was a normal nurse uniform. The short hair and plain appearance just added to it, making the gimmick seem all the stranger.
It was the heel turn that gave her a new lease on life, and I've seen some decent-ish brawls featuring her. Lacking both size and speed, she was not really any good (she's clumsy and unathletic to the point where even her basic offense looks sub-par compared to even most 2nd or 3rd-years- in 1995, she's worse than at least 4 of GAEA's 5 first-years!), but could do the "punch & stab" matches full of interference and cheating okay, and could be carried by a top-tier seller like Chigusa Nagayo or Megumi Kudo. Anyone else and that match was going to SUUUUUUUUUCK but that's what'll happen when you let Tarzan Goto train your people. So I mean, if you like matches featuring only kicking and punching by a wrestler who only sort of looks like they know what they're doing, have I got the wrestler for you!
Continue reading

→