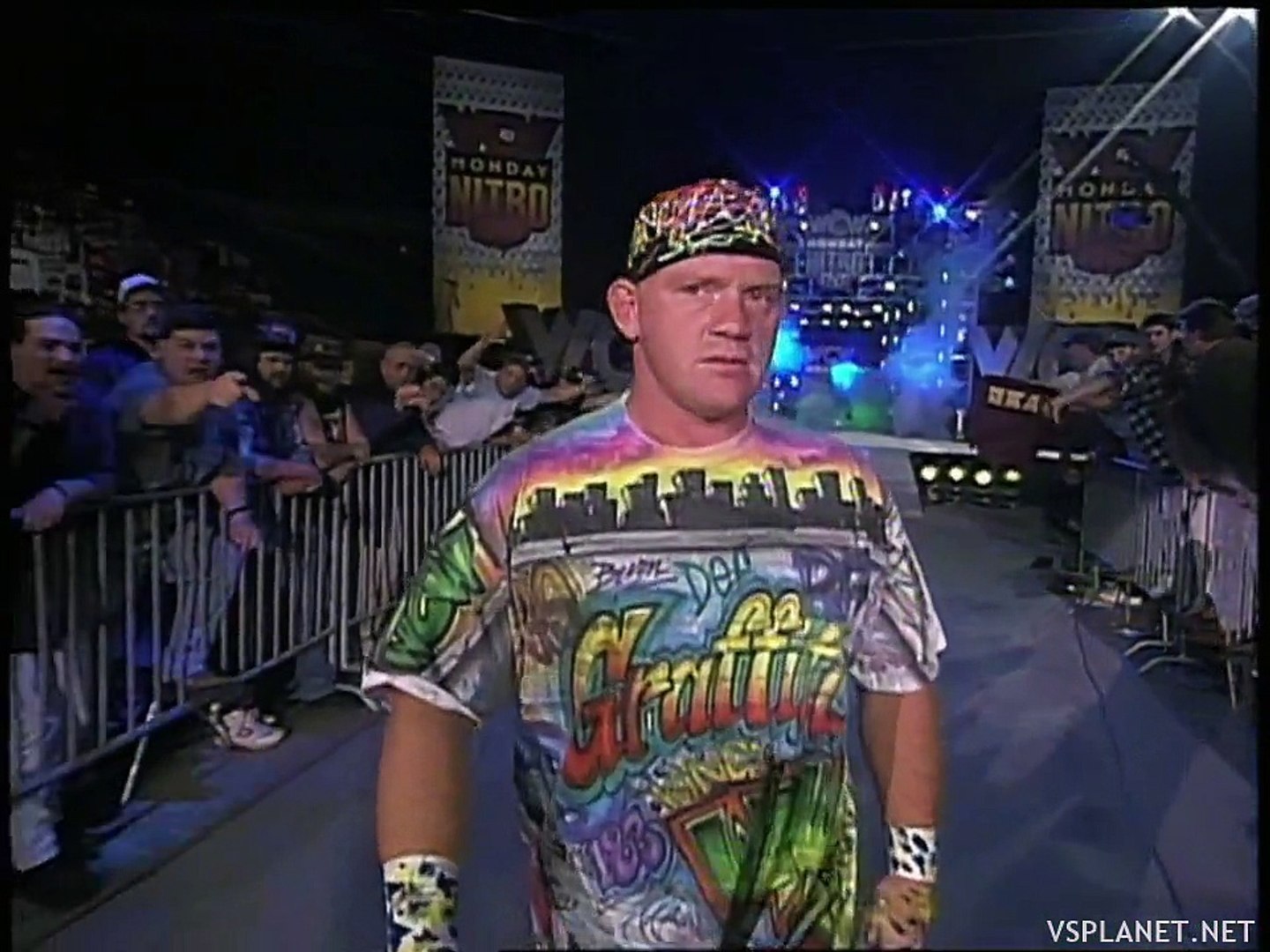 The legendary Jimmy Graffiti, the finest gimmick of "Gigolo" Jimmy Del Ray.
This week in the "Dream Matches", here's the most disappointing match between two all-time great workers possible! Plus Shawn Michaels trying to crawl up the WWF card in 1992 against the Texas Tornado! One of those matches only WCW could have, featuring Jimmy Del Ray as a rebellious young street tagger and Prince Nakamaki in a cheap Tiger Mask outfit! Oh, and New Japan legendary asshole Shinjiro Otani fights Jerry Lynn in his Luchadore/Power Rangers ripoff gear!
"MACHO MAN" RANDY SAVAGE vs. "STUNNING" STEVE AUSTIN (w/ Col. Robert Parker):
(WCW Saturday Night, 27.05.1995)
* Yes, an ultra-rare meeting between two of the greatest stars in the history of the business… passing like two ships in the night because Austin's about to get dumped. "Stunning Steve" has a terrible receding hairline, wispy blond hair, black trunks & leather jacket, and no goatee, while Savage is in full Mega Powers colors, but with Slim Jim décor on his cowboy outfit. The winner of the match will face the winner of Ric Flair & Alex Wright. And before you get too excited and search this out, the YouTube video is only 7 minutes long and half of it's pre-match bullshit.
Austin pokes the bear with a slap to start, and eats a back elbow and gets choked over the ropes for it. Austin goes to the eyes and brawls, but misses a flying splash (?!?) and Savage rams him into the Slim Jim post coverings (those don't look painful at all) and the guardrail, then finishes with the Flying Elbow in the ring at (2:19). Haha, jesus christ.
Rating: * (TWO MINUTES. That's all it got. Nice moves, as Austin was very smooth back in the day, but TWO MINUTES)
Continue reading

→