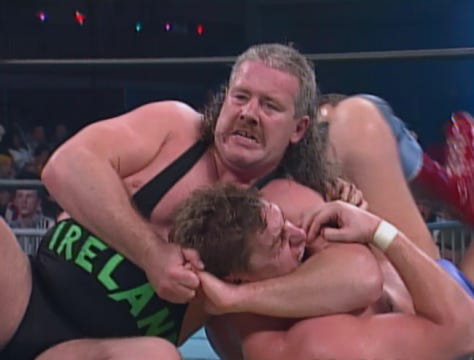 The "Two-Colored Mullet" look is really, uh, something.
Welcome back to more Dream Matches! And this time, I get to torture you all with the illustrious Cobra/Sgt. Craig Pittman feud! But first! A very odd one-off (considering they shared a company for years), as it's "Macho Man" Randy Savage vs. the future Fit Finlay- back when he was the mullet-wearing Belfast Bruiser! This was back when Macho Man was still a regular wrestler on Monday Nitro and not just doing promos and beatdowns.
Also a co-headliner of sorts as the Road Warriors take on the Powers of Pain in 1988, shortly before the Warriors' non-union Mexican equivalents bail for the WWF! And then it's the WWF Jobber hell-zone that is Skinner vs. "Pump It Up!" Jim Powers in 1992!
But yeah, this is also the time I take a look at Sgt. Craig Pittman, who interested me a bit from the Kurasawa match I reviewed weeks ago. And turns out he sucked! Really bad! Come see HOW bad as he gets to fill tons of TV time on the D-shows with the "CIA Agent" Cobra, aka Jeff "nWo Sting" Farmer!
"THE MACHO MAN" RANDY SAVAGE vs. THE BELFAST BRUISER:
(WCW Nitro, March 25th 1996)
* Yes, it's MACHO MAN vs. FIT FINLAY! But it's jobber-ish Bruiser with a brown mullet/buzzcut combo and a hideous mustache in addition to his goofy Mad Max one-shoulderpad leather jacket. They put over him using European uppercuts & smashing up Steven Regal's face and OH MY GOD Heenan namedrops that it made Steven Regal's face "look worse than Princess Di's car that she smashed up" which is a reference that now reads COMPLETELY different (it was some other car accident, don't worry!). Bruiser's in a black singlet with "Ireland" across the front. Macho Man's in white tights and is on the roids big-time.
Continue reading

→