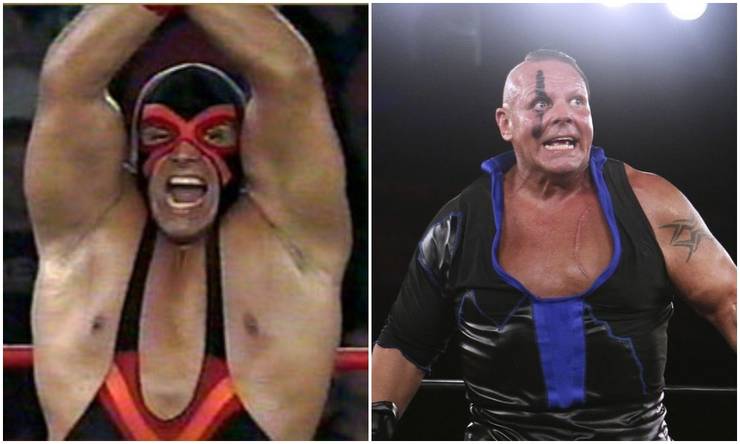 How many wrestlers bounced around this much without ever actually getting noticed? Carl Ouelett hit the WWF, WCW, TNA and more but largely peaked as "the Quebecer who wasn't Jacques Rougeau", y'know?
Prepare for another "Wait, that happened?" type of Dream Matches column, as I bring you not only the time Carl "Jean Pierre Lafitte/PCO" Oulett joined TNA's X Division for a couple months with his "Beamspam All the Power Moves" style, but two of the most infamous "Wait, wasn't that guy supposed to debut sometime?" examples in WWF history, as we get ultra-rare TV matches by both German bodybuilder Brakus (on RAW, no less!), and KEY, the coke-dealer identity of Vic Grimes when he was gonna be in the WWF until they changed their minds a week later. Yes, Key actually made a TV match!
Also we get a rare bit of crossover of eras in WCW, as the American Males take on Juventud Guerrera & Psychosis on WCW Saturday Night!
So yes, PCO was in the X Division for a short time as as quickie challenger, and he's here in a Battle Royal against Low Ki, Christopher Daniels, Chris Sabin, Sonjay Dutt, Johnny Storm & Chad Collyer!
All of these matches are available on YouTube.
X DIVISION TITLE SHOT BATTLE ROYAL:
(Winnter gets X Title shot; #2 vs. #5 & #3 vs. #4 next week for qualifying matches)
CHRISTOPHER DANIELS, LOW-KI, X, SHARK BOY, CHRIS SABIN, SONJAY DUTT, JOHNNY STORM & CHAD COLLYER:
(NWA TNA, Nov. 5th 2003)
* This is a run I always read about at the time, as a mysterious stocky guy runs in to TNA's X-Division, simply named "X", and got a bit of attention by reviewers right away for his "Beamspams all the big moves" style, and then is suddenly gone after two months. It's actually Carl Ouellet in a goofy "X" mask with a tiny black singlet with Tazz's tattoo on the crotch. The rest of the guys alternate between big "Super Workrate" stars (Ki, Daniels), mid-level guys (Sabin, one of those "would be more well-thought-of if there weren't five better workers in the company at the time" guys) and jobbers (Shark Boy, Storm, Collyer). I've never even heard of Storm, nor seen Collyer before. Everyone here but Shark Boy & Daniels is in black, lol. Oh, 2000s wrestling.
Continue reading

→