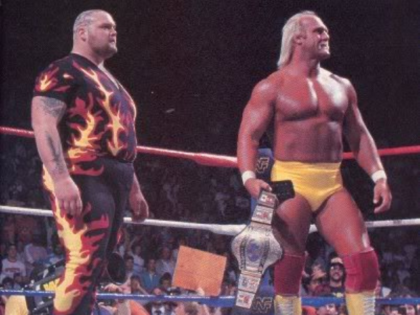 Bam Bam Bigelow had a LOT of potentially huge runs in him, but something about him rubbed a ton of high-level people in wrestling the wrong way.
Welcome back to more Dream Matches! This week I've found two bouts from a Madison Square Garden card before the Hogan/Andre match for the Title, as Hogan teams up with his newest buddy, Bam Bam Bigelow, against Ted DiBiase and VIRGIL in a rare in-ring appearance for the Million Dollar Man's bodyguard! Come watch a tour de force of heel selling by DiBiase, and just how jacked Virgil was in 1988. Following that it's "The Rock"… Don Muraco vs. The One Man Gang in a match that looks more like the Gang was angling for another push.
Then it's a bizarre request, as it's the Battle of the Forgotten 1992 JTTS Gimmicks, as "Terrific" Terry Taylor and Lance Cassidy (Steve Armstrong in a cowboy gimmick) battle it out and kill time in epic fashion! Then it's more of the Best of Well Dunn, as they actually make the spring of 1995, taking on the brand-new Blu Twins, Jacob & Eli!
HULK HOGAN & BAM BAM BIGELOW (w/ Oliver Humperdink) vs. "THE MILLION DOLLAR MAN" TED DIBIASE & VIRGIL (w/ Andre the Giant):
(WWF in MSG, Jan. 1988)
* The Million Dollar Corporation EXPLODES as DiBiase & Bam Bam face each other… four years before BBB became part of one of the worst stables of all time. Here, Bigelow is still a top-ranked "Hogan Buddy" before his own attitude and politics would jettison the thousands of $$$ he'd have made betraying his pal later in the year, and Hogan is still World Champion. At this point, Virgil was only barely trained and only occasionally wrestled on TV- here he's in long red tights and HOLY SHIT was he jacked in 1988. Like he maybe has the best physique in the company.
Continue reading

→