May 20th, 1991
Taped April 7th, 1991
Universal Studios Florida
Orlando, Florida
Commentators: Craig DeGeorge & Capt. Lou Albano

It's the last set of tapings at Universal Studios and I'm going to miss the Nickelodeon building.
Wet N' Wild vs Al Joeber & Big Bobby
Lou puts over Bobby being a legend in jeans because he's wearing street clothes and literally looks like he walked from the crowd and onto the apron. Meanwhile his tag partner Al has a red singlet with yellow legs which only highlights his stunning paleness so maybe Bobby had a point. Steve Ray gets a rough powerbomb (called a powerslam by both Lou & Craig, cheers lads) before Sunny Beach tags in and finishes with a top rope splash. Bobby didn't get tagged in & contributed absolutely nothing so I'm going to state factually that he was a fan who decided to enter the match until Rock Star Gary leaves a comment saying "no that's some ECW guy" in the comments.
Ask the Wrestlers feat. B. Brian Blair
Sadly the question isn't "when are you leaving?" but instead Blair is asked if he will ever team up with Brunzell so he's in the ring 50% less. Blair says "I'm not saying he's coming in but keep watching UWF!" So yes, he is coming in.
Malia Hosaka vs Luna Vachon (w/The Black Harts)
Malia is one of the few wrestlers in this company still wrestling to this day. "Luna should be hit with a 2×4 even though it wouldn't improve her looks." DeGeorge tries to highlight the Vachon wrestling family but Lou decides to interrupt it to pretend to speak French. And then Lou notices Malia is Oriental so starts discussing saké and that's enough Lou play-by-play. This is kept very basic with hair-pulls on the mat and dull struggles. Luna then shuts me up with a fancy back elbow off the top.
Malia lands a rough X-Pac style back kick before getting her leg pulled by one of the Black Harts and apparently the bump from falling over is enough to get pinned. In 1991, Vachon was not on.
Post-match, The Black Harts launch Malia out the ring like a bag of laundry and this brings out Wet 'n' Wild who treat The Black Harts the same way Ken Patera deals with policewomen.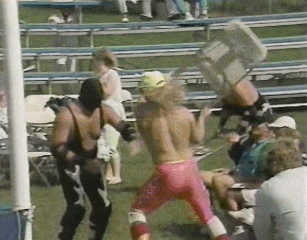 Oh and we follow that with more UWF TV Title Tournament results that totally happened on one of the many house shows happening across the world as this is airing. Dr. Death defeated Nikolai Volkoff "in a match that came to an abrupt end in three minutes." Nikolai hasn't even made his debut yet and he's already getting buried. At least he'll be prepared for his 1994 WWF run. Also Bam Bam Bigelow defeated Ivan Koloff, who is actually returning to the promotion soon and I wonder if they bothered telling him he lost.
The eight names in this very real tournament are:
Cactus Jack
B. Brian Blair
Steve Williams
Col. DeBeers
Don Muraco
Steve Ray
Terry Gordy
Bam Bam Bigelow
Only two Quarter Finals would air on TV for reasons we'll get to next week!
The Power Twins (w/John Tolos) vs Cpl. Kirschner & David Perry
Kirschner's last appearance before going to Japan and fighting the Yakuza and leaving the country every few months. He manages to deal with the Twins without falling over so he's already doing better than last week. Sadly he tags in Perry who takes a series of clotheslines, a Double Suplex and finally a Double Elbow for the quick loss. Getting pinned after two standing elbows? Dave should have stuck to Earthworm Jim.
Capt. Lou's Corner w/Malia Hosaka
Lou says he speaks fluent Japanese and does a bunch of noises and bowing because it was 1991. Sadly he doesn't finish by running a sword through his gut.
The Lynx vs Big V
Hey it's not-Battle Kat again. Lynx gets some nice mat wrestling with Big V on the mat and lands a Tiger Mask I style spinning heel pick takedown. Or "Panther Mask II" if we're going with Kat's style of rebranding. Lynx lands a monkey flip out the corner but V lands on his feet and connects with a clothesline. V scales the ropes and looks kind of impressive for a guy who looks like the friend your Dad rings when he needs to move the fridge, before flopping off the top rope with a messy headbutt. Lynx backdrops out of a piledriver as Lou rants about how good George Bush was during the Gulf War. Lynx goes for what is either a shite dropkick or a shite Frankensteiner but V declines to sell whatever it was legally defined as. Lynx follows with a clothesline so bad he has to hit it twice before V decides to sell, and then Lynx gets a Victory Roll to end this. I know Battle Kat was a cult favourite because he could backflip but everything else he did in the ring was sloppier than Darryl Stewart's posts about his work.
Paul Orndorff, Bam Bam Bigelow & B. Brian Blair vs Bob Orton, Boris Zhukov & Rusty Brooks
Nice, warm basic action to finally get a peep out of this poor sun-burnt crowd until Rusty Brooks tries to act big and hard in front of Orndorff. Paul dropkicks him and then Bigelow treats him even worse by effortlessly suplexing the huge mound. Blair plays alleged-face in peril as Zhukov and Orton get a whole tray of fake tags to annoy the other team. Bigelow gets the hot tag and again takes apart Brooks and follows it up by taking apart Zhukov too. Orton realises his team is crap and tries to start a brawl but Bigelow simply pins Zhukov after an enziguri (missed by the production team). There was nothing here that you hadn't seen a million times before but at least it worked and the crowd ate it all up.
Overall: And so we leave the field-in-front-of-the-Nickelodeon-building era with a PPV looming, no feuds or matches announced, fake results and Wet 'n' Wild giving Black Harts CTE. But on the positive note, Bruno's returning from his "four week SportschannelTV discussions" to give us the white noise we've been longing for. There's another set of tapings and then it'll be time for THE BEACH BRAWL!!!!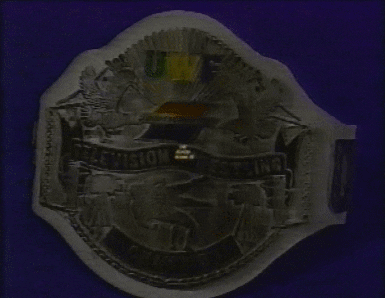 This week in Dave:
All indications are that Herb Abrams is going through with his plans for a 6/9 pay-per-view wrestling show. Since Abrams UWF has no television except for its show on the cable Sports Channel, he seems to be setting up a production which will make Verne Gagne's SuperClash card of 1988 look like a big success. At least the Gagne PPV show had hype from ESPN, and through decent-sized syndicated networks of both the AWA and USWA, and even so, it doesn't appear that anybody made any money off the show. Abrams was scheduled to announce the top matches at a press conference today in Florida. The card, which is to be held at the 3,500-seat Manatee Civic Center in Palmetto, FL, called "Brawl at the Beach," will be headlined by Steve Williams vs. Bam Bam Bigelow in what is being billed as the finals of the Sports Channel UWF television title tournament. The co-feature, which is at least intriguing in a perverse way, has the return of Bob Backlund, making his first U.S. appearance in more than five years, facing Ivan Koloff. The two shot two angles this past Friday night at the UWF's television tapings at the Pennsylvania Hotel in New York. Other matches expected to be announced are Rockin Robin vs. Candi Divine for the newly-created UWF women's title, The Power Twins vs. Steve Ray and a mystery partner (possibly to create a UWF tag team title) plus names like The Black Hearts, Terry Gordy, Brian Blair, Boris Zhukov, Paul Orndorff, Col. DeBeers and others. Gordy and Williams will be finishing their Japan tour on 6/8 and having to fly straight in to make the card. Tickets for the live show are $50, $25 and $10, which means one has to figure the live show will have to be heavily padded or it'll be held in an empty arena.
On that exciting note, I've been Maffew and this has been an Abrams Aproduction.