April 22nd, 1991
Taped March 10th, 1991
Hotel Pennsylvania
New York, New York
Commentators: Craig DeGeorge & Bruno Sammartino
We get a recap of last week's blatant non-finish which sets up our main event tonight. Muraco says of course he had to get involved, just like how George Bush got involved in Iraq. 1991 yay!! 2003 booo.
By the way, the intro still features Billy Jack Haynes, Ivan Koloff, Ludvig Borga & Nikita Koloff despite all of them having left months ago. I don't think Herb ever changed the intro and his house probably still has Jacob Marley's name on the side.
Cpl. Chris Michaels vs Cactus Jack (w/John Tolos)
Wait we're STILL at the Penta Hotel? Christ it was easier to escape Colditz. Michaels has the same patriot gear as last time (fatigues, flag, mullet) with the same amount of reaction as last time (none). Fans are actively bowing Cactus at this point which is nice but then they sit down and you can see the empty chairs. There weren't many of those on camera a few months ago. Michaels jumps off the top rope and into a Cactus clothesline and the crowd rejoices at the recoil. Cactus drags Michaels outside and chokes him with a coat before landing a Side Russian Leg Sweep for….two? Well Michaels forgot to kick out but luckily the ref "forgot" allowing Cactus to send Private Pyle Of Shit to the outside and follow with a Cactus Elbow for the Count Out Victory.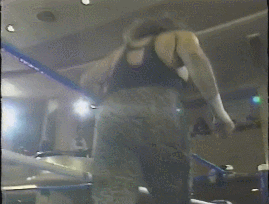 Cactus was already above UWF but he remained loyal to Herb and we love him for it.
The Power Twins vs S.D. Jones & Johnny B. Goode
The Power Twins bother Herb at ringside and Bruno actually gets a zinger as he wonders if he paid for it. Even Bruno's getting bored of him, and it turns out this would be his last commentary appearance until August so maybe he needed a break. Johnny B. Goode is not Mero but that's the actual S.D. Jones. Oh man how great what a knock-off S.D. Jones be? Retail Ground Jones out here. This match is a knock-off of a tag match so I may as well amuse myself. God knows the limited fans in attendance are doing the same, singing "Go Johnny Go" ironically as Johhny B. takes some terrible bumps. Twins can't be bothered and finish with a double suplex rather than their usual double team. Sorry You Were Out Jones is annoyed as he claims he only lost because he wasn't tagged in and demands The Power Twins get back here. They exchange insults but the commentators talk over every word so you can barely hear them but eventually Mr. Haiti offers to be Your Parcel Is In The Bin Jones' tag partner. Power Twins go "OK!" then leave.
Capt. Lou's Corner w/S.D. Jones
Lou Albano hypes up Jones but his new name must be Return To Sender Jones as we never see him in UWF again so I'll spare you. If the rumours are true, I'm sure the wrestlers missed Mr. Haiti.
Bam Bam Bigelow vs Afa (w/Samu)
Bam Bam's debut! Given the size of the crowd I'm hoping he's making like Williams & Gordy and treating this as a paid holiday in between NJPW tours. Afa mauls Bigelow to begin and yells a lot. Crowd appreciates that as they can repeat his "OOOO" because this crowd is just begging for something to entertain them. Bam Bam avalanches Afa but attempts to double noggin knocker an interfering Samu for the ring bell. Or maybe it was the noise of their heads colliding as they no-sell it BECAUSE THEY'RE SAMOAN so Bam Bam DDTs the pair and they uhhh sell. I'm not so sure I 100% agree with your wrestling logic there, 'Low. Bam Bam threatens them with a chair before leaving after an epic two minutes. I love Bammer so let's be nice and move on.
The Cheetah Kid vs The Beast
Ted Petty/Rocco Rock's debut! He immediately impresses with a beautifully rough looking moonsault off the apron and to the outside. Bruno has no fucking clue what to even call it as the inside of his brain must sound like a Big Black gig after witnessing it. Cheetah takes Beast down with a headscissors and Beast has to stop as it nearly rips his mask off. Kid flies around with some armdrags before using the ropes to escape an armbar before taking out Beast with a rolling swanton off the apron. This carries on a bit longer than it needs to as the crowd gets restless but Cheetah lands the top rope swanton (the future Drive-By) to end it and despite the roughness, Cheetah Kid definitely Rock'd.
Don Muraco vs Terry Gordy
Well at the very least this match makes sense because of the finish of the Cage Match, which is something you don't usually get from this show. Don has his working boots on and pounds away on Gordy with passion. However Gordy almost immediately stops a charge to land a Piledriver so we can slow it waayyyyy down to a comfortable Muraco Speed. Don blocks another Piledriver only to land his crappy Tombstone before Steve Williams runs in for the DQ. The Miracle Violence Connection land an assisted Oklahoma Stampede to build heat for that Muraco & Orndorff vs. Williams & Gordy match that never happened. Moderately exciting two minutes.
Overall: Wait so you're telling me that not only are we still getting non-finishes but the matches aren't going longer than two minutes? And there's 50% of the crowd there was at the last set of tapings? It must be the work of Herb's arch-nemesis Vince McMahon! No wonder he signed Cheetah Kid eight years later.
Anyway this was a really rough week of stuff as Herb's more focused on the upcoming Orlando tapings than focusing on silly things like "booking", here's some Meltzer to take us home:
Herb Abrams ran two shows over the weekend in Ft. Lauderdale and a television taping in Orlando. The former was said to be okay and the latter said to be horrible. Ft. Lauderdale drew 416 as The Black Hearts beat Blaze Bigelow (Mike Taylor, who really is a relative of Bam Bam Bigelow) & Dusty Wolf (who drove in from Texas to do two jobs) **, Brian Blair beat Col. De Beers via DQ ** (DeBeers injured his eye legit during the match and missed TV the next day), Luna Vachon beat Malia Hosaka, The Myth (Garland Donnoho–a huge muscular guy who was part of the original Power Team USA with Sting & Ultimate Warrior) pinned Death Row 3260 -* (Myth is so big he made Death Row look small), Dave Perry beat Rusty Brooks via DQ when DeBeers interfered. DUD, Corporal Mike Kirchner pinned Boris Zhukov DUD, The Myth & Steve Ray beat Power Twins via DQ and after the match The Black Hearts made the save for the faces * and Bam Bam Bigelow pinned Bob Orton * (not horrible, but neither tried that hard). No-shows included Norman Smiley (his fault due to a misunderstanding) and Barry Horowitz. . . . 4/7 in Orlando drew between 50 and 60 paid, although they then let people in free and got about 250 in the building. Bruno Sammartino missed the taping and he kept trying to contact Herb Abrams in the days before the show and wasn't called back so he didn't go, so Lou Albano did the TV with Craig DeGeorge. Show was basically called a disaster. Among those put over were Blair, Black Hearts, Bigelow, Zhukov, Power Twins, Paul Orndorff, Bob Orton with John Tolos, Kirchner, etc. In a Black Hearts win, Luna Vachon and John Tolos at ringside managed to get the most heat on the show. Best match was Melia Hosaka beating Penelopie Paradise **1/2, other non squashes saw Power Twins beat Steve Ray in a handicap match when Sonny Beach interfered for DQ -**, Kirchner pinned Zhukov DUD, Bigelow beat Orton via DQ *1/2 (Orton wouldn't do the job in front of cameras), Luna pinned Hosaka 1/2* and Orndorff & Blair & Bigelow beat Orton & Rusty Brooks & Zhukov *. The flier for the 6/9 PPV show listed a TV title tournament with Orndorff, Steve Williams, Bigelow, Cactus Jack, Beach, Ray, Blair, Orton, Don Muraco and Terry Gordy. Abrams was claiming that Vince McMahon tried to keep his show off PPV but he managed to strike a deal with Request TV to distribute it. The thing is, if Vince had succeeded, he'd have been doing Abrams a favor.
Ah I guess that explains the Bruno thing. Thanks Dave!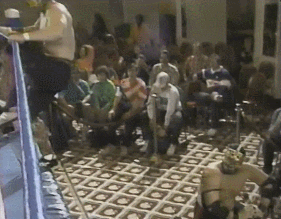 I've been Maffew.