December 17th, 1990
Taped December 6th, 1990
Reseda Country Club
Reseda, California
Commentators: Craig DeGeorge & Bruno Sammartino

Col. DeBeers opens the show saying his racist actions are OK because they give people like Jesse Jackson jobs.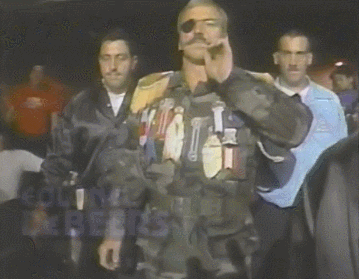 I've missed this show.
Craig DeGeorge makes his commentating debut, looking like PSX cut-scene Eric Bischoff.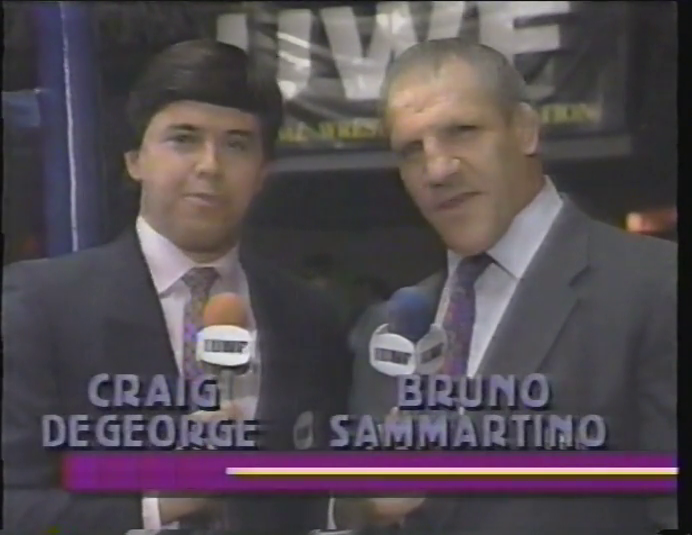 Him and Bruno speculate on who DeBeers' mystery opponent is tonight. If Herb is coke then DeGeorge is lemsip.
Oh a correction from last week: we're still building to next Wednesday's Rumble In The Big Apple set of New York tapings, the best thing to happen to the city since Bernhard Goetz.
Ivan Koloff vs. Matt Starr
Starr's last appearance. It's OK because he's a big sack and I hear there's plenty of work for them during December. Ivan sticks to nicely-done simple moves to the non-appreciation of the crowd. DeGeorge is doing his best to put over Koloff, plus the crowd's so quiet you can actually hear him, unlike Bruno who is often drowned out by VHS buzz. Koloff finishes with the Sickle off the top and then whips Starr with his chain afterwards.
Post-match, Herb has relegated himself to interviewing wrestlers at ringside and asks why Ivan is so mad and if he can borrow his card.
A sweaty Steve Williams explains why he attacked Paul Orndorff last time. Oh wait no he doesn't, but he is sick of people asking him about it. We get replays of Williams slamming the chair over Paul but even Herb knows enough to remove the clip of the ref going after Steve for real-real.
Don Muraco vs. The Intern
The Rock's debut. The Intern is a masked Johnny Rich/Roy Rogers, a jobber since the 70s. Not much to the match but the crowd enjoy Don's multiple slams on the chubby oldster. Don gives half a damn before finishing with a Tombstone. Highlight was Don patting The Intern's belly post-match.
Don explains to Herb he's here in UWF for one reason and one reason only: to work off his gut.
B. Brian Blair vs. Riki Ataki
Oh great, Blair will definitely turn this show around. We get a reminder that Bob Orton headbutted his valet Honey a while ago, so Blair tries saying something emotional and is immediately cut off by fans yelling SHADDUP YOU BUM. Honey's concussed so she won't be here but if you want to keep sending in cards she'll appreciate it and heal faster. Crowd is so moved by Blair's words that they cheer Riki's sneak attack. Riki gets a long camel clutch after a thrilling thirty seconds of action but at least it gets the crowd cheering for Blair's comeback. Blair lands his stupid fucking Buzzer elbow off the second rope and looks to finish with the Scorpion but Bob Orton's here to finish the job. Blair sees him coming and halts his attack but Tolos knacks him from behind and Blair gets double-teamed TO CHEERS. Again. Lou Albano has to make the save with Blair's stun-gun and Blair continues to be one of the worst faces I've ever seen.
Capt. Lou's Corner w/Steve Ray
Steve realises the best way to deal with Lou is to yell louder than him. Well done. Nothing is said.
The Box Office w/Herb Abrams & Bruno Sammartino
Herb runs down some of the signed matches for UWF Rumble In The Big Apple on January 9th!
AWA Champion Larry Zybysko vs. David Sammartino (didn't happen)
B. Brian Blair vs. Bob Orton (did happen)
Greg Valentine vs. Don Muraco (didn't happen)
Ask the Wrestlers feat. Nikita Koloff
Someone asks Nikita how he feels about Uncle Ivan thinking he betrayed the Soviet union. Oh wait, Nikita left for NWA a month ago so they have Ivan "intercept" the message like Aldrich Ames and tells the fan to mind his own business, stupid American.
Steve Ray vs. The Blue Knight
Steve grabs a kid from the crowd and yells a lot and the fans seem to love the idiot. DeGeorge speculates The Blue Knight can't see out of his mask and asks Bruno if he's ever wrestled someone who couldn't see and even Bruno is at a loss for words. Steve is all energy and splashes Blue in the corner before following up with an armdrag which needed to be seen to be believed.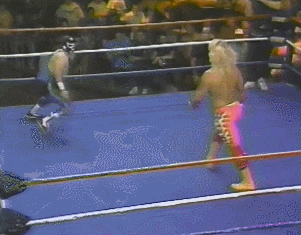 DeGeorge is still harping on about Blue's potential inability to see anything. Well it didn't affect Steve Ray when he was at wrestling school. Some more terrible armdrags follow until Steve gets hit in his throat. Luckily he's too thick to understand breathing and makes a comeback before ending him with a meaty powerbomb. Steve wasn't good but he brought a ton of YEAHHH energy to a show that really needed it.
Col. DeBeers vs. A Mystery Opponent
And it's Louie Spicolli. Bruno really makes the moment special by wondering why they bothered calling him a mystery man when we all know who he is. Crowd assault Louie with "Cutie Pie" chants but cheer when he bounces DeBeers off the corner pads. Better a Cutie Pie than a Racist Sandwich. DeBeers does his best to move as little as possible while Louie bumps for fifteen men.
While all this is happening, the black referee is still being impartial despite DeBeers attacking him twice, thus making him the Brian Blair of refs. DeBeers lands his State Of Emergency DDT to end it but carries on attacking after the match which is enough for the referee to put his hands on DeBeers but before anything can happen, Iceman King Parsons makes his UWF debut to absolutely no reaction and a "It's Christian" like response from DeGeorge. DeBeers avoids the arse and buggers off to end the show.
So naturally next week it's…Parsons vs. Spiccoli. Huh.
Overall: A surprisingly dull episode for such a drama-filled company. Sadly there's another show next week from this set of tapings and THEN we're moving onto the good stuff.
I've been Maffew.