November 19th, 1990
Taped November 8th, 1990
Reseda Country Club
Reseda, California
Commentators: Herb Abrams & Bruno Sammartino

But first, here's a reposting of Scott Keith's WON reposting:
Speaking of Herb, the WAR OF THE TITANS is heating up between Abrams and McMahon, as Herb advertised Rick Rude as appearing for his upcoming tapings despite Titan making it clear that he was still under contract. Rude of course didn't show up, but it still prompted Vince to send a zillion legal threats to the UWF, including banning them from referring to ex-WWF wrestlers by their former gimmick names or even referring to their WWF careers in the past.
There wasn't any mention of him on previous broadcasts so I'm assuming there were posters around Reseda advertising Rick Rude vs. Bruiser Brody. And they could still only draw 125 fans.
Wild Thing Steve Ray vs. Riki Ataki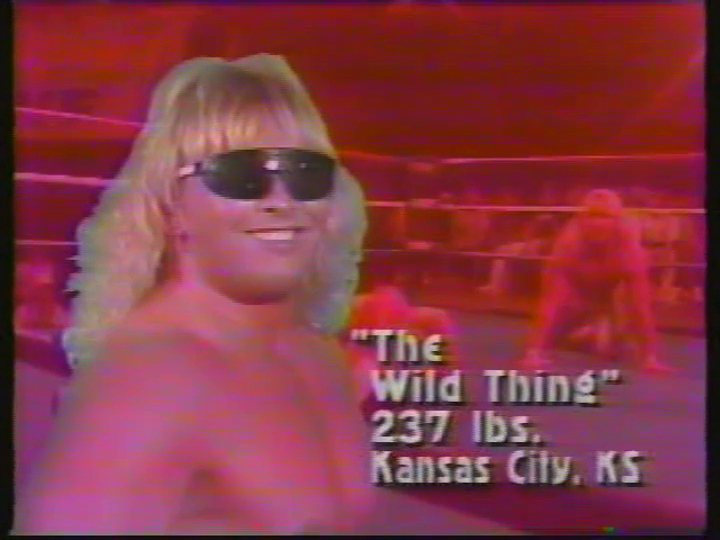 The debut of one of the very few up-and-comers who made the most out of their time in UWF, Steve Ray who would stay with the company all the way until the bitter end. He's infamous for being involved in an in-ring incident with Steve Williams but we'll get to that later. Herb does his best to put over Steve despite there not being much about him, just "his experience in local promotions" and "his tan." Herb spent his life attempting super moves with empty meters. Riki spends the match stalling and begging off, annoying the fans into cheering for Steve. Ray hits a few tight clotheslines before an awkward backdrop. Ray redeems himself by nailing Riki with a top rope clothesline to the outside and finishing with a powerslam.
Winner: Wild Thing Steve Ray (Unspectacular start for an unspectacular wrestler.)
We get a recap of DeBeers beating up the referee last week for having the nerve to be black around DeBeers. Herb then says because Commissioner Ross (who was shown once and did nothing) failed to punish DeBeers, the Commissioner has been fired. Huh. Be careful Herb, that didn't work well for Nixon when he had issues with Cox. And after all that, there's still no punishment for DeBeers. No clue what the Commissioner stuff was about, think Herb blew through that storyline like it was baby powder.
Bob Orton Jr. (w/John Tolos) vs Kevin Benjamin
Kevin Benjamin is put together well but he's wearing neon green tights so I'm glad he doesn't have a cagematch profile. Tolos aligned himself with Orton last week so he's joined the stable with Spivey. Oh wait, a quick checks reveals Spivey left a few weeks ago for a tour of AJPW and won't be seen again until Blackjack Brawl in 1994. Well shit, he's still associated with the company decades later so I assumed he had a much longer run than that. Glad that Blair feud resolved before he left OH WAIT. Orton keeps Benjamin grounded for a few minutes and shows off his armbar skills before delivering a mighty butterfly suplex. Following a Slingshot suplex to wake up the crowd, a Superplex ends a complete squash for The Cowboy.
Steve Williams vs. Stephen DeLeon
Oh here we go, a bit of Dr. Death to keep us going. Stephen gets ragdolled around the place, eating a belly-to-back suplex like he's wrestling on the moon. DeLeon tries to punch away but Williams doesn't even bother to block and just laughs in his face. Steve knocks the guy's head off before squishing him with a double-corner Oklahoma Stampede. A fan with a mask tries to get in the ring but no-one is sure if it's part of the show or not and we all move on because there has to be something weird happening in every segment of this show.
Capt. Lou's Corner w/Andre the Giant
Hey it's Andre's second appearance! Right before WWF immediately re-hired him for that important role of walking around on crutches and wrestling uhhh *googles* three matches. Lou produces a John Studd action figure so Andre can snap it in half and declare himself the only true giant in wrestling.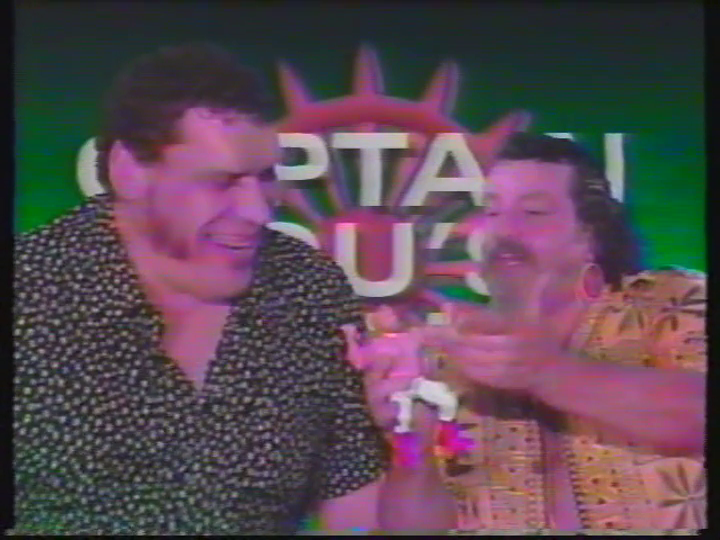 Studd wouldn't appear in UWF either but at this point I wouldn't put it past Herb to start teasing Ray Stevens next week too.
Paul Orndorff vs. Spitball Patterson
Spitball begs off and complains of hair pulls. I like to think all the jobbers watched Louie Spicolli last week and went "oh! we should all be hamming it up!" Spitball is too unimpressively big for anything interesting to type up so let's skip to the bit where Paul finishes with the always pretty piledriver.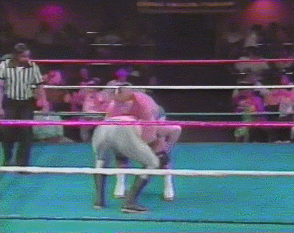 Immediately afterwards, Steve Williams tries to land the Oklahoma Stampede on Paul but he sneaks out and the two brawl on the outside before Steve knocks him down with a chair. Then while Paul is trying to blade in peace so he can crawl up and look dramatic, one of the referees comes out and refuses to sell for Steve and seems intent on attempting to take him down for real.
Herb Abram's UWF Fury Hour 11/19/90

Steve Williams attacks Paul Orndorff so the referee tries to stop him…by deciding to ignore his chair-shots and trying to take down a man with the nick-name "Dr. Death" pic.twitter.com/cJyAI0Dgaf

— forever tired (@Maffewgregg) August 14, 2021
From the Observer:
Also at the tapings, Steve Williams got into a weird altercation with the referee, as he was throwing jobbers around after a squash and hit the ref, who completely no-sold it. So Doc kicked him and hit him with a chair to no effect, and the ref actually took him down in a shoot until Doc kicked him in the face to make him sell. And then they fought AGAIN in the dressing room, with the ref screaming at him to fight and they brawled until other guys broke it up.
"Him" being "Doctor Fucking Death."
Lou Albano asks Steve why he attacked Paul and that's all Steve needs right now. The result is an awful promo where Steve says he took issue with Paul claiming he has a better piledriver than him before saying his Oklahoma Stampede is a better Piledriver, so he attacked him from behind because Steve attacks people from the front. Uh huh.
Paul is shown bleeding backstage and the single camera subtle approach is surprisingly effective. Paul calmly tells Herb that no-one does this to him…not even Steve Williams.
Nikita Koloff vs. Ken Patera
Patera's last match for UWF, phew. Bruno keeps on trying to put over how strong he looks but it's 1990 Patera, he looks like he'd struggle throwing a pebble at a McDonalds window. Sadly it's also Koloff's last UWF match as he'd shave his head and grab a few Altered Beast power ups for his last run in WCW. Bruno is amused by a fan yelling "PATERA YOU PUNK" loudly at the start because no-one else is making any noise. Patera gets knocked on his rice pudding arse so the crowds take the opportunity to chant "JAILBIRD" one last time. Patera treats them to a thrilling test of strength wrist-grab for a few minutes. Nothing happens for a while before Patera lands a decent clothesline in the corner with effort. That's enough of that so both men exchange choke holds. So as this match threatens to be lapped by the movement of the tectonic plates, Herb informs us this match will be concluded next week. I can't fucking wait.
Also Larry Zybysko was supposed to make his debut but I guess Steve Williams vs. The Ref over-ran.
Overall: An absolute madhouse of a wrestling promotion with everything falling apart every show (and segment) and yet there's still time to squeeze in some sweet squash matches while we're at it.
Thanks for reading, I've been Maffew.