Sorry to break the ECW/NXT streak but I have no absolutely no desire to watch any more Heel Michael Cole and/or Matt Striker. If I'm going to sit down and watch bad wrestling, I want it to be at least fun bad wrestling.
I started writing about Herb's cocaine-fuelled company a few years ago for my own site but The Great Crapping appears to have wiped the six type-ups I did so ah what the hell, let's start again.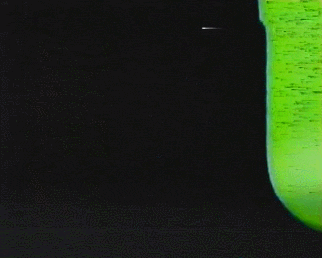 One of the best facts the Dark Side Of The Ring episode left out was Herb used the name "UWF" simply because Bill Watts' neglected to trademark it, presumably because The Cowboy didn't anticipate a promoter with a heartbeat like Dave Lombardo's drumming using the same initials years later.
You can't start typing about Herb without bringing up Meltzer but sadly the 1990 issues aren't on WON Newsletter Archive. Luckily our very own Scott Keith typed up all those issues a while ago so let's copy paste his summaries!
08/20/90
The IWA promotion is getting dumped from Sports Channel in September, being replaced by …

…wait for it…

…wait for it…

…Herb Abrams' new Universal Wrestling Federation. Herb is claiming to have contracts with Terry Funk, Ricky Steamboat and John Studd, all of whom have already denied everything. Herb is supposedly bringing Dan Spivey and Brian Blair to his first press conference, but both of those guys deny they're going to be there. In fact, Spivey wants back into the NWA again. And Herb hasn't even produced so much as a demo tape for the TV station to see. But, Dave notes, that's wrestling for ya.
08/27/90
Details should be emerging soon about the new promotions about to hit the US, with Herb Abrams launching the new UWF with a press conference on Saturday, and Joe Pedicino about to announce his new group that's financed by Nigerian investors. (That doesn't sound shady at all.)
09/03/90
Herb Abrams held his press conference for the new UWF, and Dan Spivey indeed did show up to do an angle with Brian Blair while Abrams did a third-rate Mean Gene impression. Herb is claiming that Blackjack Mulligan will be the booker (you know, once he's out of jail) and that he's got Williams & Gordy signed to three year contracts and that Mike Rotunda and Sid will be coming in shortly. Although Dave would love more competition in wrestling, he's kind of sceptical about this one. (Oh, he'd get more sceptical) Abrams is making all kinds of claims about touring and doing PPV, but Dave thinks that it's only going to burn Sports Channel America on wrestling in general and the next time some money mark comes to them with a show idea, they'll just tell them to get lost.
Herb used John Arezzi's Wrestling Fans Fantasy Weekend to hold the press conference but also to recruit talent….despite none of the wrestlers knowing what Herb actually did. This is also the press conference that Herb announced he was interesting in working with Bruiser Brody, who wasn't dead and simply on vacation. The fact that Herb said that in front of wrestlers and was still able to get them to work for him speaks volumes on his Ed Wood-esque charm.
09/17/90
The new and improved UWF does the first TV taping on 9/13 with a host of talent who may or may not appear.
09/24/90
The UWF was supposed to have their debut show in Anaheim last week, and it never happened. Basically the owner of the building decided that he didn't want a TV show taped in his theater, let alone a wrestling show, and pulled the plug on them. Both Herb and Bruno Sammartino were blaming Vince McMahon for this twist, but Dave doesn't feel like Vince would give enough shits to even bother. They announced a rescheduled date of the next night, and then that show didn't happen, either. The next date appears to be 09/25 in Reseda, so we'll see if that happens. Herb was claiming an advance of 1000 tickets, but only about 30 people actually showed up the night of the taping. On the bright side, all the guys who were booked actually did show up. They have a second taping announced for 10/4, but they haven't announced where it's actually taking place. Despite the fiasco, all the wrestlers were paid. (So they're still one up on TNA.)
10/01/90
OK, so the mystery of the UWF taping that wasn't continues! As a reminder, the show was mysteriously cancelled an hour before the alleged showtime, with the whole crew of wrestlers there ready to perform. Current conspiracy theories about the cancellation:

1. The building manager booked the date for the UWF, but the actual owner of the theater didn't want wrestling in his building and refused to allow it.

B. Due to a zoning technicality, namely that the building is zoned for entertainment and not sports, they couldn't get a permit from Anaheim.

3. Herb Abrams failed to get the proper permit to hold a TV taping in the building.

So someone from the local newspapers actually asked the building manager about theory #1, and he had no idea why the show was cancelled and had never heard anything from the owner about it. Then the district attorney for the city was interviewed and he also had never heard about issues with permits or zoning, and in fact it turns out that Herb Abrams himself cancelled the show at the last minute with no pressure from anyone outside. (Amazingly, this group started in the basement and kept finding lower levels on the elevator.)
Well I'm already having fun, let's get furious!
Herb Abram's UWF Fury Hour #1
October 1st, 1990
Taped September 24th, 1990
Reseda Country Club
Reseda, California
Commentators: Herb Abrams & Bruno Sammartino
Herb lets us know there's electricity in the air. Did he sneeze? As legendary a wrestler Bruno is, if you replaced his commentary with the sound of the teachers from Peanuts, I'd doubt anyone would notice.
"Dr. Death" Steve Williams vs. Davey Meltzer
Dr. Death is here in between tours of Japan where he was splitting his time between both NJPW and AJPW. I thought you had to pick and choose between the two but I guess you can do what the fuck you like when you've got a Doctorate in being dead. Maybe he's Brody's UWF connection. Anyway, Herb was so thrilled with the Observer's wonderful reports about cancelling his own set of tapings that the first ever match for the company sees Williams destroy a chubby, permed, mulleted jobber named Davey Meltzer. Williams presses him over his head to the joy of the crowd before finishing him with the Oklahoma Stampede. Post-match, Steve writes on some "sheets" before shoving them into Davey's mouth before getting ready to drop some "dirt" before we cut away. The editor must have been a Torch guy.
Winner: Dr. Death (Alienating your fans to spite the sheets. I love Herb.)
The Unpredictable Cactus Jack vs. David Sammartino
Mick Foley is still deeply appreciative of his time with Herb, in the VICE documentary he compared his previous runs in companies like WCW to "working with hand-cuffs on" compared to the freedom Herb allowed him. David is coming off a tour in AJPW teaming with Joe Malenko. Did they do six-man-tags with Andrew Ridgeley?
We get a video-in-video of Cactus declaring he'd "rather hurt a man than love a woman." Cactus tries to cheat immediately by using the ropes for a Dirty Pin and gets mad when David has the nerve to kick out, and gets slapped for his trouble. Bruno loves Cactus getting slapped more than he loves David. Cactus gets a standing Hammerlock until David counters and works Cactus' arm for a while so we can settle in and appreciate Herb's all-energy, no-idea commentary. Cactus misses a charge in the corner but still goes after David which causes Bruno's voice to break with excitement. These young punks, no-selling armbars! Cactus bites David and launches him outside for an attempted count-out victory but we have to stay tuned after these messages!
And those messages are in fact green screen interviews with Steve Williams and David Sammartino talking about how great the UWF is because there's no feuds yet.
When we return, Cactus suplexes David into the ring and chinlocks him. Cactus is working heel but the crowd appreciates his energy more than David so it's not effective. Bruno mentions David's not as strong as he once was, which I heard as "well he's not in WWF anymore so he's not on the roids!" He's still water-retained enough to power up and drop Cactus with an Electric Chair Drop. Jack doesn't care and sends both men outside with the Cactus Clothesline.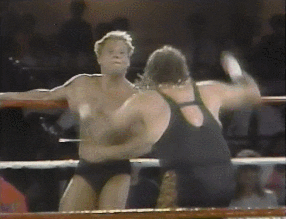 "This maniac!! He landed harder than David did!!" Cactus attempts a suplex on the concrete but David reverses it and Cactus splats…and gets back in the ring while Bruno reacts like he's hearing Pink Floyd for the first time. No-one pops for David's comeback but erupts when Cactus lands a spinning neckbreaker. "This guy, I tell ya!" Cactus slugs away on David but gets sick of the ref telling him to break it up and headbutts the ref to get DQ'd as the overdubbing can't deal with the boos.
Winner via DQ: David Sammartino (I'm a sucker for early Cactus and it was great listening to Bruno lose his mind. David was there.)
Billy Jack Haynes vs. Spitball Patterson
Spitball is long-time jobber Tim Patterson and Billy Jack Haynes is fucking insane crazy person Billy Jack Haynes. BJ boringly armbars Tim until he gets a clean break and shoulderblocks Haynes in the corner until spit flies out of his mouth to Herbs' delight. Spitball takes the Bret Bump into the corner which sets up BJ's lovely German Suplex and eventual Full Nelson boring finish. BJ continues to be someone I'm told was good somewhere once.
We get clips of the press conference months earlier with B. Brian Blair telling Dan Spivey that he hasn't seen him be nasty without Sid Vicious next to him as the fans go "ooooooo!!" Spivey doesn't reply with "Yeah, ask Adrian Adonis." Actually he could ask Adonis, he's booked next week. Spivey pours a jug of water over Blair before throwing smashing him against the wall. I bet that stung.
Capt. Lou's Corner
Here's the first of many segments involving Lou interviewing wrestlers and talking more than them. B. Brian Blair shows up to explain he was being a gentleman and Spivey had to be a dick about things. Ehhh the clip they showed says otherwise mate. Blair buzzes because we all like bees.
Col. DeBeers vs. Michael Allen
Oh goodie, Col. DeBeers. He's jumped ship while the AWA is pretending everything is OK after those pink room shows. He has an interestingly plodding way of moving around and bumping, until I realised he's doing that because he's forty-five years old. And that's a 1990 forty-five year old too. He pins Michael "No Cagematch Profile Needed" Allen after a DDT.
"Mr. Wonderful" Paul Orndorff vs. Riki Ataki
Orndorff is coming off a brief NWA run and the fans love him. Ataki is a super jobber and Paul wastes no time pasting him around the ring and teasing the piledriver. He's so fired up we get a dropkick and an elbow off the top before he annihilates Riki with the piledriver after 2:57. Herb yells "Wow, no pun intended but he Pearl Harbour'd him!"
Post-match, Dr. Death gets in Paul's face and promises violence before…sodding off. Bruno is disgusted.
"The Killer Bee" B. Brian Blair vs "Dangerous" Dan Spivey
Despite Blair's interview earlier, crowd are cheering for Spivey and his insane Cole Twins mullet.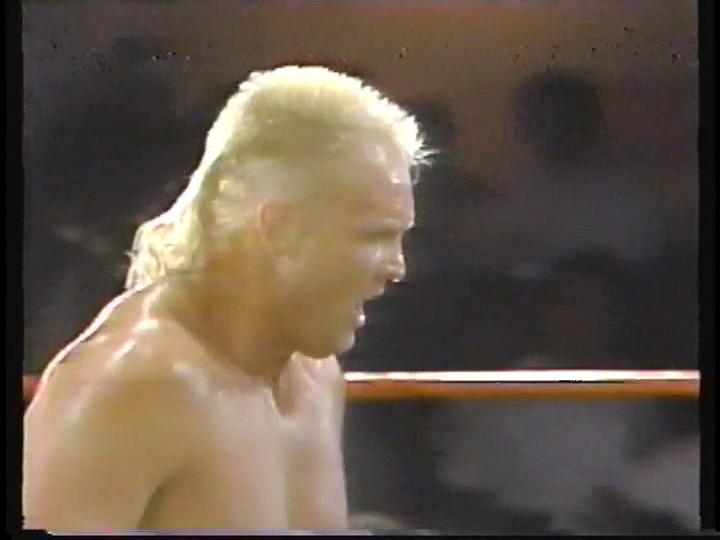 Spivey big boots the big bee and tries choking him across the ropes for boos. It doesn't work because he's too cool & crazy looking. Spivey batters him about until Blair backdrops out of a Powerbomb and celebrates by getting beat up some more. Blair tries but no-one likes bees and eventually both men brawl outside for the double count out. Blair was simply too plain compared to the crazy-eyed mullet for this to work. Hell, the locker room comes out to separate the two after the decision and Spivey responds by decking people while Blair just stands there taking it.
Herb & Bruno threaten tease us with DeBeers vs. Billy Jack next week and we're done.
Overall: The show is nothing remarkable but knowing all the craziness behind it somehow turns this joke into something you can laugh with rather than laugh at. Dirt sheets, early Cactus Jack, Steve Williams & Paul Orndorff still kicking arse…yeah I'll see you next week for more.
I've been Maffew.