It's the first episode of Season Three: The One With The Women Divas. This was definitely not part of my viewing schedule in 2010 as I'd stop watching somewhere around Season One (but watched Season Two's Finale after people told me how bad it was) so this is all new to me.

You Make the Rain Fall finally replaces Wild & Young so this is currently my favourite ever season of NXT. Striker introduces the Pros & the Rookies and I'll just copy-paste from last week:
Pro Kelly Kelly is mentoring Naomi (yes the one that's still around).
Pros The Bellas are mentoring Jamie. Don't get attached.
Goldust is the Pro for Aksana, the Lithuanian wrestler who would hang out with Cesaro until she was released in 2014.
Pro Alicia Fox (who'd only started wrestling on WWE TV last year) is mentoring Maxine. Joe Wilson explained last week: "Catrina was essentially just a manager in Lucha Underground, whose gimmick was that she was a 1000-year-old ghost who could appear wherever and whenever she liked in the Temple. She seemingly controlled Mil Muertes with a magical rock, but got him out of a pickle when he'd been embalmed in King Cuerno's trophy room, busting him out and allowing him to seek revenge." Thanks Joe.
Primo Colon hypes up A.J. Lee "who plays games and reads comic books."
Oh and this season's sure-fire hit, Vickie Guerrero's Rookie Aloisia!
Oh wait Vickie announces she fired Aloisia last week for being taller than Vickie. Definitely nothing to do with sexy modelling/adult films. So her replacement is Kaitlyn who would go on to have a pretty successful run in WWE and didn't suck in the ring, which is the equivalent to winning the Champions Carnival at this point in women's wrestling.
To set the scene, all the Pros make sure to point out how hot/fit/tight their Rookie's bodies are as they make their alluring entrances and when they're all in the ring, they all kind of dance awkwardly. Striker lets everyone introduce themselves as the Dads in the crowd are like "yearhhhhh."
Kaitlyn explains she's the one who gave you your first kiss and also your first wedgie, generating boos. But then Vickie makes Kaitlyn do her heel promo again because it wasn't good enough and she's clearly not expecting that and has nothing to say other than "Vickie is great" and repeating that thing about wedgies. Wait Kaitlyn was supposed to be cutting a face promo? We're off to a good start.
Aksana speaks that evil foreignese that every non-American wrestler has to speak in WWE but she likes Goldust and is here to "entertainment you."
Maxine is better than you and that's it.
AJ Lee tries to be genuine about how positive an experience this is for her. Cole craps all over it.
Jamie never gives less than 110% to everything she does.
Naomi gets a positive reaction from the crowd so Cole temporarily stops shitting on everything to give her credit.
We get the first challenge right now with whoever winning the most challenges over the next few episodes getting immunity from voting off in four week's time. That's a short time for a season. Apparently Season three hadn't been picked up by Syfy but their contract with WWE required them to air a few more episodes of the show. Poor WWE, everything was going OK until someone from Syfy watched the show.
And we start with…a dance contest because they're Divas and they have to be dancing when they're not turning on their friends. But hey, I'm assuming most of them have some kind of dancing experience so at least this will show off their strengths and allow them to win over the OH WAIT it's NXT so of course Michael Cole has to get in the ring and dance with them while wearing ballerina socks and a hat.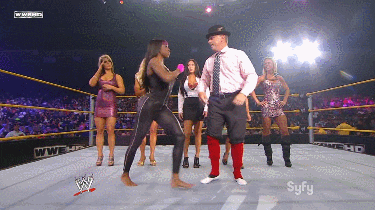 He gets too tired so Tony Chimel replaces him as we set the scene for the rest of the Season.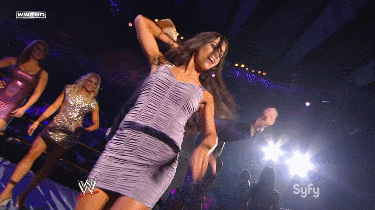 After Tony has a cardiac arrest, Josh Mathews steps in and Kaitlyn realises this is dumb and makes him do The Robot instead.
Naomi is announced as the winner, but the real winners were the crowd for no-selling every reference Striker threw at them. At one point he said Cole in a hat looked like Big Bully Busick, because Striker needs to be telling everyone around him what he knows at all times.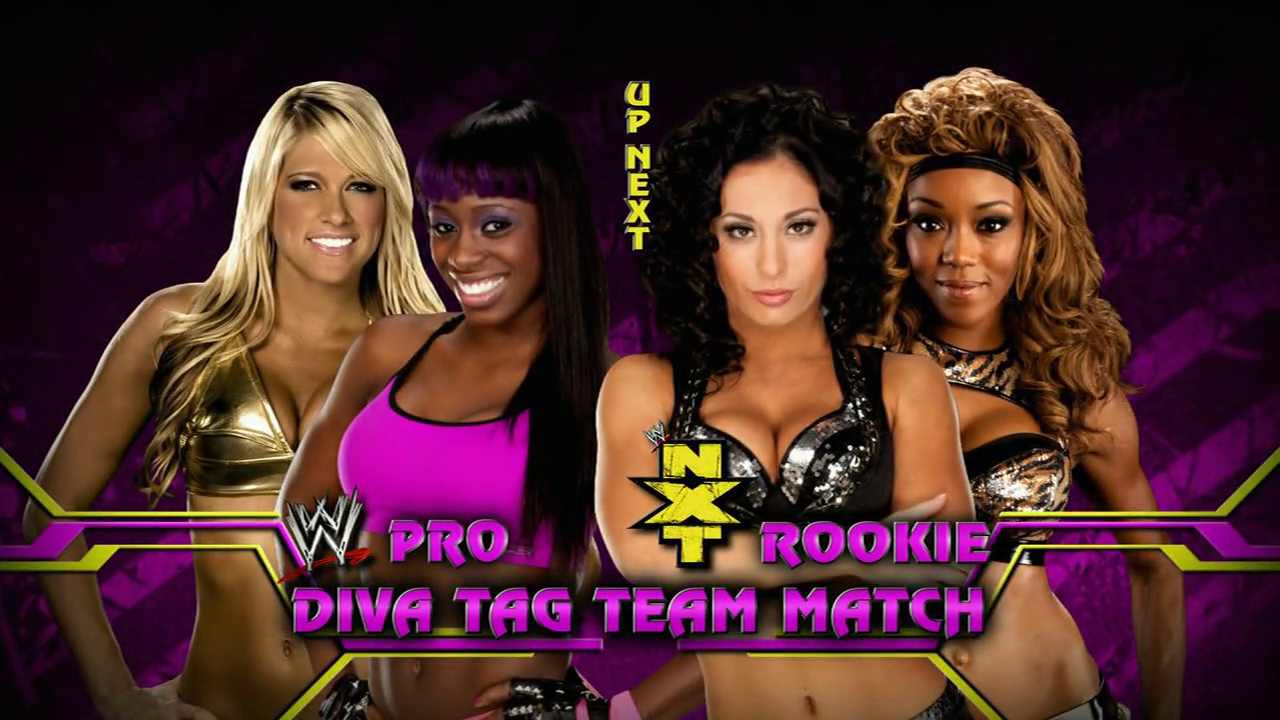 Kelly Kelly & Naomi vs. Alicia Fox & Maxine
Kelly immediately lands her yelling headscissors and follows with a Frankensteiner for two. Naomi tags in and gets a nice top-rope slingshot Sunset Flip as her first move in a televised match. The butt-butt gets two but she gets derailed by Fox's Twilt-a-whirl backbreaker. They're sticking to high spots and nothing else, so if this 2010 Divas Division isn't working out for them they can always try for the 2021 AEW Tag Team Division. Maxine looks rougher than a badger's arse before Naomi puts her away with a small package with Fox not being able to break it up in time…no wait even though the bell rung and Kelly's music started playing, Naomi still attempts to pin Maxine again. Tony Chimel then has to be prodded by the commentators to wake up and announce a winner.
Winners: Kelly Kelly & Naomi (I can't believe this aired on WWE TV.)
The Divas Flag Challenge
The Divas have to race to individual poles and grab a flag, with one less flag each time. Naomi is like Barry Allen and easily gets the flag first every time.
Cole & Mathews then brings up WWE's Legendary which is opening up this Friday and they even bring up the fact it's not opening in many theatres and you should go to WWE dot com to find out if it's opening near you. As a result, on a budget of $5 Million it made $200,393 at cinemas. Probably not helped by it going to DVD a mere uhhhh eighteen days later.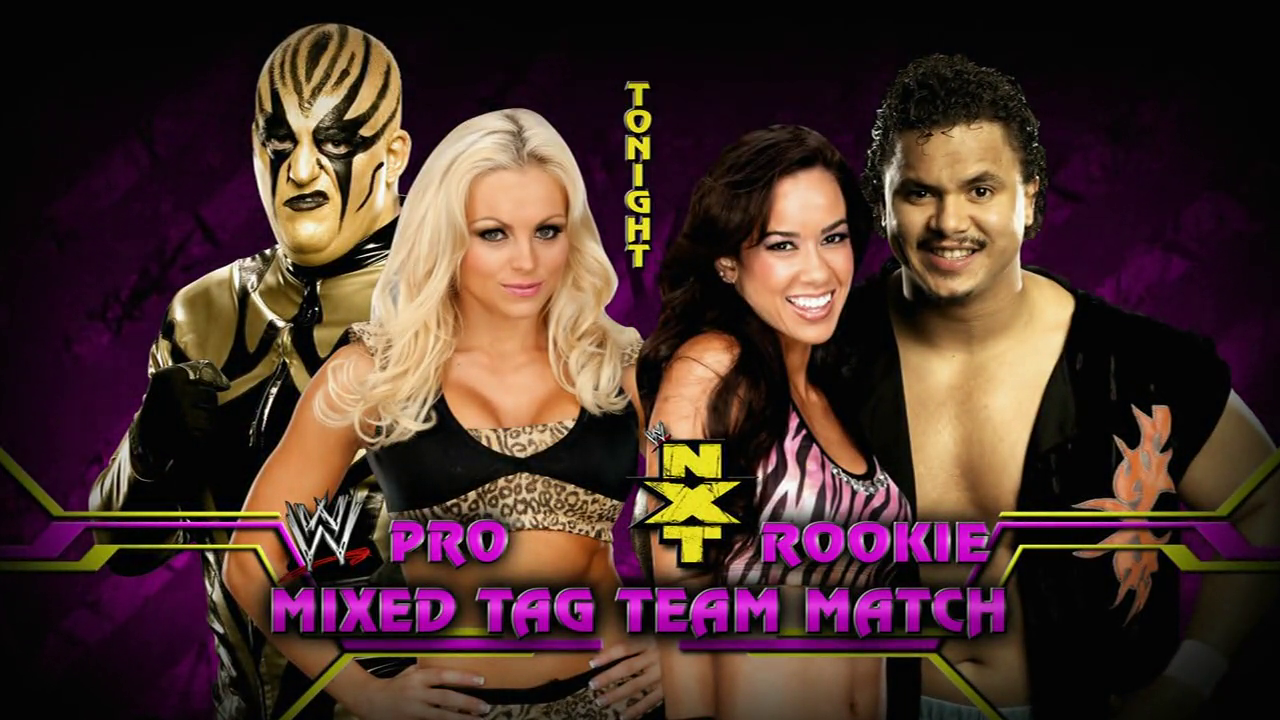 Goldust & Aksana vs. Primo Colon & AJ Lee
Colon & Rhodes wrestle acceptably before the Divas tag in. Aksana struggles to slam AJ Fucking Lee and then delivers a leg-drop that I had to GIF.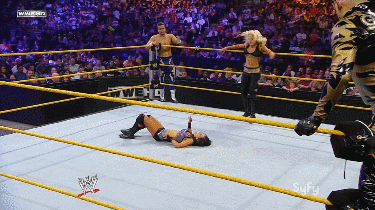 Aksana then makes a pig's breakfast out of a reverse powerbomb into a bulldog spot, so AJ Lee does it again and usually a bulldog would be a crappy way to end a match but here I'm all for it.
Winners: Primo Colon & AJ Lee (I've seen drunken fat guys attempting to attack a heel who looked they belonged in the ring more than Aksana.)
Vickie emerges from the back and demands Kaitlyn talk again, but AJ disagrees and shoves Kaitlyn into Vickie and she screams because she realises there's another episode next week.
Overall: Cena on Twitter said he'd asked to be a coach on NXT but "Apparently you need more than two moves to officially be called a pro." Yeah, you were overqualified John.
Well this was definitely a way of remembering how WWE used to treat their female wrestlers, with physical appearance being preferred over physical ability. But worse even than the rotten action was Cole & Matthews happily shitting on everything like it was one big joke. They stepped up their cynicism and mockery the past few weeks when it became obvious who WWE was getting rid of, but made no sense to do this on the first episode of a Season before the Divas even get a chance to establish themselves. That being said, some of them absolutely deserved it so maybe they had a point.
I've been Maffew and I'll see you next week for more Russ Meyer Presents Wrestling.