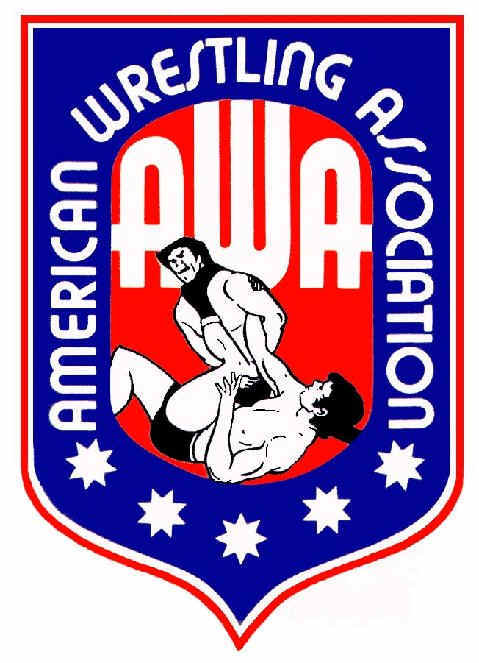 Taped from St. Paul, MN
Airdate: September 17, 1985 (taped 09/08)
Attendance: 4,000
Hosted by Larry Nelson, Ron Trongard, & Verne Gagne
Can Hennig, Hall, and Greg overcome the vicious combination of Bockwinkel, Stevens, and Zbyszko? What happens when Slaughter challenges Flair for the NWA World title? Can Zumhofe defeat Roberts, or will the wily Freebird prevail? Let's find out!
Sorry, folks. No commercials this week. Perhaps I can present you with a peace offering.

Nelson opens the program by highlighting the AWA wrestlers will be seen tonight.
Match 1 (non-title): AWA British Empire champion Billy Robinson versus Randy Barber
Highlights:
JCP fans should recognize Barber who began his career in Georgia Championship Wrestling in 1975. In other news, Robinson would turn 47 later in the month.
When Robinson countered a side head lock with a belly-to-back suplex, he trapped Barber in an Indian death lock.
Barber escaped, but Robinson obliterated him with a hangman's neckbreaker.
As he dealt Barber a backbreaker, Robinson pinned him at 4:00.
Rating: DUD
Summary: Showcase match for Robinson.
Promo airs for Super Clash '85 on 9/28 in Chicago, IL.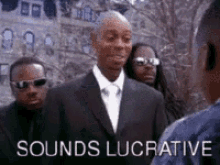 Match 2: Buddy "Jack" Roberts versus Buck "Rock'n'Roll" Zumhofe
Highlights:
As Trongard unloaded a "coast-to-coast and border-to-border" upon us, Roberts supplied Zumhofe with a knee drop.
Zumhofe rammed Roberts face-first into the mat and got 2.
When Roberts missed a clothesline, Zumhofe launched a cross body block for 2.
With two minutes left in the match, Roberts planted a knee into Zumhofe's midsection.
He mounted the second turnbuckle and scored with a flying elbow smash for 2.
After he bulldogged Zumhofe, Roberts got another 2.
One minute remained, and Roberts provided Zumhofe with a swinging neckbreaker.
Unfortunately for Roberts, he couldn't get 3.
He delivered a backbreaker to Zumhofe for yet another 2.
While thirty seconds remained, Zumhofe escaped a second bulldog attempt.
Roberts countered a back drop attempt with a punt for 2.
As Zumhofe hooked a sunset flip, the time limit expired at 8:55.
Referee Marty Miller ruled the bout a time-limit draw.
Rating: **½
Summary: Another close victory for Zumhofe. Roberts had plenty of tries to put him away yet almost lost.
Nelson interviews Boris Zhukov and Chris Markoff. For those unaware, Markoff began his career in 1964, but he and Zhukov refuse to discuss their involvement in Slaughter's match at the Meadowlands.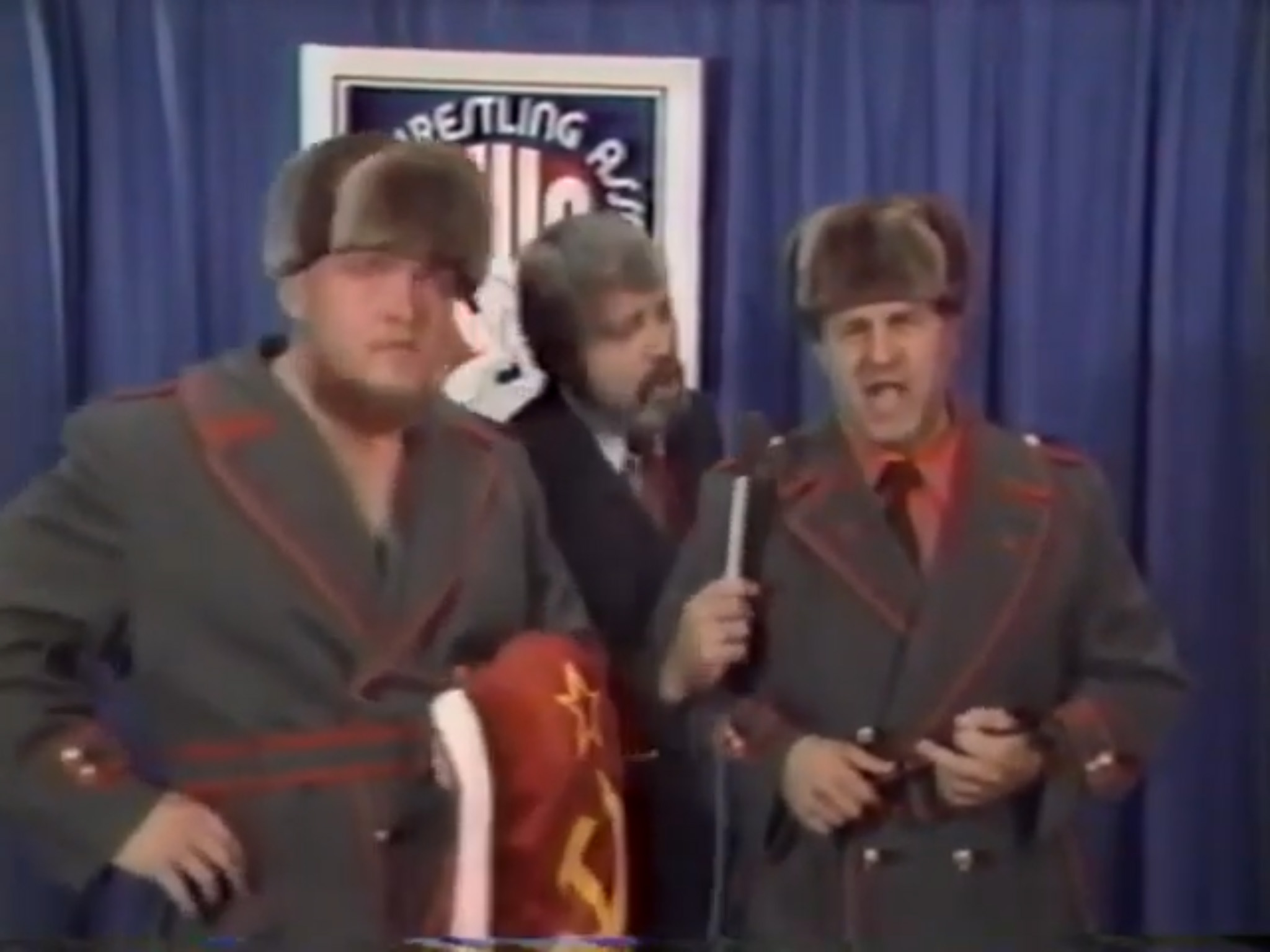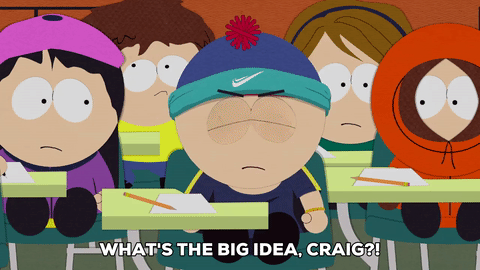 IN THIS CORNER: Nelson and Zbyszko interview Nick Bockwinkel. Prior to Bockwinkel's joining the broadcast, footage of Bockwinkel versus Martel is shown. Believe it or not, Zbyszko shakes Bockwinkel's hand. They discuss hypocrisy as well as teaming together against the Road Warriors.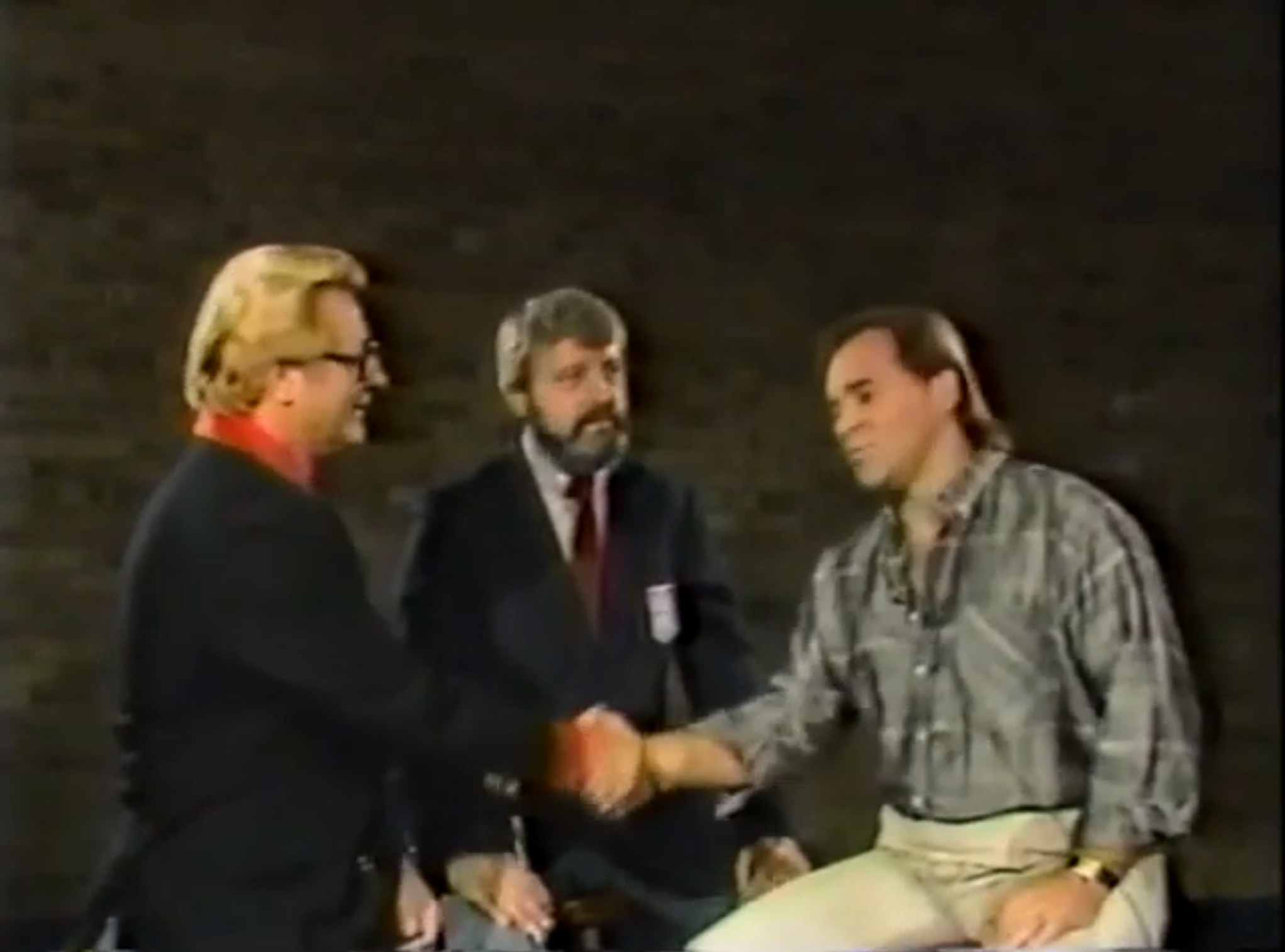 Match 3 for the NWA World title: "Nature Boy" Ric Flair (champion) versus Sergeant Slaughter
Highlights:
This match occurred on August 16 in East Rutherford, NJ and was joined in progress.
When Flair trapped Slaughter's leg between the ropes, he delivered an elbow drop.
He barraged Slaughter's leg and provided him with a belly-to-back suplex.
As he applied a figure-four leg lock, Flair cheated worse than Willie Nelson on his taxes.
Slaughter made the ropes to escape and fell to the concrete floor.
After he got up on the apron, Slaughter applied a cobra clutch to Flair.
He continued his grasp as Flair dragged him into the ring.
Suddenly, Zhukov stormed the ring and nailed Slaughter.
While referee Tom Zanini called for the bell, Slaughter won by DQ at 3:29 shown.
Rating: **
Summary: Too short to give a true rating, but I'm betting Flair gave the Meadowlands faithful their money's worth before the screwjob finish.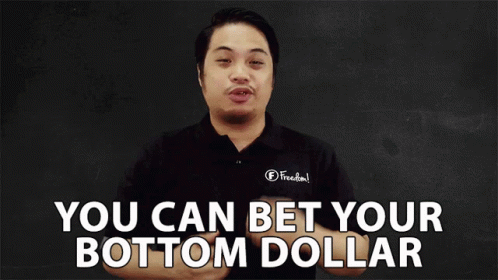 After the match, Zhukov punks Zanini OUT COLD and drills Slaughter with a clothesline. He piledrives Slaughter, but Zanini tries to stop him. Zhukov blasts him again and continues to bomb Slaughter with fists. Before Slaughter can rebound, Flair assists Zhukov against Slaughter. The cavalry from the babyface locker room arrives to chase them away and rescue Slaughter. Call a medic!
Nelson interviews Slaughter who refers to Zhukov as "scum, slime, maggot." He subtly refers to leaving the WWF because Hogan "not giving (him) a match" yet vows "war" against Zhukov.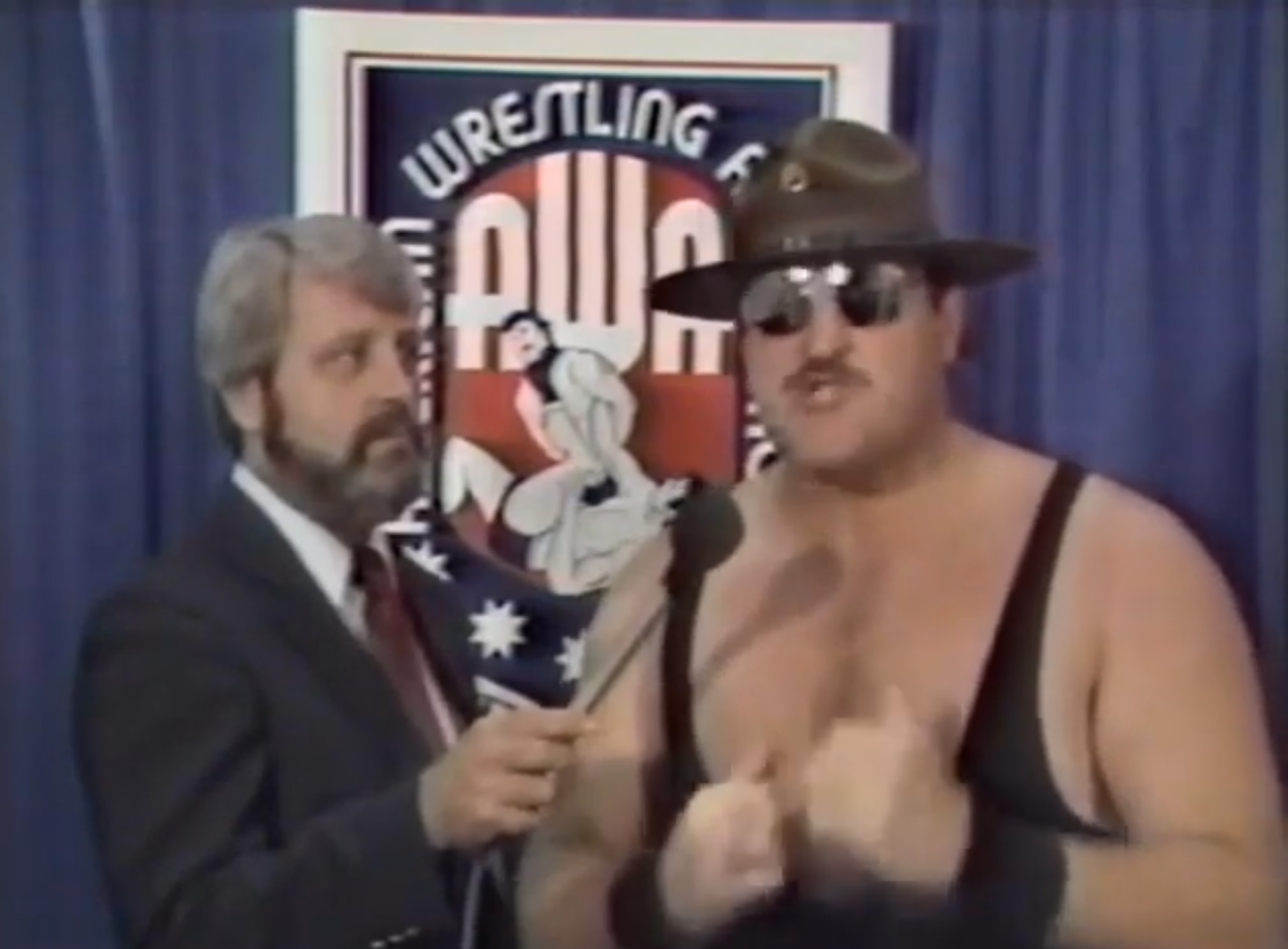 MAT CLASSIC: AWA World tag team champions the Road Warriors (w/ "Precious" Paul Ellering) versus King Kong Bundy & Jerry Blackwell
Highlights:
This match occurred on November 22, 1984 in St. Paul, MN.
As Bundy gave him a cross corner whip, he caught Hawk during his follow-through and dumped him down to the mat.
Blackwell tagged in and demolished Hawk with a back elbow.
When Blackwell astonishingly delivered a standing dropkick, Hawk attempted to slam him "to no avail" per Trongard.
Animal tagged in, attempted to slam Blackwell, but failed.
After he tried again, Blackwell fell atop him for 2.
Hawk tagged in, and a criss-cross ensued.
While Hawk slipped on an imaginary banana peel, the St. Paul faithful mocked him.
Blackwell applied a bear hug, sandwiched him in the corner, and hit an avalanche.
As Blackwell splashed Hawk's back, he got 2.
Bundy tagged in and supplied Hawk with a back elbow.
When Bundy missed an elbow drop, Hawk mounted the second turnbuckle and uncorked a fist drop.
Hawk provided Bundy with his own back elbow and tagged in Animal.
After Animal launched a flying elbow drop, he got 2.
Hawk tagged in and sent Bundy down to the mat with a big boot.
While he mounted the second turnbuckle, Hawk missed a fist drop.
Tags were exchanged on both sides, and Blackwell powerslammed Animal for 2.
As Blackwell scored with another back elbow, he charged Animal in the corner but came up empty.
Hawk tagged in, gave Blackwell a cross corner whip, and supplied him with a high knee.
When Hawk distracted referee Jim Mitchell, Animal took liberties with Blackwell in the heel corner. SNEAKY!
Animal tagged in and distracted Mitchell, and Hawk mugged Blackwell. How dastardly!
After Bundy protested to Mitchell, the Road Warriors annihilated Blackwell in their corner. Nefarious!
Hawk bestowed a knee to Blackwell's ample midsection, and Animal tagged in.
While Animal successfully slammed him, he splashed Blackwell for 2.
The St. Paul faithful chanted "Jer-ry," and Hawk tagged in.
As Blackwell began to no-sell Hawk's offense, Hawk mounted the second turnbuckle and unleashed a flying elbow smash.
Hawk tried another one, but it didn't faze Blackwell.
When Hawk leaped from the second turnbuckle, Blackwell nailed him in the midsection.
Hot tag Bundy.
With all four wrestlers in the ring, Bundy caught Hawk with a back elbow.
Bundy and Blackwell gave the Road Warriors stereo cross corner whips followed by stereo avalanches.
Pancakes, anyone?
After Ellering got up on the apron, Bundy charged at Animal but got nailed by Ellering. Evil!
Since Mitchell was occupied with Hawk and Blackwell, he didn't see anything.
1-2-3.
The Road Warriors retained at 13:24.
Rating: ***
Summary: Heel shenanigans by the Road Warriors enabled them to steal a victory from the buffet blitzers.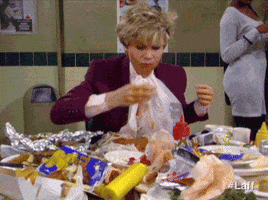 Nelson interviews "Gorgeous" Jimmy Garvin and "Mr. Electricity" Steve Regal with Precious. According to Nelson, they will face the Road Warriors on next week's episode. Nonetheless, they refer to Bundy and Blackwell as "fat and stupid." To close the interview, they besmirch Prince.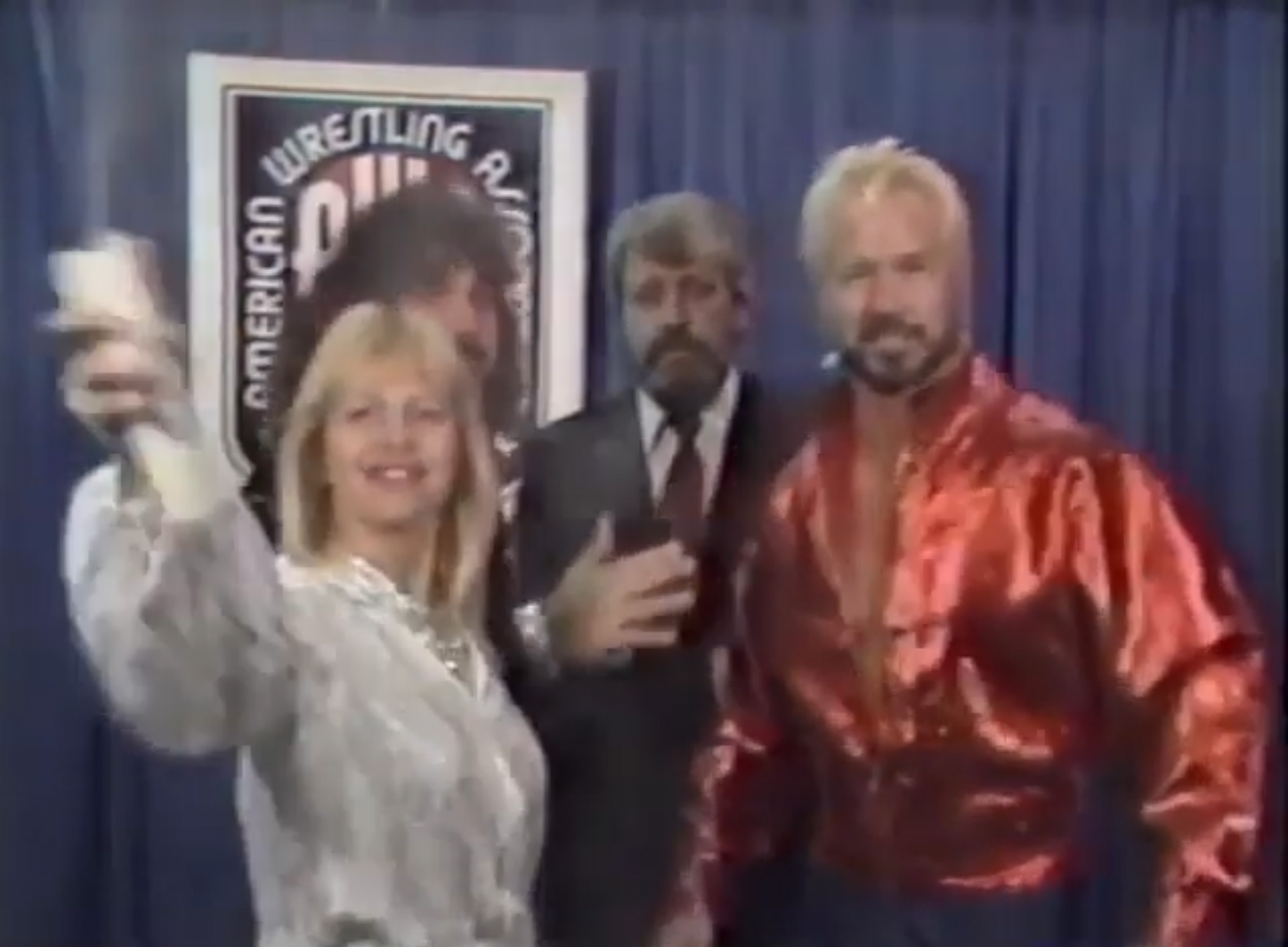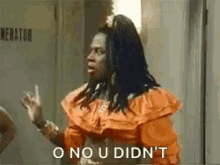 Catch the AWA on tour!
9/22 in Green Bay, WI (main event: Martel/Blackwell/Von Raschke versus the Freebirds)
9/26 in Atlantic City, NJ
9/28 in Chicago, IL for Super Clash '85 (Flair versus Magnum T.A. & more)
9/29 in St. Paul, MN (Road Warriors versus Garvin/Regal)
10/2 in Denver, CO (Slaughter versus Zhukov)
10/4 in Los Angeles, CA (Bockwinkel/Stevens versus Von Raschke/Blackwell)
10/6 in Janesville, WI (Zhukov versus Rob Rechsteiner…never heard of him)
10/11 in Ft. Wayne, IN
10/12 in Indianapolis, IN (Zbyszko versus Hall)
10/15 in Anchorage, AK (Martel versus Hayes)
10/15 in Salt Lake City, UT (Bockwinkel versus Greg Gagne)
Match 5 (six-man): Nick Bockwinkel, Ray "The Crippler" Stevens, & Larry Zbyszko versus Curt Hennig, Scott Hall, & Greg Gagne (w/ Tom Zenk)
Highlights:
Unlike last week, Verne didn't vacate his color commentating position due to Greg's involvement. Also, Zenk wore a neck brace due to a piledriver on the concrete floor the last time they visited St. Paul. If it wasn't summer, I'd bet he used it for warmth too.
Hall tagged in and provided Bockwinkel with a big boot.
When he dealt Bockwinkel a leg drop, brother, he got 2.
He slammed Bockwinkel as well as an incoming Stevens and Zbyszko in succession.
As Zbyszko tagged in, he stalled worse than a '72 Pinto in the dead of winter.
Hennig tagged in, blocked a hip toss, and dealt Zbyszko one of his own.
After Greg tagged in, he mounted the second turnbuckle and lowered the boom on Zbyszko.
Greg leapfrogged Zbyszko and followed with a dropkick.
While Hall tagged in, Stevens distracted referee Jim Mitchell.
That allowed the babyfaces to illegally switch much to the delight of the St. Paul faithful.
When Zbyszko countered a side head lock with a belly-to-back suplex, Bockwinkel tagged in.
Bockwinkel placed a knee into Hennig's midsection twice and tagged in Stevens.
As all six wrestlers were in the ring, Hennig and Greg rammed Stevens and Zbyszko together.
Greg dropkicked Zbyszko, and Hennig hooked a sunset flip on Stevens.
1-2-3.
Hennig, Hall, and Greg won at 10:40.
Rating: **½
Summary: The youth surpass the veterans while beating them at their own game. I would have enjoyed more chicanery by the heels to rile up the St. Paul faithful more, but the match was nevertheless entertaining.
Before Bockwinkel exits the ring, he sends the injured Zenk flying from the apron down to the concrete floor.
Nelson interviews Stan "The Lariat" Hansen who disses "yankee" towns like Chicago, Milwaukee, and Minneapolis. He dismisses Flair, recognizes Rick Martel as the World champion, and "wants it."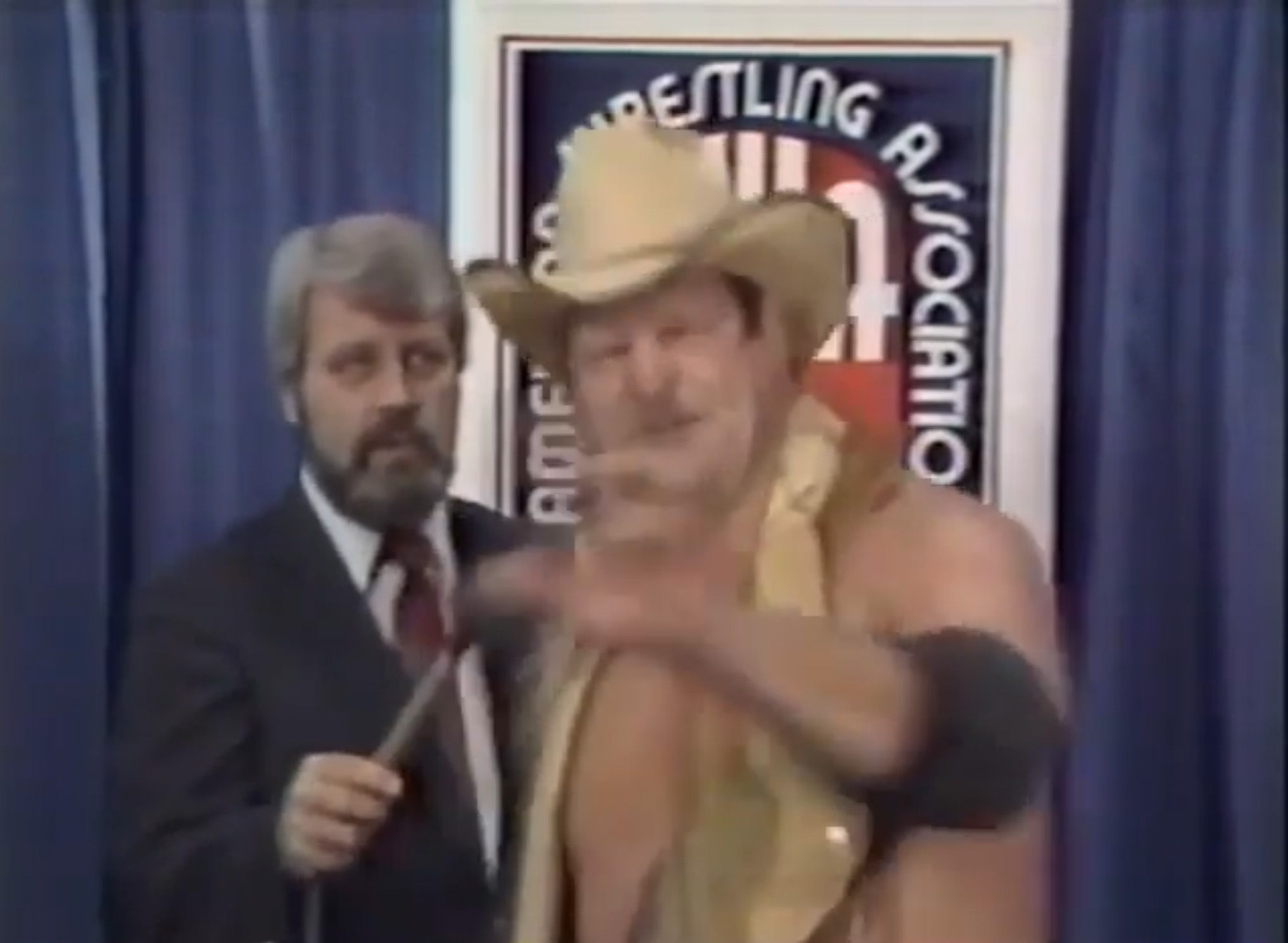 Next week, Blackwell faces Terry "Bam Bam" Gordy. Also, the Road Warriors encounter Garvin/Regal.
Conclusion: The six-man match shows the direction the AWA is headed with Hennig, Hall, and Greg going forward. Hansen's putting the AWA over the NWA gives the AWA some chutzpah in the world of pro wrestling. Also, the "war" between Slaughter and Zhukov got sufficient emphasis while I got my first, and hopefully last, look at Billy Robinson. Check this out also for the Road Warriors match.
TV Rating: NONE
Stay tuned for AWA 09-24-85!
Comments? Suggestions? Send them to me at [email protected] and follow me on Twitter (@rockstargary202). Also, please check out all of my reflections at rockstargary.com including Herb Abrams' UWF!