We're in Cleveland, Ohio (Japanese crowd: "Ohioooo") and we start with the final four: Otunga, Gabriel, Barrett & Slater for the Semi-Finals of Season 1. The announcement that next week is the Season Finale gets one of the biggest pops of the show.
The Rookies get asked who should go home and Barrett says "Otunga, cos he reminds me of an episode of the Benny Hill show every time he steps into the ring." No wonder Vince signed him, he's as up to date as the Gregorian Calendar too.
Christian & Heath Slater vs. R-Truth & David Otunga
R-Truth beat The Miz to win the U.S. Title on Raw, his first WWE singles title. Apparently it was after BRET HART won it then vacated it, something I was happy I'd forgotten about. Perfectly acceptable wrestling until Christian starts slapping Otunga's giant pecs like he's playing Taiko no Tatsujin Drummaster. Cole talks about demanding an apology from Bryan for his attack last week and Otunga rolls a Slater crossbody off the top into a pin-fall. Like most NXT matches recently, it's hard to rate these as they're the definition of filler. No-one died so I give it ***.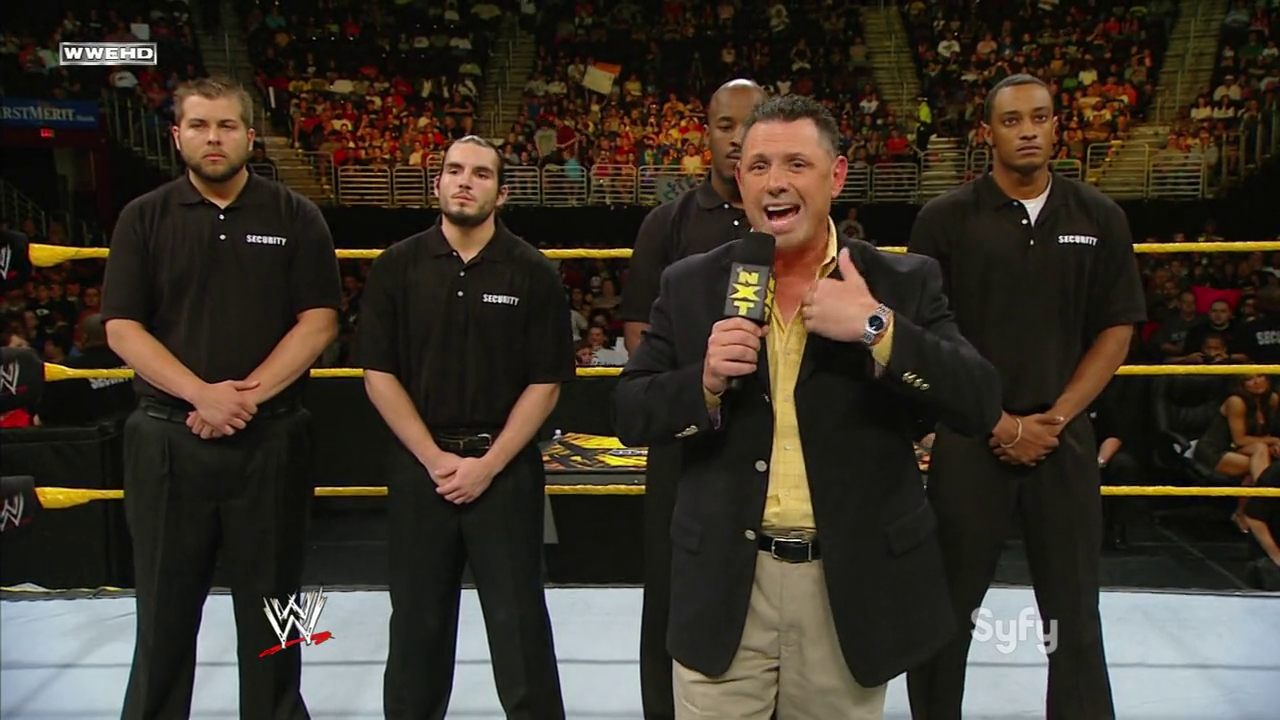 Cole is in the ring with security (featuring a young Johnny Gargano along with fellow local lad Benjamin Boone) and demands Bryan come out to apologise or he's taking him to court. Unemployed Bryan still gets entrance music and he tells Cole he'll apologise if the security guys leave. Michael agrees and Bryan shakes his hand and says he's sorry…that he's the WORST COMMENTATOR IN WWE HISTORY. Bryan starts ranting about how Miz is the worst Pro on NXT (oh that's a good thing to say in Ohio) and how Cole is a coward for hiding behind his desk. Cole tells him he ragged on him for weeks because Bryan didn't deserve his spot on NXT because he was always blaming his Pro for his own negatives and he'd tapped out before the Pro-Poll because LOSERS HAVE NO HEART and that's enough for a bum-rush.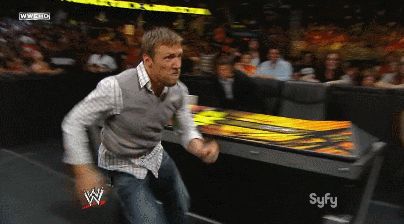 Bryan tells security he's done and heads up the ramp…until Miz gets in his face and Bryan bum-rushes him too.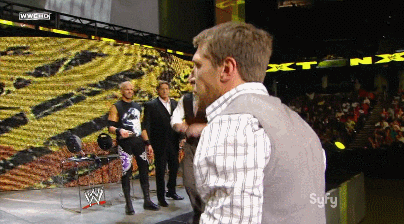 Even insulting Miz in his home state couldn't dampen the crowd's reactions to this. It was chaotically shot in a way that Kevin Dunn's been failing to replicate ever since and felt like a completely different show to the rest of the brand. Crowd was in quiet awe when Cole called Bryan a LOSER too because it was hard to argue his points.
Wade Barrett vs. Justin Gabriel
Matt Striker has replaced Cole (aaahhhh) but Jericho immediately starts yelling about how great Wade is so he's quiet (ooooh). These two are good dance partners as Gabriel is fine with Wade bouncing him around and even though the crowd is more interested in cheering for Jericho, they still pop for the match-winning 450 Splash. Striker didn't criticize Obama as much as he usually does so I give it **7/8.
Raw Rebound: Batista's last segment!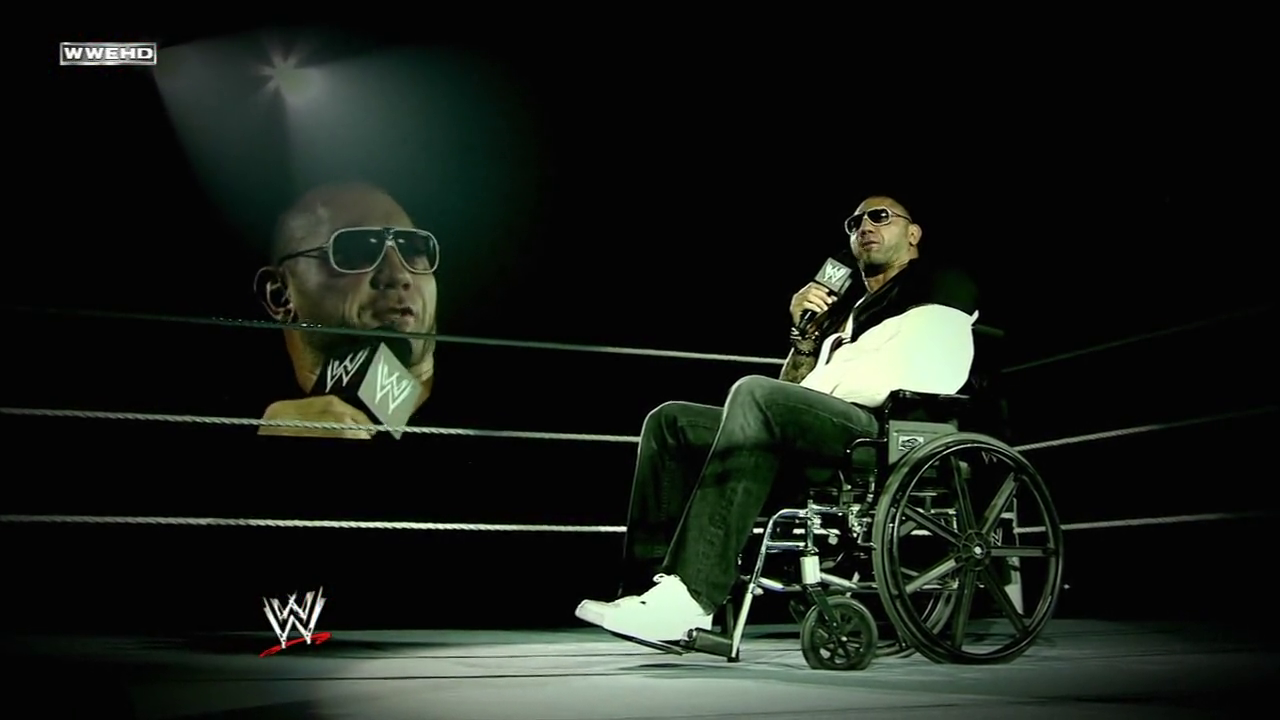 He goes out on a high note, complaining about having to kiss fat women while stuck in a wheelchair. New GM Bret Hart (why was Bret doing so much shit in 2010) shows up to announce a new PPV called Fatal Four Way (with tears in his eyes). Batista says he's too hurt to compete so Bret says Batista forfeits his opportunity which is enough to make Big Dave quit the company to end a magnificent run as a giant Hollywood dick…who then succeeded in Hollywood. Huh.
Pro's Poll
And the loser is Heath Slater.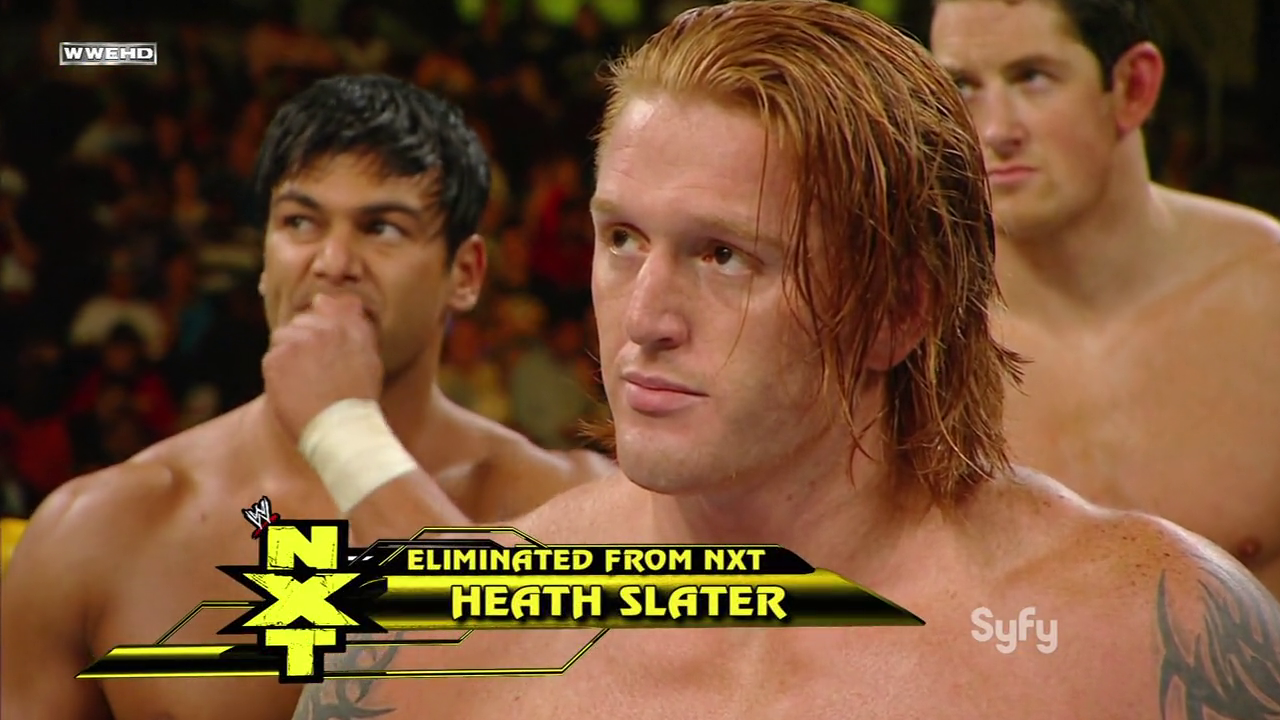 Christian says he thought his Pro could do it but he's still proud of him and thinks he could do great things in WWE. After the other Pros speak (and nothing of note is said), Slater reminds everyone he pinned Jericho that one time and the crowd doesn't care because he's gone now and no-one's explained what happens to the Rookies after this so they assume it's a big fiery death like in Toy Story 3.
Overall: The Pro's Poll is no longer as entertaining or as important as the Bryan/Cole segments, which is good news for Bryan's career prospects but sucks if you're expecting anything good from these Sunday type-ups.
I've been Maffew, who was feeling bad this morning but has recovered after realising he doesn't have to watch green Sheamus main event a 2010 PPV any time soon.