Two weeks remain until the first elimination but I think we can skip ahead because there's nothing going on until then.

We get the Rookie Roll Call in the ring with Bryan & Slater receiving the biggest pops. Crowd doesn't care about Skip's victory last week or his WWE dot com article ("15 million people saw his face!" lies Striker) but this week it's the Seal The Deal Challenge to test the Rookies likability by…making them go out into the crowd to sell merchandise.
Skip Sheffield is given a satchel bag, some change and a RRP of $15 for programs ("if you can get more then more power to you") and thrown to the wolves first. He bellows "WHO WANTS A PROGRAM" as the front row avoid eye contact until two kids buy some out of pity while one dude attempts to purchase one for a buck. He makes $60 and luckily we only have seven more versions of this to go.
Chris Jericho & Wade Barrett vs. Christian & Heath Slater
This is a week after Heath Slater's shocking roll-up on Jericho. Jericho can't even deal with Slater to begin so he tags out to Wade who takes double-teams from the other two while Jericho rages at ringside. Jericho eventually tags in and is not in a good mood as he yells at the ref and refuses to break the count on various occasions. Christian is able to take him down with a neckbreaker so Slater can tag in and try and land one of his own. Wade dunks Christian out the ring allowing Slater to roll-up Jericho again…with Y2J kicking out and finishing with the Codebreaker.
Winners: Chris Jericho & Wade Barrett (Just Jericho getting his win back now Slater has the bragging rights for as long as WWE remembers this happened.)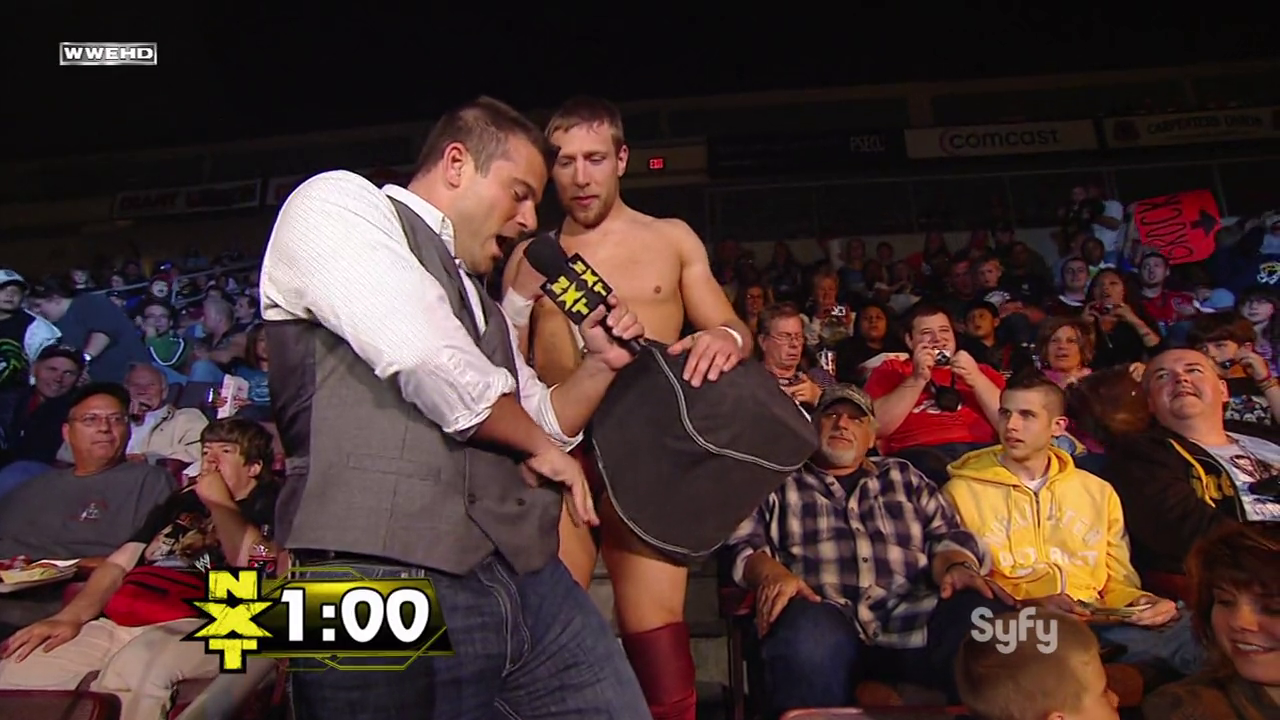 And now it's Bryan's attempt to sell some programs but he tells Striker "I'm not exactly a capitalist" and simply launches them into the crowd. At $15 a program I'd be reading up on Marx too. Bryan empties his bag and makes $0 causing Cole to wonder if Bryan knows he's supposed to be winning.
Justin Gabriel is knee-deep in the crowd and sells 22 programs while keeping remarkably cool considering there's little security and Striker is visibly shoving kids out the way.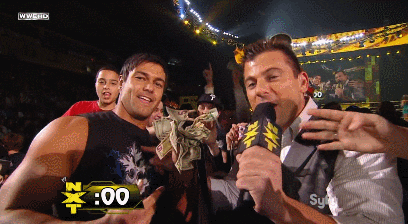 Michael Tarver (0-6) vs. Darren Young (6-2)
Carlito made Tarver carry his bags to the arena after losing last week. Or maybe Carlito's putting as much effort outside the ring as he does inside it. Tarver shoves Young into the corner and appears to hurt him badly but he still can't get the advantage because he's crap. Tarver rest holds Young as dozens of fans are seen heading to the merch stand (hopefully not buying programs). Eventually Gallows attacks Tarver from behind allowing Young to hit the Young And The Wrestlers for the win.
Winner: Darren Young (Quick and painful.)
Post-match Gallows makes it clear they're working together…but they're not friends.
Otunga has to beat $210 but he's a celeb and he doesn't do manual labour so he pays off two kids and their mum to do the work for him as Bryan cries into his copy of Das Kapital.
RAW REBOUND: The WWE Draft was last night with Big Show, Kofi Kingston, Christian, Kelly Kelly heading to Smackdown and Jericho, John Morrison, Edge & R-Truth heading to Raw. Edge celebrates the move by understandably spearing Orton.
Earlier today, R-Truth explained why he wouldn't help Otunga cheat to win last week. It's because it was bad. Otunga responds by listening to music. These segments are really fleshing out these characters.
Heath Slater & Darren Young try to sell some programs in unremarkable ways as neither can compete with Otunga. Young looked terrified. Tarver refuses to sell programs, saying he shouldn't have to sell things, WWE should be selling HIM. Wade also refuses to sell programs but he's taking Striker's money and dares him to get it back. Ha!
Otunga wins the painful challenge so he gets a match with any Pro next so he chooses R-Truth. Wow it's lucky he managed that with that family that happened to be ready to help him on camera.
Skip Sheffield (0-5) vs. The Miz
The Miz has a huge bruise on his face because last night he lost the Unified Tag Titles to The Hart Dynasty so Big Show punched him. Miz is in no condition to perform so he substitutes Bryan.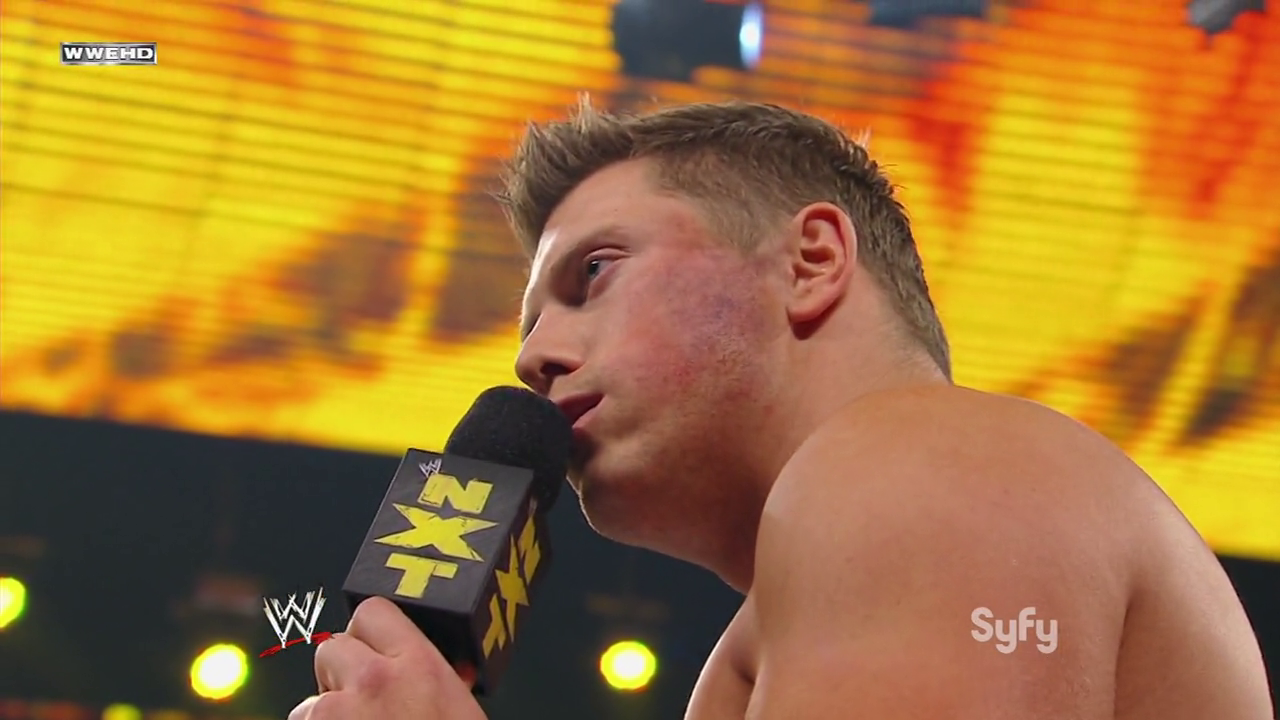 Skip Sheffield vs. Daniel Bryan (0-8)
Bryan lands a running dropkick and then takes Skip down beautifully and locks in a leglock. Skip shrugs off some puro kicks to land a backpack stunner of all things to defeat him very quickly.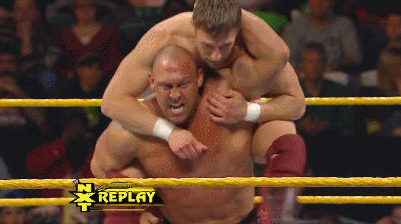 Winner: Skip Sheffield (Just plot.)
Overall: A miserable week for the farm fed with the Program Selling segments taking the air out of the room like a hole in an airplane. I'm sure the veterans were pissing themselves backstage at the awkwardness but Slater's victory against Jericho has already been forgotten now he's begging kids to buy some shite off him as Cole & Mathews rag on how pathetic he sounds.
I've been Maffew, follow me on twitter or read my SWS column for Wrestlejoy.